As the 2014-15 NHL season comes to a close, the Edmonton Oilers will once again attempt to address the major needs within their roster. As they long have been, defense and goaltending remain the major areas in which the Oilers must make drastic improvements.
In goal, there are a number of goalies which Edmonton could and should pursue. However, for whatever reason, the name Antti Niemi continues to surface.
Why Niemi?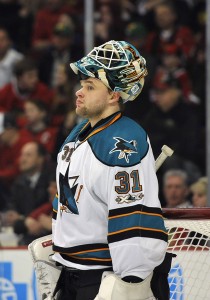 Why in the world would the Edmonton Oilers consider signing Antti Niemi?
From one perspective, signing Niemi would make sense given his considerable playoff experience. In fact, Niemi has started 62 playoff games in his career, while he also won a Stanley Cup Championship in 2009-10 with the Chicago Blackhawks.
A Vezina Trophy finalist with San Jose in the 2012-13 season, Niemi's numbers over the years have been solid, especially so considering he has long played behind one of the leagues best defense cores.
The Sharks' long standing faith in Niemi was seen most recently at the 2015 NHL Trade Deadline, when GM Doug Wilson, despite Niemi's looming unrestricted free agency, elected not to trade away their starting goaltender, a decision largely influenced by Sharks players themselves. The belief that Niemi could lead the Sharks to the playoffs was a gamble, especially so considering San Jose will receive no return for Antti if he signs elsewhere this off season.
However, the decision ultimately showed that if a team fighting for a playoff position was confident in retaining Niemi as their starting goaltender, what would a rebuilding team have to lose?
On the Other Hand…
Niemi is a proven NHL goaltender, that is a fact. However, would it make sense for a developing team such as the Oilers to sign a goalie who is past the prime of his career?
Yes, Niemi has long been a quality goaltender, however, his play has steadily been regressing over the past two seasons. Don't get me wrong, his numbers are good, but those were posted behind a solid defence; how would Niemi play behind the defence of the Edmonton Oilers?
Would he be an upgrade in goal? Absolutely. However, it's hard to see Niemi being a whole lot better than Ben Scrivens on a team with as significant defensive issues as the Oilers.
Although the addition of Niemi would improve the Oilers' goaltending situation, it would merely come as a temporary fix to a long term issue. If the Edmonton Oilers hope to find success in the near future, they must instead acquire or develop a young, skilled goaltender who can grow alongside their current core of young stars.
Finding a young, stud, NHL ready goalie is no easy task. However, there are a few options which should certainly interest the Oilers this off-season. While the majority of these goaltenders are currently on different NHL teams, the Oilers have also quietly developed a solid goalie within their own organization who just might be Edmonton's goalie of the future.
Cam Talbot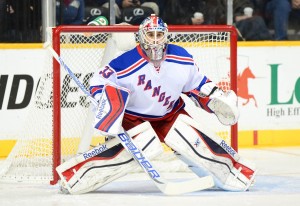 Cam Talbot of the New York Rangers could be an option for the Oilers this off-season, as Talbot is likely looking for the opportunity to be a full time NHL starting goaltender.
In his brief two year NHL career, Talbot has had incredible success, posting a 31-13-5 record in 53 games played. He owns a sparkling .933% save percentage and a 1.94 goals against average thus far, alongside eight shutouts.
Talbot could be an option simply because he is a backup to Henrik Lundqvist. Lunqvist himself is going nowhere in the near future, meaning Talbot will be stuck in a backup role unless he pursues a starting opportunity with a different NHL team.
Talbot signed a one year contract extension with the Rangers in December of 2014 for the 2015-16 NHL season, meaning he will not become a free agent until July 2016. The Oilers could certainly attempt to trade for Talbot, however such a move would come at a high cost. On the other hand, the Oilers could simply hope Talbot tests the free agent market.
Robin Lehner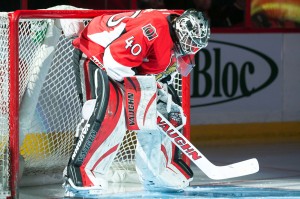 Robin Lehner could be an option for the Oilers thanks largely in part to the emergence of Andrew "Hamburgeler" Hammond.
Lehner has played in parts of five seasons for the Ottawa Senators and has long been considered one of the most promising young goaltenders in the NHL. In his 86 career games played, Robin owns a 30-36-13 record alongside a .914% save percentage and a 2.88 goals against average, good numbers, but play which has thus far failed to live up to his huge potential.
With the emergence of Hammond and the presence of veteran netminder Craig Anderson, Lehner would likely be open to a change of scenery, especially if it entailed a starting NHL role. Realistically, it would take a trade for the Oilers to acquire Lehner, who is signed through 2016-17 and is not slated to become a restricted free agent until the 2017 off-season.
Laurent Brossoit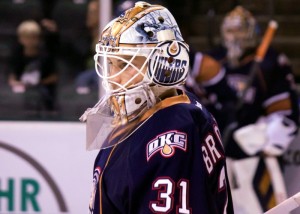 Laurent Brossoit has quietly been developing with the Oklahoma City Barons of the AHL and looks poised for an NHL break through in the near future.
[Related: Laurent Brossoit Deserves Opportunity in Oilers Crease]
At 22 years of age, Brossoit is currently enjoying his first full AHL season, especially so considering it has been filled with success. Laurent has played 43 games for the Barons this season and has been solid, securing a 21-16-4 record in those games. His impressive .918% save percentage and 2.53 goals against average are amongst the best rookie goaltenders in the entire league.
Could the goaltender the Edmonton Oilers have long been searching for be quietly developing within the Oilers' organization? Team management and fans certainly hope so. With the Barons sitting seventh in the AHL, a late season NHL call-up looks to be out of the question, as the Barons will likely hold onto Brossoit for their impending playoff run.
The Big Decision
How the Edmonton Oilers plan to address their goaltending situation is a modern mystery. Potentially signing Niemi through free agency would give the Oilers a glimpse of what they need in between the pipes, however his presence would (hopefully) be considered a temporary fix.
Acquiring a solid, young goaltender through trade would be a definitive way for the Oilers to improve, however, the price tag would have to reasonable for such a deal to occur. The Oilers however do have a wealth of draft picks which could peak the Rangers' interest in particular.
The last choice would be to focus on the development of a goaltender within the organization, in particular Laurent Brossoit. Although Brossoit is not a top goaltending prospect, he has shown considerable promise of late, especially in his time in the AHL and looks to be headed towards a bright future.
These last two options are much more appealing than signing an aging, regressing goaltender such as Antti Niemi. If the Oilers truly want to be a relevant NHL team and succeed in their rebuild, the acquisition of a young goaltender, or the development of one from within needs to be emphasized.
[yop_poll id="21″]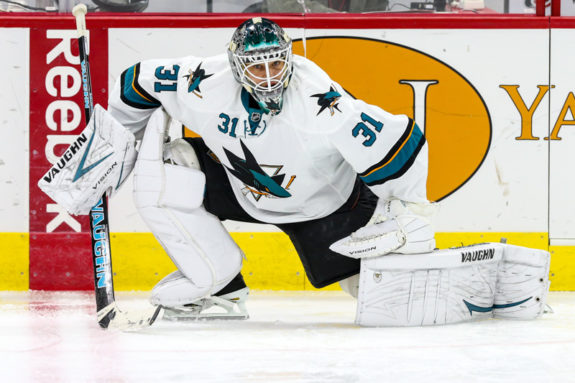 Brett Slawson is a four-year veteran of The Hockey Writers who covers the Toronto Maple Leafs, NHL prospects, and the OHL's Mississauga Steelheads.
Contact Brett on Twitter @brettslawson92, or by email at brett_slawson@hotmail.com.