The NHL has undergone many changes since it's creation, from expansion to curved sticks to goalie masks and beyond. But one of the most major alterations that really changed the face of the game was when teams began routinely bringing players over from Europe.
The real awareness to the talent that lay hidden in faraway ice fields came during the big series in '72, with the Russians rolling into NHL arenas like a snow covered juggernaut from the Ural mountains and showed them that there were a lot of excellent hockey players not currently living in North America.
More tremendous hockey with international opponents followed and soon teams began to realize that having someone on your team from Europe wasn't just a novelty, they could flat out play and were going to help teams win. Slowly players like Borje Salming came over and made an impact and started to pave the way for others.
But when political climates became more flexible and Russians were able to be drafted and could choose to play in the NHL if they so desired, things really changed.
After '72 Russian players were taken seriously and were highly regarded among fans and players. Everyone knew how talented they were and there were a lot of people excited about having a Larionov, Makarov or Krutov on their team. Their skills were undeniable and they had proven ability against NHL players.
"The Soviets hockey programme was deservedly acclaimed and helped shape the way the game is played today."-Olympic News Service
But it didn't take long for the Russians to develop a different type of reputation. It certainly wasn't lack of skill that the fans criticized them for. In fact, it was an apparent lack of willingness to approach the game in the NHL with the same zeal that NHL'ers did. It wasn't all of them, a player like Larionov could hardly be accused of not giving his all when he came over here, but it didn't take long for most Russians to get painted with the same brush.
Russian hockey players just didn't seem to have the same passion that NHL players did, or even display the same passion that they did when playing for Russia internationally. So is this assessment fair?
The Essential Issues
There was a language barrier for sure, so maybe players were looked upon as being distant and aloof when really they were just shy and uncomfortable speaking a foreign language and being unfamiliar with North American customs. If I had gone over to play hockey in Russia I know I wouldn't be wild about doing interviews.
But actions speak about a person's character too. People can identify and accept shyness. Its other little things that brought about fans ire.
The overall encompassing label they were saddled with was not being a team player, and fans cited various examples. Like a lack of defensive play. They were fine when they had the puck and were headed toward the opposing goalie, but it seemed getting them to backcheck was like asking them to stroll through Red Square naked in Winter.
Few of them blocked shots unless the puck hit them because they couldn't get out of the way fast enough, and fighting was out of the question.
Even their work ethic would fall under the microscope. Some had the point of view that they would only use all of that skill they had when it suited them. If they were in the mood, they could be 50 goal scorers. If they weren't in the mood, they looked like they were just killing time.

Alex Mogilny fought this while he was in Vancouver. It was alleged by some that he played his hardest and scored 55 goals in a contract year, and then tapered off considerably in the following years after he had signed a big one.
Pavel Bure had his share of critics too, but not for his play, more for his general attitude. On the ice he was dynamic and constantly brought fans to their feet. But the Canucks pride themselves on being extremely active in the community, particularly with Canuck place. Apparently he rarely visited, and that didn't sit well with many.

Are these critiques too harsh, or is there merit to them?
The Modern Day Examples
Looking at the present day, Alex Ovechkin is probably the Russian that comes under most scrutiny. He doesn't do himself a lot of favours, he constantly draws attention to himself as an individual though he is playing on a team sport. And it's not endorsements, people don't mind that. It's his constant need to stand out. If it's not a dumb special visor, it's special skates with blades that have flames on them or laces no one else is wearing. He just can't seem to stop saying "Hey everyone, look at me."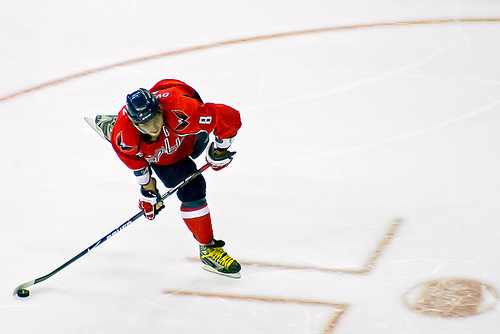 On the ice the Mogilny comparisons kick in. Ovechkin scored 50+ for 5 years, then dropped into the 30 goal range for a couple years. 30 odd goals is great for most players, but Ovechkin isn't in the "most players" category. With his unbelievable talent there is no reason for him to not be flirting with 50 goals every year until his skills start to decline, as they do with all great players. So was that the case, is he just on the inevitable downswing now? Well he scored 51 last year, so it seems he still has the skills in him when he wants to use them.

Whether or not it's right, Russian players who don't get saddled with these generalizations seem to be exeptions to the rule, Pavel Datsyuk being one of them. Not many people have a problem with how he plays the game and would gladly have him on their team.

People say that this disparagement of Russians is inaccurate, that they don't see these criticisms handed out to Canadian or American players. Well there are others for certain, Ryan Kesler doesn't have the best reputation as a teammate, nor does Patrick Kane. Mike Ribeiro is another.
Russian players have contributed heavily to the game and have provided some of its great highlights. But when the topic of lack of team play or chemistry comes up, it's most often the Russians who take the brunt of the criticism.
So is it fair, or are Russian hockey players unfairly criticized?