We have reached team number 13 on our 30 team quest of Q&A's for the upcoming NHL season. Today, the focus shifts to the Ottawa Senators, who definitely are shedding payroll like it's going out of style. Wait, this isn't that sell sell sell scene from the movie "Trading Places"? No it is not.
I talked to Callum Fraser of Full Tilt Hockey and The Hockey Writers and we grilled him hard. Below are the answers to our bakers dozen of questions.
===============================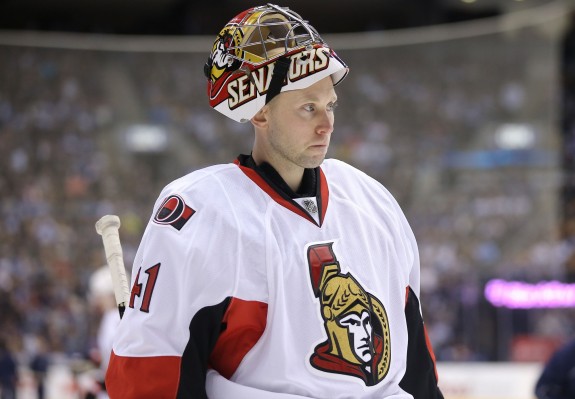 1. Here you get a contract extension, you get a contract extension, and YOU get a contract extension. What do you make of both Craig Anderson and Robin Lehner getting an extra three years?
At first, it really did puzzle me. For so long the Senators have been focused on having Robin Lehner be the future goalie, and everyone thought Lehner was getting really close. But for Anderson to be signed for an extra 3 years, it almost feels like a setback. I like Anderson as a backup for Lehner in a year or two, but $4.2 million isn't backup money.
2. Every year I hear how Jared Cowen is going to blossom into this really good player and yet….not so much! What makes you hopeful that this could be the year?
Well, to be honest, I just think it couldn't possibly get worse than last year. Don't get me wrong, I still have faith in Cowen, I just think that after a year like that, it's not hard to improve. Expectations are low in Ottawa.
3. The Ottawa Senators lost its captain to trade and the second time management seemed to just hook the C right out the door. Is Erik Karlsson the slam dunk obvious choice?
Erik Karlsson, I think, is the easy choice. But I also think it could be the right choice. You see, nowadays teams don't necessarily give the C to the guy who always speaks up in the dressing room, or the guy who grinds it out each and every shift. They give it to the best player on the team. Alex Ovechkin in Washington, Sidney Crosby in Pittsburgh. The guys who lead on the ice are the ones getting the C lately. Erik Karlsson is that guy.
4. It felt like Ottawa was giving up 35-40 shots a night on a nightly basis late last season. What can Ottawa do to try and somewhat overcome this?
Giveaways, giveaways, giveaways. Turnovers absolutely killed the Senators last season. It was horrendous. Be smart with the puck and get it out of your end safely.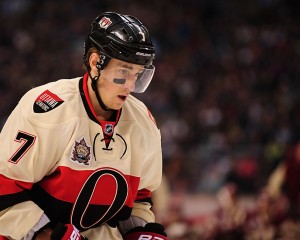 5. Kyle Turris will be the 1C for the Ottawa Senators this season? Can he handle the expectations or will he just fold under the pressure?
Since Kyle got to Ottawa, all he's done is impress. He's the right guy for the job and with the chemistry he has with MacArthur and Ryan, he's going to be just fine. I look forward to watching him rack up the points and try to lead this team to the playoffs.
6. Hey Bobby Ryan is still in Ottawa and as usual the question is how long. The real question is this. Could he actually stay in Ottawa? Why or why not?
The only issue is money. With Ottawa being a budget team, they don't have a lot of room, especially for a guy who's probably going to ask for 6 million. Ottawa is high on Bobby Ryan, but Bobby Ryan might not be so high on Ottawa when he realizes how much they're offering.
7. This is a stacked Atlantic Division. What would need to happen for Ottawa to compete?
Goaltending. Anderson and Lehner need to shut it down and they need to do that more often than not. Last year was a nightmare for the both of them, but if they can return to the form the both were at during the shortened 2012-13 season, that would be key.
8. Is Paul MacLean under the hot seat if this year really goes McDavid type south?
I don't think so. This team's problem isn't coaching, and he just won the Jack Adams a year ago, plus Murray and Melnyk have voiced how they feel about MacLean and it's all positive. Firing the coach won't help this team, and I think management knows it.
9. Speaking of the 2015 NHL Draft, who would be your number one draft pick right now?
Connor McDavid. That kid has everything. If a player is 17 years old and he plays like an NHL-ready player, that's impressive. The guy is big, strong, skilled and fast. His mind is going 100 times faster than every other player as well. He's the real deal.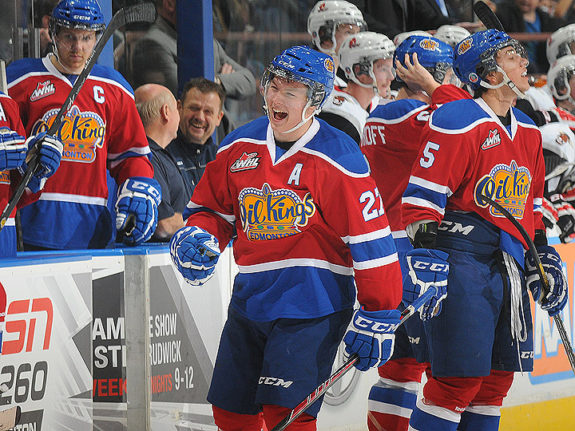 10. What prospects are banging on the door in Ottawa for this season or maybe next?
One name. Curtis Lazar. He's already being talked about like he is the future franchise player of this team. He even said in an interview that he didn't care if they put him at backup goalie, he just wants to play. What else does he have to say to make everyone love him? It also doesn't hurt that Ryan Rishaug said he was obviously the best player at Team Canada Development camp this summer.
11. What CSI investigations might Eugene Melnyk try to launch in 2014-15?
That guy is nuts. He should focus more on spending money like the rest of the league and not about if Matt Cooke purposely stabbed Erik Karlsson with his skate blade.
12. Are fans in Ottawa clamoring for the #1 pick like in Buffalo?
Not necessarily. Everyone wants McDavid, but this fan base sees so much potential in their club that the playoffs are certainly in the back of their mind. Tanking for McDavid would be painful, yet rewarding, but making the playoffs would be miraculous.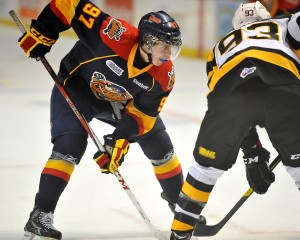 13. Lastly, where do you see the Ottawa Senators finishing in the division this year? Conference? Do they come close enough to be in the running for that top pick?
Division? In front of Buffalo, Florida and maybe Detroit. Call me crazy, but I think the Leafs are making the playoffs this year… Sadly the Senators are looking like they will finish 10th or 11th, but they might finish 9th and one point out of a playoff spot just to mess with fans.