They say change is a good thing. For the Boston Bruins, it has been the only thing.
It has been a top-down transformation that began with the firing of old general manager Peter Chiarelli. Don Sweeney was promoted to the big time by former teammate and team president Cam Neely a month later. A period of down time ensued afterwards, lasting around a month to let the former Bruins defenseman assess the needs of his franchise.
Sweeney made up for lost time and stole the show on draft day. As you well know by now, Dougie Hamilton and Milan Lucic were traded away while the Bruins picked up two first-round picks that many believed would be used to trade up in the draft for a potential franchise player. That never happened. As a result, Boston's GM was raked over the coals for his moves.
However, he paved the road to redemption with some good moves in free agency. Trading away Martin Jones for San Jose's first-round pick in 2016, shipping Reilly Smith and Marc Savard's contract to South Florida for Jimmy Hayes, and signing Matt Beleskey to a surprisingly reasonable contract had fans singing a different tune at the end of July 1.
In a little over six weeks, training camp will commence with several questions surrounding Boston's 2015-16 team. In addition to those, we have one more to discuss:
At present, are the Bruins a playoff team?
Offensively Challenged?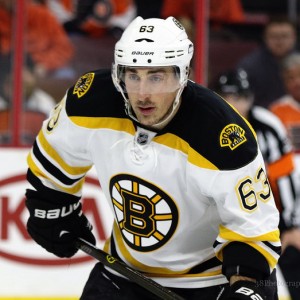 One of Boston's biggest challenges last season was scoring. The Black and Gold struggled to light the lamp mustering 209 goals (23rd in the NHL) and the third-fewest tallies in the third period with just 58. Brad Marchand led the club with 24 goals but could have easily eclipsed 30 had it not been for a month-long goal drought down the stretch. It was a frustrating experience watching the team fail to convert on their chances when it counted the most.
Last season, Beleskey and Hayes recorded career-highs in goals with 22 and 19, respectively. It isn't out of the question for both players to replicate their respective numbers this season but the big question remains whether Boston possesses that "elite" goal scoring forward to carry the offense. Marchand may be the closest body who fits the mold with Loui Eriksson behind him after scoring 22 times last year.
There are several Bruins forwards who can score but can they do it consistently? If there's another stretch this season when the well runs dry, fans will enter the annual "we need a sniper" phase as it has been every season since the trades of Phil Kessel and Tyler Seguin.
Holes On The Blue Line
The defense corps is a serious concern with this team. Hamilton's departure has set back Boston's blue line at least a year or two with the lack of certifiable top-four defensemen on the current roster. Adam McQuaid played in that role last season in Zdeno Chara's absence but should be relegated to third-pairing minutes.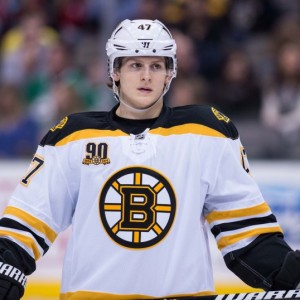 Torey Krug is on a one-year contract worth $3.4 million and is the most likely candidate to see second-pairing time with Dennis Seidenberg (if he's still here). The 5'9 defenseman is a slick puck mover with speed to burn; two things the Bruins defense sorely lacks. Management isn't paying Krug that kind of money to hide him as the fifth or sixth defenseman so watch for his minutes to increase right from the get-go.
The focal point of training camp will be who earns that final defensive roster spot. Joe Morrow, Matt Irwin, and Colin Miller will be the big names in contention for the final defensive spot on Opening Night. The early favorite might be the recently acquired Miller because of his breakout season with Manchester (now Bakersfield) in the AHL.
The 6'2 blue liner was second amongst AHL defensemen with 51 points (19 goals, 32 assists) winning both the hardest shot and fastest skater competitions at last season's All-Star Game. Head coach Claude Julien will be keen to give him an extended look with both Morrow and Irwin lurking in the distance.
The blue line still needs someone to step up in Hamilton's absence with more speed and quicker transitions up the ice. Questions are abound as to whether the Bruins have the talent available to plug their holes in for a run at the playoffs.
In Goal & Behind The Bench
Tuukka Rask played in 70 games last season. The Bruins would not be too keen to see their franchise goaltender replicate that number.
The roster spot to back up Rask is one that bears watching. Malcolm Subban, Jeremy Smith, and Zane McIntyre are all in contention for it. All three men have no NHL experience and would be relied on at least 15-20 times to spell the Finnish netminder. Coach Claude Julien would have to be extremely careful when it comes to relying on Rask to avoid the burnout that took place in the final three games of the season.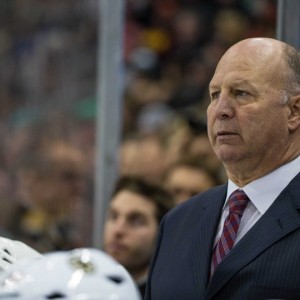 Can one of those three contenders not only make the roster but play well enough when called upon in Rask's absence?
Speaking of Julien, he is on a short leash to begin the campaign. The veteran bench boss will enter his ninth season in Boston facing a tremendous amount of pressure to perform. The first 20-30 games will decide Julien's fate and, if he is fired, it will be asking a lot of a new coach to come in and try to implement a new system given just over half the season to do so. It bears watching what takes place behind the bench to start the year.
At present, there are too many questions surrounding this year's edition of the Boston Bruins to convince me they will be a bona fide playoff team come April. They will be in the mix for one of the East's two wild-card spots but it will be tough for them to get any higher than that.
Then again, it is only the end of the July. Things can (and probably will) change between now and the start of the season.