Coming into the series, the Pittsburgh Penguins were the overwhelming favorite to not only win this series but were also the popular choice to go and win the Stanley Cup. After three games, the Philadelphia Flyers had grabbed a commanding 3-0 series lead and everybody had them penciled into the next round.
Since then, the Penguins' offense exploded for 10 goals in Game 4 and then Marc-Andre Fleury stole Game 4 when he stopped seven Flyers' shots on one powerplay late in the third period. If the Flyers are going to win this series, I think it has to be done in Sunday's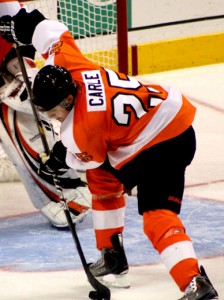 game. They may only have two losses in nine games at the Consol Energy Center, but the Flyers do not want to have to go back to Pittsburgh for a Game 7. The goaltenders seem to have finally settled in as we only saw a total of five goals in Game 5 and I would expect even less than that on Sunday. Without Nicklas Grossmann, Flyers' Head Coach Peter Laviolette made sure that Matt Carle, Braydon Coburn, or Kimmo Timonen were on the ice for the whole game as they logged 29:40, 29:11, and 25:01 respectively. Grossmann returned to practice on Saturday but his availability for Game 6 is still unknown. Andrej Meszaros is still about three weeks away from returning so getting Grossmann back tomorrow would take an extreme amount of pressure of Carle, Coburn, and Timonen. James van Riemsdyk should receive an increase in playing time Sunday which will take pressure the top forwards (Claude Giroux played 26:24 and was double shifted for a lot of Game 5).
This game will be Ilya Bryzgalov's chance to prove his worth. He is yet to play a full 60 minutes of good goaltending. In Game 1 he was awful in the first period before shutting the door and not letting the Penguins score in the next two periods. Game 5 was probably his best game but the two goals he let up in the second period proved costly as they gave the Penguins their 3-2 lead which they held for the rest of the game. Bryzgalov was given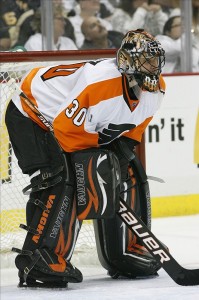 his $51 million contract to do one thing, win Philadelphia its first Stanley Cup since Bernie Parent won it in 1974 and 1975. Before suffering a chipped fracture in his right foot, Bryzgalov was nearly unbeatable as he set the Flyers record for consecutive shutout minutes and was named the NHL's player of the month in March. Since his return, Bryzgalov has seemed to lack confidence in himself but seemed to be turning a corner in Game 5 after being pulled in Game 4. His task on Sunday will be very difficult as he tries to outplay Fleury who showed on Friday why he is considered one of the NHL's elite goaltenders. Bryzgalov has a chance to regain his status as one of the NHL's elite goaltenders this spring, something he had coming into the year but lost as he struggled for the majority of the season.
Special teams will continue to be the key in this series. If the Flyers' powerplay continues to click and the penalty kill can shut down the Penguins' powerplay the Flyers should win this game. Since an ugly Game 3 the referees have been calling everything as they try to control these two bitter rivals. When asked about the Flyers powerplay, Penguins defenseman Brooks Orpik said, "Most power plays, you kind of know exactly what they're doing. This one, I think they have so many different options and so many plays that they use, that's what makes it so good." In my opinion the credit for that statement goes to Jaromir Jagr. Before this year, the Flyers had just an average powerplay. But he has shown time and time again to have an amazing ability to find an open teammate on the man advantage.
Expect tomorrow's game to be a defensive battle, something we haven't really seen yet in this series. Carle, Coburn, and Timonen will be crucial to this team's chances if Grossmann does not play. The Flyers need to improve on clearing the area in front of the net and blocking shots tomorrow. Evgeni Malkin needs to remain frustrated, he continues to take dumb penalties and those penalties will prove costly to the Penguins eventually. If I had to guess, I'd say the Flyers win tomorrow 3-1 and move on to the second round.