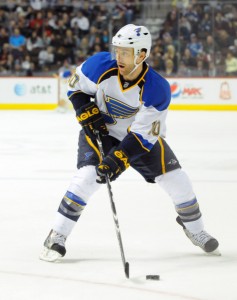 The St. Louis Blues have eliminated the San Jose Sharks.
After losing the first game of the series in overtime, the St. Louis Blues have rattled off four consecutive wins in their first round win over San Jose.  The Sharks, seeded seventh in the Western Conference, fell victim to the Blues' defense-first mentality.
Is it a pretty style of play?  No.  Is it effective?  Ask San Jose.
The Blues needed only 14 goals in the five games to advance.  Their stingy goaltending led the way, their stifling defense rock solid.  Despite losing Jaroslav Halak in Game 2, the Blues hopped on the back of former Senator Brian Elliott, who led them the rest of the way.
The Blues found themselves in a slight valley early in the series, falling 3-2 in overtime on a goal by Shark Martin Havlat.  But like a fish out of water, that victory was the last gasp before the Sharks faded from the playoff picture, the end fittingly coming on an empty net goal in Game 5 to seal San Jose's fate.
It marks the first time since 2002 that the Blues move on to the second round of the Stanley Cup playoffs, a drought that seemed fated to continue early in the season, before coach Ken Hitchcock took the helm.  Hitchcock installed a system that had the Blues believing in themselves and each other.  A strong commitment to the team concept has the Blues twelve wins away from the Stanley Cup.
Despite a lack of big name scoring, the Blues have been bolstered by the return of forward Andy McDonald, who led the Blues with seven points in five games.  He is followed by Patrik Berglund, who has recorded six points.  While the Blues enjoyed a spread of scoring across the roster, there is no doubt that McDonald makes the offensive wheel turn for the Blues.
Are the Blues contenders?  Absolutely.  While the St. Louis squad made not have appeared as regularly as they would like in the playoffs in recent years, their team concept has caught the imagination of the hockey world.  Take this team lightly at your own risk!
And now the Blues wait to see who their second round opponents will be.  It's too early to tell who will enter the Scottrade Center will welcome in Round 2, but the odds-on favorite should be the Los Angeles Kings, who hold a 3-1 series lead over the Vancouver Canucks.
Will it matter?  Who will fall victim to the enveloping defense of the Blues in Round 2?  One should look at the Blues as a serious contender, a hockey team that could be playing well into June.
Don't expect the Blues to change their approach just because the opponents' jersey does.