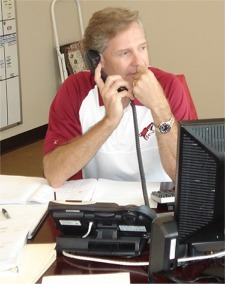 General manager Don Maloney is headed into his eight year at the helm of the Arizona Coyotes NHL Draft table. With eight picks and the potential for trade activity Maloney will be a busy man on the NHL Draft floor this year.
Top 10 Prospects
Brandon Gormley, D
Max Domi, C
Henrik Samuelsson, C
Tobias Rieder, RW
Connor Murphy, D
Laurent Dauphin, C
Lucas Lessio, LW
Mark Visentin, G
Andy Miele, C
Cade Fairchild, D
Team Needs
Based on players currently signed to contracts the top six forwards would include: Mikkel Boedker, Mike Ribeiro, Shane Doan, Lauri Korpikoski, Antoine Vermette and Martin Erat. In the tremendously competitive Western Conference that combination will not result in a playoff berth.
On defense the top six rounds out as Oliver Ekman-Larsson, Keith Yandle, Zbynek Michalek, Brandon Gormley, David Schlemko and Chris Summers. This would be a reasonable group of defenders along with Connor Murphy and Michael Stone set to compete for an NHL spot.
Once again rumours of a Keith Yandle trade are swirling, however this is an annual event in Arizona. I will not add to the speculation at this time.
In goal, unless they sign a veteran backup, the Coyotes will head into next season with number one Mike Smith and prospect Mark Visentin as the backup. If Mike Smith can return in full health the Coyotes should expect at least solid goaltending.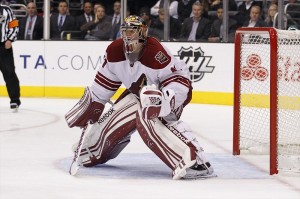 The glaring area of need is skilled top six forwards to provide offense. As currently constructed the Arizona Coyotes simply do not have the firepower to compete. One can only hope that Max Domi, Henrik Samuelsson, Tobias Rieder and Lucas Lessio will be ready to step up and provide offense in short order.
Picks
12th Overall – 1st Round
43rd Overall – 2nd Round
58th Overall – 2nd Round
73rd Overall – 3rd Round
133rd Overall – 5th Round
163rd Overall – 6th Round
191st Overall – 7th Round
193rd Overall – 7th Round
Organizational Strengths & Weaknesses
At this time the Arizona Coyotes pool of prospects is ranked 12th overall in the NHL by Hockey's Future. They have a great deal of depth at the centre position; however they are lacking the same depth on the wings. In fact they may only have three wingers in the system currently with potential to play top six minutes.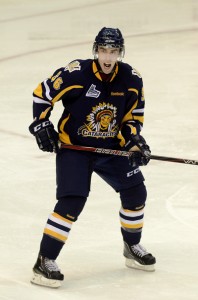 On defense they have some higher end talent in Gormley and Murphy, however they are likely to move up to the NHL level this season. Behind those two there is only likely to be one potential top four defenseman.
Clearly the Arizona Coyotes are at a point with their prospect pool where everything aside from the centre position is in need of additions.
Draft Tendencies
Since 2007 Don Maloney has made 49 selections for the Arizona Coyotes, while seven of those picks have played 20 or more games at the NHL level. Taking out the six picks from the 2013 NHL draft and comparing to the Ottawa Senators and Bryan Murray at 34%, Don Maloney has a relatively low 16% success rate.
Maloney has picked 11 centers, 13 wingers, 15 defenders and seven goaltenders. Within those players one center, four wingers and three defenders have played greater than 20 NHL games. By position the success rate is centers (9%), wingers (31%), defenders (20%) and goaltenders (0%).
The Arizona Coyotes have selected 24 forwards, 15 defenders and seven goaltenders since the 2007 NHL Draft. Maloney does seem to prefer forwards and 46% of the time he selects a center when picking a forward.
It is also clear that Don Maloney and his staff have not been successful when drafting outside of the first round. The number of players that have played 20 or more NHL games by round: first (5), second (1), third (1) and fourth (1).  The Coyotes will need to improve their performances at the NHL Draft in order to remain a competitive franchise.
First Round Pick
At 12th overall the 2014 NHL Mock Draft from The Hockey Writers has the Arizona Coyotes picking winger/center Adrian Kempe from Sweden. He is indicated to have top nine potential at the NHL level, as well as possessing the skill to play both wing and center and on the power play.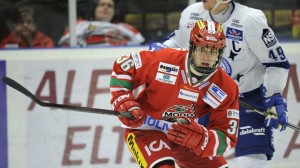 This would be a good pick for the Coyotes to begin restocking the cupboards after the potential transitions of Samuelsson and Domi to the NHL level.
Final Thoughts
For a franchise that is considered a small market with a small budget the Arizona Coyotes have a glaringly poor record at the NHL Draft. Granted Rieder, Domi, Samuelsson, Gormley and Visentin appear ready to buck that trend. However the Coyotes cannot survive another poor run at the draft over a number of years.