The Arizona Coyotes appear to be a team on the move.
Improving 16 standing points from a disastrous 2014-15 season, the franchise now transitions from traditional scouting and planning to a clear emphasis on analytics and projection. It is this direction which decision-makers hope will forge results.
Perhaps the most important off-season move was the elevation of Dave Tippett. Going foward, Tippett, still the head caoch, adds the title Vice President of Hockey Operations. Tippett essentially controls player personnel. His judgment and acumen are both widely respected throughout the NHL. As well, Tippett's emphasis on structure and teaching clearly make him a valuable asset. With his ability to influence player movement, production on the ice, and possibly the Coyotes' fortunes in the Western Conference, are likely to improve.
Team 2015-16 Record:  35-39-8  (4th in Pacific Division)
Off-Season Moves:
Key Roster Additions
Alex Goligoski
Jamie McBain
Jamie McGinn
Ryan White
Radim Vrbata
Key Roster Losses
Antoine Vermette
Boyd Gordon
Nicklas Grossmann
Kyle Chipchura
Key Organizational Change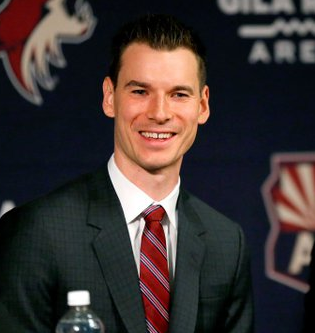 If off-season moves are to be counted, John Chayka, named the Coyotes' general manager May 5, stood ahead of the NHL class. With a background in numbers, Chakya's off-season moves were made with a clear emphasis on analytics in mind. In conference calls with reporters over the summer, and his explanation for signing certain players, Chayka emphasizes numbers, projections, capability, forecast, and trends.
His approach is clearly top-heavy in how and why a player is projected. On a par with the ground-breaking direction of Moneyball, Chayka's incentive to project and evaluate players from a spreadsheet and Tippett's savvy and insight in judging performance on the ice, should interact to shape a positive direction toward success.
Whether the Coyotes, now based on numbers and projection, will jump through the next hoop and ascend into the Stanley Cup playoffs next spring, still remains the burden and responsibility of each player to produce on the ice.
Forwards:
Projected Lines
LW Tobias Rieder – C Martin Hanzal – RW Radim Vrbata
LW Anthony Duclair- C Brad Richardson – RW Shane Doan
LW Max Domi – C Dylan Strome -RW – Christian Dvorak
LW Jordan Martinook – C Ryan White – RW Christian Fischer
Max Domi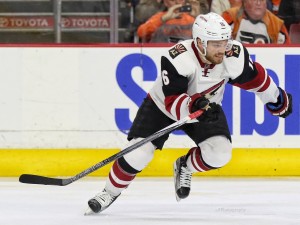 With speed, daring, and acumen, Max Domi established a solid NHL game. Domi's ability to traverse the rink with intelligence and production will significantly help his NHL star ascend this season.
Because he will become an important two-way player, Domi will gain additional value. Not that coach Dave Tippett will use him as a principal penalty killer, but Domi will develop into an important back-checker, and able to guide teammates through developing leadership skills.
When the Coyotes drafted Domi in the first round in 2015, they envisioned a player with speed and play-making abilities. Though he was a final cut in the Coyotes' NHL training camp in each of his final two years of junior eligibility, Domi intelligently used his remaining time in juniors to develop and refine skills. Welcome to his coming-out party.
Anthony Duclair
Along with Max Domi, Duclair signaled the Coyotes future. The future here was defined as improved team speed and greater frequency in goal production.
During his rookie season, Duclair showed signs of quickness and a strong hockey sense. His ability to break into the open and an eye for the net made him an instant offensive threat. By the end of the season, fans in the Gila River Arena anticipated a solid scoring chance each time Duclair touched the puck in the opposing end.
In need of scoring, the Coyotes did not rely solely on Duclair last season. At the end of the 2015-16 campaign, captain Shane Doan, at 39-years-old, topped the team in goals, but Duclair made a strong statement (20 goals, 24 assists).
Clearly, Duclair is capable of 30-plus goals for the upcoming season. With experience, knowledge, talent and strong coaching from Dave Tippett, Duclair has the ability to score with uncanny frequency.
Radim Vrbata
If the Coyotes look for instant offense, Radim Vrbata could be their short-term answer.
Coming back to the desert for his third tour of duty with the Coyotes, Vrbata looks to rebound. He experienced a disastrous season a year ago in Vancouver. Vrbata's defining characteristic is inconsistency. Once on a hot streak, he can score and provide a contribution, especially on the power play.
Then again, Vrbata tends to disappear for games, even weeks, at a time. Here, it's the job of coach Dave Tippett to make sure Vrbata remains a consistent threat. At the same time, he could be in the middle of a revival with fellow Czech Republic countryman Martin Hanzal as his center. This all depends on Hanzal's health. The veteran center was injury-prone over the past few seasons.
Defense:
Projected Pairings
Oliver Ekman-Larsson – Michael Stone
Alex Goligoski – Connor Murphy
Kevin Connauton – Zbynek Michalek
Oliver Ekman-Larsson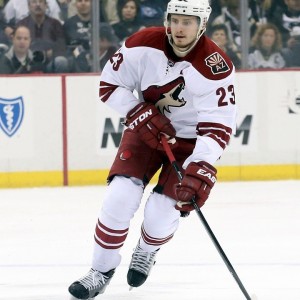 There is no question about the offensive skills of Oliver Ekman-Larsson. Usually one the top point producers for the Coyotes, and among the highest-scoring defenseman in the NHL, his ability to control the game from the left point is a clear asset. On defense, Ekman-Larsson is smart with the puck, but also cautious.
His overall command of the rink tends to be indispensable. That dimension gives Ekman-Larsson the flexibility to start a rush up the ice, or intelligently hit teammates passing into the neutral zone.
While the Coyotes clearly depend on Ekman-Larsson for the bulk of production from the blue line, the team's emphasis on him should be diminished. That's because of the emergence of Connor Murphy and arrival of Alex Goligoski
Alex Goligoski
Relative to off-season needs, one area the Coyotes addressed was keeping the puck out of their own net. To that end, Arizona expressed confidence in Kevin Connauton (signed a two-deal in the off-season), and inked veteran blueliner Alex Goligoski to a five-year deal worth a reported $5.475 million per year.
For a number of reasons, the addition of Goligoski is noteworthy. First, his presence on the ice will take a substantial load from Oliver Ekman-Larsson. At the same time, he provides a clear head for the game and a veteran's perspective.
Perhaps Goligoski's biggest resource remains his desire to mentor emerging defenseman. There is no question that Connor Murphy, who signed a $23.1 million contract in the off-season, will clearly benefit from Goligoski's experience and presence on the ice.
Goaltending:
Pundits believe the key to any success with the Coyotes lay between the pipes. There is a strong belief within the organization that veteran Mike Smith will reach a similar production level to the one during the 2011-12 season. That's when he recorded a 2.21 GA with eight shutouts, and led the Coyotes to the Western Conference finals against the Los Angeles Kings (1.99 GA, three shutouts in 16 games).
Over the past few seasons, Smith has been vulnerable to injuries but came back last season on a rebound. In the disastrous 2014-15 season, Smith registered a career-worse 3.16 GAA but recorded an improved 2.63 GA (three shutouts) in 32 games last season.
If Smith falters, Tippett can turn to Louis Domingue. The native of St-Hyacinthe, Que. filled in well during Smith's injury absence last season. With a 2.75 GA (two shutouts) in 39 games last season and an ability to smartly play his position, Domingue is clearly the goalkeeper of the future for this franchise. In the meantime, Smith and Domingue will likely split the season, and Tippett has the luxury of not playing the same goalie in those dreaded back-to-back games.
Breakout Player: Connor Murphy
The confidence the Coyotes displayed in defenseman Connor Murphy was unusual. Only 23-years-old, Murphy signed a six-year, $23.1 million contract this past summer, and is now regarded as the future backbone of the franchise. One reason why the Coyotes inked Murphy to that long-term deal was his leadership qualities.
When Murphy was signed, Chayka explained that the days of captain Shane Doan, who will be 40-years-old on opening night, in Sedona Red will shortly expire. The organization spotted those leadership skills in Murphy. Now, decision-makers believe he is ready to employ those talents.
On the ice, Murphy intelligently reads plays and clearly emphasizes a defensive game. At the same time, his hard shot from the right point (he's a right-handed shot) is usually on net. While Murphy may not on the radar screen for Norris Trophy consideration, his continuing value to the Coyotes is indisputable.
Player with Most to Prove: Dylan Strome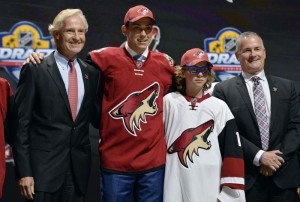 When the Coyotes bought out the contract of veteran Antoine Vermette this past summer, that left a glaring message to Dylan Strome. Essentially, decision-makers said to Strome, we let a player go who was popular with the fans and gathered great respect from his teammates. This left a spot at center, and it's yours.
There is no question Strome comes to the desert with a boatload of potential, and numbers, at the junior level to support this connection. Coming out of juniors, the rap against Strome was his lack of speed, but with new skating coach Dawn Braid and her experience in working with NHL players, Strome figures to improve in this important area.
In the Coyotes' training camp last September and in the development camp this past July, Strome showed the ability to make smart plays around the net and sneak the puck past the goaltender.
An intelligent projection for Strome is around 50 points, and he could reach 20 goals. The important elements now for Strome is how well he transitions to play on the NHL level, and how he responds to Tippett's coaching.
First Player in the 'Call-Up' Line: Brendan Perlini
Though teams can dress 20 players of 23 actives on the roster for any game, coaches usually end up using 30 or more players in a given season. Through poor performance and injuries, players tend to leap from the minors directly into an NHL line-up.
When this happens to the Coyotes, look for forward Brendan Perlini to be the first recalled from Tucson, the team's new AHL affiliate. A former number one pick (12th overall) in 2014, the left-handed shot picked up 25 goals (20 assists) for the Niagara Ice Dogs last season, his final year of junior eligibility
Season Outlook:
Improved, but on the playoff bubble.
It's likely the season ahead will be considered a success. At least, that's an intelligent projection for more standings points.
The Coyotes finished nine points behind Minnesota for the final Western Conference wild-card spot. Arizona earned 35 wins and the Wild gained 38 victories. It is not unreasonable for the Coyotes to win five more games than last season, and be competitive for a spot in post-season play.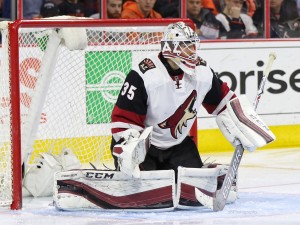 Will the Coyotes end a reasonable drought and challenge for a spot in the Stanley Cup playoffs? Perhaps, but their fortunes are dependent upon riding the coattails of goalies Mike Smith and Louis Domingue.
Doan, who led the team with 28 goals a year ago at age 39, will not lead this coming season. Look for a decent scoring season from Duclair and Domi, who, with their speed, acumen, daring and leadership skills, will emerge as stars in the NHL. The defense is considered improved with Connor Murphy and Alex Goligoski at the blue line.
Oliver Ekman-Larsson, one of the elite defenseman in the NHL, plays a smart, heady game and is careful to not take risks. One defenseman who could emerge as steady and dependable is Kevin Connauton, who signed to a two-year deal in the off-season.
There is a strong possibility the Coyotes will open the season without defenseman Michael Stone. Recovering from off-season surgery to repair a torn ACL, Stone is skating with the team in pre-season camp, but whether he will be able to go Oct. 15 at home against the Flyers in the opener remains uncertain.
Up front, forward Jordan Martinook, whom Tippett likes as a simply a good, professional hockey player, could emerge as quiet, but strong two-way player.
2016-17 Prediction:  39-33-10, 88 points (4th in the Pacific Division)
Make sure to comment below with your opinions on how the 2016-17 season will play out for the Coyotes or head over to the THW Twitter feed or Facebook page and sound off about all our NHL coverage.