With just under 30 minutes to go before the 3pm EST trade deadline, it appeared as though the Buffalo Sabres were going to stick it out with their current roster and make an attempt at the post season.  However that premise vanished quickly as Buffalo pulled off a couple of late deals in an attempt to make their club better for the long term.
The first deal of the day, which was consummated or at least announced by TSN and Sportsnet right at the deadline bell saw the Sabres dealing with the Nashville Predators: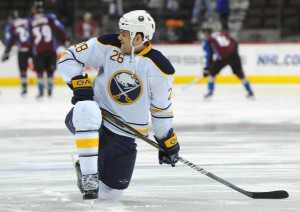 To Nashville:  Paul Gaustad + Buffalo's 4th round pick in 2013 NHL Entry draft.
To Buffalo: Nashville's 1st round pick in 2012
This trade is obviously for the future as the Sabres give up unrestricted free agent Paul Gaustad who at 6'5 & 220 Lbs was a lot of their heart and soul in Sabreland.  Gaustad was also a key faceoff man that head coach Lindy Ruff would employ in the final minutes of close games.  His presence will be sorely missed.  Darcy Regier must have felt as though the negotiations weren't going well enough or that he had an opportunity to cash in and get some assets for Gaustad.
For Gaustad, he joins an impressive squad in Nashville who are vying for home ice in the playoffs but currently sit 5th with 79 points, just 4 points behind division rival St. Louis.  The Preds have also added Hal Gill & Andrei Kostitsyn at deadline from Montreal also from the North East Division.
Gaustad has appeared in 479 games, all as a member of the Sabres and has amassed 71 goals and 181 points over that time.  He had 17 points in 56 games this year.
For Buffalo, this trade signaled to fans that the Sabres saw the writing on the wall and that they would be succumbing to not making the playoffs.  Although the draft pick coming back is currently a bottom 5 pick, Buffalo needed to make a decision on the 30 year old Gaustad who himself was chosen in the 7th round of the 2000 NHL Entry Draft.  Not a bad return.
The second deal of the day, which was announced after the deadline, had the Sabres again dealing with the Western Conference, this time with Vancouver.
To Vancouver: Zack Kassian + Mark-Andre Gragnani
To Buffalo: Cody Hodgson+ Alexander Sulzer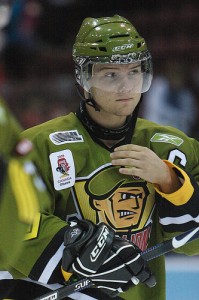 Many of the pundits are calling this the trade of the day.  This trade, although believed to be good for both sides, is believed to make the Vancouver Canucks a meaner team as they prepare for another run to the Stanley Cup.
However, there is no questioning that the best player in the trade is clearly Cody Hodgson who was drafted 10th overall in the 2008 Draft.  Hodgson, who is a young center and who was a slow developer due to injury is a skilled player with 71 regular season and 12 playoff games under his belt.  The Sabres now have 4 players of the first 44 drafted in 2008 on their current roster.  The others are Tyler Myers (picked 12th), Tyler Ennis (picked 26th) and Luke Adam (picked 44th) who is one of the top rookie scorers in the league.  Although Hodgson moves closer to home and he will surely be a top 6 forward in Buffalo, he has to be disappointed with the trade that sent him from a perennial champion in the Vancouver Canucks.
In the deal, the Sabres part ways with the aforementioned Kassian who was selected 13th overall a year later in the 2009 entry draft.   Kassian has an impressive resume which includes championships in Junior hockey with the Windsor Spitfires and long runs in the world junior championships also includes 26 points in 30 games for Rochester of the AHL.  In 27 games with Buffalo he has just 7 points.
Joining Kassian in Vancouver is defenseman Marc-Andre Gragnani who until this season has not been full time with Buffalo.  In 59 games with Buffalo over his career, Gragnani was + 10 with 15 points but he was definitely emerging as a solid 3rd pairing blue liner with 12 points in 44 games this season.
Sulzer who was a throw-in in this deal has struggled a little bit despite being a high end prospect in Nashville.  Sulzer was the 3rd pick in the 2003 NHL Draft and will likely get a chance to play full time in Buffalo.
So with 2 deals in the books, as a fan of the Sabres you have to think that your team is looking past this season.  Although the team has fared well of late, going 3-0-2 over their last 5 games and securing 8 points of a possible 10, the Sabres sit in 12th in the Eastern Conference just 6 points behind 8th place Winnipeg.  Unfortunately, there is really only one place up for grabs and there are at least 5 teams fighting for it.  I personally wouldn't rule it out.
So without doing too much to his existing roster, Regier pulled the trigger late in the day and has enhanced the club's future for a long time with just a couple of moves.  Now let's hope for the fans sake that the Sabres players who have been under-performing are able to pull it together and make a push for the post season.  Maybe Hodgson will add that injection of energy that the club has needed to put them over the edge.