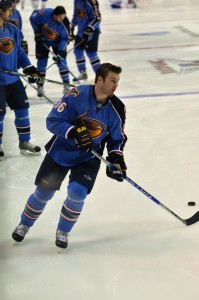 When the dust settles after the June Draft in St. Paul Minnesota, NHL clubs will battle for position on their unrestricted free agents. Once the clock strikes July 1st 2011, UFA's are typically poised and ready for negotiations with a potential new club. In Atlanta's case,  seven players will have that option when the time comes. In most cases, a handful of players may test the waters prior to a potential return to their previous employer. In Atlanta's case, very few out of the seven are expected to return to the Atlanta area.
Forwards Radek Dvorak, Eric Boulton, Jason Krog and Jared Ross, as well as, blue-liners Noah Welch, Jamie Sifers and Freddy Meyer are all set for a potential departure out of the Atlanta Thrashers Organization.
Several players have voiced their desire to return to Atlanta, while others will sit tight and be prepared for the next stage in their careers.
When Rick Dudley traded forwards Niclas Bergfors and Patrick Rissmiller to the Florida Panthers in exchange for Radek Dvorak, the sole purpose was to add depth for the final stretch of what turned out to be a failed attempt at locking up a playoff spot. Once 82 games were in the books, Radek Dvorak was nothing more then a rental player with an expiration date of July 1st 2011. Dvorak's contribution to the Atlanta Thrashers in 13 games dressed (1 assist), was by no means even a slight impact offensively, but do the Thrashers invest in a player who has a strong interest in playing for the Atlanta Organization?
"I had a talk with him. He expressed an interest. He liked the guys on the team. He liked the coaching staff. He liked everything about it. He wants to play again, so we are going to talk to him," GM Dudley said.
If Dvorak can assist the Thrashers offense in any way for the upcoming season, a contract is worth it for a guy who adds to the growing trend of players who want to play in Atlanta.
Eric Boulton's NHL career started in Buffalo in 2000-2001. 10 season's completed, 549 games played, 27 goals scored, 46 goals assisted on and 1150 minutes spent in the penalty box. The numbers speak for themselves. A rugged 4th line player who understand's what's asked of him every time he hits the ice. Boulton is a decent skater and can occasionally find the back of the net. Ask anyone who witnessed Boulton and former Thrasher Ben Eager compete for ice time and you'll get the same answer every time. Eric Boulton outworked Eager, but it wasn't so much what Eager wasn't doing, it was what Boulton brought to the table and did so well.
"I talked to Bolts and told him we would be getting in touch with him and his agent. Bolts played well for us. People ask about Ben Eager, the pure and simple answer is Bolts outplayed him," Dudley said.
If Eric Boulton returns to Atlanta for the 11th season of his NHL career, Atlanta will continue to employ a player who wears the Thrashers sweater with pride, and provides them with on-ice toughness and character. It's a no brainer if the price is right.
Freddy Meyer is an interesting UFA to be. A 6th or 7th defensemen capable of playing solid minutes as a depth blue-liner. In 15 games played this season in Atlanta, Meyer posted 1 goal and 1 assist. Not known for an offensive type of game from the back end,  Meyer keeps things simple and is a likeable teammate. In all likelihood, Meyer will hear from the Thrashers, but most likely after July 1st.
"We just have to make some tough decisions as to who we want on our seven-man rotation," Rick Dudley said.
As for the 2-way contracts in Noah Welch, Jamie Sifers, Jason Krog and Jared Ross, all four players spent the 2010-11 season with the Chicago Wolves of the American Hockey League. While a return to the organization isn't likely for the group, Jared Ross strikes management as a player that had a history of injuries, prohibiting him from a potential call up.
"In Ross' case, he was hurt and then we never had a need for his role. He played well in Chicago in the second half," Dudley said.
As the off-season moves along, stay tuned for all Atlanta Thrasher updates.
DarrenCoslov on Twitter