Listening to local sports radio the day after the Penguins lost another game seven at home, it was clear that Pittsburgh's fans were in self-righteous midseason form. A few calls for Fleury's head. A couple of yinzers suggesting that Dan Bylsma should be replaced. Nothing out of the usual.
The biggest target was winger Alexei Kovalev, who struggled to find offense in the series, as did the rest of the team.
The complaints were typical. Kovalev was perceived to be lazy, something forgiven in the regular season but highlighted during the Tampa series.
He was too old. Too slow. His lone goal in game one wasn't worth what the team spent for him (a seventh-round pick).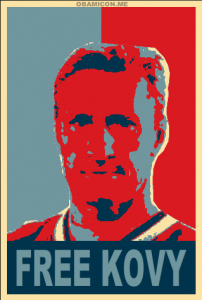 He's an easy pick to be let go of this offseason. There's no guarantee he'll take the kind of discount needed to be retained on a Penguins' roster that is short of forwards and tight against the salary cap. Even if he does, he might not be an ideal candidate to play in Dan Bylsma's nitroglycerine forechecking system.
It seems likely that Kovalev won't return to end his career in Pittsburgh, and the fanfare for him is limited following the Tampa meltdown.
But should the Pens let him walk?
Put shortly, no. The Penguins need to resign Alex Kovalev. The Tampa series made it very clear that behind Sidney Crosby and Evgeni Malkin, the Penguins are a team almost entirely bereft of scoring talent, or at least the kind of talent that can produce in a tight-checking playoff series.
Pittsburgh is loaded with grinders and role players, and that plays to Bylsma's style of coaching. He can get the best out of a fourth-line player, perhaps more than any coach in hockey. High-skill, low-effort players are exposed in his systems, and no concessions are made to accommodate them.
That is no reason to let a talented player like Alex Kovalev walk.
Should the team sign him at the cost of other free agents like Maxime Talbot or Craig Adams? No, not a chance, especially as Talbot and Adams have proved exceptionally useful in multiple situations. Talbot, in particular, cleared the air of a subpar regular season with an excellent postseason performance.
If Kovalev is willing to sign at a discount, the team should lock him up as soon as possible.
The promise of playing with Evgeni Malkin and Sidney Crosby — the kinds of players who have the smarts and the hands to handle Kovalev's circus passes — should be enough to keep him around, if only for one more year. Due to injuries, fans never got to see Kovalev play with either.
The Penguins have very little skill behind their top two centers, and its partly by design. Byslma has had more than two full seasons and three postseasons with which to establish a team identity, and there is almost no one left on the current roster who was not drafted by GM Ray Shero.
This team is fully marked by the work of Bylsma and Shero, and they have invested in defense, goaltending and strength at the center position.
But if a world-class puckhandler is willing to take a discount to stay on the roster, they need to go against their own grain and sign him.
Like the team, fans need to open their minds to the idea of resigning Kovalev. James Neal is arguably the team's best winger, and whom the team has yet to see any real production from. If Neal's poor production can be attributed to playing alongside Mark Letestu and not Malkin or Crosby, shouldn't Kovalev be given the same benefit of doubt?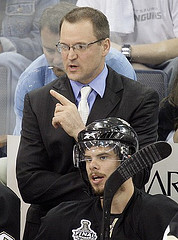 Bylsma never acknowledged after game seven why he sat Kovalev during the final 6-on-4 power play and whether it was meant to send a message. Kovalev was electric during the first period of the game. Did Bylsma really think Mark Letestu presented a better chance to tie the game than the enigmatic 1,000-point scorer?
Perhaps the blame is partly to lie with the head coach. Through his brief and successful tenure, Byslma has proven he is among the league's finest in drawing the best out of second-tier players.
However, he has shown little ability to draw the best out of the best players, something perhaps captured in Evgeni Malkin's struggles over the past few seasons (injuries and subpar wingers have also contributed).
It will take a change of mentality to keep Kovalev in town. Bylsma may not like it, but the Penguins would be better served to have Kovalev playing slowly on Malkin's wing than to have Arron Asham playing six minutes per night on the fourth line.
Kovalev, at 38, cannot create offense all alone. At his age, he needs a premier center to open up space for him. With Malkin and Crosby, he has two premier centers who can give him the time to work as only he is able to. That kind of time and space were not afforded him this season, as Tampa Bay was able to pressure all of Pittsburgh's remaining forwards and force them to make mistakes.
If Kovalev walks, he won't have been the first skilled casualty of Bylsma's grinding systems. Petr Sykora was a steal for the Penguins a few years ago, and one of the team's best wingers. Along with Ryan Malone and Malkin, Sykora was one-third of the team's most deadly scoring line.
The Malone-Malkin-Sykora line may still be the most balanced and effective line in the Penguins' post-lockout history. When Bylsma took over for the 2009 postseason, Sykora fell to a spot role, playing limited minutes. He became a healthy scratch often times and ended up in Minnesota, where his career came to an unceremonious end.
Sykora wasn't a bad player, rather, he was of the most purely skilled scorers the Penguins have had in years. But he couldn't skate the way Bylsma's systems demanded, and he was left behind.
Surely, Kovalev will be left behind if the system doesn't bend, as history suggests it won't. But after watching the Penguins trundle away a 3-1 series lead, the team should open itself up to sacrificing grit for skill, if only for one line, and if only for one year.
James was a Penguins contributor at THW and SB Nation Pensburgh and owns the Pittsburgh sports blog Slew Footers.