Sometimes, you have to make your own luck.
The Colorado Avalanche notoriously won a Stanley Cup in their first year after shifting to Denver from the Quebec Nordiques. The Avalanche won their second championship just five seasons later.
While Colorado was tremendously fortunate to inherit a team on the cusp of something great, there were a lot of strings that had to be tugged in the correct sequence to make both of those title runs possible. Pierre Lacroix, who passed away near the end of 2020, was the one pulling those strings as general manager of those early clubs.
The Avalanche are celebrating their 25th anniversary of their arrival in Colorado this season. That first magical campaign wouldn't have been possible without plenty of legwork done by Lacroix and the organization before leaving Quebec, and in the midst of that first season. The second Cup wouldn't have happened, either, without a lot of moving parts.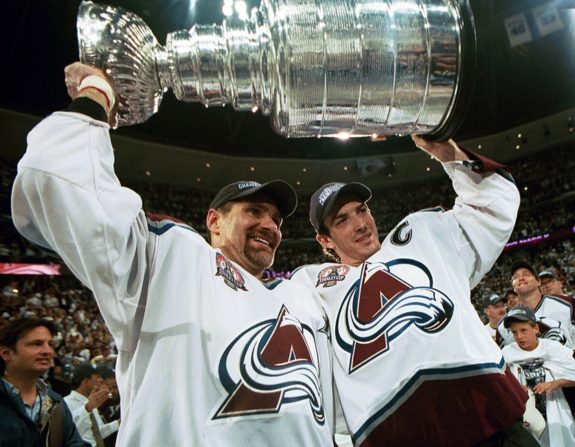 The core was already in place when Lacroix took over personnel decisions in 1994 — one season before the franchise moved to the Rocky Mountains. Joe Sakic, Peter Forsberg, Adam Foote, Valeri Kamensky, Scott Young, Mike Ricci, Curtis Leschyshyn and Alexei Gusarov were all fixtures in Quebec before the move to Colorado.
But Lacroix wasn't afraid to try and improve his clubs midseason — no matter how well they were playing. Adding a couple crucial pieces made the difference for the team's first Stanley Cup in that inaugural 1995-96 season. The second Cup in 2000-01 was the result of even more shrewd moves, as only six players were on both Cup winners.
Crafting Colorado's First Cup
Some of the most vital pieces of both Stanley Cups weren't even on the opening night roster for the 1995-96 campaign.
Most important of those pieces was goaltender Patrick Roy. Lacroix took advantage of the strained relationship between Patrick Roy and Montreal Canadiens head coach Mario Tremblay to get the embattled goaltender out of Montreal.
On Dec. 6 of that season, Roy and Canadiens captain Mike Keane were sent to Colorado for Andrei Kovalenko, Martin Rucinsky and Jocelyn Thibault.
Already a household name, Roy was in the midst of his 12th season as a fixture in the crease for the Habs. In Montreal, Roy won the Vezina Trophy twice as the top goaltender, and the William M. Jennings Trophy four times for giving up the fewest goals. His name was already on the Stanley Cup twice — for titles in 1985-86 and 1992-93. He won the Conn Smythe Award as the playoff MVP in both of those runs.
Roy turned into one of the defining players of that early era for the Avs, winning his third Conn Smythe Trophy in 2000-01, and going into the Hall of Fame in 2006. He was the second player to have his number retired by the franchise.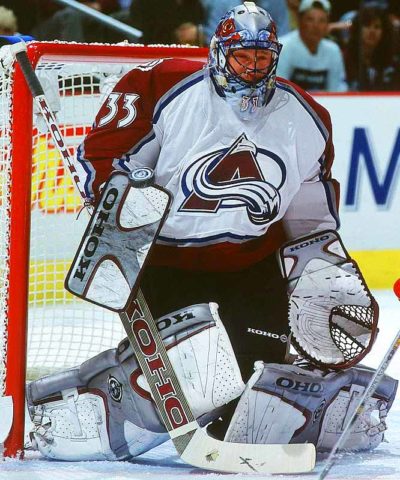 But even before that deal brought Roy and Keane into the mix, the Avalanche traded one of their stars from their days in Quebec for a guy that would turn into one of the highest-scoring defensemen in franchise history.
Just nine games into the 1995-96 season, the Avalanche dealt talented winger Owen Nolan to the San Jose Sharks for Sandis Ozolinsh.
Dealing Nolan was a risk, as he had scored 113 goals in five seasons for Quebec, despite two of those being drastically cut short due to injury. He went on to play a sparkling 18-year career that featured 422 goals and 463 assists for six franchises.
Ozolinsh paid dividends immediately. His 50 points were sixth on the team that season, and his 68 points in 1996-97 season are still a franchise record for points by a defenseman.  
The deal added Ozolinsh to a defensive group that already included Foote, Leschyshyn, Gusarov and Sylvain Lefebvre. They'd get stronger when Uwe Krupp came back from injury, and Krupp would go on to score the Cup-clinching goal against the Florida Panthers.
Deals for Defensemen Pave Way to Second Cup
If it wasn't the deal for Roy, Lacroix's most famous trade was likely the one that brought long-time Boston Bruins defenseman Ray Bourque to the Mile High City for one last grasp at a Stanley Cup.
Bourque famously played 21 seasons for the Bruins without a title. Lacroix worked a deal at the end of the 1999-2000 season to bring Bourque and Dave Andreychuk to Colorado, shipping Brian Rolston, Martin Grenier, Samuel Pahlsson and a first-round pick up to Boston. But the Avalanche were ousted in the Western Conference Final that year, losing a thrilling seven-game series to the Dallas Stars.
The 40-year-old Bourque came back for one more season, and Colorado came through for him with their second title, his first, as he skated off the ice for the last time a Stanley Cup champion.
But Lacroix bolstered Bourque's chances a bit with another trade that year. Late in the 2000-01 season, with Colorado boasting the league's best record at the time, the Avalanche acquired future Hall of Fame blueliner Rob Blake from the Los Angeles Kings. He came with Steve Reinprecht, and Colorado sent Adam Deadmarsh, Aaron Miller and Jared Aulin to the Kings.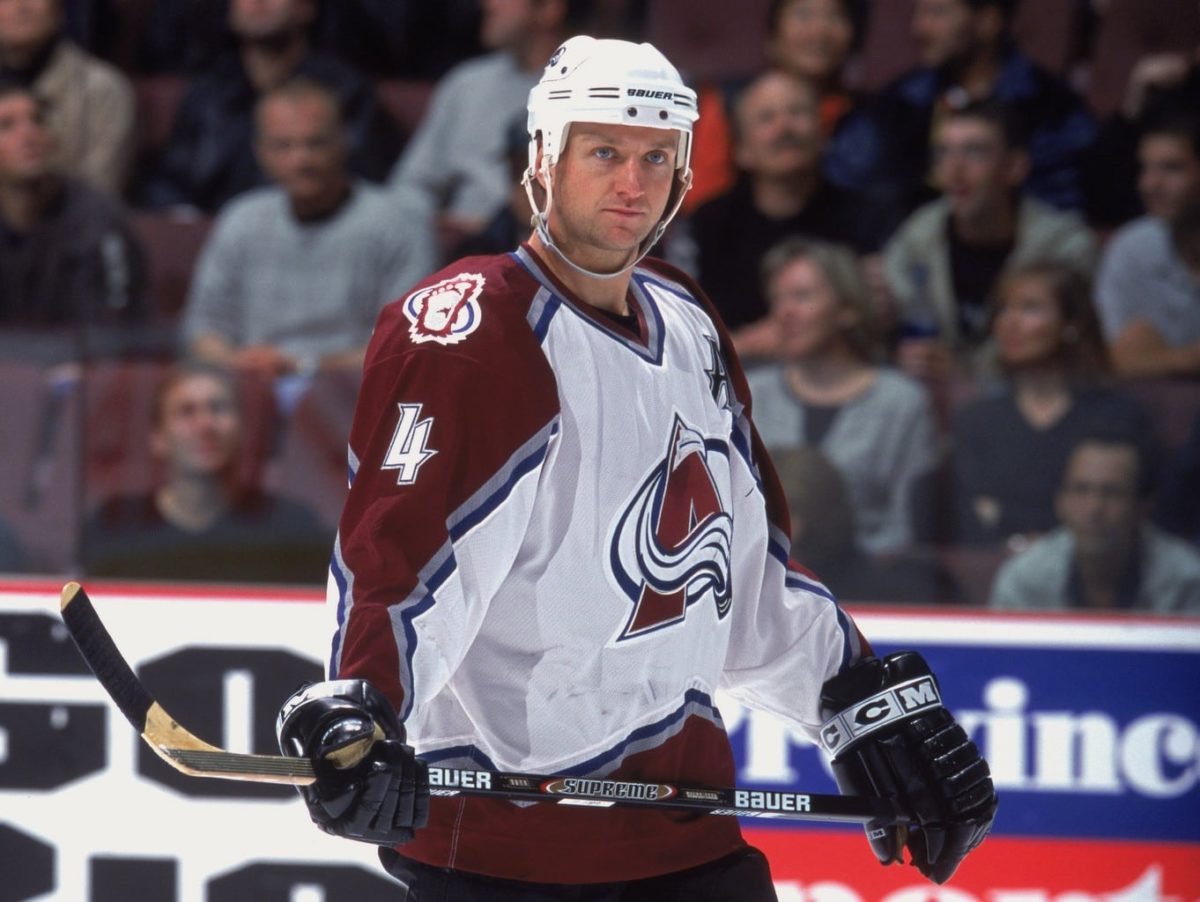 The deal was massive for the Avalanche at the time, as Blake was in the final year of his contract. Colorado was in win-now mode, and the trade gave the team five future Hall of Famers on the roster going into the postseason.
The Avalanche defeated the New Jersey Devils in seven games in the finals to win the 2000-01 title, but they almost didn't get that far. Colorado led the Kings, Blake's former team, 3-1 in the second round of the playoffs before back-to-back shutouts from Felix Potvin sent it to a seventh game. Blake scored just 1:31 into Game 7 — snapping a scoreless streak of 143:18 — to set the tone for a 5-1 win.
Early Mistake Also Helped Set Up Second Title
While the Roy, Bourque and Blake deals take up most of the spotlight — because all three were Hall of Famers — maybe the most important trade made by Lacroix was one that he arguably screwed up.
His first swap with the Avalanche sent a future Hall of Famer away, but he proved he had to the patience to make up for it. After that initial trade in the summer of 1994, the path winds a bit, but it points to a years-long process that helped opened the door to get Bourque for the 2000-01 run.
In June of 1994 — barely a month after taking over — Lacroix traded future Hall of Famer Mats Sundin to the Toronto Maple Leafs in a huge deal that included six players and two draft picks. (from 'Maple Leafs Acquire Sundin, Send Clark to Nordiques in 6-Player Deal,' LA Times, 06/29/1994) The main pieces Quebec got in return were Wendel Clark and Lefebvre.
While shipping out a guy like Sundin (career totals of 564 goals, 785 assists, 1,349 points) early in his career can crush a franchise, Lacroix didn't look back and kept dealing.
Just a little more than 15 months after that trade, Lacroix sent Clark to the New York Islanders for Claude Lemieux — in what could be argued as the grumpiest trade in NHL history, as those two combined for 3,467 penalty minutes in their careers. That's the equivalent of almost 58 games spent in the penalty box between them.
The hard-nosed Lemieux was a fan favorite in Colorado for four-plus seasons, and was integral in winning the team's first Stanley Cup. He was dealt to the Devils in 1999 for Rolston — who ended up being the centerpiece in the trade that got Bourque to Denver.
That trade worked out for both clubs. Lemieux won the Stanley Cup with the Devils that season, the fourth of his career, while Bourque and the Avalanche were champs a year later.
Imagining Colorado's top two lines being centered by Hall of Famers Sakic and Sundin is dizzying, but Avalanche faithful will almost certainly take the two Stanley Cup wins that actually happened, rather than thinking about what could have been if that deal never occurred.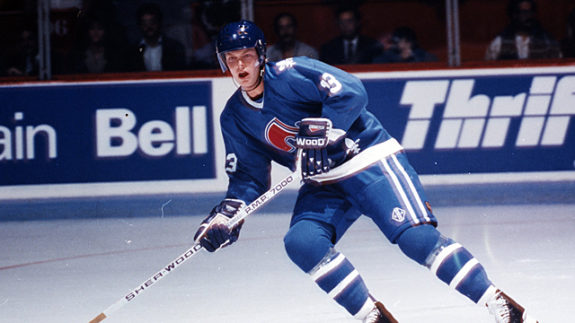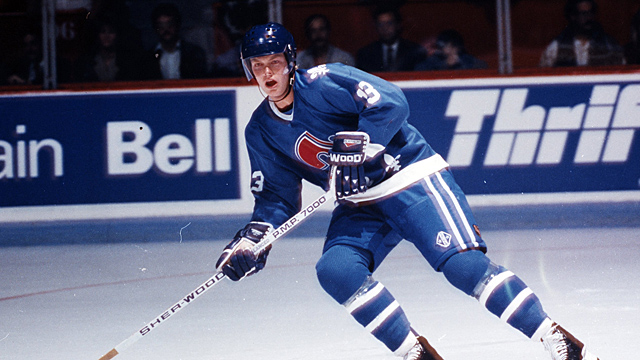 But, even if Sundin could have helped Colorado win more Cups, it might have come at a steep historical cost. The image of Bourque raising the Cup to cap off more than two decades of waiting is one of the most celebrated stories in NHL history.
Now, in the team's 25th season in Colorado, Sakic is the one pulling the strings as general manager trying to make more history.
He's been wildly successful building the team's backbone through the draft with players like Nathan MacKinnon, Mikko Rantanen, and Cale Makar. On the surface, it looks like Sakic has pulled off a number of solid trades to set this team up for success.
Trades by Sakic brought in Samuel Girard in 2017, Philipp Grubauer and Ryan Graves in 2018, Andre Burakovsky and Nazem Kadri in 2019, and Brandon Saad and Devon Toews this offseason.
If that blueprint looks familiar, it's because Sakic had a front-row seat to watch Lacroix do it first.
---
---