Matt Duchene scored 70 points in 71 games last year. This year, he is on pace for 49.
Nathan MacKinnon potted 24 goals as an 18 year old rookie. As a 19 year old sophomore, he hasn't even reached double digits yet.
Gabriel Landeskog has two 20-goal seasons under his belt including 22 his rookie year and his career-high 26 last year. He has two goals since December 1st.
Will Ryan O'Reilly even top 40 points this season? He only has 25 so far and the season is quickly winding down.
The point is, the four players the Avalanche were leaning on to be the top forwards on the team are not doing their jobs. Instead, it's 34 and 37 year old Alex Tanguay and Jarome Iginla leading the team in points.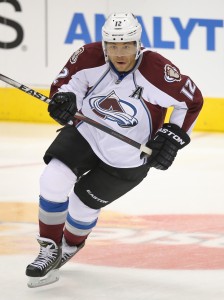 Last season's success wasn't only because of Varlamov's Hart worthy season it was also because the Avalanche were able to score up and down their line up. They had five players who scored more than 20 goals and Jamie McGinn was one away from making it six.
This year's roster will be lucky to see two players achieve that goal.
The Avalanche learned last year that if you're going to let a lot of goals in your own net you better be able to put more in your opponents' net and they did just that. As a team, their 250 goals was the fourth highest total at season's end.
This year's offense is ranked 20th in the league.
Is luck to blame?
MacKinnon averaged 2.93 shots per game last season and is actually shooting at a slightly higher rate but the shots just aren't going in. His 6.3% shooting percentage is nowhere near his 10.0% from last year.
Similarly, O'Reilly's 8.2% is nowhere near his 13.9% and neither is Landeskog's.
Duchene, however, is shooting at roughly the same rate. He is just shooting much, much less. If he keeps up his current pace, he will barely top 200 shots by the end of the year.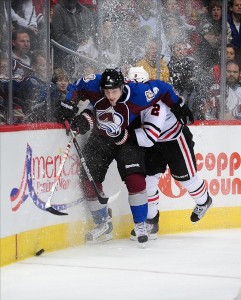 Lack of puck movers
If you look at the team's roster you can easily see there is a lack of players who can handle the puck and help push the play. The only two players who do it on a consistent basis are Erik Johnson and Tyson Barrie. Coincidentally, Johnson has more goals than Landeskog, MacKinnon, and O'Reilly and Barrie has more points than the last two.
Zach Redmond is a capable puck mover but plays limited minutes on the third pairing. That is when he plays.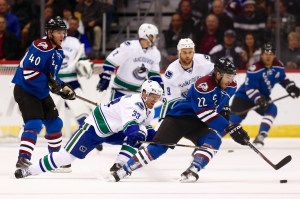 It took head coach Patrick Roy quite a long time before he warmed up to the idea of letting Redmond play and when the team goes through its rough patches it always seems as if it's Redmond who is the scapegoat and gets benched in favor of defensemen who treat the puck as if it were a grenade.
If the team is serious about trading O'Reilly for some defensive help, they better look for some left-handed shooters because Johnson, Barrie, and Redmond all play on the right side.
What's more important than playoffs for this team right now is the need to get back to the identity they forged ever since they drafted Matt Duchene in 2009. Even when the Avalanche were a lottery team their games were exciting because it was a dazzling display of speed and skills.
Last year, they were able to use that identity to their advantage.
In order to regain their old form, the team needs personnel on the back end who can actually make passes instead of blindly throwing the puck up ice.