When the year 2015 hit a few days ago, pop culture experts and historians recalled the Back To The Future movie trilogy with esteemed interest. In Back To The Future II, Marty McFly, Jennifer and Doc jump ahead in time from 1985 to the year 2015. Supposedly, the world was supposed to experience the Hoverboard, the Hovercar, Food Hydrators, and even the Fax Machine. Well, one out of the four have happened, although nobody faxes stuff much anymore since everyone is used to emailing, tweeting or facebook-ing if there's such a term.
In terms of sports "history", there were two significant scenes from the movie. One was that the Chicago Cubs finally won a World Series in over a century, beating some unnamed team from Miami that has an alligator for a mascot. Perhaps 2015 will be the year that the Cubs finally win the elusive World Series. Wouldn't that be something, Bill Murray?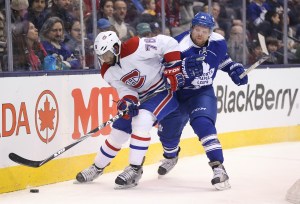 The other most significant scene dealt with the passing from Old Biff to Young Biff the most coveted chalice of time travel, the 1950-2000 Grays Sports Almanac…
Just think of how much you would have made if you had your hands on that almanac back in 1955 or even 1985. If you had a copy of that in '85, would you have believed that:
A young phenom named Mario Lemieux would spend years in the basement before perfecting his game to win two Stanley Cups for Pittsburgh and a Gold Medal for Canada?
Edmonton would shoot themselves in the foot, literally? (Ask Steve Smith)
A young unknown named Patrick Roy would stun the hockey world by winning the Conn Smythe MVP trophy and the Stanley Cup in one year?
Wayne Gretzky would be traded from Edmonton? (No way!)
Player salaries would start to skyrocket?
NHL hockey would get interrupted not once, twice, three times, but four times?! (See 1992 players strike, 1995, 2005, and 2013 lockouts)
The New York Rangers would win another Stanley Cup, the last one being won in 1940?
The Vancouver Canucks came close to winning the Cup before losing in two seven-game Finals?
Teams in Winnipeg and Quebec City packed up and moved south?
The NHL would expand in some unlikely places: San Jose, Anaheim, Florida, Phoenix, Colorado (again), Atlanta (again), Minnesota (again), Nashville and Columbus?
Not since Montreal in 1993, no Canadian team has won the Stanley Cup since?
With an almanac full of futuristic "history", the possibilities are endless…
How I Remembered '85
I know I tend to go nostalgic way too often, but I like to reminisce about the past. The decade in general was a roller coaster. You had John Lennon dead, Cold War tensions, Star Wars, John Hughes movies, Michael Jackson, Madonna, and the Eastern Bloc collapse to name a few events.
1985 alone was a fun year. Rambo (First Blood II) was a major box office hit, Madonna was top on the pop charts, as was Bruce Springsteen his famous Born In The U.S.A. album, Queen hit the biggest stage at Wembley Stadium, and Live Aid was formed. On TV, there was a choice of awesome programming such as Miami Vice, Knight Rider, the A-Team, even Family Ties, MacGyver and Cheers. Don't get me started on cartoons! What can compare to Transformers, GI Joe or Thundercats to the crap kid shows that are out there today? And Nintendo introduced its first Entertainment System, much to the chagrin of parents wanting their kids to stay outside.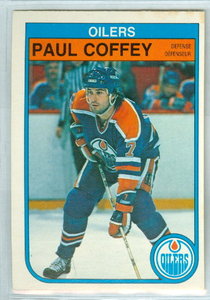 In my opinion, Paul Coffey was the second-best NHL defenceman behind Bobby Orr
On the hockey front, the Edmonton Oilers dominated the league, and 1985 was considered Edmonton's hockey peak. I had just enjoyed watching the Oilers win their second Stanley Cup against the Flyers. It was simply no contest for the Oil that year. Might was well hand over all the trophies before the season began. If the '85 Oiler fan made the jump in a DeLorean time machine to today, he or she would be shocked to see what's been transpiring.
The summer of 1985 was memorable for me on a personal level. For two weeks, I endured grueling hockey training, scrimmages, and set personal goals. I got trained by Oilers defenceman Charlie Huddy who is now an assistant coach with the Winnipeg Jets. While I ate my Pro-Stars cereal every morning, retooled my shooting skills in the first week, I got stung by a wasp on a road course around Sherwood Park, but the next week I won MVP for my team. As a reward, I got to watch Back To The Future on the big screen and spend two weeks in Los Angeles and Las Vegas. All of this fun at the tender age of ten.
"Those were the days." – Archie Bunker, All In The Family
A former novice/atom player, timekeeper and fan of the game, Peter has lived and breathed hockey throughout his life, covering hockey happenings in Edmonton, Vancouver, and currently in Saskatchewan. He is now a contributing writer for the Hockey Writers.