It's a small sample size, but Sven Baertschi and Jake Virtanen have developed chemistry.
In a season that's become all about the youth, the duo has given a glimpse into the Canucks future. Safe to say that up front, it's looking bright.
During a 3-2 loss to the San Jose Sharks, Baertschi and Virtanen were the goal scorers. They were among many young Canucks who were flying in the first period.
Virtanen and Baertschi are flying

— Blake Price (@BlakePriceTSN) March 4, 2016
Offensively, the Sedin twins and Jannik Hansen lead the Canucks in even-strength points per 60 minutes. Who are the next two Canucks that trail them?
Baertschi and Virtanen.
Meteoric Praise
Including AHL playoffs, NHL exhibition and regular season, Baertschi and Virtanen have only played about 20 games together on the same line. It did not take long for the duo to make an impression.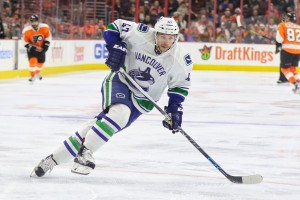 When the Calgary Hitmen were eliminated from the WHL playoffs last spring, Virtanen made his way over to Utica during their run to the Calder Cup Final. Virtanen played in a fourth line role for the first two games before being promoted to a line with Baertschi.
They made an immediate impact. Baertschi was arguably Utica's hottest player at the time when Virtanen joined him on a line centered by Alex Friesen. Despite being one of the youngest players during the AHL playoffs, Virtanen was a physical force.
He only earned one assist during his ten game stint, but showed promise that he could bring his fast and physical game to the NHL level. For the record, the only assist he recorded was on a goal by Baertschi, the third of a natural hat trick that evening.
Comets Turned Canucks
Preseason games should always be taken with a grain of salt, but the youth movement in Vancouver was clear right from day one.
The top five leaders in points for the Canucks during the preseason were Bo Horvat, Baertschi, Ben Hutton, Virtanen, and Jared McCann.
They might just be the five most enticing players to wear a Canucks uniform this season.
Head coach Willie Desjardins put Baertschi, Horvat, and Virtanen on a line together for their second-last preseason game against the Edmonton Oilers. Preseason or not, it was one of the most entertaining games of the season, as the line put ten points together en route to a 5-2 win.
It took a while for both Baertschi and Virtanen to find their way into the lineup, but it is clear that they have arrived. They have spent some time playing with Horvat, as well as newly acquired centre Markus Granlund.
With both centremen, they have shown flashes of brilliance, although in the long-term it makes sense for the wingers to play with Horvat.
All three players bring a different skill set to the Canucks. Horvat and Virtanen are both big bodies who have great wheels. While Horvat isn't as physical as Virtanen, his two-way game is strong and he dazzles fans with those bull rushes to the net.
Since Baertschi stopped playing perimeter hockey, his quick hands have been on display. Against San Jose on Thursday, he made a great pass to Virtanen in the slot with two Sharks defenders draped all over him.
Now that the trade deadline has passed and the youth movement is in full swing, look for Baertschi and Virtanen's ice time to increase. They've already been playing in the 13-15 minute range for the past couple of games. Despite most of those coming as losses for the Canucks, the youth have looked strong.
"We're developing the next core of your #Canucks right now. There's no shortcut here, but we're very excited for the future." – Linden

— Vancouver #Canucks (@Canucks) March 4, 2016
If the Canucks are trying to sell hope through their young players, then Desjardins might want to keep Baertschi and Virtanen together for the near future.