The Islanders saw themselves trailing 3-2 towards the end of the second period after a handful of penalties kept them at a disadvantage and allowed the New York Rangers to cash one in from Michael Del Zotto. Six seconds after Hunter would come out of the box for a slashing minor, Dan Girardi would snipe a bullet from the blue line that would give the Rangers the lead.
But the Islanders would continue their resilient play and battle back once again. After having limited scoring chances in the second period, Matt Moulson would bury his second goal of the year at the 19:39 mark of the period after Frans Nielsen set up Trent Hunter for a shot that went wide into the boards. The puck bounced out in front and Moulson was doing his usual dirty work of crashing the net to get to the loose puck first.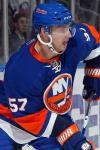 "It's a good way to get our first win tonight by battling back like that in a big rivalry against the Rangers," said Comeau after the game.
"I think we got that 'Never Say Die' attitude and I've said it before, we've got a good feeling in this room. We got the feeling that we can go in and win every game. We're not just satisfied with a good effort. This is the year where we want to see results."
Comeau had two goals and an assist on the night to add to his current point total of four (3 goals 1 assist). He ended the 2010 year with a hot streak where he was seen scoring hat tricks and game-winning goals. It was deemed necessary for Comeau to continue this type of play as soon as the 2011 season started if the Islanders were to be successful. So far he has done exactly that.
"I'm shooting the puck more. Obviously the confidence has gone up with a few of the goals last year. I've worked hard this summer and I'm back in good shape and I feel good so the confidence is rolling."
And that confidence is contagious. Josh Bailey has been delivering so far and isn't wasting any time with the opportunity he has been given in the absences of John Tavares and Kyle Okposo.
"Unbelievable. He makes players around him better," Bailey said in regards to Comeau. "You can say a lot about a guy when you can say that about him. He's gonna keep rolling. He picked up where he left off at the end of last season and I'm very excited about it."
But Comeau wasn't the only one who found his way to the score sheet. Josh also has four points in these past two games (1 goal and 3 assists) and had two points in the Rangers matinee. The goal he scored was the second of the game and was done in dramatic fashion. Mottau kept the puck in at the blue line while the Isles had the man-advantage, who then fed the puck to Comeau in the high slot. He found Josh Bailey going hard to the net who then put the puck passed Lundqvist as he was sprawled out on his stomach.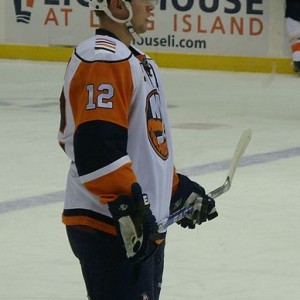 Despite the highlight reel finish, Bailey has been playing the role of a set up man. With time running out in the third, the Rangers would get a goal from Artem Anisimov that would provide them a 4-3 lead. Yet the Islanders power play would go to work and be the difference maker once again. A 5-on-3 was awarded and immediately put to good use as P.A. Parenteau buried a wrister against his former team to tie the game. On the ensuing 5-on-4, Blake Comeau would slam home the go-ahead goal after Mike Mottau fed Josh Bailey down low along the Rangers goal line. Josh demonstrated complete patience as he carefully held onto the puck while shouldering off the pressure from Lundqvist's defenseman and fed a back hand pass to Comeau who was alone in the slot. Frans Nielsen would later add an empty netter.
"That's not really a play you necessarily work on but we know he's always going to be in that spot on the power play," said Bailey. "We had a play earlier in the period that almost worked out. I didn't really see him but you just know the general area and everything worked out."
The Islanders special teams were responsible for two goals today after going 3-for-6 on Saturday. There is no denying that a team's power play will separate playoff dreams from the draft lottery so it's important for the Islanders to find success when they are up a man early in the season.
"We've adjusted some things (on the power play)," said Bailey. "The way we break into the zone, our set up. It's paid off so far. I think it takes a lot of hard work and I think our power play has been working hard so if we keep that going we're going to be able to have continued success."
Rick DiPietro had nothing but positive things to say about the way the team performed in front of him, especially in regards to Comeau and Bailey.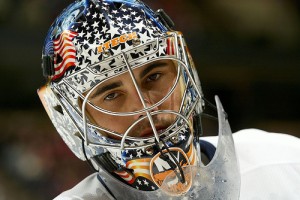 "It's phenomenal. They have been poised to break out. Those are two of the main guys that we've talked about coming into this season. They got us some wins last year. You can't put a price tag on how much that help comes out, that experience in playing different situations. These guys expect to be great players, they expect to do well. If you told me last year that we wouldn't make the playoffs and these guys would be that much better coming into this season for it, I think I may have taken it. This is all positive stuff. We got to continue to work hard and put in that effort and work and continue to get better."
Rick also appeared to feel much more at ease between the pipes in comparison to his first game of the year against the Dallas Stars on Saturday. For his first win, DiPietro knocked aside 29 saves on 33 shots. There were a few occasions when Rick allowed a nail-biter to float on the goal line and roll through his crease or get caught out of position, but he also made some sprawling split saves and stopped a Marian Gaborik penalty shot in the first period. Overall, it was a much better performance for a goaltender who is looking to make his final comeback.
"It's just going to continue to get better, I hope, and every time I get a chance to play, it's going to shake more and more of the rust off," he said.
The Isles next challenge will be to continue this success on the road when they face Alexander Ovechkin and the Washington Capitals this Wednesday.
-Rob McGowan
Follow me on Twitter!
Tweets by IslesRM