by Jas Faulkner, Nashville Correspondent
It was the kind of drama that no one wants to see at any time, much less at the shank end of what looked like a sure win on opening night.  With less than ten minutes left in regulation play, Anaheim, who had been playing like Dead End Kids with a yen for mayhem they couldn't handle, decided to pile on Predators goalie Pekka Rinne.  As Rinne emerged from the heap of avian miscreants, seventeen thousand plus fans in the stands held  their collective breath.  Would he be all right?  Jubilation turned to outrage for some as Rinne got up, seemed to feel his feet to see if everything was okay, and then skated slowly to the bench and disappeared down the ramp.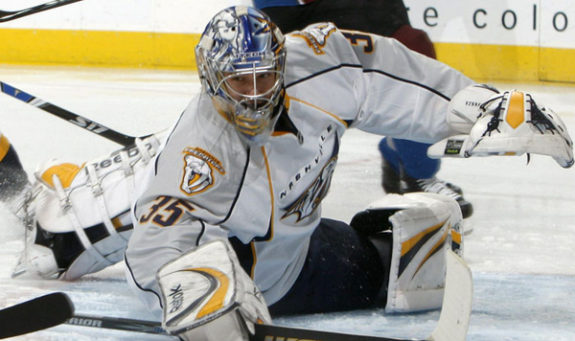 In the tradition of hardworking  understudies and second in commands and alternates everywhere, Anders Lindback, the newly minted second goalie for Nashville would be given his chance to show what he could do.
"(Rinne) waved over after the collision and one of the guys said, 'Peks might be coming out' and I told Lindback to start stretching."
-Barry Trotz , Head Coach
Like every kid with a dream in a Disney movie, Lindback's  first regular season appearance between the pipes happened while his parents were in town to help him settle in; so they got to see him make his debut.   He made a hand full of saves before the final buzzer sounded and avoided a similar mashup.  After that, the  the team saluted their fans and Predsnation headed out into the night for their free Frosties.
"It was good for him.  A young kid and he got  in there and he fared really well… He's pretty poised for a young guy. "
-Barry Trotz
Trotz assured everyone at his postgame press conference that Rinne's injuries were minor.  The talk was that Rinne might be out for one game. Officially, his condition would be kept under consideration on a day to day basis.  Still.  Still.  Those goons hit, correction, they hurt  Rinne.  That just wasn't done.  Colleagues here at THW, Twitter friends in other parts of the continent and fellows in the hockey community wanted to know what was going on.  The accurate perception around the league is that Nashville has an embarrassment of riches when it comes to goaltending staff  both on the ice and behind the scenes. The thought of the face of that unit being out of commission right at the start of the season is big news to hockey fans everywhere.
Monday, Canada Day 2010, Nashville, Tennssee USA
Somewhere in Timmins, feasts were being prepared as Canadian families came together to count their blessings and give thanks.   At Centennial Sportsplex in Nashville, it was business as usual for veteran left wing, Steve Sullivan.  Would the change in goaltenders for the upcoming match against Chicago make a difference in Sullivan's game?
"We have a lot of confidence in both goaltenders.  That's why you carry two.  They play in very similar styles and we have a lot of confidence in them so it's not going to change our outlook at all."
-Steve Sullivan, Left Wing, Alternate Captain
The short/sharp/shock of the last minute goalie change from Saturday night was nowhere to be found at Monday's practice.  The team looked as strong as ever during morning drills.  All of the components that have been fine tuned individually over the summer and collectively during training camp are still on track.  The goalies?  Lindback continues to demonstrate why he was the one destined to don the second cage for Smashville.
"He's a very athletic goalie and from what we have seen from him, ultimately he can stop the puck.  So he's the one who needs to be there."
-Mitch Korn, Goaltending Coach
Such an early debut might not have been a part of the original plan, but both of the goaltenders are taking the change of plans in stride.   When asked about last Saturday's mugging, Rinne was pragmatic about what happened and complimentary of Lindback's performance in the closing minutes of the game.
"I didn't want Anders to have to come in like that, but he did great.  Maybe it was better for him to  come in and just jump in the fire…He's a great kid and I really like him."
-Pekka Rinne, Goaltender
For Rinne, who was at Monday's practice, the decision to step off the ice was a precautionary measure. In keeping with the edicts from the coaching staff, he is taking things day by day to keep what looks to be minimal damage in the inconvenience  category.  This is all just another part of his life in the NHL.    Ultimately, it is part of the process for Rinne as he continues to develop a strong partnership with Lindback.  The Predators' newest arrival from Sweden was equally low key and fairly modest about his role in the team's season opener win.
"Coming into the last period of my first game, I think I did all right."  
-Anders Lindback, Goaltender
Saturday may have brought the drama for Predsnation, but it was hardly a game changer for Nashville. After all, this is hockey, and these kinds of things are bound to happen.
This is Jas Faulkner  hoping that everyone had a good Canada Day whether you were actually in Canada or in the deep-fried outback of the Sun Belt.  Does it matter where you are?  Kinda.  But home, or at least the sense of it, is really something you carry in your heart. Until next time, Predsnation, I'll see you at the 'Plex, the 'Stone and online at Twitter and Facebook.
Jas Faulkner is a minimally socialised writer and artist who lives and works in Nashville, Tennessee. She hearts her attitude problem.