Originally written in 2018.
It wasn't long ago that Ben Bishop donned the Ottawa Senators' logo on the front of his jersey. But with Craig Anderson and Robin Lehner in the mix, the Senators had a decision to make – which goaltender would be the odd man out?
Eventually, the Sens' brass decided that Lehner would be their goalie of the future. That decision made Bishop available on the trade market and the Senators jumped on the opportunity.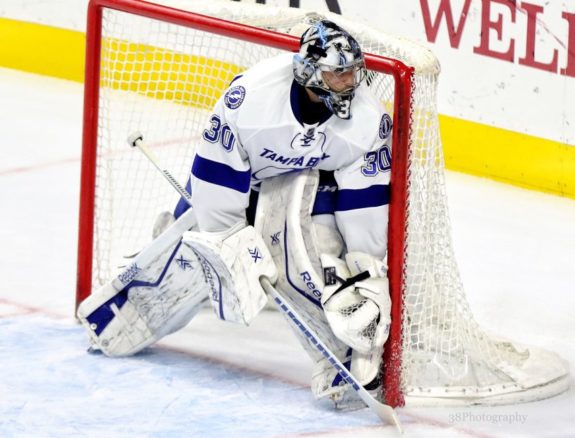 Bishop was moved on Apr. 3, 2013, in a trade that the Senators will look back on as a potential move that saw them trade away a piece that could've solidified them between the pipes for a long time to come.
Lightning Strikes in Tampa Net
On the other side of the trade was the Tampa Bay Lightning – a team that started the 2012-13 season with Anders Lindback and Mathieu Garon as their tandem in net.
That sparked the Bolts into going after the 26-year-old Bishop when he became available and he became the answer for Tampa Bay for a number of years after.
But first, here's a look at what it took to get the goaltender off the Senators.
Going to Tampa Bay
Going to Pittsburgh

G Ben Bishop

F Cory Conacher

 
2013 4th-round pick
(#102 – Tobias Lindberg)
At the time, Conacher had 24 points in 35 games for the Lightning and seemed like a key piece for a team that had a fair amount of offence already. On top of that, the Bolts shipped out a fourth-round pick in that year's draft to secure Bishop from the Sens.
At the time, it seemed like a relatively fair trade on both sides. Bishop had only played 23 games for the Sens over parts of two seasons and accumulated an 11-8-2 record with a .917 save percentage and 2.47 goals against.
Still, Ottawa had a logjam in net which allowed them to move Bishop with Lehner waiting in the winds. And it seemed to play out well for the Lightning beyond that point.
Bishop went on to play 227 games for the Lightning, tallying a 131-64-20 record during the regular season along with a .921 SV% and 2.28 GAA. He also totalled 36 postseason games with similar numbers – a 21-13-0 record, a .921 SV% and 2.18 GAA – coming up just short of winning the Cup with Tampa in 2014-15.
Tampa would go on to trade Bishop in Feb. 2017 as he was a pending unrestricted free agent and it looked more and more like Andrei Vasilevskiy was ready to take over for the team.
The trade with the Kings landed the Lightning goaltender Peter Budaj, defenceman Erik Cernak, a 2017 seventh-round pick and a conditional pick in 2017.
Going to Tampa Bay
Going to Los Angeles
G Peter Budaj
G Ben Bishop
D Erik Cernak
2017 5th-round pick
(#138 – Drake Rymsha)
2017 7th-round pick
(#196 – Wyatt Kalynuk)
*Traded to the Flyers*
 
2017 conditional pick
 
The Senators, however, didn't fair quite as well with their return in the original Bishop trade.
Sens Shorted on Bishop Deal
Conacher came over and played just 72 games for the Senators over parts of two seasons – collecting just 6 goals and 25 points over that span. Conacher's contract expired at the end of the 2013-14 season and he eventually signed with the New York Islanders for the 2014-15 season.
As for the pick, which turned into Tobias Lindberg, he became part of the Dion Phaneuf deal before ever playing a game for the Senators and was shipped off to Toronto.
Going to Ottawa
Going to Toronto
D Dion Phaneuf
D Jared Cowen
F Matt Frattin
F Colin Greening
F Casey Bailey
F Milan Michalek
F Ryan Rupert
 D Tobias Lindberg
D Cody Donaghey
 2017 2nd-round pick
(#59 – Eemeli Rasanen)
By extension, the Senators did land Phaneuf who would go on to play 154 regular season games for Ottawa collecting 54 points, but their assets certainly didn't live up to what Bishop provided for the Lightning.
It's tough to say that either club actually won this trade, but if we had to pick one it would be the Lightning. The addition of Bishop gave the Lightning a competitive nature, while biding time for Vasilevskiy to develop into their franchise goaltender. On top of that, the Lightning did have some significant playoff success during Bishop's tenure which should count in the win column for Tampa Bay on this trade.