The 2017 summer free agent market was one of the weakest in the past few seasons. Names like Kevin Shattenkirk, Patrick Marleau, Martin Hanzal, Karl Alzner and Alexander Radulov were off the market fairly quickly. Then came a flurry of signings of teams trying to pick up the next tier of talents left.
Now, as we near the start of training camp, comes the remaining list of players still hoping for a 2017-18 contract. Most of the players on this list might have to do what the rest of the players are starting to do — sign a professional tryout (PTO). Earlier this summer the reality of the situation played into Shane Doan retiring after 21 years with the Arizona Coyotes franchise.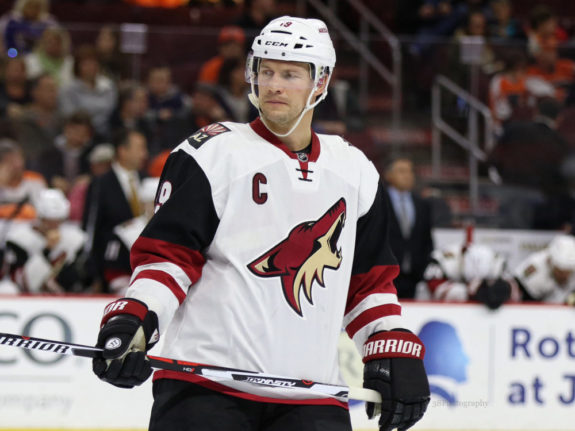 Will the other aging veterans make the same move? We know one or two of them have been quite vocal on social media about wanting one last kick at the can. Here's a list of the ten best players remaining on the UFA market as of September.
10. Daniel Winnik
2016-17 Club: Washington Capitals | Last Cap Hit: $2.25 M | Age: 32
2016-17 Boxcars: 72 GP – 12 G – 25 PTS – 49 PIM
A journeyman depth winger, Winnik has played for seven different NHL clubs over his ten years in the league. He's four years removed from a career year where he scored 30 points for the Anaheim Ducks.
That said, he's been a nearly consistent 20-point player throughout his career. What's also impressive about Winnik is that, over the past four seasons, he's been quite healthy despite his crash and bang style.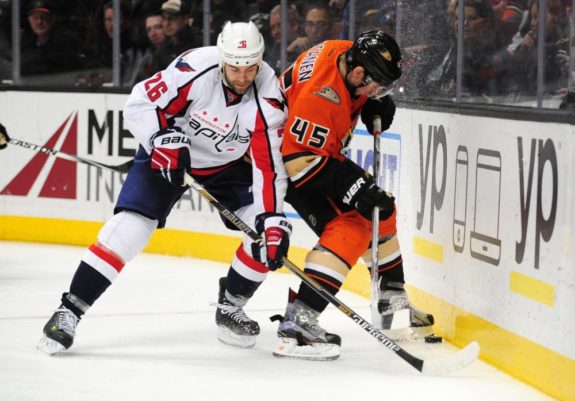 Winnik has averaged 75.8 games in each of those years. For teams looking for a valuable depth player that can stay healthy and play a relatively consistent game, Winnik's your guy.
It's likely Winnik ends up taking a PTO before the start of camp. Could we see a return to the Washington Capitals who need some forward depth? Winnik's still close with his former Capital teammates, for what it's worth.
9. Roman Polak
2016-17 Club: Toronto Maple Leafs | Last Cap Hit: $2.25 M | Age: 31
2016-17 Boxcars: 75 GP – 4 G – 11 PTS – 65 PIM
As our own Anthony Fusco said, there's a place in the NHL for a blueliner like Roman Polak. At 6-feet and a solid 235-pound frame, he's an imposing figure in the defensive zone. He also plays the ever elusive right side that teams are always searching for.
In the past three seasons, Polak's been a key piece for the Leafs penalty kill units and arguably had one of the better years of his career last season, despite only putting up 11 points. That said, it all came to a halt in Game 2 of the first round when Polak collided with Capitals defenseman Brooks Orpik. Polak required season ending surgery for a broken fibula, but is now back on the ice.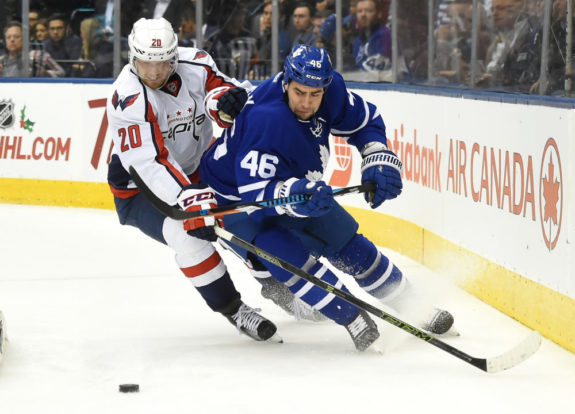 Interestingly enough, he's been seen skating around in a Leafs jersey. He's played 634 NHL games over 11 seasons with three teams and has been a decent third-pairing defender during that time.
For teams looking to make decisions in camp on some younger talent that may or may not be ready, Polak would be able to step in. Lance Hornby of The Sun, said he talked to Polak's agent Allan Walsh, who said he expects his client to sign with an NHL team soon.
8. Scottie Upshall
2016-17 Club: St. Louis Blues | Last Cap Hit: $900 K | Age: 33
2016-17 Boxcars: 73 GP – 10 G – 18 PTS – 45 PIM
Scottie Upshall might be out of his prime scoring years, but the former first round pick from 2002 is still valuable in 2017-18. He's played 696 NHL games with six different franchises, most recently the St. Louis Blues. He's also familiar with waiting late into the summer before getting a deal.
In 2015-16, he was without a contract after finishing a four-year deal with the Florida Panthers. Upshall signed a PTO with the St. Louis Blues, earned a roster spot and was signed before the season started. He did two years with the Blues and now finds himself in a similar spot.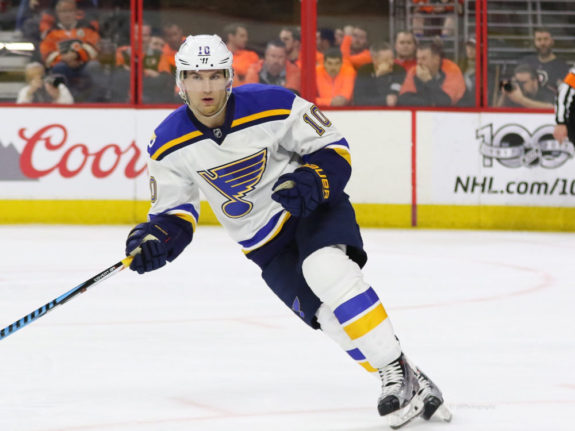 During his career, Upshall's been a valuable penalty killer and plays a smart two-way game. At 33-years old he's a great addition for teams that need to shore up their odd-man unit. For what it's worth, Lowetide (Edmonton-area blogger) believes he'd be a great fit for the Edmonton Oilers.
In his 15-year career, Upshall has never won a Stanley Cup. One of the best fits might be with his former coach Ken Hitchcock, who has high praise for Upshall. Hitchcock now coaches the Dallas Stars, who look to be one of the most improved teams in the NHL.
7. Alex Chiasson
2016-17 Club: Calgary Flames | Last Cap Hit: $800 K | Age: 26
2016-17 Boxcars: 81 GP – 12 G – 24 PTS – 46 PIM
Alex Chiasson is the youngest player on this list. The 26-year-old was a restricted free agent this summer, but the Calgary Flames didn't tender him a qualifying offer. The decision to not qualify Chiasson was because Flames GM Brad Treliving wanted to deal with him without the threat of arbitration.
Treliving felt Chiasson had a decent arbitration case, but still wouldn't close the door on the player 10 percent. It's now September, and Treliving hasn't made any recent headway with Chiasson, so it's probable both sides have moved on.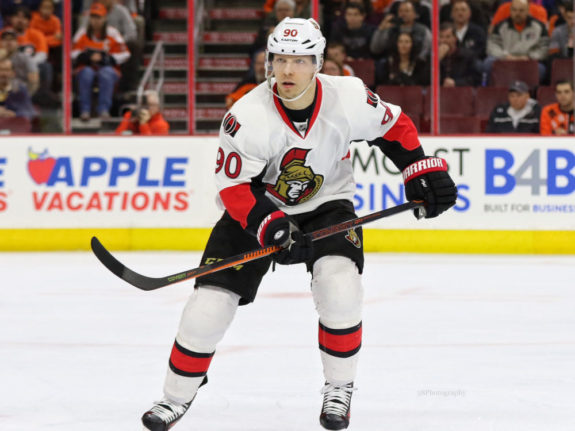 A former second round pick in 2009, Chiasson has been a middle-six forward for much of his career. He's four seasons removed from a career best 13 goal, 35 point season with the Dallas Stars. That said, he bounced back in 2016-17 from the worst season of his career when he scored just 14 points with the Ottawa Senators.
Chiasson has averaged around 11-13 goals per season, and can still provide a presence on a third-line. The last word was that the Columbus Blue Jackets had expressed some interest. Remember, the Jackets took a flyer on Sam Gagner at $650,000 last season, and he rewarded them with a 50-point season. Maybe they'll be looking to do the same on a lesser scale with Chiasson.
6. Jiri Hudler
2016-17 Club: Dallas Stars | Last Cap Hit: $2.0 M | Age: 33
2016-17 Boxcars: 32 GP – 3 G – 11 PTS – 4 PIM
Remember in 2014-15, when Jiri Hudler won a Lady Byng and scored 31 goals and 76 points? He and his linemates Johnny Gaudreau and Sean Monahan were one of the best lines in hockey. As he entered the final year of his deal in 2015-16, it looked as if the Flames were going to have to pay him $6 million plus on a long-term deal.
What happened next was a surprise. Hudler had a significant regression, putting up just 16 goals and 46 points. Those are still respectable numbers, but nowhere near the numbers expected when playing alongside two of the better young talents in the NHL.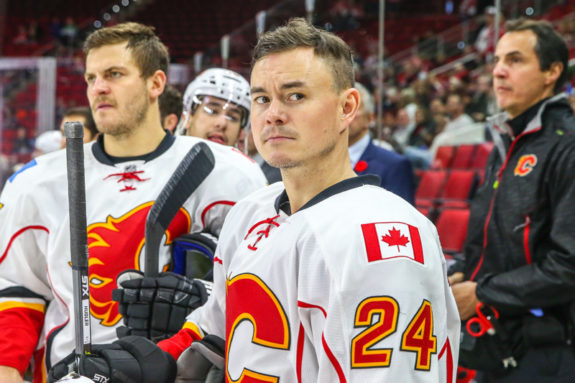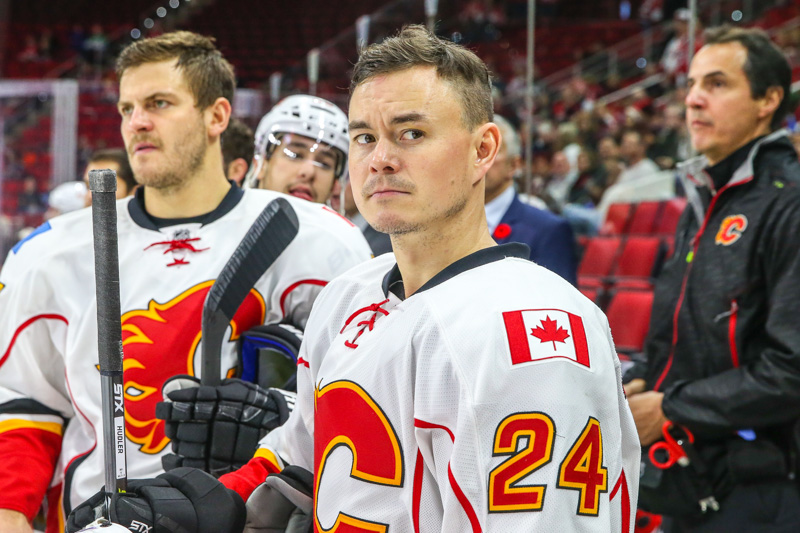 Then he got traded at the deadline to the Florida Panthers and was subsequently signed in the offseason by the Dallas Stars. It was a one year deal worth $2 million, and Hudler was a massive disappointment. Our own Ed Sarno named him one of the Stars biggest free agent flops in franchise history.
This could be Hudler's last hurrah in the NHL, and it's likely going to come down to a PTO offer. When you look at some of the weaker forward ranks in the league like Colorado, Vegas and even Vancouver, Hudler could find work.
5. Cody Franson
2016-17 Club: Buffalo Sabres | Last Cap Hit: $3.33 M | Age: 30
2016-17 Boxcars: 68 GP – 3 G – 19 PTS – 34 PIM
Rick Dhaliwal from Vancouver's News 1130 believes that Cody Franson is mulling over options with the Edmonton Oilers and Chicago Blackhawks. The 30-year-old is one of the few remaining blueliners on a slim market. What's happening to Franson this year is likely what happened to Kris Russell last year. Russell priced himself out of the market and ended up waiting until the end of the preseason for a deal.
Dennis Wideman, Fedor Tyutin, Roman Polak, John-Michael Liles and Franson highlight the remaining list of defenders on the market. Compared to the rest of the players on the market, Franson is not the worst option.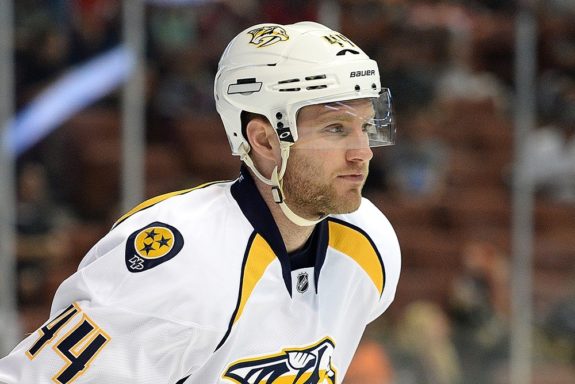 There's a reason Franson has bounced around over the past several seasons, though, and it has to do with the Jekyll and Hyde effect. He's just been too inconsistent from night to night over his career. On the plus side, he played a third of his five-on-five minutes against top-level talent and didn't look as bad as you'd think on an anemic Buffalo Sabres squad last season.
If you're looking for a 20-point, right side defenseman who can hammer the puck, Franson's your guy. He can still help a team's power play as well. He's 6'5″ and 225 pounds, and if the 30-year-old can finally use his size to his advantage, one team might hit a home run. That said, a lot of teams have thought that in the past — Franson has 527 NHL games under his belt over eight seasons.
4. Jarome Iginla
2016-17 Club: Colorado/Los Angeles  | Last Cap Hit: $5.33 M | Age: 40
2016-17 Boxcars: 70 GP – 14 G – 27 PTS – 70 PIM
This is one of the two biggest surprises when it comes to names still on the market. A consistent 30-goal scorer for much of his 22-year career, Iginla's finally started to show his age. He scored just 14 goals over the season but looked reinvigorated once he was traded to the Los Angeles Kings at the deadline.
There was a recent rumor of the Oilers and Iginla talking contract, but it was unclear if it was a PTO or a one-year deal. Regardless, Bob Stauffer of Oilers Now shot down the rumor suggesting it didn't make any sense.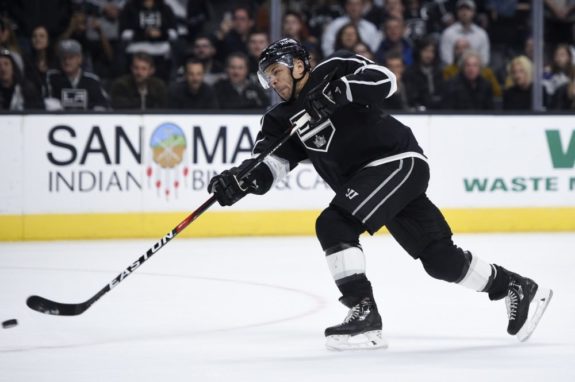 Edmonton already has plenty of wingers in Jesse Puljujarvi, Anton Slepyshev, Drake Caggiula, Milan Lucic and Patrick Maroon vying for top six spots. They also added Ryan Strome, who'll play on the wing as well. In the depth roles, Jussi Jokinen, Mark Letestu and Jujhar Khaira make it a crowded situation. Suddenly there's not a whole lot of space up front.
While the NHL is getting younger and faster, Iginla is heading in the opposite direction. It might have to come down to a PTO and then a bonus laden one-year deal for Iginla. As our Jim Parsons said, his offensive numbers last year aren't as appealing as you'd think. Make no mistake, Iginla is a first ballot Hall of Famer, but he might have to take a kick in the teeth for what could be his last contract in the NHL.
3. P.A. Parenteau
2016-17 Club: New Jersey/Nashville  | Last Cap Hit: $1.25 M | Age: 34
2016-17 Boxcars: 67 GP – 13 G – 28 PTS – 35 PIM
P.A. Parenteau has been the definition of a journeyman throughout his career — he's played 491 NHL games with eight different franchises. After posting a career high in 2011-12 with 67 points, Parenteau signed his first long-term deal with the Colorado Avalanche that summer. His numbers in each of the subsequent years declined.
He played just two years of that deal with the Avalanche until he was traded to the Montreal Canadiens. His contract was bought out after completing just three years. Since then he's been back to signing one-year deals. This season will be no different.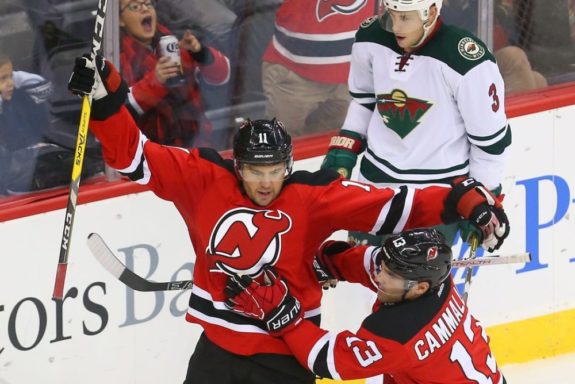 It's now been confirmed by his agent Allen Walsh and the Detroit Red Wings that the team has signed Parenteau to a PTO. He's not out of the water yet, though, because not all PTO's mean a player is signing with the team. Remember last year when Kris Versteeg had a PTO with the Oilers only to sign with the Calgary Flames?
The Red Wings also signed David Booth to a tryout. If you ask his agent, Parenteau has averaged 17 goals over the last two seasons. That said he scored 30 goals in one year, and 13 in the other. The world of spin eh?
2. Brian Gionta
2016-17 Club: Buffalo Sabres  | Last Cap Hit: $4.25 M | Age: 38
2016-17 Boxcars: 82 GP – 15 G – 35 PTS – 22 PIM
Brian Gionta may have lost a step or two over the past few seasons, but he'd be a welcomed addition as a top nine forward for plenty of teams. In his last three seasons in Buffalo, Gionta scored between 12-15 goals per year and he was a consistent mid-30 point scorer as well.
For the last seven seasons, Gionta has also worn the captaincy for two franchises. In fact, during his 15-year career, he's worn a letter with all three of the teams he's played for. Gionta won a Stanley Cup as a top-nine forward for the New Jersey Devils in 2003. In this day and age, and where his game is, he could help another team do just that.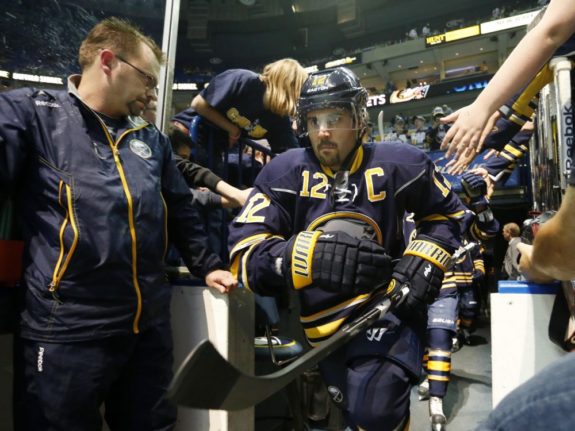 He's a true team-first guy and would take an assignment anywhere in the lineup. Gionta's logged 1,006 NHL games and still has another year in the tank at 38-years of age. As our Dan Rice points out, there's a fit for Gionta to return to the Devils and bolster their right wing depth. If Gionta doesn't want to move his family far from the New York area, the Islanders could also be a fit.
Gionta is still hoping for a contract, but something that fits for his family. His departure from Buffalo was more so the new GM Jason Botterill wanting to take the franchise in a different direction. Botterill also cut ties with Franson and Dmitry Kulikov.
1. Jaromir Jagr
2016-17 Club: Florida Panthers  | Last Cap Hit: $4.00 M | Age: 45
2016-17 Boxcars: 82 GP – 16 G – 46 PTS – 56 PIM
How does a guy who's currently second all-time in NHL scoring with 1,914 points not have a contract already? Jaromir Jagr has been an ageless wonder, it seems. Since returning to the NHL at the age of 39 in 2011-12, Jagr has gone on to have three 50-point seasons and he's twice narrowly missed the 70-point plateau. Regardless, he's averaged 56 points in his previous two seasons with the Florida Panthers. There's been interest in Jagr, with the Flames being the most recent team to express it.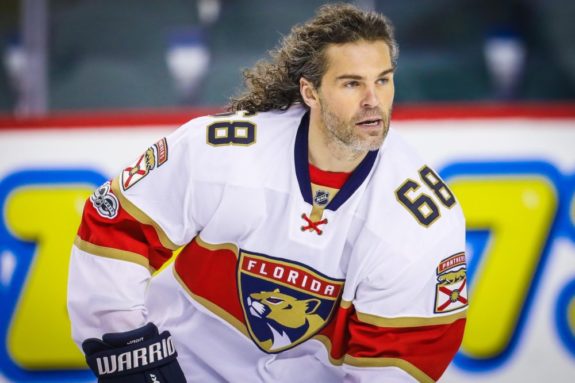 For Jagr, he's looking for an up tempo offensive system to play in, and preferably a Stanley Cup contender. Money isn't the biggest stumbling block, but he doesn't want to take a bargain deal so that he can play.
His agent, Petr Svoboda, is apparently working around the clock to get something done with training camp around the corner. If Jagr plays this season, he could pass Gordie Howe for third on the all-time games played list. If no deal presents itself, Jagr will have no problem finding work in the European leagues.
Edmonton Oilers regular contributor providing insight on all things Oilers including club history, prospect profiles, trade breakdowns, and everything else in between. Check back regularly for new and exciting content. Follow on Twitter @SanderTHW.