Week six came and went with the Anaheim Ducks compiling four out of a possible six points. After gaining back-to-back impressive wins, including a dramatic come-from-behind one against New Jersey, the Ducks failed to show up for 40 minutes on Sunday, ultimately losing to the Los Angeles Kings 3-2. All fans could be heard echoing Rickard Rakell's statement:
"I wish we would've played the whole game like we did in the third period. We have to move forward and make sure it doesn't happen again." pic.twitter.com/YhIqeTEg2F

— Anaheim Ducks (@AnaheimDucks) November 21, 2016
Consistency continues to elude the Ducks, but they are getting better. As they showed in the third period on Sunday, they can dominate teams if they want to. That being said, here is your week six lookback.
Week 6
Game 17: vs. Edmonton, Tuesday, November 15: 4-1 W (John Gibson; Cam Fowler GWG)
Game 18: vs. New Jersey, Thursday, November 17: 3-2 W (Jonathan Bernier; Ryan Kesler GWG)
Game 19: vs. Los Angeles, Sunday, November 20: 3-2 L (Gibson)
Overall: 9-7-3, 21 points; 1st in Pacific, 3rd in Western Conference
Twice is Nice
If you have been following the Ducks for the last three seasons, you know the second period has been pretty awful for them. During the 2014-15 season, they came in 23-under par while last year they came in at minus-19. The story has been significantly better as they are actually in the positive category with plus-4, only one below the third period at plus-5.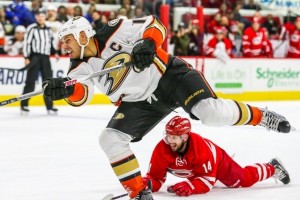 What has led to this turnaround? Honestly, take a guess. Perhaps Randy Carlyle is a better bench boss, leading to better line changes or players knowing more what to expect. Maybe the players were tired of hearing how horrible the second period has been and tried to correct it themselves. Whatever the case may be, the Ducks finally do not have a sore spot when it comes to goals scored versus against in a given period.
If they can continue to stay in the positive range for each period, that will make their lives a lot easier and should lead to easier wins. For Ducks fans, slightly fewer heart palpitations in the second period would also be nice.
Shutdown Line Popping Goals
Well, this has been a bit unexpected.
We all know Ryan Kesler's biggest strengths: agitator, faceoff magician, defensive maestro. But leading the team in goals scored? That's Corey Perry's job.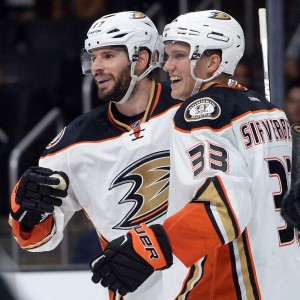 With eight goals in 19 games played, Kesler finds himself atop the Ducks' leaderboard. Not to be outdone, his linemates Andrew Cogliano and Jakob Silfverberg have combined for 11 more between the two of them to create easily the Ducks' best offensive line. And these guys were only supposed to shut people down.
With Rakell and Hampus Lindholm finally settling into the lineup, Carlyle and the Ducks should continue to have consistency in their lineup. We all know Ryan Getzlaf and Perry can create magic, but if the shutdown line continues at its pace and Rakell's line with Antoine Vermette and Joseph Cramarossa starts producing a bit more, the Ducks' forwards suddenly do not look so bad.
Week 7
Game 20: vs. New York Islanders, Tuesday, November 22, 7:00 PST
Game 21: vs. Chicago, Friday, November 25, 1:00 PST
Game 22: @ San Jose, Saturday, November 26, 7:30 PST
Three more games await the Ducks in week seven, including two back-to-back at the end of Thanksgiving week.
To start the week, the Islanders come into town. The Islanders are struggling. So much so that Garth Snow had to refute rumors about Jack Capuano being fired. Eyes on Isles wrote a piece on why they think the team is struggling. Seems like the perfect team to get the Ducks back on track and start the week off right.
The now seemingly annual Black Friday tilt against the Chicago Blackhawks takes place again. Here's hoping both teams will be a bit more lively compared to the last few meetings the day after Thanksgiving. This will be the first test against the always-dangerous Blackhawks, who have reloaded once again and lead the Central Division.
Capping off the week is another trip to the Shark Tank. John Gibson stole a point for Anaheim in the first contest this season. San Jose is struggling of late, having only gone 4-5-1 in its last 10 games.
Highlight of the Week:
Kudos to @AnaheimDucks for this hashtag:
#Swedeheim strikes! #LetsGoDucks pic.twitter.com/2mXl2WrrWZ

— Anaheim Ducks (@AnaheimDucks) November 21, 2016
Minus of the Week:
Pretty much the first 40 minutes of the Kings game, but this was pathetic: