Wednesday, the NHL will host a variety of games. There are 12 contests on the schedule and 24 teams in action. Most of the games appear to be between some pretty evenly matched teams, with a couple of exceptions. The Los Angeles Kings appear to be heavy favorites at home versus the New York Islanders who are playing the second game in a back-to-back on the road and Columbus appears to outclass the Flames who are six points back in the standings from the Blue Jackets.
Yesterday's Games
Ottawa Senators players held four of the top eight offensive point positions after Tuesday's games. Mike Hoffman and Mark Stone each had three points, while Erik Karlsson and Derick Brassard had a goal and an assist each. In a losing effort, Andrei Markov had three assists.  If you focused on the Ottawa versus Montreal contest, you likely did well in your fantasy pool.
Tonight's Games
Calgary Flames at Columbus Blue Jackets
Detroit Red Wings at Buffalo Sabres
Pittsburgh Penguins at New York Rangers
St. Louis Blues at Washington Capitals
Toronto Maple Leafs at New Jersey Devils
Winnipeg Jets at Minnesota Wild
Philadelphia Flyers at Tampa Bay Lightning
Dallas Stars at Nashville Predators
Chicago Blackhawks at San Jose Sharks
Edmonton Oilers at Colorado Avalanche
Vancouver Canucks at Arizona Coyotes
New York Islanders at Los Angeles Kings
Centers
Connor McDavid ($8200)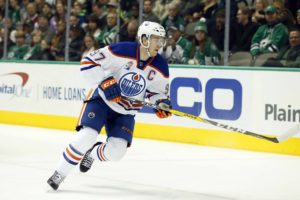 For a player who hadn't scored a goal in most of November, in this last two games, he has five points including a hat trick. McDavid is back atop the NHL standings with 24 points and the Oilers have won two straight games. Wednesday, Edmonton is taking on a team that on paper, they should beat. It doesn't mean they will, but in defeat or in victory, McDavid is the heartbeat of the Oilers and he's producing even when he's not scoring goals.
Colorado is a below average team in many defensive team categories including being 27th in the NHL on defending power plays. The Oilers scored three power play goals against the Blackhawks on Monday.
Jeff Carter ($6400)
In his last three games, Carter has been on a tear. He has four goals and six points and he's going up against a very poor defensive team in the Islanders. Carter also has 19 shots in his last three contests and is playing on the top line in the absence of Anze Kopitar. He's a fantasy must at his price. As I mentioned earlier, the Kings seem to be, on paper, the biggest favorite to win their match-up. It makes sense to take the biggest offensive producer on the team.
Forwards
Cam Atkinson ($5900)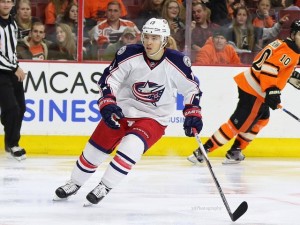 With points in every contest, Atkinson has been a point-producing machine in the last five games. He now has nine points and 18 shots on net in those five games alone. For a player who now has seven goals on the season, taking on the Flames, who are among the worst in the NHL at keeping the puck out of their own net, screams opportunity.
Jake Guentzel ($2800)
In his very first NHL game, Guentzel had two goals and five shots on net. It was a memorable performance in a losing effort for the Penguins. Can he repeat the performance? Most likely, he won't even come close, but at his price tag, you almost have to give him an opportunity if you're a fantasy team owner. He's an easy player to round out your roster with and allows you to take some more expensive player options. Sometimes a feel-good story is enough to warrant some consideration.
Defense
Alec Martinez ($4800)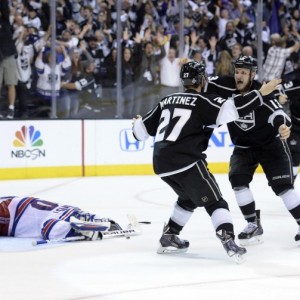 Martinez has three assists in his last three games. He's also posted six shots on goal, seven blocks and seven hits in those three contests. All of those games were against teams with a better record than the New York Islanders who Martinez and the Kings will be facing on Wednesday. He's a good price and with 12 points in 20 games, a pretty safe bet.
Oscar Klefbom ($4600)
I keep saying Klefbom will have a drop-off and he keeps scoring goals. On Monday, against the Blackhawks, it was a goal and an assist in a dominating performance by the Oilers. Klefbom added a blocked shot and four shots on net giving him 14 shots in his last four games. At some point, he's not going to score, but until that happens, Klefbom just seems to good an option to pass up.
Goaltender
Sergei Bobrovsky ($8200)
Bobrovsky is now 10-4-1 with a .931 save percentage and 2.19 goals against average. He's won his last four starts and while he's let in some questionable goals, he's been able to give the Blue Jackets enough to pull out victory after victory. Calgary ranks extremely low in goals for per game, shots per game and power play goals per game. If Bobrovsky is the starter, he should take home with another win.