The Big Ten Season begins tonight with the first ever Big Ten Hockey matchups. Of course 5 of these 6 teams have been playing hockey for many years, but this marks the first time the Big Ten has fielded an actual Hockey Conference.
This season started with optimism and for a few teams, has quickly been ratcheted up to full National Championship expectations. There's still a lot of hockey left to play both in and out of conference, but at least two teams – Minnesota and Michigan (GASP!!!) – a trip to Philadelphia for the Frozen Four is starting to become something these teams. Not surprisingly, these 6 teams have really separated themselves. I wouldn't say we're looking at the haves versus the have nots, but there is definitely a split in the conference already.
As We Stand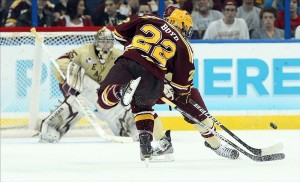 It takes one quick look at the National Rankings put out by USCHO and the USA Today to see who the haves are:
1. Minnesota
3. Michigan
12. Wisconsin (#13 in the USA Today poll)
Now, remember, these polls mean absolutely nothing right now (nor do they mean anything at the end of the season), but they do go to show you who to look out for every week in college hockey. The fact that Michigan – a team that didn't make the NCAA tournament last year for the first time in 22 years – is regarded as the number 3 in the country has to have a few head coaches a little worried about their upcoming trips to Ann Arbor. I asked if the Wolverines could recover in 2013-14 in my Big Ten Preview, and it is now apparent that they certainly can. Was there ever any doubt?
Minnesota is looking strong as well after a weekend series against Notre Dame in South Bend, IN a few weekends ago. While they did lose their first game of the season, a 4-1 decision on Friday night, the Gophers roared back for a 5-4 win on Saturday, and their depth is frightening. I'm not sure I would want any part of them in a 1-game tournament type of game.
Tonight, we get underway in the Big Ten. Here is a look at the first matchups:
The Matchups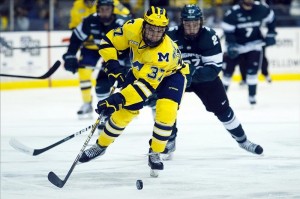 The first weekend in the Big Ten features 2 of the 3 biggest rivalries in the newly formed league. Wisconsin travels to Minnesota for the game of the week against the Gophers and the inaugural game starts at 5pm Eastern time in St. Paul. They meet again on Saturday night for the 266th and 267th times overall.
These two teams have played each other several times a year for many years as members of the WCHA and renew their oft-heated rivalry in the Big Ten this weekend. All-time the Gophers lead the series 157-87-21 including 91-27-8 at home against the Badgers. Both teams have some signature wins already this season, with Minnesota taking down Notre Dame in South Bend a few weeks ago and Wisconsin taking down Miami in Oxford the following weekend.
In the other premier rivalry matchup to start conference play, Ohio State and Michigan will face off in a home and home series Friday and Monday. Michigan has had a meteoric rise to the top of the national polls this season, while Ohio State comes in on a 5-game winning streak. The football game on Saturday in Ann Arbor will be the highlight, but you can also expect some fireworks on the ice on Friday in Yost Ice Arena, as well as on Monday in Columbus.
In non-conference matchups, Penn State hosts Union on Saturday and Sunday, while Michigan State hosts Princeton for a Friday/Sunday series.
So What's Next?
Minnesota is strong, fast and has lost just 2 games this season and is playing at home to start their conference slate. I have no doubt that the Gophers will continue to use their depth to make any and every opponent submit to their firepower this season.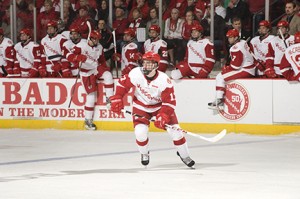 Wisconsin has generally started slow over the last several years, then turned on the heat at the end of their season. I'm expecting the same from them this year. They have started with series every other weekend, so their momentum hasn't started to build just yet. However, it won't be long for them to climb the rankings once again.
Ohio State's foes over their current streak of 7 wins in 8 games haven't exactly been the most highly-touted of teams: 2 wins each over Robert Morris, Niagara and Canisius (5 of the 6 coming at home), plus 2 more home wins – one against Bowling Green and one against Minnesota-Duluth. Ohio State will face more stingy opponents this week and going forward, so look for their stock to drop some over the coming weeks.
Michigan is… well… being Michigan-like again. They're deep, and have 2 solid goaltenders. They are sophomore Steve Racine (3-0-1, 2.44 GAA, .931 Sv%) – the incumbent from last year – and freshman Zach Nagelvoort (5-2-0, 1.48 GAA, .950 Sv%). Both have been impressive and Red Berenson has a decision to make each and every night on who to start.
Penn State (3-5-1) and Michigan State (3-7-0) have some work to do on each side of the puck. It is to be expected from the Nittany Lions to struggle a bit, playing just their second year of Division I hockey. Michigan State, on the other hand, needs to find its scoring touch with just 19 goals in their first 10 games of the season.
One thing is for certain: Big Ten Hockey is here, and it's here to stay. Just as the boys on the football field do, these 6 teams are certainly likely to show off their high caliber of play, and the inaugural season will only be a preview of what we know will be many years of excellent hockey.
Doulas Cutler is a Lead Writer for The Hockey Writers covering the Chicago Blackhawks. Follow him on Twitter at @DougCutlerTHW. In addition, he also writes on The Blog of Brotherhood, dedicated to Miami RedHawks Hockey (www.blogofbrotherhood.com and @MiamiHockeyBlog). LET'S GO HAWKS!