There are many ways for a general manager to improve his team, be it free agency, the waiver wire and of course the trade market. It's a dance that is done not only at the trade deadline but throughout the season and offseason as well. Some come together quickly and painlessly, while others take several months of painstaking negotiations between two opposing GMs.

Over the past year, we have seen a few blockbuster trades get completed that have changed the entire landscape of the NHL. Over the course of this list, I will attempt to rank 20 of the biggest trades that have occurred in the last calendar year (since Feb. 3, 2022) while exploring the impact the deals have had on each team since the trade was completed. With that said, let's start exploring some trades!
20. Husso Usurped By Binnington, Dealt to Red Wings
The Trade: On July 8, 2022, the Detroit Red Wings acquired Ville Husso from the St. Louis Blues for a 2022 third-round pick (Aleksanteri Kaskimaki).
At this time last season, it appeared Husso had wrestled away the starting position from long-time incumbent Jordan Binnington. But when the 2022 Playoffs came around, Husso faltered while Binnington shone. In fact, the Blues might have actually derailed the Colorado Avalanche's Stanley Cup hopes if Binnington had not been injured by Nazem Kadri in Game 3 of the second round. Unfortunately, Husso couldn't pick up the slack and the Blues ended up falling to the Avs in six games.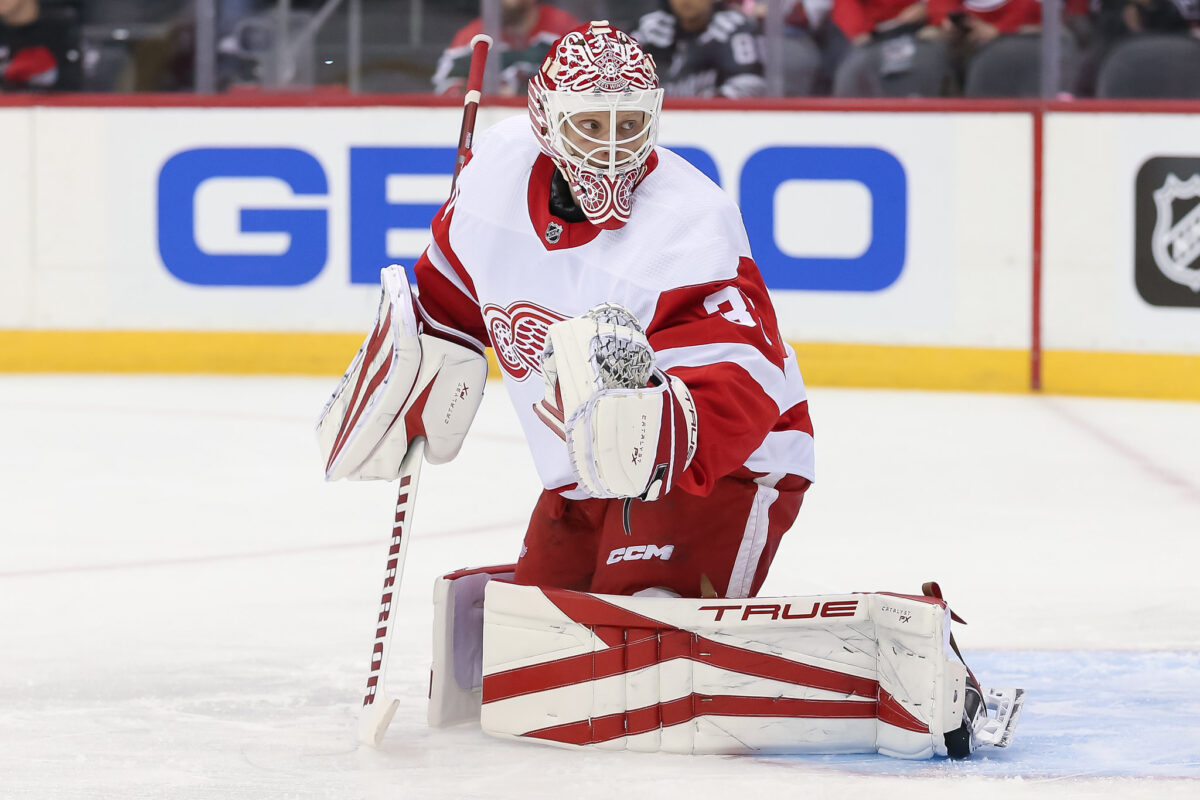 Fast forward to the offseason, and with Husso set to earn more money than general manager Doug Armstrong was willing to spend, his rights were traded to the Red Wings for a third-round pick. After signing a three-year deal worth $4.75 million in average annual value (AAV), he got to work and eventually usurped another incumbent starter in Alex Nedeljkovic (who is now in the American Hockey League with the Grand Rapids Griffins). He began his tenure in Hockey Town as a potential Vezina Trophy finalist with a strong October and November, but has since cooled off and is now sporting a very mediocre 3.00 GAA and .901 SV%.
19. DeAngelo's Breakout Season With Hurricanes Leads to Trade to Flyers
The Trade: On July 8, 2022, the Philadelphia Flyers acquired Tony DeAngelo and a 2022 seventh-round pick (Alexis Gendron) from the Carolina Hurricanes for a 2022 fourth-round pick (Simon Forsmark), a 2023 third-round pick and a 2024 second-round pick.
---
Latest News & Highlights
---
After his career year in 2019-20 where he put up 15 goals and 53 points with the New York Rangers, it appeared that DeAngelo was going to be in the Big Apple for the long haul. However, after several on- and off-ice incidents, he was bought out a season later by general manager Chris Drury and subsequently became an unrestricted free agent. The Hurricanes scooped him up on a one-year deal during the 2021 offseason and he immediately surged to 10 goals and 51 points. Naturally, that made him too expensive for Don Waddel's blood, so he flipped him to the Flyers in the 2022 offseason for a package of draft picks.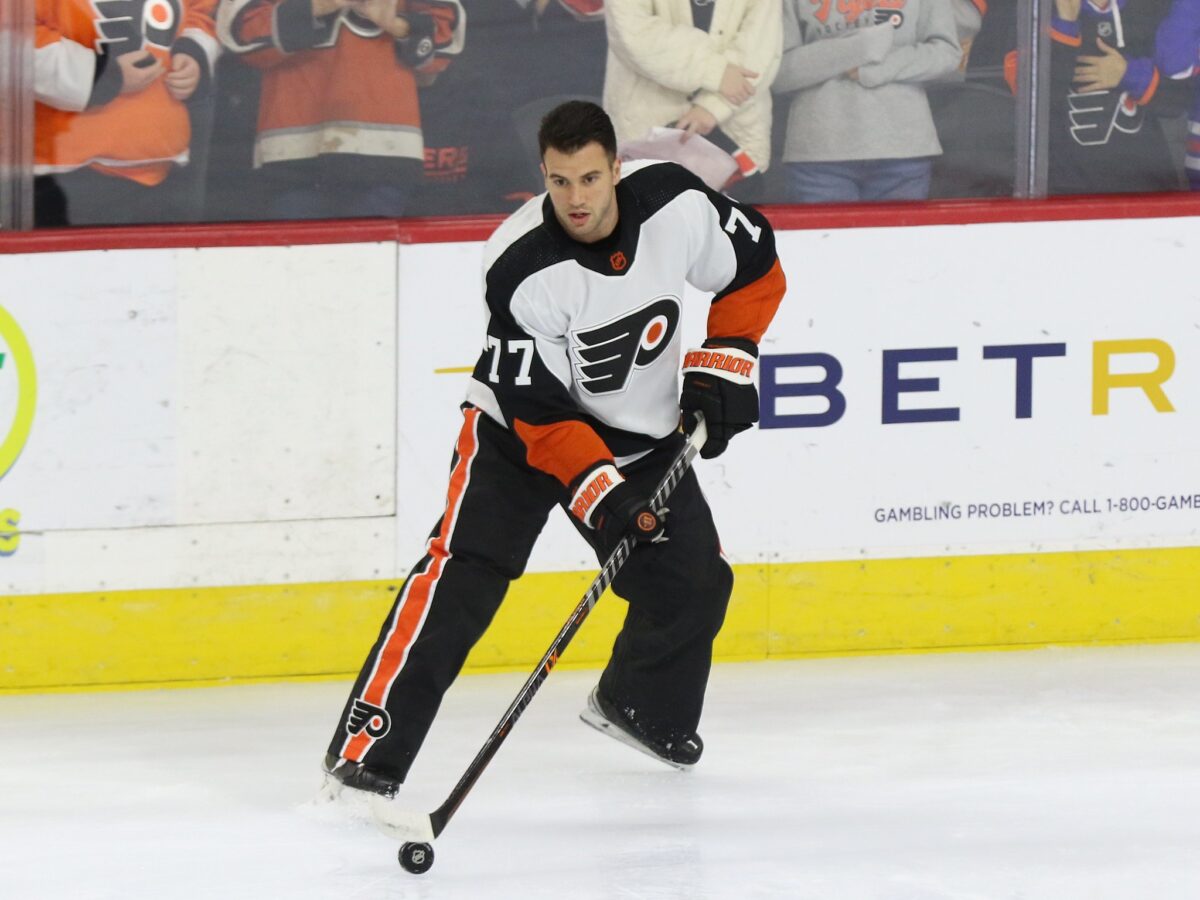 Quickly signed to a two-year deal worth $5 million in average annual value (AAV), DeAngelo has lived up to his paycheque, now only one goal away from matching his output from last season. He is also on pace to record his third 50-point campaign. More importantly, he's established himself as a key part of the Flyers' defence regularly seeing reps on the top pairing with Ivan Provorov.
18. Pacioretty Goes to Hurricanes in Salary Dump
The Trade: On July 13, 2022, the Carolina Hurricanes acquired Max Pacioretty and Dylan Coghlan from the Vegas Golden Knights for future considerations.
A few days after trading DeAngelo, the Hurricanes were in the news again, this time adding to their roster rather than subtracting. In a lopsided trade on paper and in real life, the Golden Knights sent six-time 30-goal scorer Max Pacioretty to Carolina in exchange for nothing but cap space. For something described as "future considerations", the Hurricanes got a potent top-line forward in Pacioretty and a 24-year-old blueliner in Coghlan – both that should have required at least a first-round pick going the other way. But the Golden Knights needed cap space quickly in order to re-sign some of their pending UFAs, particularly Reilly Smith.
Unfortunately for the Hurricanes, Pacioretty had to have surgery in August to repair a torn Achilles and didn't return until the beginning of January. Then, after only five games, he suffered a tear to that same tendon, which will likely force him to miss the rest of the season. Suffice it to say, the 2022-23 campaign has not been an easy one for the 34-year-old. In fact, it may actually spell the end of his brief career in Carolina as he will become a UFA in the offseason.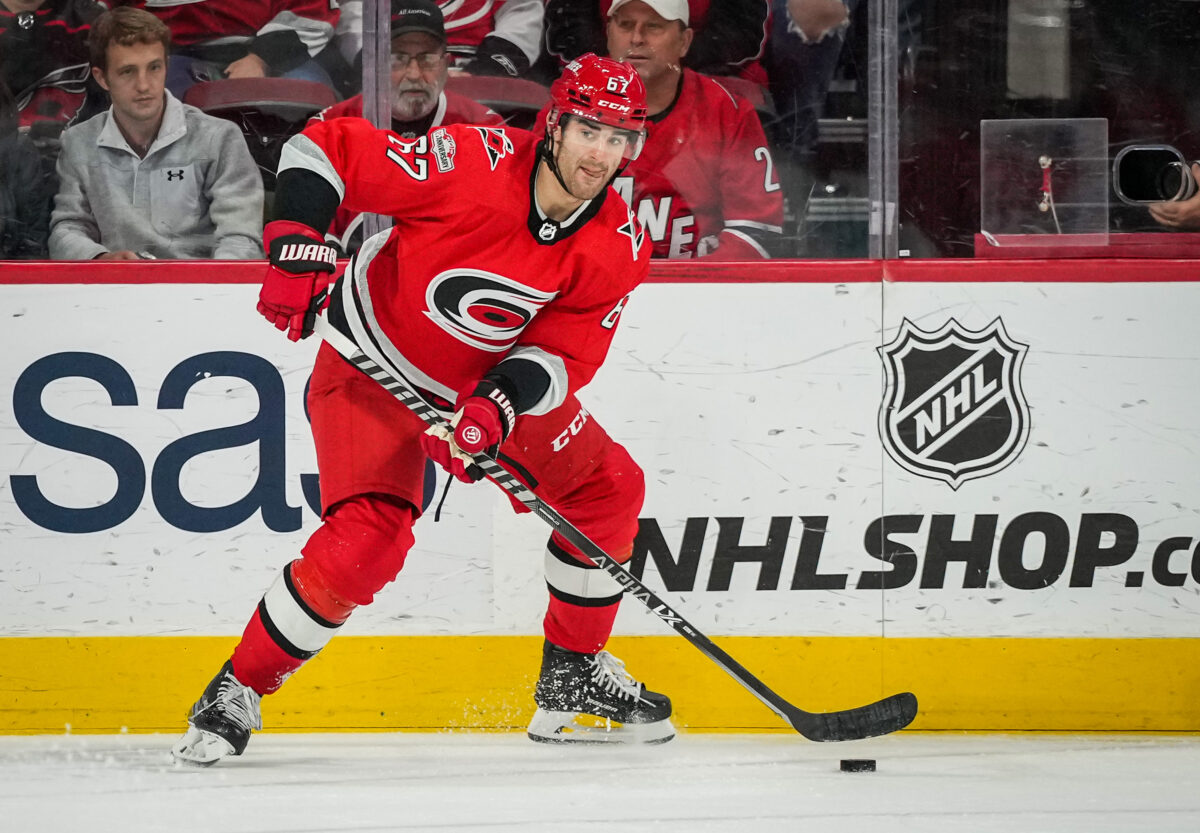 As for Coghlan, he has split his time between the Hurricanes and American Hockey League (AHL) affiliate Chicago Wolves. Unlike Pacioretty, he could actually have a future in Raleigh as he is just entering his prime at 24 years old and already has six goals and 22 points in 104 career games. All in all, despite only five games from Pacioretty and little impact from Coghlan, the Hurricanes still walk away as winners in this deal.
17. Jets Trade Copp to Rangers in Draft Pick-Heavy Deal
The Trade: On March 21, 2022, the New York Rangers acquired Andrew Copp and a 2023 sixth-round pick from the Winnipeg Jets for Morgan Barron, a 2022 first-round pick (Brad Lambert), a 2022 second-round pick (Elias Salomonsson) and a 2023 fifth-round pick.
The Rangers were one of the busier teams at the 2022 Trade Deadline as they prepared to take a run at the Stanley Cup with their eventual Vezina Trophy winner Igor Shesterkin. One of the bigger deals was this one with the Jets that saw them acquire two-way forward Andrew Copp. What became a pricey rental, Copp was an instant fit on Broadway, finishing the regular season with 18 points in 16 games. He was also a major reason why the Rangers made it all the way to the Eastern Conference Final, exiting the playoffs as one of their leading scorers with six goals and 14 points in 20 games.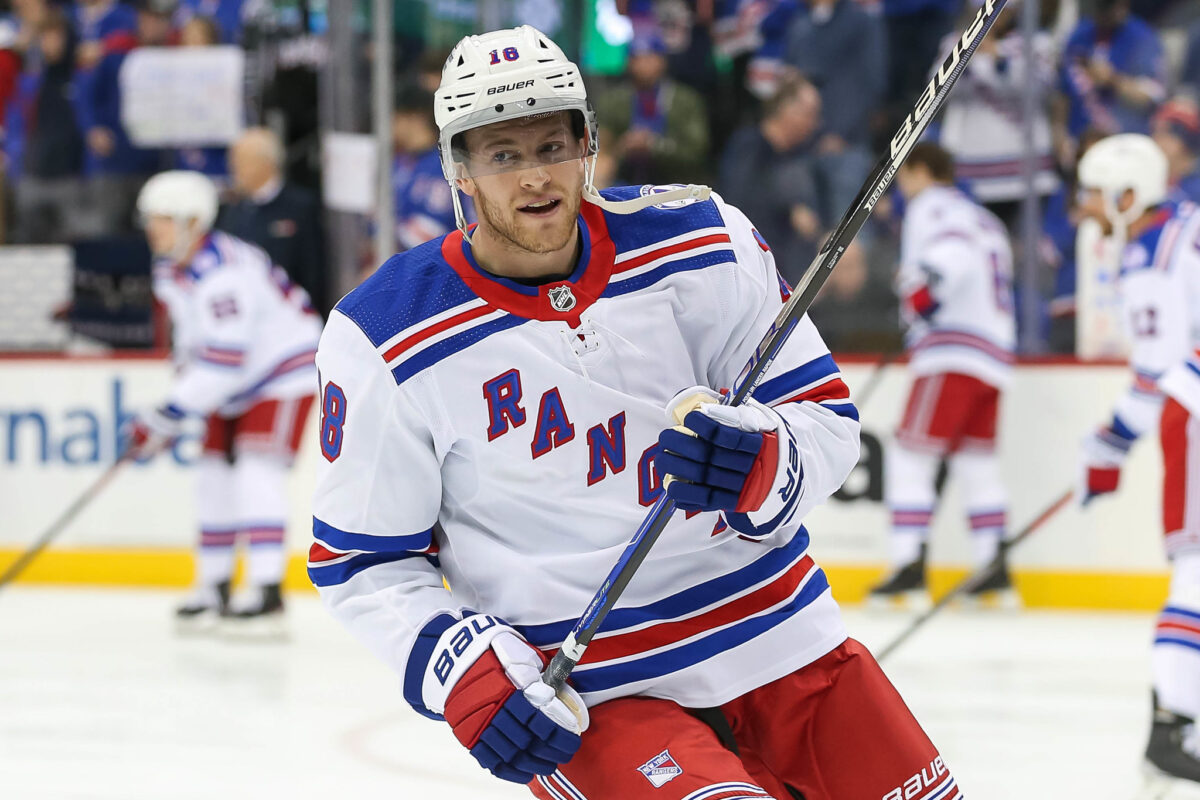 Except, as I alluded to earlier, the Rangers couldn't re-sign him and he ended up signing a long-term deal with the Red Wings in the offseason. The Rangers, meanwhile, were left holding the bag and are now out a bunch of futures that could have become prominent members of their prospect pool.
Copp was a fan favorite in Winnipeg, but the Jets won this trade by a landslide considering they got a potential steal in Lambert (despite his struggles), a promising right-hand defenceman in Salomonsson, and an effective young bottom-six forward in Barron.
16. Romanov Traded to the Islanders
The Trade: On July 7, 2022, the New York Islanders acquired Alexander Romanov from the Montreal Canadiens for a 2022 first-round pick (later traded to the Blackhawks – Frank Nazar)
After a deal on the draft floor for J.T. Miller fell through, GM Lou Lamoriello decided to pull the trigger on another trade involving his 2022 first-round pick. In a flurry of moves involving the Canadiens on this day, he acquired then-22-year-old Alexander Romanov to bolster his defence corps. Now a major part of the Islanders' revamped blue line that has seen an increase in goalscoring, he has fit in nicely with a career-high 15 points so far. He also leads all defencemen in hits with 129 and is second only to Scott Mayfield in blocked shots with 96.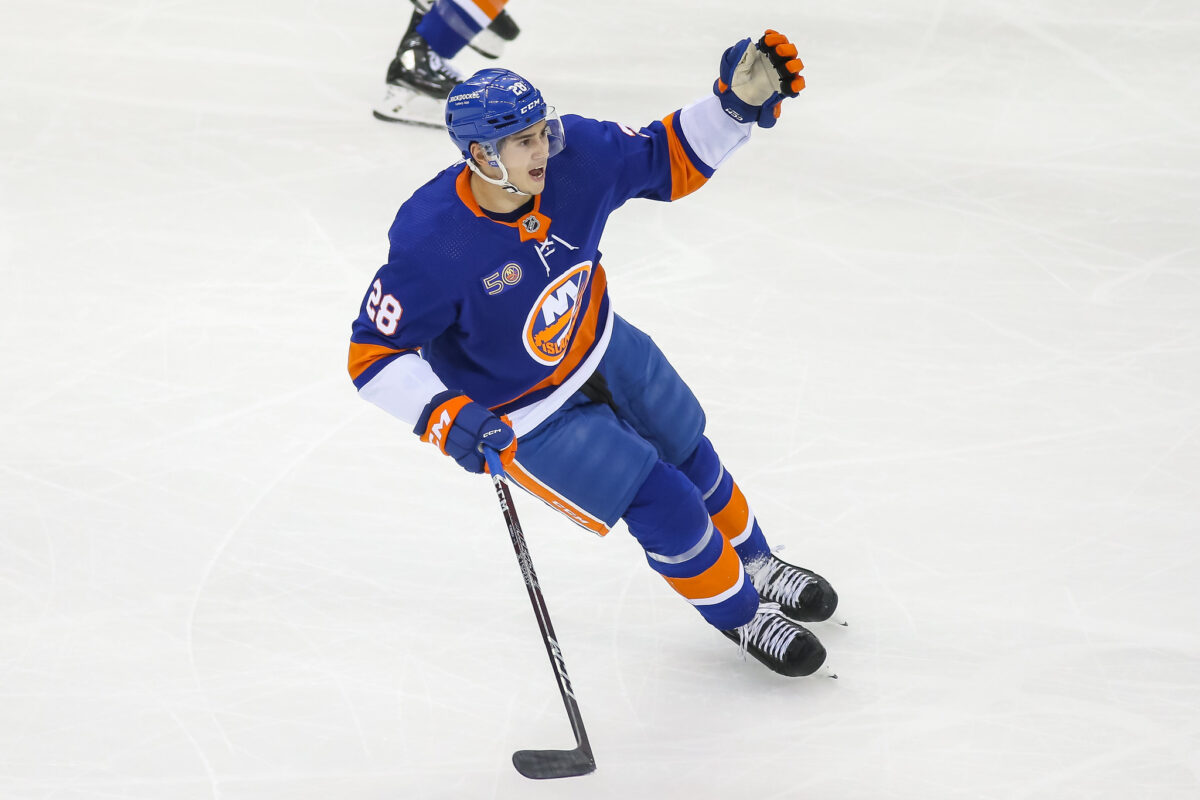 In the midst of a rebuild, it was surprising to see the Canadiens trade away a young defenceman like Romanov. However, with the depth of talent including Kaeden Guhle, Justin Barron, Mattias Norlinder, and others, they could afford to deal from a position of strength. Also, it was done with an end game in mind.
15. Dach Moves From Blackhawks' Rebuild to Canadiens' Rebuild
The Trade: On July 7, 2022, the Montreal Canadiens acquired Kirby Dach from the Chicago Blackhawks for a 2022 first-round pick (Frank Nazar), a 2022 second-round pick (Gavin Hayes), and a 2023 third-round pick.
Using the first-rounder they acquired from the Islanders in the previous trade on this list, the Canadiens took advantage of the scorched-earth rebuild in Chicago and added Kirby Dach. Once a highly-touted prospect and supposed cornerstone of the Blackhawks' future, he struggled over his three-plus seasons in the Windy City recording only 19 goals and 40 points in 152 games.
Fast forward to now, and it appears all Dach needed was a change of scenery. With a career-high 11 goals and 33 points in 51 games, he has already matched the goal total from his last two seasons and is on track to record the first 50-point season of his career.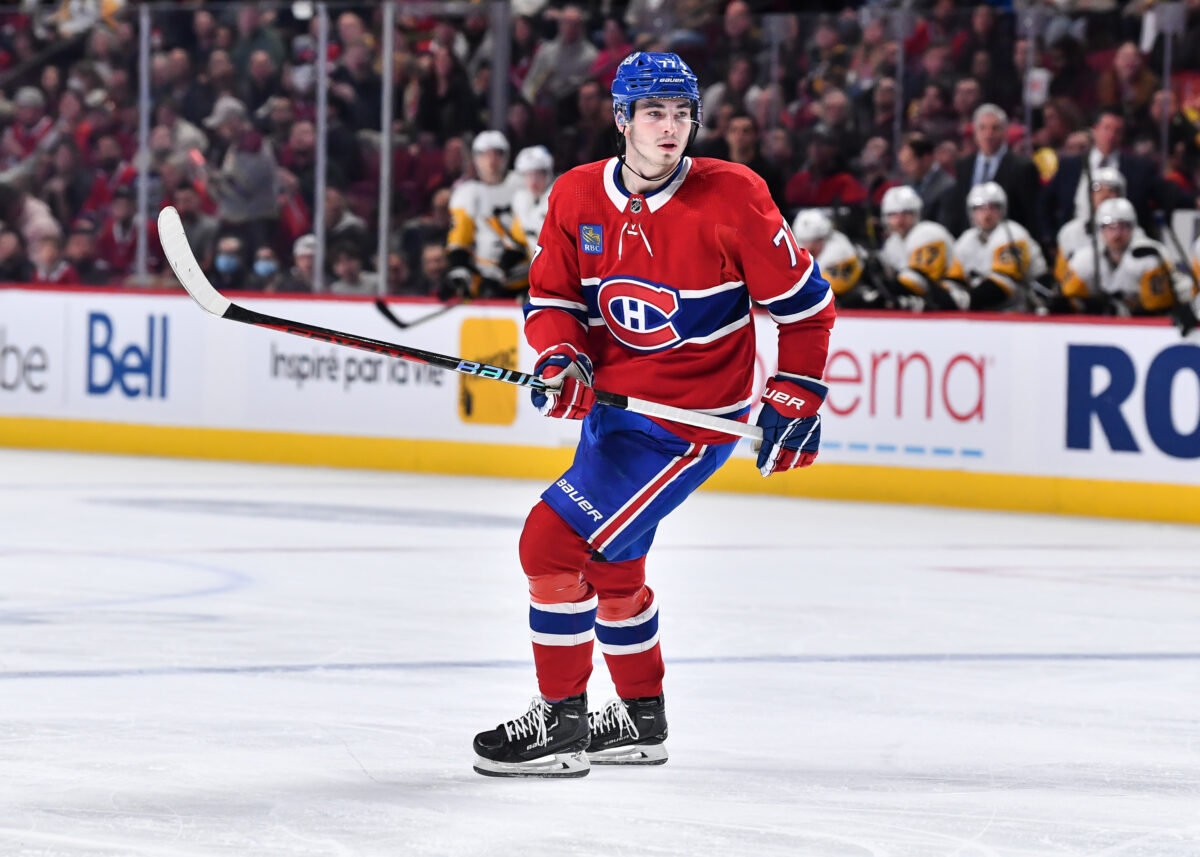 On the other side, the Blackhawks got more ammo for their rebuild in a future star forward (Nazar), top-six option (Hayes) and another prospect to be named in a few months. Basically, an even trade all around, especially if Dach continues to evolve into the power forward pivot he was projected to be when he was drafted back in 2019.
14. Long-Time Shark Brent Burns Traded to the Hurricanes
The Trade: On July 13, 2022, the Carolina Hurricanes acquired Brent Burns and Lane Pederson from the San Jose Sharks for Steven Lorentz, Eetu Makiniemi, and a 2023 conditional third-round pick.
If GMs were looking for a master class on acquiring stars for little-to-no cost, they should get in line for Waddell's new seminar, "How to take advantage of cap-strapped teams". He did it twice last offseason, first with McCrimmon and Golden Knights, then with new GM Mike Grier and the Sharks. In another salary dump trade, he got perennial 30-point man and minute-muncher Brent Burns for only a bottom-six forward (Lorentz), a mid-tier prospect (Makiniemi), and a late-round pick. Back in the day, a defenceman like Burns would go for a minimum of a first-round pick or blue-chip prospect. But when a team is desperate to move money in a flat salary cap world, those prices plummet.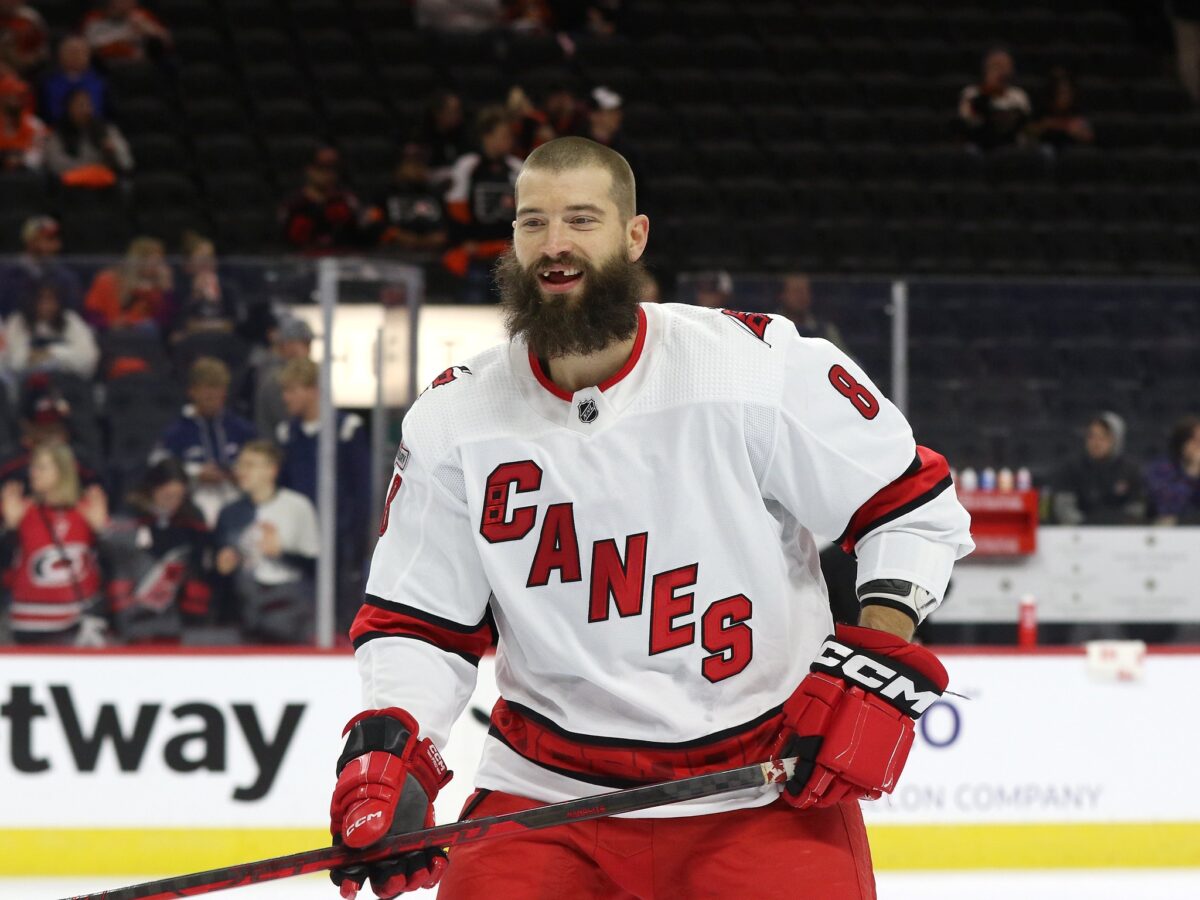 Burns may be 37 years old, but he's far from over the hill as he continues to play over 20 minutes a night and put up points. As of this writing, he has 10 goals and 37 points and is on pace to record yet another 50-point campaign. He is also eating an average of 23:24 of ice time, something he's done every season since 2013-14. As Hurricanes fans have found out, there's no stopping the 6-foot-5 mountain man as he recently hit the 1,300-game mark, joining active NHLers Eric Staal, Alex Ovechkin, and Ryan Suter in the feat.
13. Canadiens Trade Kulak to Oilers
The Trade: On March 21, 2022, the Edmonton Oilers acquired Brett Kulak from the Montreal Canadiens for William Lagesson, a 2022 conditional second-round pick (not met), and a 2024 seventh-round pick.
After three solid seasons with the Canadiens – most notably during their run to the Stanley Cup Final in 2020 – Kulak was surprisingly dealt to the Oilers on deadline day for what amounted to be Lagesson and a seventh-round pick. Now, since the conditions on the second-round pick weren't met and Lagesson has moved on and joined the Hurricanes, all the Canadiens have to show for the trade is a late selection in the 2024 Draft which will likely turn into nothing.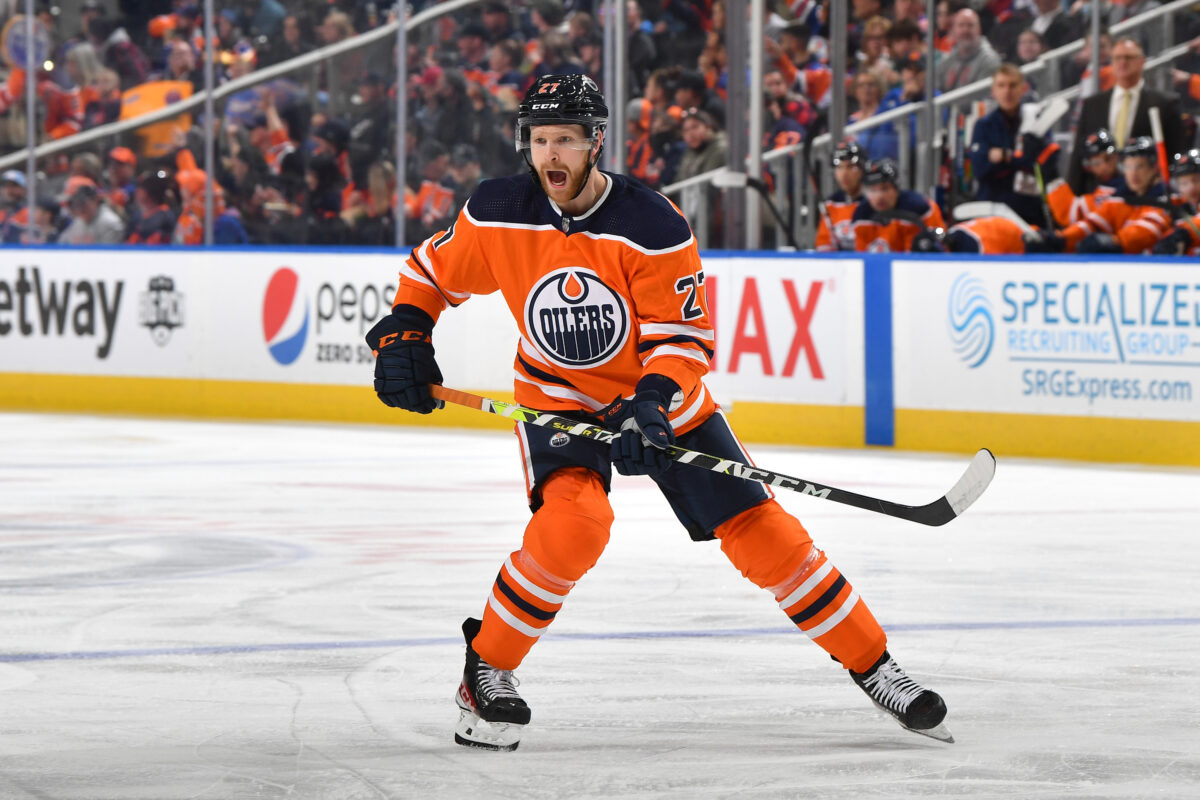 Kulak, on the other hand, has risen to become a regular in the Oilers' lineup and is now on a four-year contract worth $2.75 million AAV. He's also averaging a career-high 18:08 in ice time and is tied with Cody Ceci for second in blocked shots behind Darnell Nurse's 91.
12. Vanecek Gets a Fresh Start in New Jersey
The Trade: On July 8, 2022, the New Jersey Devils acquired Vitek Vanecek and a 2022 second-round pick (Seamus Casey) from the Washington Capitals for a 2022 second-round pick (Ryan Chesley) and a 2022 third-round pick (Alexander Suzdalev).
The Devils have become a legitimate playoff contender in 2022-23 and their new starter Vitek Vanecek has been a big reason why. Acquired on Day 2 of the 2022 NHL Draft from the Capitals, he has arguably been the biggest acquisition of the 2022-23 season so far. Sporting an impressive 21-5-2 record with a career-best 2.29 GAA and .917 SV%, he's been everything and more for a Devils franchise that has struggled with goaltending since the retirement of Martin Brodeur and the early days of Cory Schneider.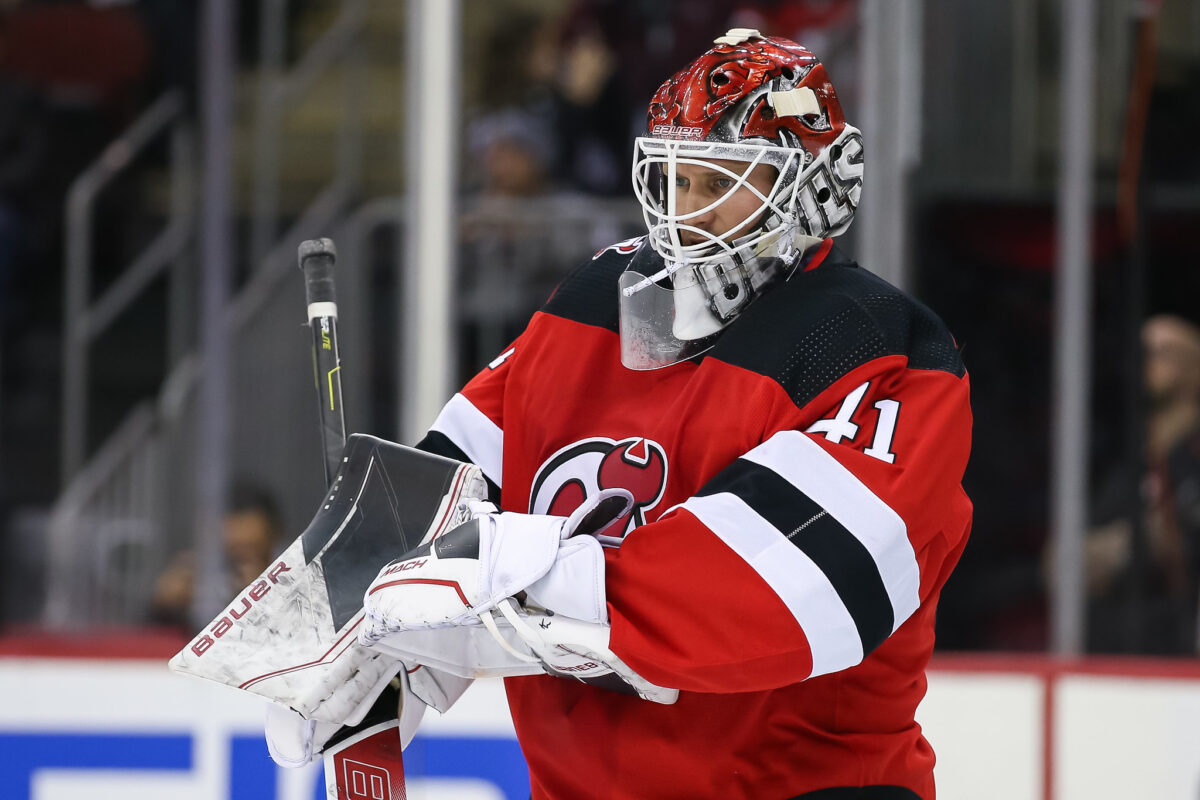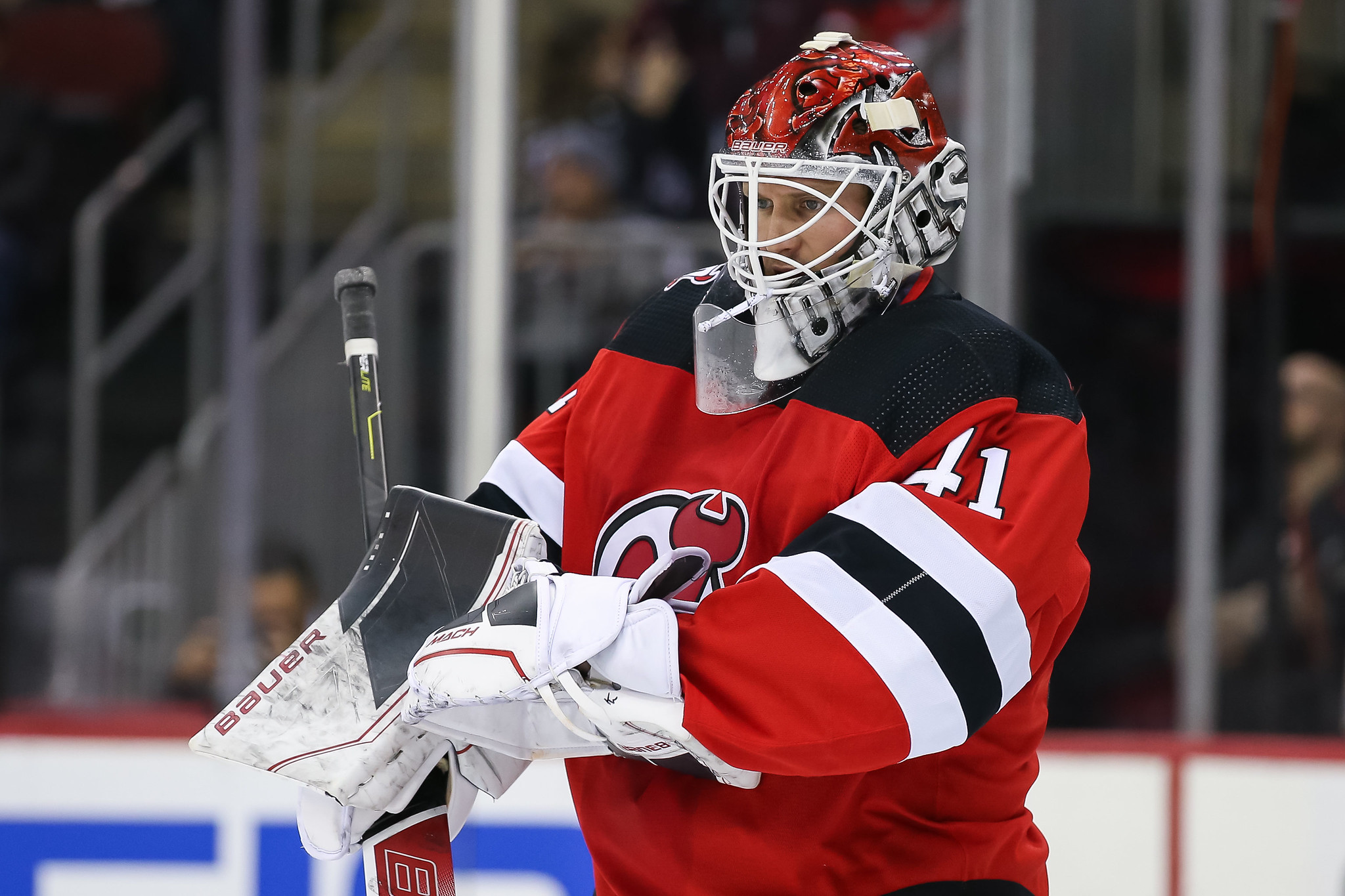 Initially, it was believed that Vanecek would partner with previous starter Mackenzie Blackwood to form a 1A/1B tandem. But injuries and inconsistent performances opened the door for Vanecek to take the starter's job and run with it. He is now the de facto leading man in New Jersey and I don't think the 26-year-old is giving up the mantle any time soon.
11. Kings Add 85-Point Man Fiala From the Wild
The Trade: On June 29, 2022, the Los Angeles Kings acquired Kevin Fiala from the Minnesota Wild for Brock Faber and a 2022 first-round pick (Liam Ohgren).
Unfortunately, a lot of career seasons happen in contract years, and Kevin Fiala was no exception. Finishing with a gaudy 85 points in 82 games last season, he basically priced himself out of Minnesota and forced GM Bill Guerin to trade him to the Kings. Luckily for the Wild, they got two pieces that will likely become major parts of their future in Faber and Ohgren.
He had 85 points. The kid had a great year. We don't have (NHL salary) cap space. Honestly, to keep him we'd have to trade three guys or two guys and deplete our team more. Then the following year we're going to need even more. It just didn't fit.

– Bill Guerin
As expected, Fiala got paid and ended up signing a seven-year contract with the Kings worth $7.875 million AAV. He's lived up to the billing so far, too, as he is on a similar pace points-wise to last season with 53 points in 53 games.
10. Ducks Move Rakell to the Penguins
The Trade: On March 21, 2022, the Pittsburgh Penguins acquired Rickard Rakell from the Anaheim Ducks for Zach Aston-Reese, Dominik Simon, Calle Clang and a 2022 second-round pick (Tristan Luneau).
In an attempt to bolster their roster for the playoffs, the Penguins decided to mortgage a bit of their future on a potential rental in Rickard Rakell. Similar to Kulak, the gamble paid off as he fit like a glove in Pittsburgh and parlayed his 13 points in 19 games into a six-year deal worth $5 million AAV. And like Fiala, he's been worth the investment so far with 18 goals and 33 points in 49 games, all while seamlessly fitting into the core led by Sidney Crosby and Evgeni Malkin.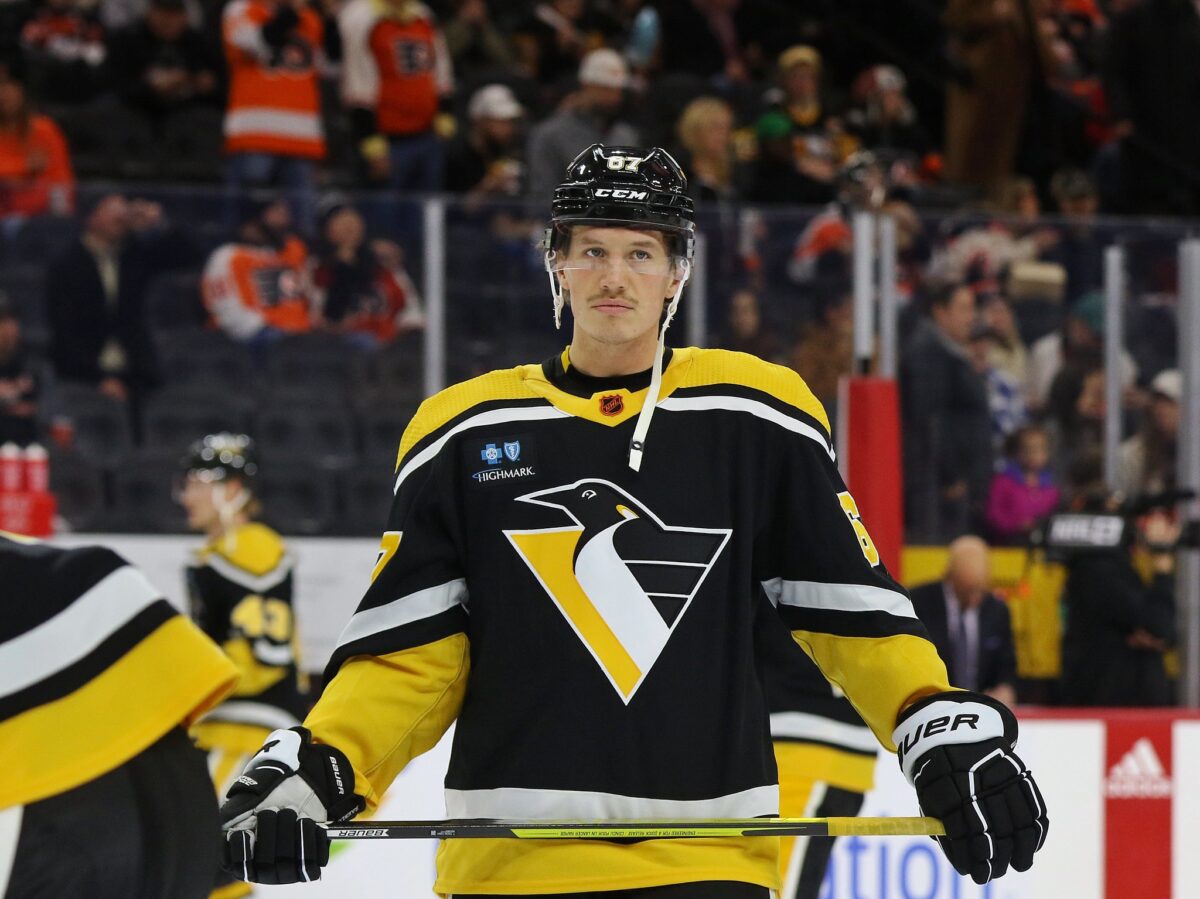 While Aston-Reese and Simon ended up leaving at the end of the season to the Toronto Maple Leafs and HC Sparta Praha respectively, Clang could potentially become a serviceable goaltender in the NHL and Luneau is a promising blueliner currently playing in the Quebec Major Junior Hockey League (QMJHL) with the Gatineau Olympiques. For a guy they probably wouldn't have been able to re-sign, the Ducks got a pretty good return, especially if Luneau develops into a top-four defenceman.
9. Fleury Moves to the Wild After Mediocre Season in Chicago
The Trade: On March 21, 2022, the Minnesota Wild acquired Marc-Andre Fleury from the Chicago Blackhawks for a 2022 second-round pick (Ryan Greene)
Fleury is on this list for the second straight year as the 2021 Vezina Trophy winner was traded from the rebuilding Blackhawks to the up-and-coming Wild. After a frustrating season in Chicago that saw him fall from grace and record a mediocre 2.95 GAA and .908 SV%, he was off to Minnesota to tandem with fellow veteran Cam Talbot. It didn't go according to plan, though, as Fleury struggled in the playoffs and Talbot decided in the offseason that he didn't want to split the net in 2022-23 with a future Hall-of-Famer.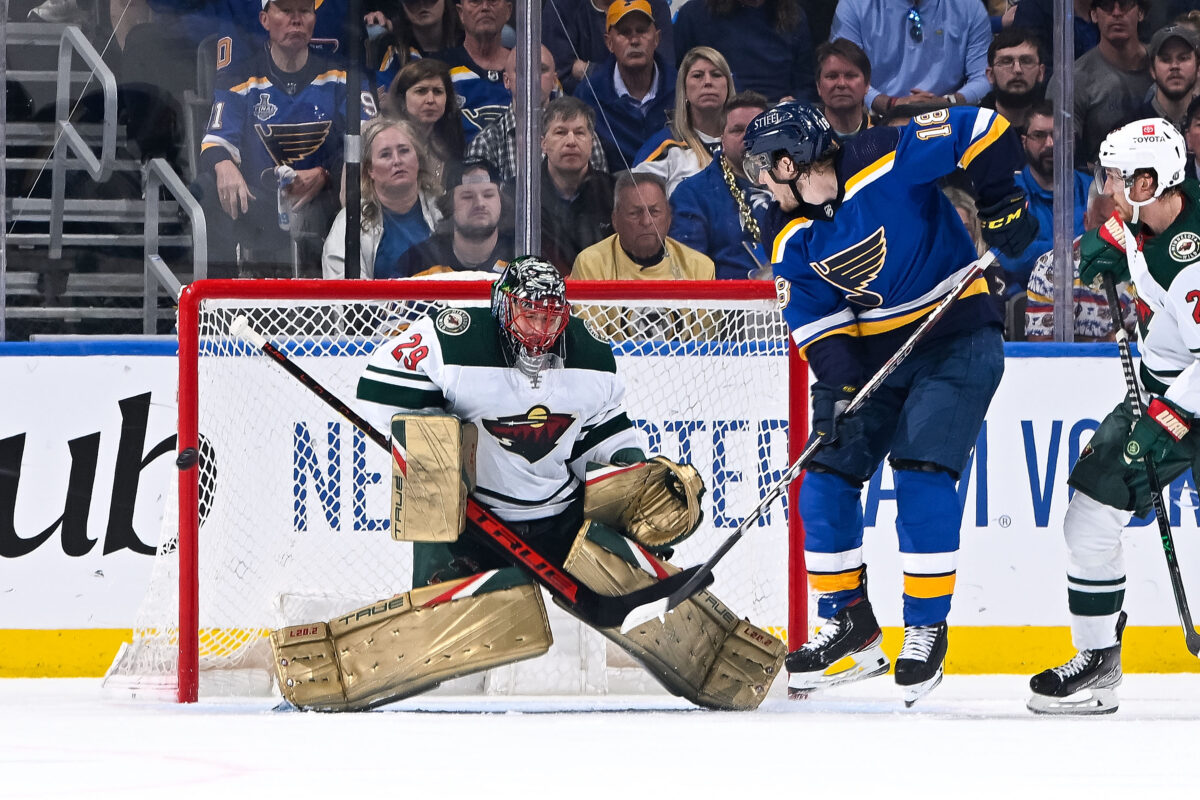 Guerin ended up re-signing Fleury to a two-year deal worth $3.5 million and subsequently trading Talbot to the Senators for now-backup Jonas Gustavsson. Funny enough, it's been Gustavsson outperforming Fleury lately, which has created a bit of a goaltending controversy in Minnesota.
8. Maple Leafs Add Hometown Boy Giordano in Trade with Kraken
The Trade: On March 20, 2022, the Toronto Maple Leafs acquired Mark Giordano and Colin Blackwell from the Seattle Kraken for a 2022 second-round pick (Niklas Kokko), a 2023 second-round pick, and a 2024 third-round pick.
After over a decade in Calgary, Giordano has now pulled on the jersey of two teams in the last two years. Traded by the Kraken to his hometown Maple Leafs a day before the trade deadline frenzy of 2021, the 39-year-old blueliner might be the biggest bargain in the NHL right now. Somewhat surprisingly re-signing with the Maple Leafs for a meager $800,000 AAV in the offseason, he has continued to play at a high level in 2022-23 recording 19 points in 52 games while averaging 19:35 in ice time and leading all defencemen in blocked shots with 100.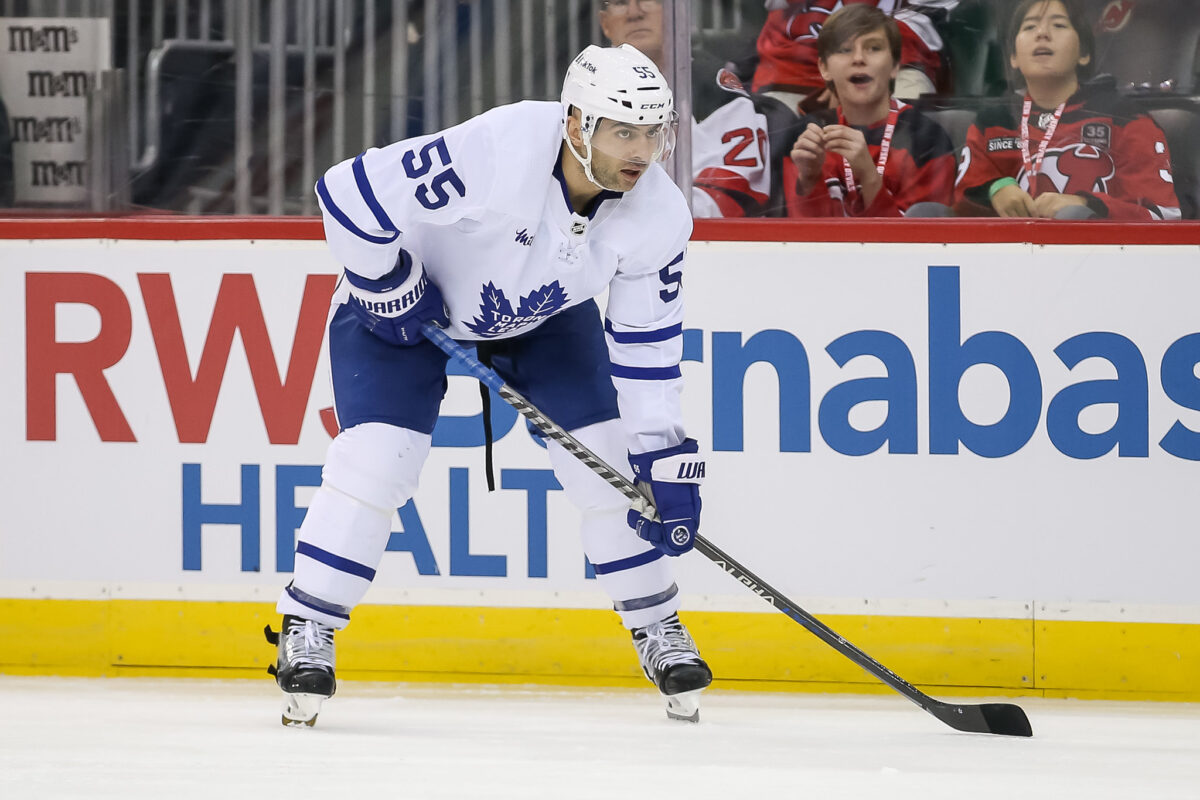 The other piece in the trade, Colin Blackwell, left as a free agent in the offseason to the Blackhawks after eight points in 19 games. Right now, he's having a bit of a forgettable season with only eight points in 42 games. As for the Kraken's haul, they added more draft capital to their build that could potentially be used before the 2023 Trade Deadline to acquire some help for the playoffs.
7. Lehkonen Leaves Montreal to Become a Stanley Cup Champion in Colorado
The Trade: On March 21, 2022, the Colorado Avalanche acquired Arturri Lehkonen from the Montreal Canadiens for Morgan Barron and a 2024 second-round pick.
Out of all the trades that the Avalanche made at or before the 2022 Trade Deadline, the one that brought Lehkonen to the Mile High City was probably the biggest and most impactful. He was an instant fit in Colorado, scoring six goals and nine points upon his arrival and another eight goals and 14 points in the playoffs – including the overtime winner that sent the Avs to the Stanley Cup Final. Interestingly enough, that was the second time he pushed his team over the hump as he did the same thing with the Canadiens during the 2021 Playoffs.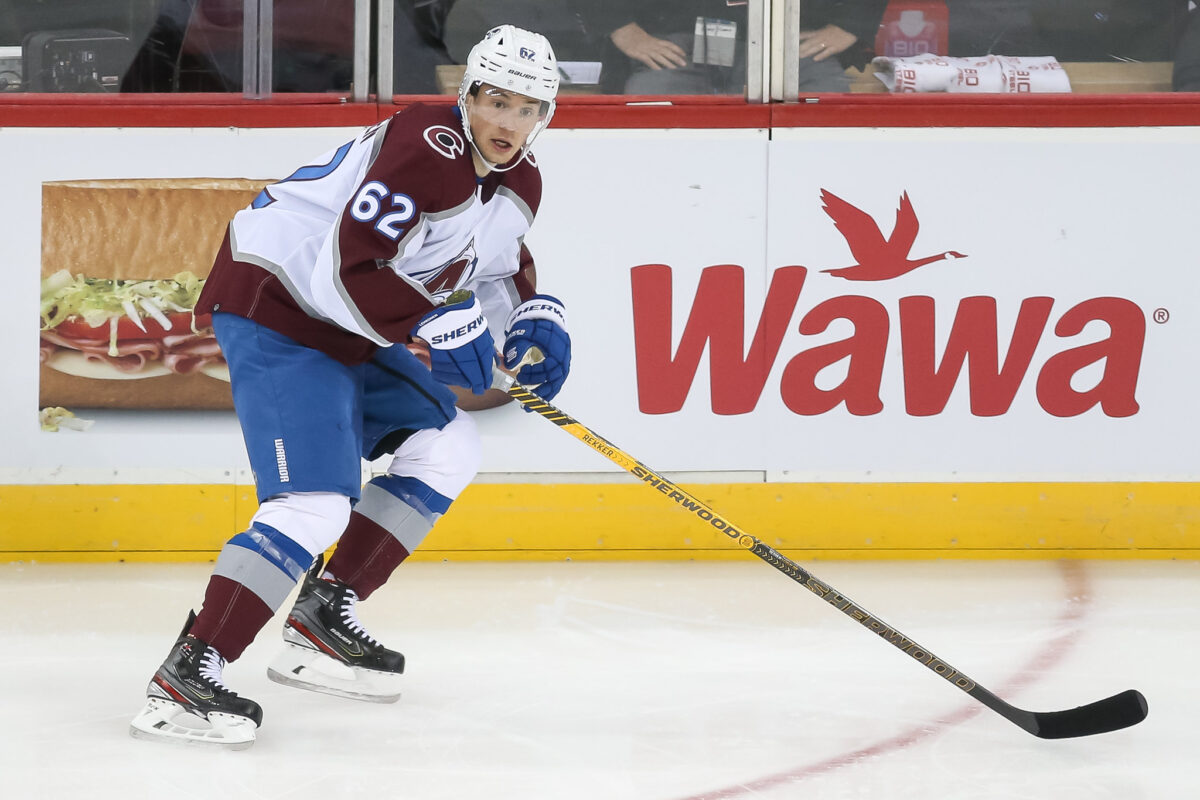 Lehkonen ended up being a major part of the Avalanche's third Stanley Cup championship and is now a member of the team's core after signing a five-year contract worth $4.5 million AAV. Like many of the players on this list who re-signed with the team that acquired them, Lehkonen is also having a career year with 15 goals and 34 points. He already has a career-high for points having eclipsed the 31 he put up in 2018-19, and is only four goals away from besting his high for goals set in 2016-17 when he scored 18.
6. Lightning Make Yet Another Under-the-Radar Move Acquiring Paul From Senators
The Trade: On March 20, 2022, the Tampa Bay Lightning acquired Nick Paul from the Ottawa Senators for Mathieu Joseph and a 2024 fourth-round pick.
The Lightning have become famous for making seemingly small trades that end up being massive game-changers. This deal was no exception, as GM Julien BriseBois struck again by acquiring Paul from the Senators. He, like so many others BriseBois has traded for over the years, slid seamlessly into the Lightning's lineup and became just as important as stars named Steven Stamkos or Nikita Kucherov.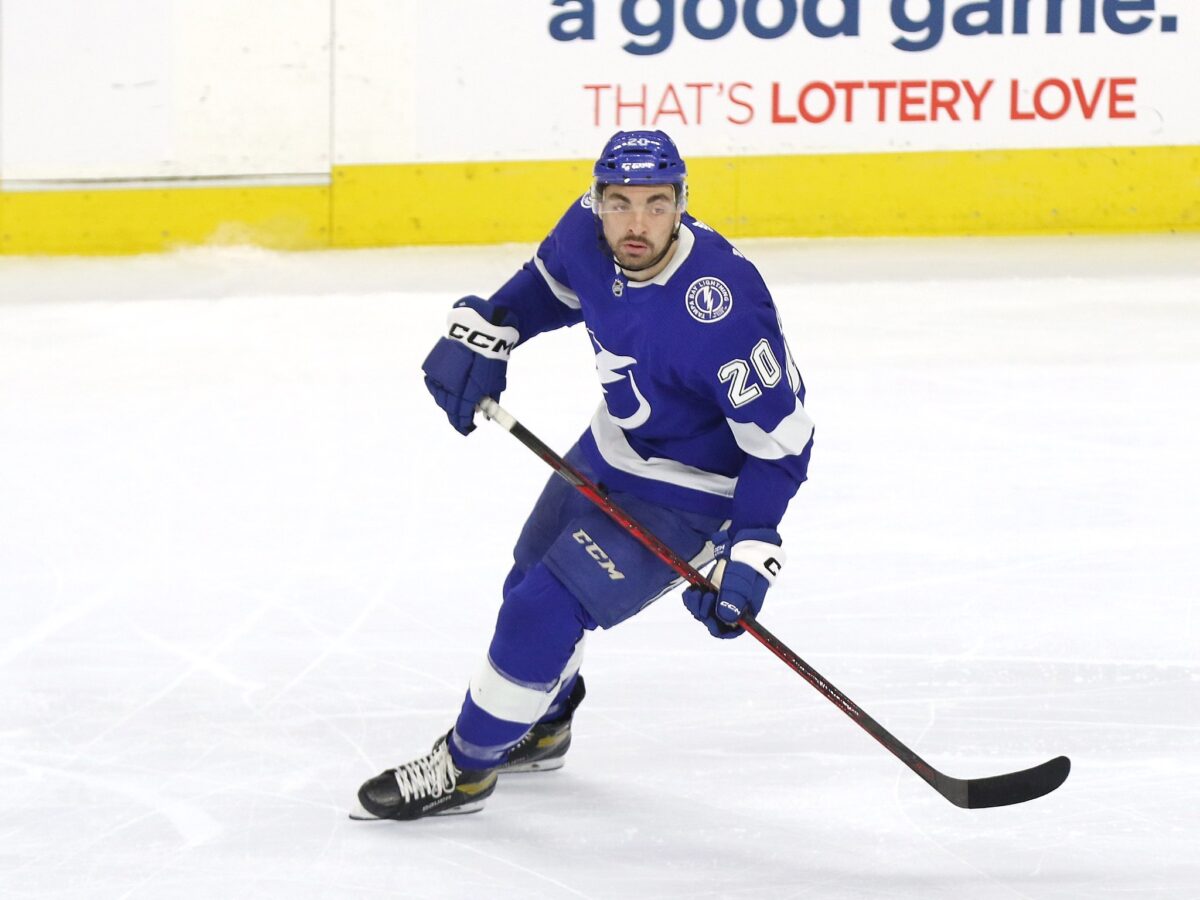 When the playoffs came around, which is when Paul shone the brightest, he scored five goals and nine points in 23 games, one of which sent the Maple Leafs packing in the first round. He also averaged over 18 minutes a night filling in for the injured Brayden Point on the top line. While the Lightning failed to win their third-straight Stanley Cup, the experience was enough for Paul to commit for another seven years under a reasonable $3.15 million AAV contract. He is also having a season to remember in his first full year in Tampa with a career-high 16 goals and 26 points so far.
As for the other side of the trade, Joseph is not having the same success as Paul, but he's been a regular in the lineup for the Senators and has three goals and 12 points in 31 games. He is also just entering his prime at 25 years old. But considering the impact Paul has had on the Lightning so far, this trade should be classified as another home run for BriseBois, while just a bloop single for Pierre Dorion.
5. Ducks Trade Lindholm to Bruins
The Trade: On March 19, 2022, the Boston Bruins acquired Hampus Lindholm and Kodie Curran from the Anaheim Ducks for John Moore, Urho Vaakanainen, a 2022 first-round pick (Nathan Gaucher), a 2023 second-round pick and 2024 second-round pick.
One of the bigger trades before the 2022 Trade Deadline, the Boston Bruins bolstered their defence corps both short- and long-term with Lindholm by not only trading for him but immediately signing him to an eight-year extension. While the playoffs saw the Bruins fall to the Hurricanes in Game 7 and Lindholm go scoreless in four games, the best was yet to come in 2022-23. Now the top team in the NHL with 83 points and only a single regulation loss on home ice, Lindholm and his squad are riding high.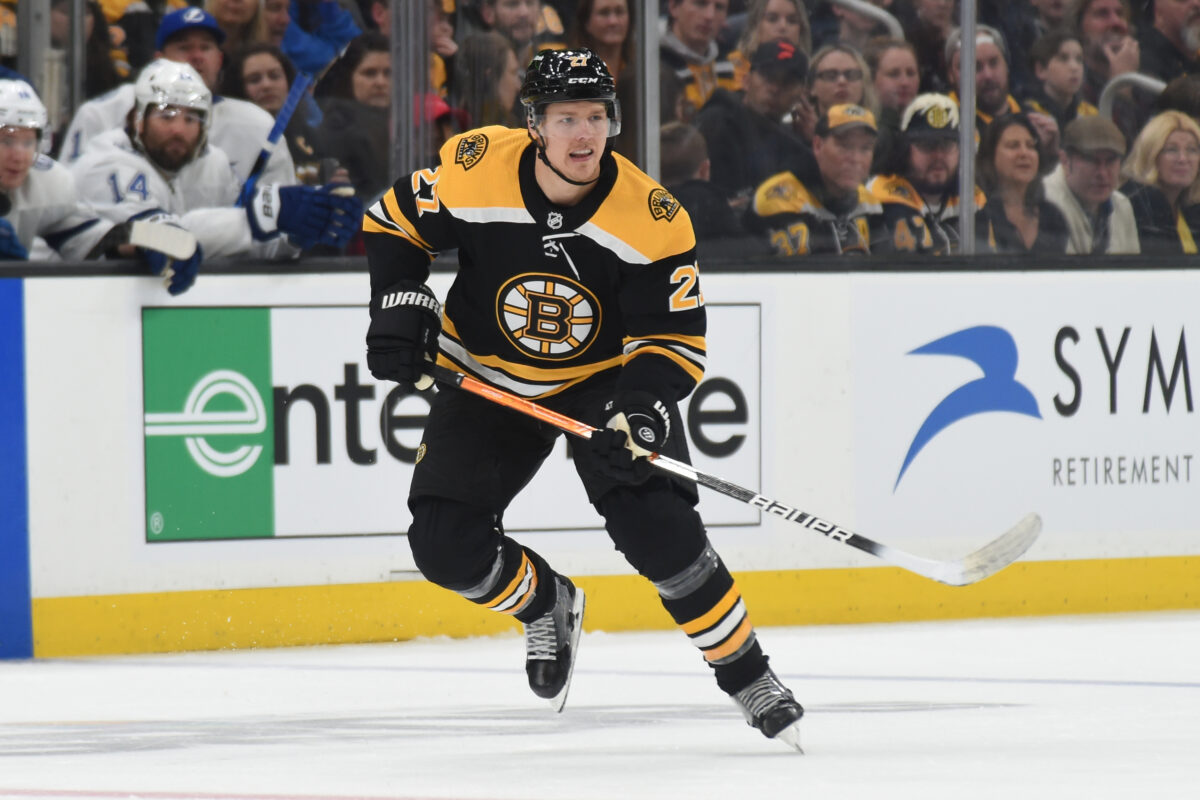 Lindholm's best came when Charlie McAvoy and Matt Grzelcyk were out with injuries at the beginning of the season. He took the reins as the number-one defenceman and made sure that their absences didn't derail the Bruins' campaign. Even now, with McAvoy back in the lineup he's still averaging 23:35 of ice time a night and holds the NHL's best plus/minus rating at plus-33. He also is only one point away from matching the career-high of 34 points he set in his sophomore season back in 2014-15. I think we can safely say that the Bruins won this trade by a landslide – at least right now.
4. Canucks Deal Captain Bo Horvat to the Islanders
The Trade: On Jan. 30, 2023, the New York Islanders acquired Bo Horvat from the Vancouver Canucks for Anthony Beauvillier, Aatu Raty, and a protected 2023 first-round pick.
The only trade on this list that happened in 2023, the Canucks dealt their captain to the Islanders in the biggest deal of 2022-23 so far. The former ninth-overall pick in 2013 is having a monster season with 31 goals and 54 points and has already eclipsed his totals from last season in 21 fewer games. In fact, he is on pace to record his first 50-goal campaign. Departing the Canucks after nearly a decade of service, he will add scoring punch to the Islanders alongside speedster Mathew Barzal.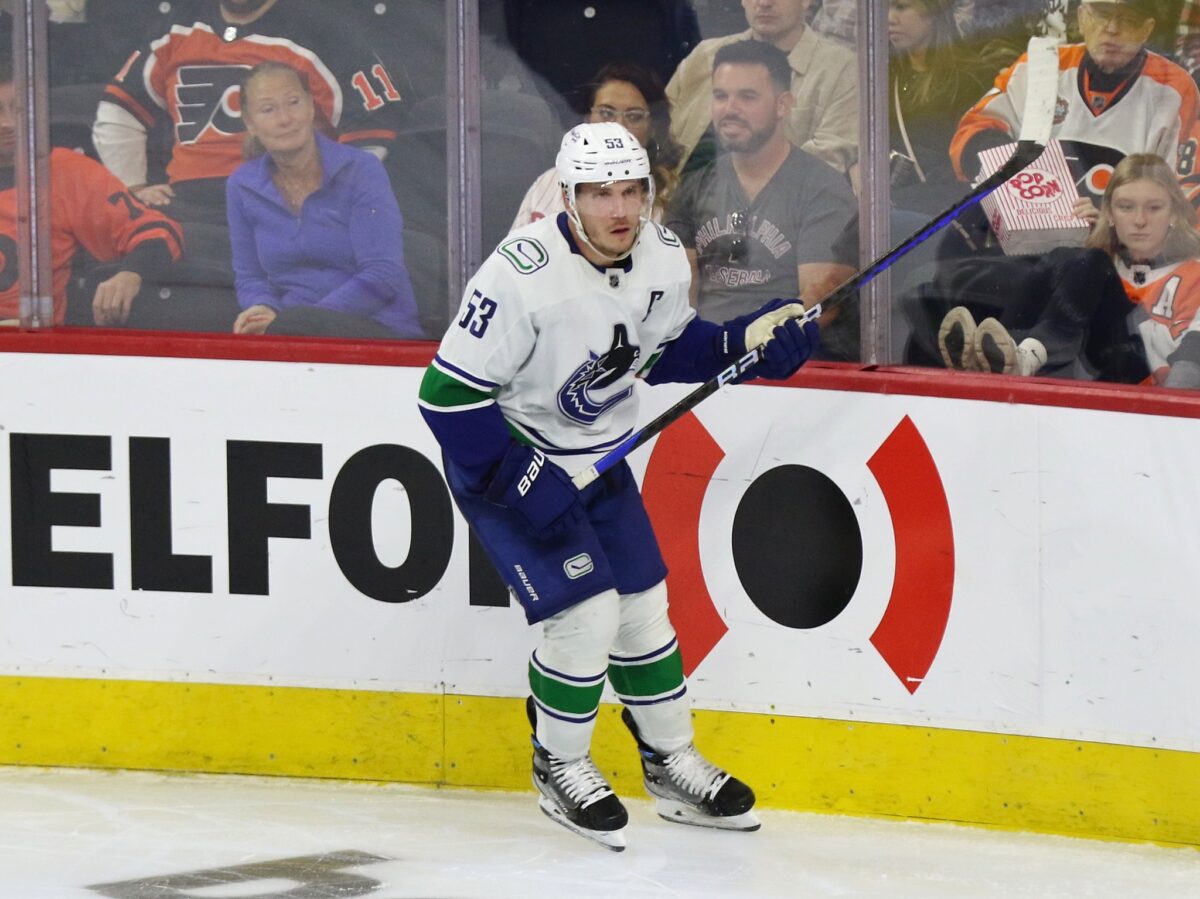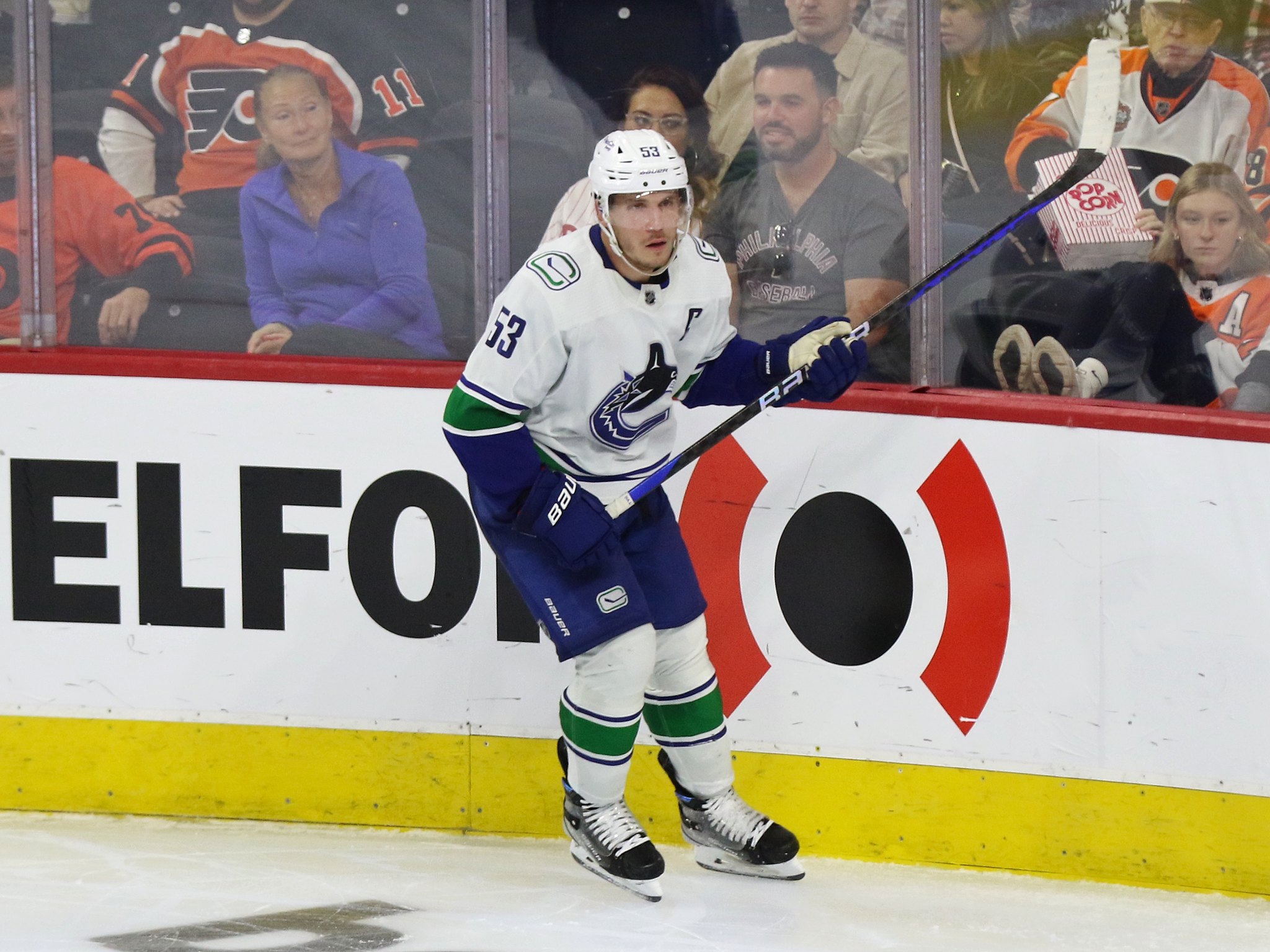 As for the return the Canucks got, Beauvillier is a 25-year-old who has fallen off in recent years since his 21-goal season in 2017-18. While he hasn't had trouble hitting double-digits, his offence has been inconsistent at best. The big pieces are obviously former Islanders' top prospect Aatu Raty and the (hopefully) 2023 first-round pick that could net the likes of Axel Sandin-Pellikka or David Reinbacher. If the Canucks can walk away with one of those right-handed defenders and Raty realizes his potential as a projected top-five pick in the 2021 Draft, the win goes to Patrik Allvin.
3. Long-Time Flyers Captain Giroux Traded to the Panthers
The Trade: On March 19, 2022, the Florida Panthers acquired Claude Giroux, Connor Bunnaman, German Rubtsov and a 2024 fifth-round pick from the Philadelphia Flyers for Owen Tippett, a 2024 first-round pick and 2023 third-round pick.
From one trade involving a captain to another, Giroux was dealt to the Panthers a couple of days before the 2022 Trade Deadline after nearly 15 seasons with the Flyers. The haul was pretty significant too, considering Giroux was 34 years old at the time and was not the same 70-plus point player he used to be in the 2010s. Unfortunately for the Panthers, he ended up being an expensive rental that didn't have the desired effect in the playoffs.
In the offseason, Giroux decided to sign (and most likely retire) with his hometown Senators on a three-year contract worth $6.5 million AAV – armed with a full no-movement clause. In the end, all the Panthers were left with was two mid-tier prospects and a fifth-round pick.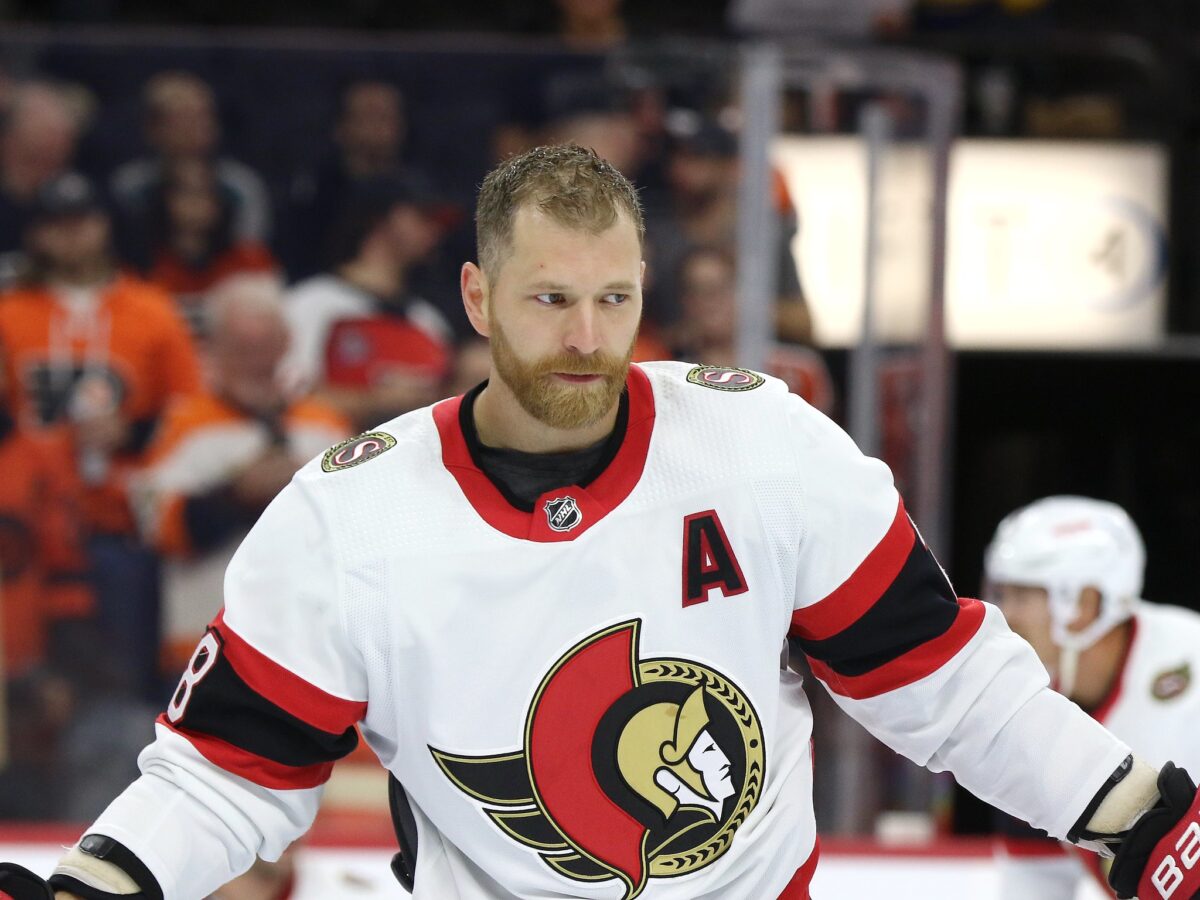 The Flyers received Tippett in the deal, who seems to have turned a corner in his development. With 14 goals and 28 points so far, he's already four goals past his total from last season and could hit 20 goals for the first time in his career.
2. Blackhawks' Scorched-Earth Rebuild Continues With DeBrincat Moving to Ottawa
The Trade: On July 7, 2022, the Ottawa Senators acquired Alex DeBrincat from the Ottawa Senators for a 2022 first-round pick (Kevin Korchinski), 2022 second-round pick (Paul Ludwinski) and 2024 third-round pick.
Now were getting down to the nitty gritty, the two biggest trades of the past year. Surprisingly, one of them involves 25-year-old Alex DeBrincat, someone that could have easily been part of the Blackhawks' rebuild and a cornerstone to build around. Except GM Kyle Davidson had other ideas. On a warm July day, he sent "The Cat" to the Senators for a package that many thought to be low at the time, especially given the return he got for Brandon Hagel (coincidentally the biggest trade on our list). While the first-round pick netted a potential top-pairing defenceman in Korchinski, a player of DeBrincat's caliber should have got the Blackhawks at least a blue-chip prospect or another first-rounder.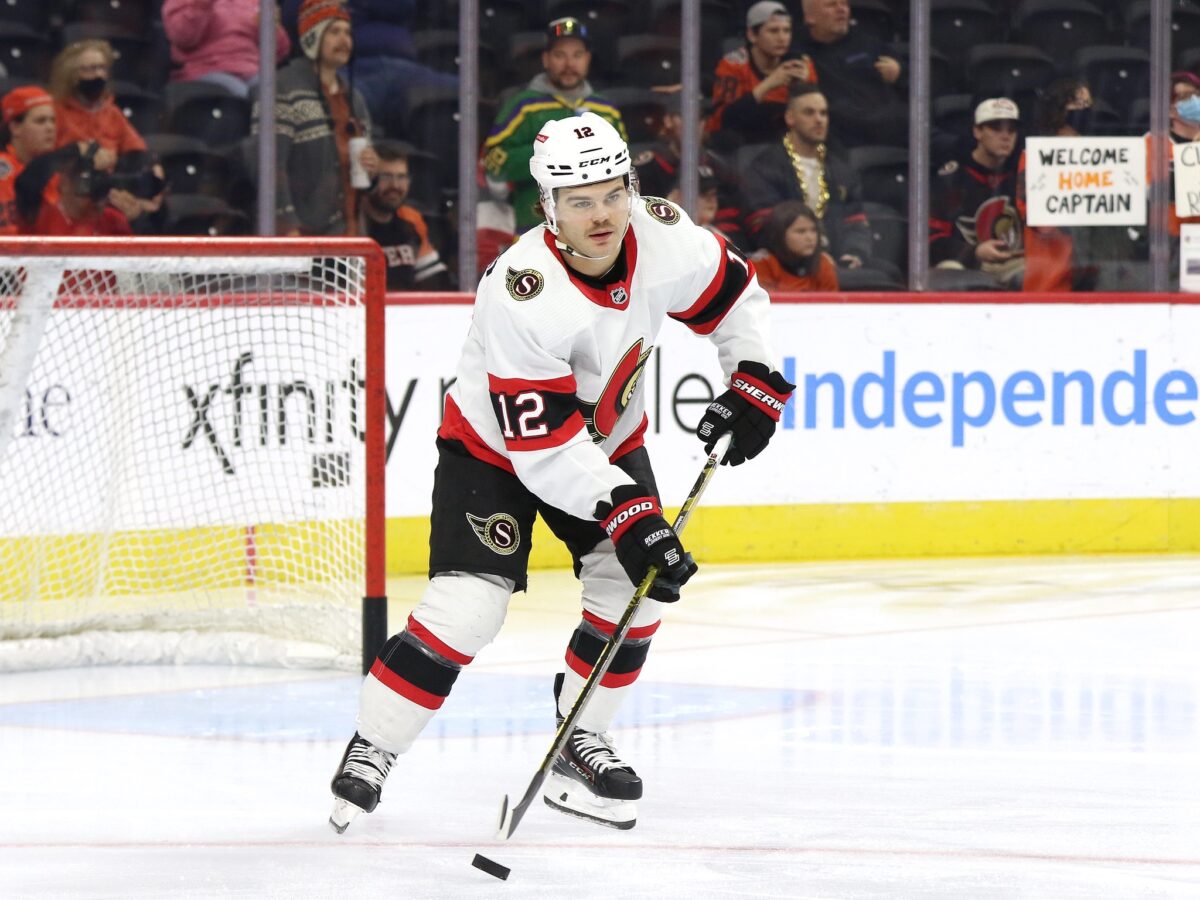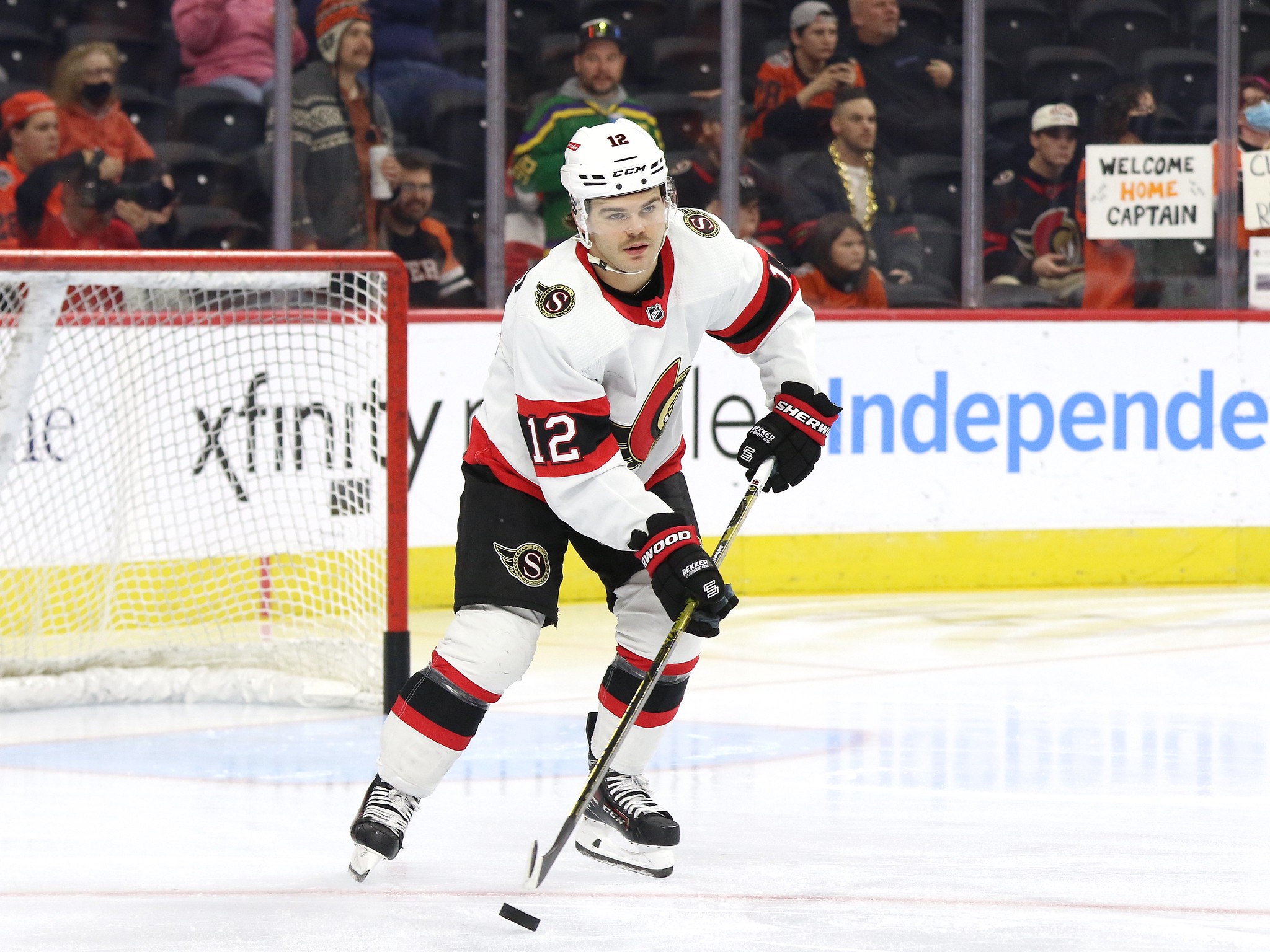 But the Senators will take it, as they got their sniper at a reduced cost, at least when it comes to assets. Now they will have to pony up the money in the offseason with DeBrincat set to become a restricted free agent (RFA). He's having a decent season in Ottawa with 17 goals, but not nearly in the same realm as the 41 goals he put up in 2021-22. Granted, he doesn't have the likes of Patrick Kane to feed him the puck.
1. Hagel Dealt to the Sunshine State in First Salvo of Blackhawks' Rebuild
The Trade: On March 18, 2022, the Tampa Bay Lightning acquired Brandon Hagel, a 2022 fourth-round pick (Kenny Connors), and a 2024 fourth-round pick from the Chicago Blackhawks for Boris Katchouk, Taylor Raddysh, a 2023 first-round pick and 2024 first-round pick.
Finally, we get to the biggest trade of the past 365 days, and it involves the Blackhawks yet again. This deal was actually the one that signaled the beginning of the rebuild that eventually saw Fleury, DeBrincat, and Dach get shipped out of town for prospects, youngsters, and picks. Hagel, interestingly enough, was not the most talented player on that list, yet he garnered the most in return, as the package was a treasure trove of first-round picks and young players – including one in the vaunted 2023 Draft.
Along with the two first-rounders, the Blackhawks also got Raddysh and Katchouk, two players on the verge of entering their prime. Raddysh, in particular, has fit quite well in Chicago with 20 goals and 34 points in 69 games over the past two seasons, including 14 goals and 24 points in 2022-23. Raddysh, meanwhile, is mucking it up on the fourth line with 44 hits and five points in 24 games.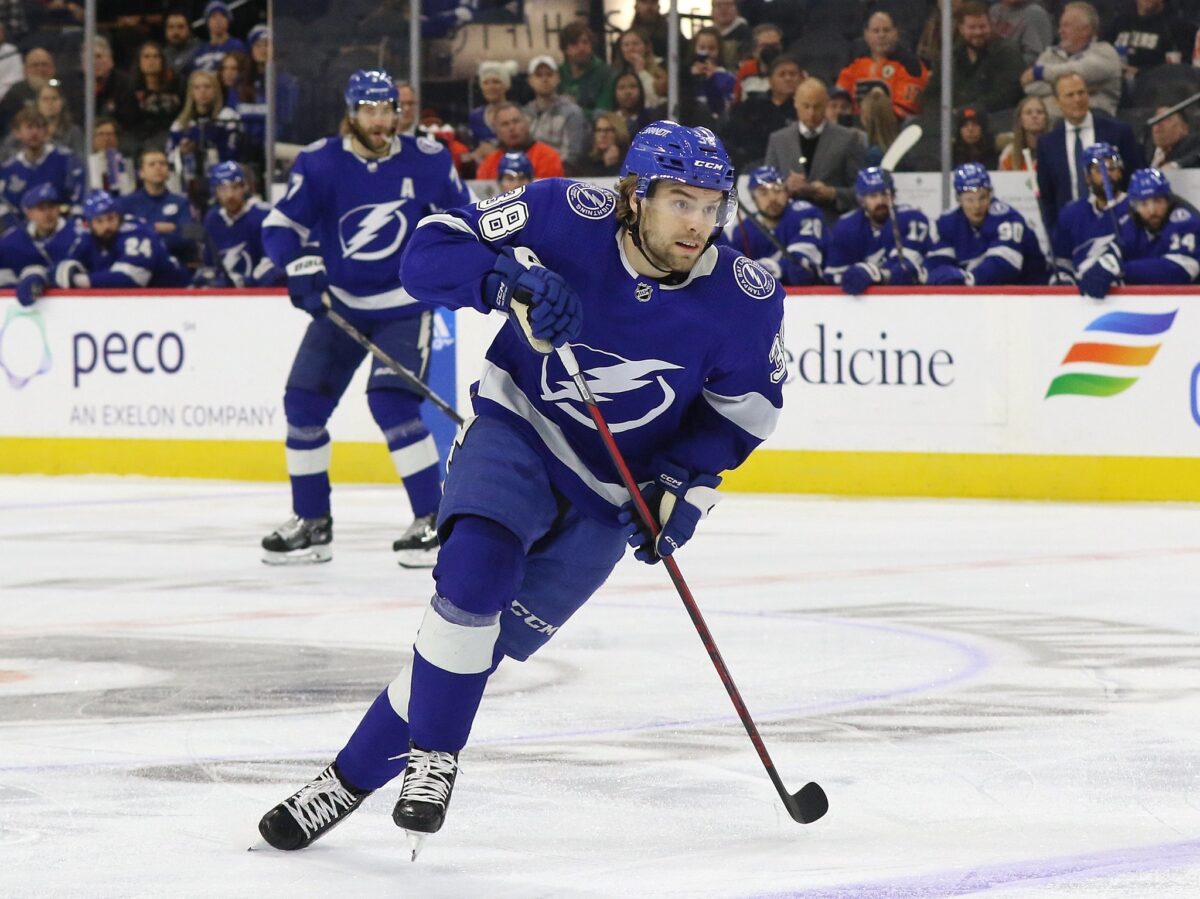 As it seems to be with all trades executed by BriseBois, the player he gets fits seamlessly into the Lightning's lineup like he's been there for decades. Again, making his presence known in the playoffs, Hagel created chaos in the bottom six and helped them to their third-straight Stanley Cup Final. Along with Paul, BriseBois re-created the success he had with the Blake Coleman and Barclay Goodrow trades and bolstered his roster for the playoffs. Even though they didn't win it all for the three-peat, the Lightning are still reaping the rewards of those deals as Paul and Hagel are still productive members of the team. Hagel, in fact, is on pace for his first 30-goal season. All in all, despite the high price, both teams seemingly have come out on top in this one.
---
That does it for another edition of the 20 biggest trades of the past year. Stay tuned for more as the 2023 Trade Deadline is just around the corner!