Chicago Blackhawks general manager Stan Bowman cleared some cap space and made room on the roster with a trade on Sunday afternoon. He still has some work to do to make sure this new-found cap space doesn't go to waste. Also, we take a quick look at four players who might become part of the system by the end of the night on Tuesday.
Maatta Move Creates Cap Space
On Sunday, the Blackhawks traded defenseman Olli Maatta to the Los Angeles Kings for forward Brad Morrison. As part of the agreement, the Blackhawks will retain $750,108 of Maatta's salary for each of the next two seasons.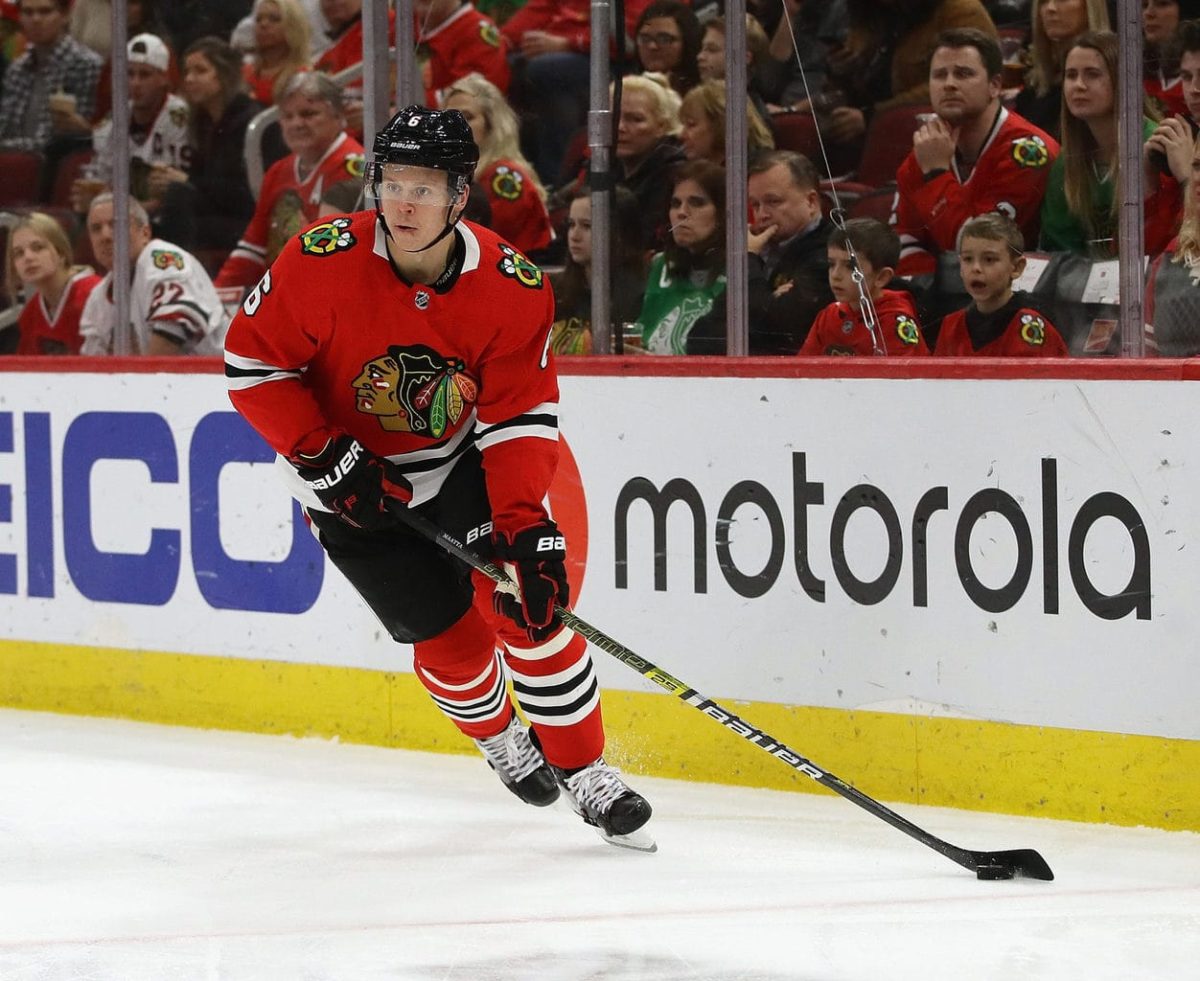 Morrison is a 23-year-old forward who shouldn't be considered a major NHL prospect. He played 50 games for the Ontario Reign of the American Hockey League (AHL) during the 2018-19 season, scoring 10 goals and 20 points. In 2019-20, he had six goals and 19 points in 17 ECHL games with the Fort Wayne Komets. The best-case scenario for the upcoming season is that Morrison contributes to the Rockford IceHogs.
However, Morrison is not the return in this trade, the $3.37 million in salary-cap space is. Had the Blackhawks bought out Maatta's contract, there would have been a $680,000 salary-cap hit for the next four seasons. So, the team will take a slightly larger cap hit for the next two seasons to avoid any hit at all in 2022-23 and 2023-24.
The Blackhawks now have just over $11.1 million in cap space as they head into the start of free agency on Friday. They still have to figure out their goaltending situation and whether or not they bring back Corey Crawford. There are also restricted free agents Dominik Kubalik, Dylan Strome, Drake Caggiula and Slater Koekkoek, who all need new contracts.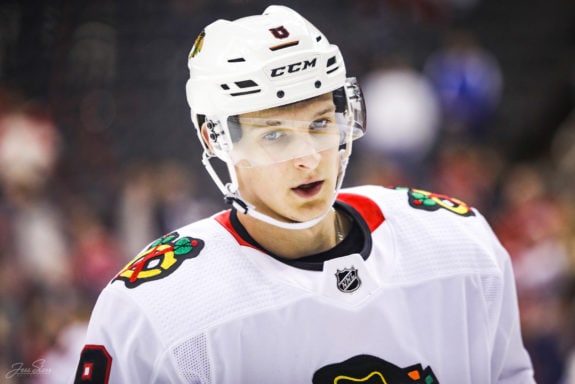 According to previous reports, the team offered Crawford a one-year, $3.5 million deal. So, if they bump that offer up to $4 million, they would still have over $7 million to play with. It is smart to leave a little bit of wiggle room heading into the season so it is unlikely that all four RFAs return. You'd imagine that Kubalik and Strome are the top priority and it is likely they are taking a "wait and see" approach with Caggiula and Koekkoek.
First Round Draft Options
The NHL Entry Draft begins tomorrow night at 6 p.m. CDT and the Blackhawks currently own the 17th overall pick. The biggest long-term need in the system is a legit goaltending prospect as the team does not have a netminder under the age of 25 currently signed to a contract.
Yaroslav Askarov is one of the best goaltending prospects to enter a draft since Carey Price. The Blackhawks selecting him at No. 17 would solve a lot of problems, but the chances are slim that he will still be on the board that late in the first round.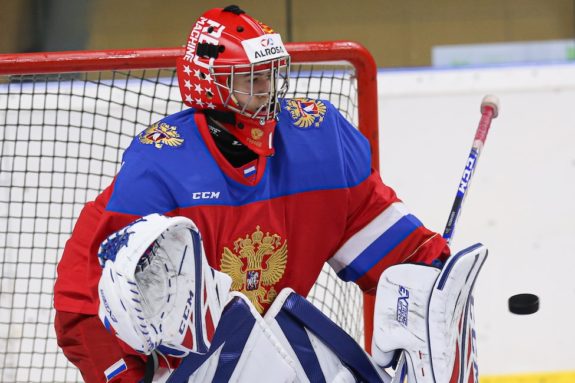 Their next biggest need is at forward. With young defensemen Adam Boqvist, Nicholas Beaudin and Ian Mitchell hoping to become contributors in the near future, the Blackhawks need to add some dynamic offensive players into the mix and fast. Here is a quick look at four players who might be available for them when they are on the clock.
Dylan Holloway – University of Wisconsin, C/LW (6-foot-0, 190 pounds)
Holloway is the most popular name seen in mock drafts being selected by the Blackhawks at No. 17. He spent last season playing with top NHL prospects like Cole Caufield and Alex Turcotte, but he only had 17 points in 35 games. While the point production was a disappointment, his vision, decision making and play without the puck are what make him a first-round talent.
The 19-year-old is a power forward who brings a two-way game, which is exactly what the Blackhawks could use. He has the potential to be a top-six forward down the road with his excellent skating and stick handling. Holloway does not shy away from contact and is always willing to take punishment in front of the net. He compares more to Brandon Saad than he does to Alex DeBrincat or Kubalik.
Dawson Mercer – Chicoutimi Sagueneens, RW (6-foot-0, 179 pounds)
Mercer is an exciting winger who can put up points in a hurry. He is a great skater who has an above-average shot that he is not afraid to show it off. There is room to improve, especially in his overall decision making, but he put up 65 goals and 150 points in two Quebec Major Junior League (QMJHL) seasons. He is off to a hot start in 2020-21 with two goals and three points over the Sagueneens' opening weekend.
The Blackhawks have a pretty good crop of left wingers with DeBrincat, Kubalik and Saad. Patrick Kane could use some help on the right side and Mercer could eventually provide that. During his junior career, he is shown that he can play in all situations and is responsible in his own end too.
Hendrix Lapierre – Chicoutimi Sagueneens, C (6-foot-0, 181 pounds)
Lapierre, a teammate of Mercer's, can do a little bit of everything on the ice. He is a playmaking center who is very effective in all three zones. While he doesn't have earth-shattering speed, he makes up for that with fantastic positioning and elite-level vision. He scored three goals and five points in his first two QMJHL games of the season. This is a very refreshing sign as he was limited to just 19 games last season due to injury.
The reason Lapierre could fall to the Blackhawks is because of the health concerns. Many scouts feel he could be a top-five pick had he stayed healthy. There is definitely a lot of risk involved with this pick, but if he can put his injury trouble behind him, the Blackhawks could be set down the middle with Lapierre and Kirby Dach.
Connor Zary – Kamloops Blazers, C (6-foot-0, 181 pounds)
Zary could make it back-to-back first-round picks out of the Western Hockey League (WHL) for the Blackhawks. It is a bit of a long shot that he falls to the 17th pick, but if there is an early run on defensemen, then there will be more options up front to choose from. He may not be a flashy player, but Zary is built more in the mold of a Jonathan Toews or Bo Horvat. He excels at puck possession and smarts and has shown that he can play in all situations of the game.
Toews has still been productive the last couple of seasons, but his age and all the years of long and rough playoff runs are beginning to take its toll. With Dach and Zary, the team would be well equipped to move into the next era of Blackhawks hockey, at least at the center position.
Bowman cleared some cap space with the Maatta trade. The next step is to wisely invest that extra money back into the team. Unless Askarov is available, the Blackhawks should use their first-round pick on the best forward left on the board, regardless if he plays center or on the wing. Hold on to your butts because things are about to get crazy.
---
---