Highland Park, IL (July 1, 2014) – The Chicago Blackhawks finally appear to have a solution to what many have coined as the missing piece an otherwise near-flawless team. 34-year-old Brad Richards, a nine-time 20-goal scorer and Stanley Cup champion, signed a one-year deal worth $2 million Tuesday with the Blackhawks.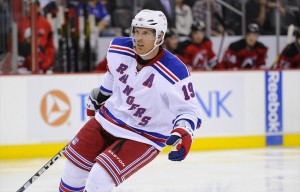 Richards may not be the force he used to be, as evident by his dropping down to the fourth line with the New York Rangers last season, yet can still be effective as a second-line center, the piece that has eluded Chicago for the longest time. At his age, perhaps he can be used as the pathway to prospect Teuvo Teravainen. Not only can he be used as this "bridge" to Teravainen, but he also takes a load of pressure off the 19-year-old sensation to produce right away.
Signing Richards comes as a response to Blackhawks general manager Stan Bowman narrowly missing out on acquiring Ryan Kesler. The former Canuck was picked up by Anaheim just hours before the 2014 NHL Entry Draft along with a 2015 third-round pick in exchange for Nick Bonino, Luca Sbisa, and the Ducks' first and third-round picks in 2014. The Blackhawks were believed to be one of the final two teams in play for the highly coveted center. Although, missing out on the pricey Kesler is not all bad for Blackhawks fans. The former all-star and his $5 million cap hit head to Anaheim while Chicago settles for just a $2 million hit with Richards. With that in mind, Chicago may have given up a little as far as pure talent goes, but got Richards for cheap during a cap-stricken off-season.
Most important is that with Richards' new deal, he has already proven to Blackhawks fans that he wants to exit this league a winner. By coming to Chicago for $2 million, he leaves the final six years of his contract with Rangers on the table, a contract earning an average annual salary of $6,666,667.
The early prognosis is this was another brilliant move by Bowman to say the least. Chicago finally has its man, and all that is left to say is watch out NHL, watch out.