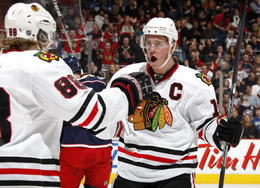 The Chicago Blackhawks are now just one win away from the Stanley Cup and should have no trouble finding sources of inspiration. Winning a game in Boston during the playoffs is never easy, but no one is expecting it to be. The Blackhawks played the third period without their Captain Jonathan Toews after he received a high hit from the Bruins Johnny Boychuk late in the 2nd period.
What made the game even more interesting is Patrice Bergeron had just 1 shift in the 2nd period before leaving by ambulance on what is speculated as a spleen injury. With both teams without their top centres we viewed some desperate hockey and line juggling.
Heading back into Game 6 in Boston the Blackhawks must rally around their captain, even though he was injured he stayed on the bench cheering on his teammates and came out to celebrate the victory on the ice when the game was over.
Patrick Kane, who was struggling to find his playoff game two weeks ago, scored twice and now has 9 goals and 19 points in 22 post season games. Kane has averaged 22 minutes and scored 4 points in his last two games.
As many have stated winning In Boston will be tough, but so was coming back from being down 3-1 in a series, so was beating the Kings who were undefeated at home. Every challenge that has been thrown the Blackhawks way they have overcome and come out a stronger team for it.
Whether Toews plays or not the entire Blackhawks team can draw inspiration from their captain and go out there and win one for him. Chicago's Brent Seabrook has proven his valuable leadership abilities and has only gotten better since his benching in the Detroit series.
The Bruins may be without Patrice Bergeron, who is their best faceoff man and alongside Chara anchors their penalty kill, one that has seen so much success against Chicago in this series. The line speculation will be running rampant until puck drop Monday and it is in these types of games you see who is Conn Smythe material.
Bryan Bickell's offense may not be what it was in the first 3 rounds but he has played a vital role in taking on Chara at every opportunity, often distracting him from covering guys like Toews, Hossa and Kane. Bickell has taken the abuse and given it out with one of the most imposing players of the past decade. I don't think anyone can question Bickell's motivation to win a Stanley Cup.
In what I have witnessed from Toews over the last 5 seasons as captain is that if he does play he will be giving it 110% like usual. If he and the medical staff feels he is good to go for Game 6 then he will be out there leaving it all on the ice because there is no off switch for the captain's dedication.
As seen on the CBC broadcast for Canadians and close by markets in the US, was Toews asking the coaching staff for just one shift in the third period. Many outside of the Blackhawks fan base are starting to realize why Toews is considered a true embodiment of leadership, but it's something Blackhawks fans know all too well from their captain.
Creator of the Bettman Stand Up hockey blog. I cover the Chicago Blackhawks for The Hockey Writers, In Hossa we trust! I also write for publications such as Arbitrage Magazine and Elite Sports Blog. You can follow me on Twitter @RickEmrith