Don't look now, but we're already almost halfway through December, and nearing the end of this crazy year of 2020. The Chicago Blackhawks, just like the rest of the league, are looking forward to a potential start to the 2020-21 season, as well as what teams will comprise their newly aligned division. We also have some updates on Blackhawks' forward Kirby Dach and prospect Brandon Hagel.
NHL 2020-21 Season Details
This week we learned the NHL and the NHLPA are targeting a Jan. 13 start to the 2020-21 season. They're looking at a Dec. 31 start to training camps for non-playoff teams from last season, and a Jan. 3 start for the remainder of the league. Under this plan there would be no exhibition games, and ideally a 56-game shortened season.
Related – Blackhawks Banter: WJC, Power Play & a Holiday Wish
Because the Blackhawks did participate in the playoffs last season, this means they would start camp on Jan. 3, a mere three weeks away. Training camp would go for 10 days, before they headed straight into their shortened campaign.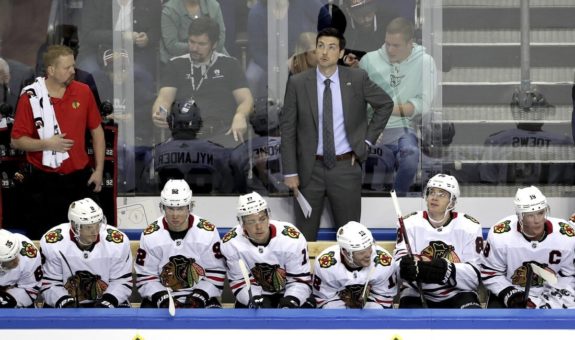 Obviously, a condensed season would entail a very busy schedule and lots of back-to-back contests. Teams who want to be successful will need to get off to a fast start. But due to Covid restrictions there will be re-aligned divisions and therefore less travel for everyone.   
Blackhawks Re-Aligned Division
There are still strict restrictions with crossing the border between the United States and Canada, so this has forced the league to consider re-alignment with an all-Canadian division, along with three divisions in the United States based of geographical location. Teams would only compete against the other teams in their division. Here are the four proposed divisions.  
Not finalized yet, and still subject to change, but the 2020-21 four-division re-alignment currently looks like this according to sources:

Bos-Buf-NJ-NYI-NYR-Pha-Pgh-Was

Car-CBJ-Det-Chi-Fla-Min-Nas-TB

Ana-Ari-Col-Dal-LA-SJ-STL-VGK

All-Canadian teams

— Pierre LeBrun (@PierreVLeBrun) December 9, 2020
When the subject of re-alignment was originally broached, the Pittsburgh Penguins and the St. Louis Blues were slotted in the same division as the Blackhawks. Now, it looks as if the Carolina Hurricanes and the Minnesota Wild will replace them. There has been some talk of the Wild swapping again, so these assignments might still change.
If all stays the same, I won't complain about not playing the Blues. They are a hated rival, and a pretty talented bunch to boot. I'd say the Blackhawks fare a much better chance of success against the Wild. And since I've never been a big Penguins fan, starting up a friendly rivalry with the Hurricanes could be a welcome change. They are no slouches though, and could prove a challenge to the Blackhawks on the ice.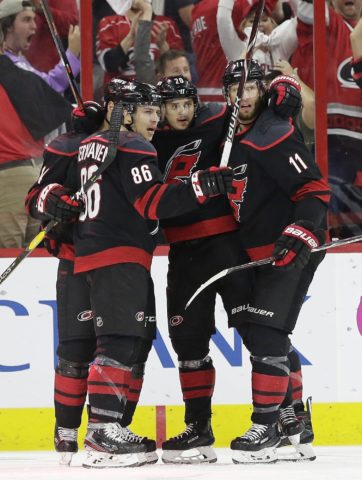 Other than that, the Nashville Predators would remain division foes. They are never an easy team to beat. One can by no means underestimate teams coached by the likes of John Tortorella and Joel Quenneville. Although it could be fun to see more of the Blackhawks' former head coach. Obviously the Tampa Bay Lightning are the defending Stanley Cup champions, so let's hope for a Cup hangover from them (not very likely). Finally, the Blackhawks will hope to take advantage of playing the bottom-feeding Detroit Red Wings.
All in all, it should be quite a different, interesting and entertaining season.  
Dach Will Play in World Juniors
Meanwhile, it's no surprise the Blackhawks 2019 third overall NHL draft pick Kirby Dach made the Canadian team for the World Juniors. The Blackhawks further told Hockey Canada they could keep Dach as long as he didn't miss any regular season games.
Translation: The Chicago #Blackhawks told Hockey Canada that Kirby Dach can stay as long as he doesn't miss regular-season games in the NHL. His presence at the #WorldJuniors should therefore not be a problem. https://t.co/FLGsWCYni1

— Brandon Cain (@brandonmcain) December 10, 2020
With the season potentially starting on Jan. 13 and the World Juniors tournament scheduled to be over on Jan. 5, this shouldn't pose a problem. Dach might miss some or all of training camp depending on quarantining rules, but it's not as if he's on the bubble to make the team.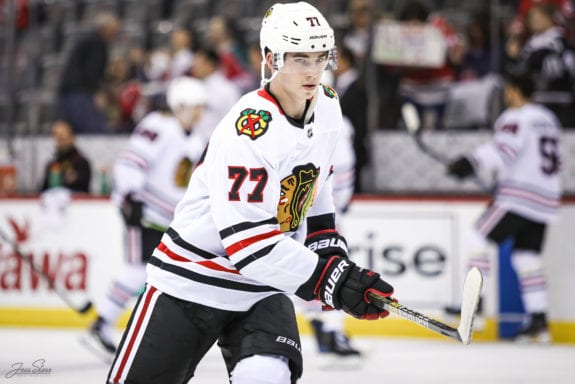 Dach's spot is obviously secure on the Blackhawks' roster, and it makes sense for him to be playing competitive hockey right before starting the NHL season. Best of luck to Dach in the tournament!
Hagel's Switzerland Experience
Finally, Scott Powers of The Athletic recently caught up with Blackhawks' prospect Brandon Hagel, who was loaned to the HC Thurgau, a team in the second division of the Swiss League in Europe. (from 'How Blackhawks prospect Brandon Hagel regained his hockey groove in Switzerland', The AthleticChi – 12/10/20)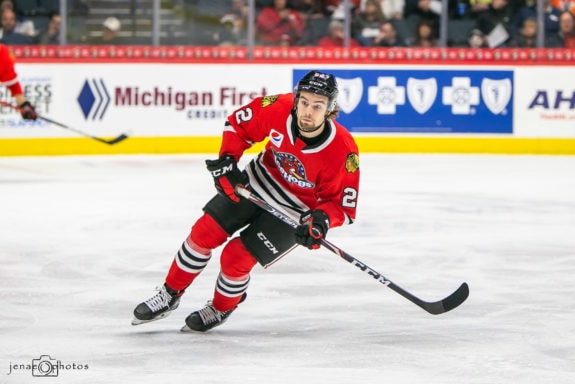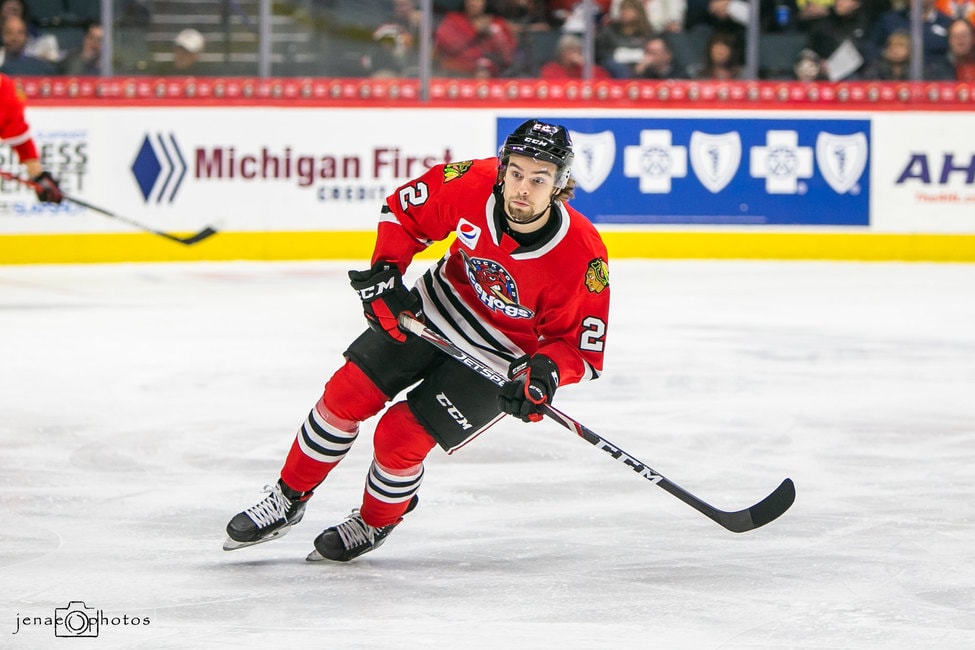 Hagel just finished up a successful two-month stint with the team, contributing seven goals and seven assists in 13 games. He feels the experience was a good one, and will only serve to help him moving forward.
It's definitely going to help being in game shape. From not playing for eight months, nine months, when I came here, it's almost like I remembered how to play hockey, but I didn't at the same time. Everything was just like so slow, trying to figure out being at the right spots at the right times. I think adapting that way is going to really, really help me going back as it won't take me as much time.
The 22-year-old forward made his NHL debut with the Blackhawks on Mar. 11 right before the pause, after playing with the Rockford IceHogs for the majority of the 2019-20 season. With the IceHogs he led the team with 19 goals and 31 points in 59 games. Hagel plans to spend Christmas with his family in Canada before joining the Blackhawks for training camp and gunning for a roster spot.  
Related – 5 Reasons the Blackhawks Will Be Good in 2020-21
Stay tuned for more Blackhawks news and rumors coming soon. With the 2020-21 NHL season set to begin, there should be plenty more to talk about in the coming days and weeks. In the meantime, happy holidays to all!
---
Looking for more Blackhawks content? Tune in to our weekly Blackhawks Banter show, airing on Monday nights at 7:00 pm CST/ 8:00 pm EST. We live-stream on The Hockey Writers YouTube channel and you can catch us on Facebook at well. Here's our latest episode below.  
---
---