The Chicago Blackhawks are getting further into this 2020-21 season, and they're starting to find their identity. That identity is a young, rebuilding team that needs to scratch and claw to find their way. They have a lot of raw talent and a sprinkling of seasoned veterans, and they're  trying to achieve as much success as they can while improving and developing. It's not always fun, and it's a lot of hard work. In this week's Blackhawks Banter column, our staff of Brooke LoFurno, Shaun Filippelli, Greg Boysen and Gail Kauchak discuss veteran contributions, our ongoing frustrations with head coach Jeremy Colliton, and the ideal shootout lineup. Join us live every Monday night while we further tackle these topics, along with many more subjects and a lot of fun banter. Never a dull moment!
Related – Blackhawks Banter: Would You Rather…Edition
Getting to our first topic; last week we talked about which rookie impressed us the most. This week I'd like to touch on the veterans. Which veteran have you been most impressed with so far this season, and why?
Most Impressive Blackhawks' Veteran
Shaun Filippelli
While it would be easy to point out that Patrick Kane leads the way in point totals and still finds a way to look dangerous whenever he's out there, I'm not sure that impresses me as it's simply what I've come to anticipate of his play.
With that said, it's hard to deny the fact that Duncan Keith is still performing like he's not a 37-year-old man playing amongst others basically half his age. Although he's not the player he once was, that is to be expected. However, as of writing this answer, he's earned five points, through nine games, while averaging 23:00 minutes of ice time. And he's being relied upon across a variety of scenarios.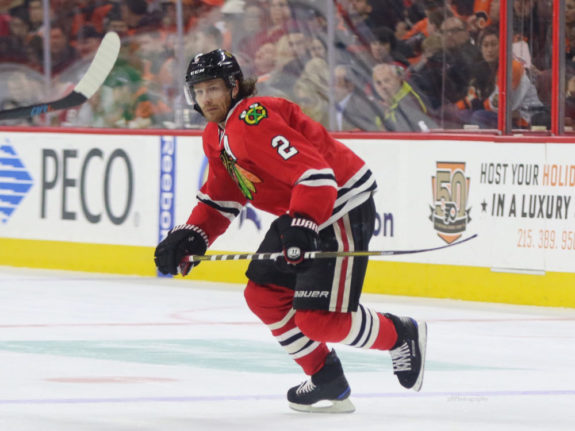 Despite the fact that I'm a proponent of granting their youth these opportunities, to foster further development, that doesn't negate the respect Keith is due for the workload he continually proves he can manage.
Brooke LoFurno
My pick is Connor Murphy. Last season he had five goals in total, and he already has two goals this season. He is also a plus-two with a recent four-game point streak. So, Murphy has shown a heck of a lot of positives so far. He's also been one of the most consistent and reliable players for the Blackhawks early in this young season.
Greg Boysen
Murphy is about as steady as they come on the blue line, but I'm going to give some love to Ryan Carpenter. I'm a big fan of his. He's a solid bottom-six forward who plays the exact role that is asked of him. He will block shots, throw a check, battle along the boards and in front of the net.
Heck, he's third place on the team with 20 shots on goal, which I'm not quite sure is a good thing. Now if he could only get better at the faceoff dot!
Gail Kauchak
I'm going to go with Murphy here. At the time of this writing, the defenseman was actually tied with forwards Dominik Kubalik and Alex DeBrincat with two goals. That's not bad company. His five points is tied for third on the team. Colliton has also been leaning on Murphy big time to eat up the heavy minutes. He's currently neck-in-neck with Keith leading the team in ice time, with an average of just under 23 minutes per game.
Murphy has only been with the Blackhawks going on four years, and he's just 27 years old. But amongst an incredibly youthful lineup he's the veteran with more experience than the rest. He was recently given the "A" on his sweater for alternate captain. The Dublin, Ohio native splits this responsibility with Andrew Shaw, who serves as an alternate for home games (Murphy serves for away games).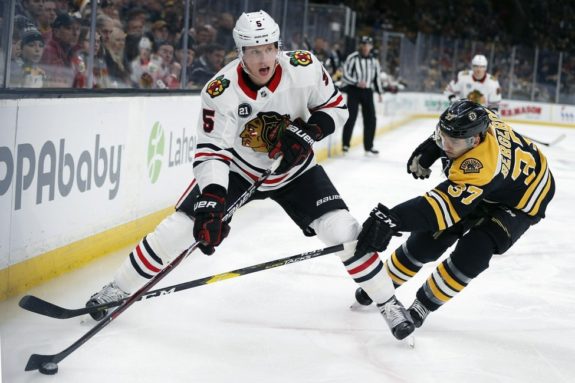 Murphy is a likeable guy who comes across as having a wholesome nature. Here's hoping he can gain more leadership skills on and off the ice with the Blackhawks.
---
We haven't bashed on Coach Colliton in a while, and he's made numerous head-scratching decisions lately. What recent coaching decision are you questioning, and why?
Colliton Questions
Shaun
Although I feel like we might all have the same response to this one, based on my Twitter timeline following the game, it's impossible to overlook Colliton's shootout lineup from their loss to Nashville in the second of that two-game set. Kubalik, I can understand. Kane makes sense. But Mattias Janmark?!
It's not to throw hate towards Janmark, either. He was buzzing during that third period, so it seems that may have played a factor in the decision. However, as depleted as this lineup may currently be, he was an odd choice for what was essentially a decision that would directly influence the outcome. There are at least four players I would have naturally gravitated towards before landing on resorting to Janmark in that spot.
Related – 3 Takeaways From Blackhawks' Series With the Predators
While it's Colliton's prerogative to make those calls and only have to rationalize them to himself, it's our job as fans to critique then along the way. That decision deserves a failing grade.
Brooke
Sigh. Putting Janmark as the third shooter in the shootout against Nashville was something I still can't wrap my brain around.
Greg
I could spend three whole Banter episodes talking about Colliton's questionable in-game decisions. We've talked about the progression of the young players being the key to the season; you'd like to see progress behind the bench too. So far, it is not there. I still can't figure out benching Matthew Highmore on Wednesday (and then again Friday!) to dress seven defensemen. Asking your forwards to double shift on the second game of a back-to-back set during the middle of compressed schedule is less than optimal.
Gail
I have absolutely no clue why Calvin de Haan is on the power play. Yes, I understand the team is depleted and there aren't a lot of options.
With DeBrincat and Boqvist out, Kubalik and Keith have moved up to the top unit. This leaves a rag-tag second unit of Pius Suter, Philipp Kurashev, and Janmark (filling in for Lucas Wallmark who is also out) as forwards on the second unit. Colliton is also utilizing defenseman Ian Mitchell to see what he can offer on the man advantage (this I can support!).
But why de Haan as the fifth guy? He's one of the defensemen that logs the most minutes of five-on-five ice time, as well as being a mainstay on the penalty kill. And now you want him to be on the power play, for goodness sakes!  
It showed that the 29-year-old veteran was out of place when the Preds picked his pocket and almost scored a shorthanded goal last Wednesday night. De Haan isn't exactly the fastest skater, and he couldn't keep up to thwart the effort the other way.
In de Haan's place I would substitute another forward, as the Blackhawks do on the first unit with four forwards and one defenseman. Even if it's a bottom-six forward such as Carpenter or rookie Brandon Hagel. I think that would be a better choice than an already over-worked defenseman.
---
This past Wednesday the Blackhawks and Predators couldn't determine a winner in regulation or overtime, so they headed to the shootout. Now I know many diehards of the game feel shootouts should not be a means to determine a victor. After all, it's not true hockey. It's more of a skills competition between the shooter and the goalie.
But for the time being, the shootout is part of the game. Seemingly since Jonathan Toews and Kane have been Blackhawks, they've been the No. 1 and No. 2 guys to attempt to get the puck past the opposing netminder. Wednesday was a harsh reminder that Toews is out of the lineup for the foreseeable future. With their depleted lineup due to injuries and now Covid protocol, the Blackhawks went with Kubalik, Kane and Janmark as their 1-2-3 punch. Unfortunately, none of them converted.
This leads to our final question, which we will expand upon in our live show Monday night. Who would you choose as your top three shooters in the shootout?
Shootout Options
Shaun
Brooke
Greg
Gail
---
---
As always, thank you for reading! Along with the above topics we'll get you up to speed on all the latest Blackhawks scores, updates and analysis on our live show. Tune in to The Hockey Writers YouTube Channel for Blackhawks Banter every Monday night at 7:00 p.m. CST (8:00 p.m. EST), or on our Facebook Page. Episode 12 is featured below.