The Columbus Blue Jackets looked tired on Friday night in Chicago. But thanks to a great display of speed and skill, Eric Robinson helped ensure the team got two points from the Chicago Blackhawks.
Robinson accepted a pass from Oliver Bjorkstrand and raced down the left side towards goalie Kevin Lankinen. He then snapped a shot over Lankinen's shoulder to put the Blue Jackets up 2-0. Although Dylan Strome scored a power-play goal to cut the lead to 2-1, the Blue Jackets held on and won 2-1 thanks in large part to Joonas Korpisalo.
Eric Robinson's Impact
The goal Robinson scored was both a thing of beauty and an important moment for him. It's not often a player can beat both Patrick Kane and Duncan Keith on the same play. He did just that.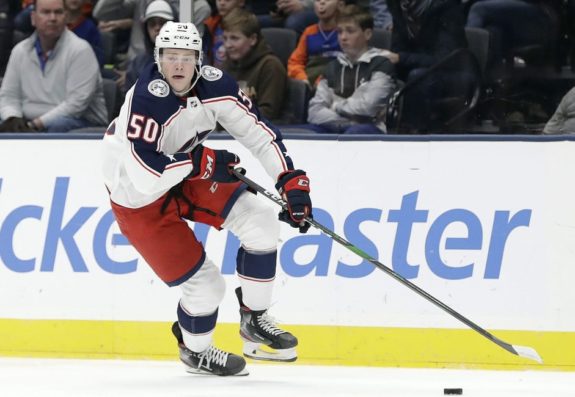 This was an important goal for Robinson for a couple reasons. Among them, he has had trouble finishing his chances. His speed allows him to get breakaways and scoring chances. But for one reason or another, he hasn't been able to find the back of the net. He made no mistake here showing that he can finish when given the chance.
Robinson spoke postgame about the goal and the work the coaches have done for him to get him going.
"(Scoring the goal) It's a relief," Robinson said. "If you're getting chances and they're not going in, it can be frustrating. It was good to see one go in tonight."
"I think I'm pretty happy. My goal going into camp was just to be in the lineup from Game 1 and do everything I can to be in it for the season. (I'm) still learning different ways to add different things to my game to keep giving them reasons to keep playing me."
Related: Blue Jackets' New Acquisitions Starting to Settle In
Robinson admitted that confidence has been an issue for him this season. But the coaches are working on that aspect of his game. Where is his confidence now and then how are the coaches helping his confidence?
"Well, better after the goal I guess," Robinson said. "It's something I struggle with sometimes, just working on the mental aspect of the game there."
"I think playing you in different situations. I've gotten to kill some penalties this year, some minutes late in games that are close. You feel that confidence from a coach when they put you out in key situations of a game."
Tortorella then spoke about what they're trying to do with Robinson to help him with his game.
"I think the concentration on some of the things we're asking him to do and asking him to improve shows," Tortorella said. "He's getting more minutes here too. We've kind of used our lines for the last little while. I'm not sure which is first, which is fourth quite honestly. I think he's tried to grow in the areas especially with the play away from the puck. And that's a mental concentration…I think Robby's working at it."
Robinson has certainly put in a compelling case to stay in the lineup even when Laine is ready to go. If all goes according to plan with protocol and negative tests, Laine could make his Blue Jackets' debut Tuesday night against the Dallas Stars. Someone is going to have to come out of the lineup? But who?
Robinson's speed is certainly an asset that Tortorella would love to have on the ice. But has he done enough away from the puck to remain in? And if Robinson does stay in, who comes out?
For me, barring injury, it comes down to Robinson, Mikhail Grigorenko or Riley Nash. Robinson is getting his chances. If he starts converting these chances more, I'm not sure how you could take him out.
So it would come down to Grigorenko or Nash for me. I'd likely sit Grigorenko because Nash has some value defensively and can play center in a pinch. But either or sitting would be fine given the circumstances.
Now with that said, some of the top guys need to start playing better and with more consistency if they want to stay out of this conversation. Regardless, Tortorella will have a tough decision to make when Laine is ready to go. Robinson has made his case with a game-winning goal. We'll see if he can remain there come Tuesday.
The GBU: Game 9
Good 1: Korpisalo shines brightly. This win doesn't happen without the heroics of Korpisalo. He stopped 31/32 shots including a late save on Kane that kept the score 2-1. The goalie rotation is working so far with each getting every other game at the start. Korpisalo said he felt good after the game despite his teammates being a little tired. He was the reason they won this game. Will they continue the rotation for Sunday night? We shall see.
Good 2: Bjorkstrand becoming a complete player. The knock on Bjorkstrand always was his play away from the puck. That is no longer a concern. He can play both sides of the puck well and he is becoming a complete player. Tortorella said as much postgame Friday. He buried a power-play goal from the left circle. Then he set up the Robinson goal with a perfect pass. He is trending in the right direction. For you fantasy players out there, he is still unowned in almost 8% of leagues. If he plays with Patrik Laine, his stock only goes higher. See if he happens to be available in your league.
Bad: David Kampf's mistake. Bjorkstrand's power-play goal was a direct result of Kampf's gamble at the blue line. In a 0-0 game and the Blue Jackets not going much, Kampf made an aggressive play to try to get the puck out. Zach Werenski was able to chip the puck to Cam Atkinson leaving two Blackhawks including Kampf behind the play. Game over. Atkinson found Bjorkstrand for one of the easier goals he will score. As for Kampf, he has to know better. Priority one is to kill the penalty. That gamble was not a good one to take. He will learn from this but in that kind of game, it's a huge goal to give up.
Ugly: The first period. Ugh. The first period had just 11 faceoffs and seven total shots on goal. It was hard to watch. The Blue Jackets didn't have their legs most of the game due to the schedule. But the Blackhawks started slowly too. The game got better in terms of shots and chances as it went on, but that was about a sleepy a first period as I have seen in some time.
Side Dishes
Laine arrived in Columbus on Friday to begin his mandatory 48-hour protocol. Take note of what the Blue Jackets are doing for him. There was a sign put up to welcome him to Columbus in his native Finnish.
I'm going to write about this more later, but the Blue Jackets have perhaps their best and most exciting chance yet to have a true superstar sign on with them long-term. Notice the lengths the team is going to in order to make him feel welcome and comfortable. Laine's contract is up after this season. They need a superstar to sign here. That would energize the team and the fan base in a big way. Seeing this is a good start. Let's see how this develops.
Jack Roslovic looked noticeable and good in game two. His speed was evident. He was making some good plays too.
Tortorella coached his 400th game with the Blue Jackets on Friday night.
The Blue Jackets have power-play goals in consecutive games. A true rarity these days.
The team has Saturday off and will return to the ice Sunday in advance of their rematch with the Blackhawks.
---
---