The Tampa Bay Lightning are five games into their quest to repeat as Stanley Cup champions. Like in the past few seasons, depth has played a huge factor in the success the club has had so far this year. They have so much talent all throughout their forward, defender, and goaltending core. While the season for the Bolts is only five games in, here are some players who have already make their mark early. There will be obvious players left off of this list, but that is proof of how skilled the entire group is for this franchise.
Steven Stamkos
Stamkos has looked at the top of his game to start the season. The Lightning captain returned after being sidelined for most of 2020 with an injury to his abdominal core muscle, which he ended up having surgery on. He made an attempt to come back early to help Tampa in the 2020 Stanley Cup Final against the Dallas Stars and scored a goal with just a little under three minutes of ice time overall in Game 3. His injury forced him out the rest of the series, but his determination and work ethic to get back inspired the rest of the squad. This led to the Lightning securing their second Stanley Cup in franchise history. The locker room loves what Stamkos brings both on and off the ice.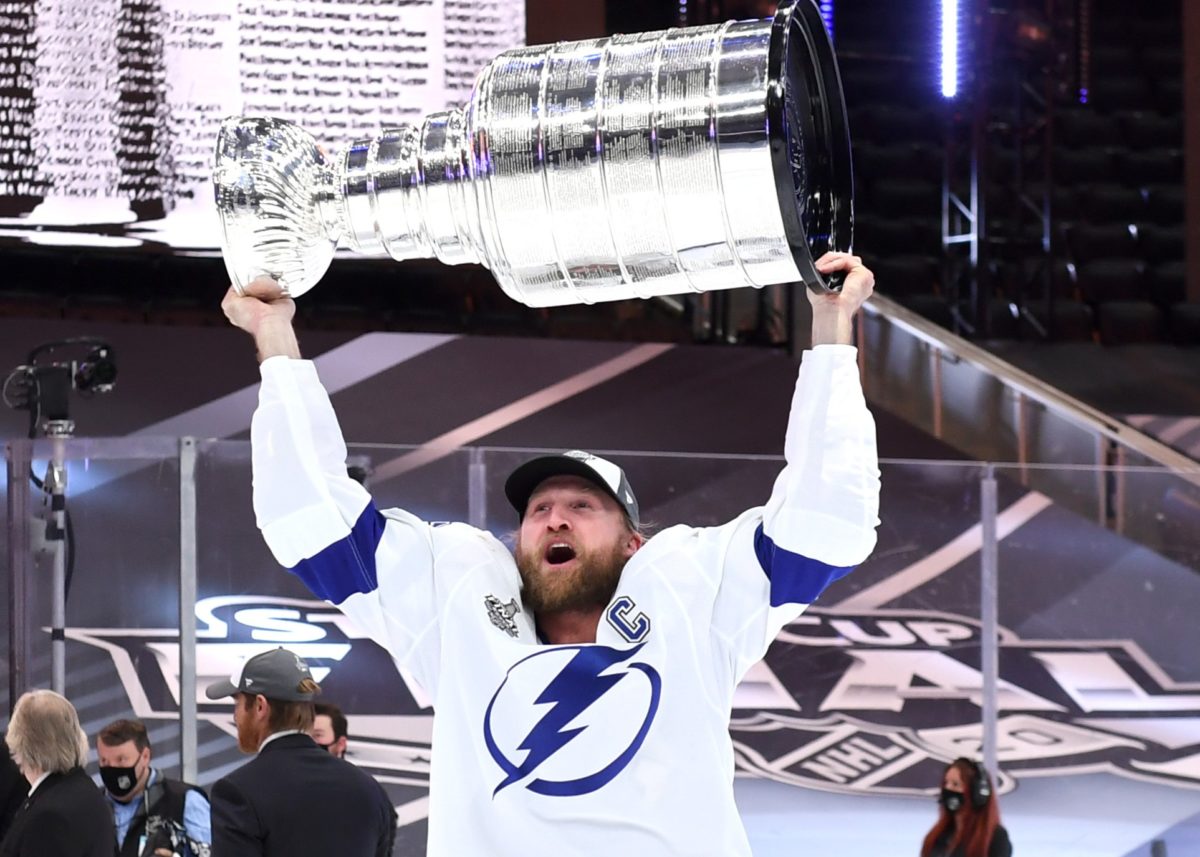 Stamkos has not missed a beat since the beginning of the 2020-21 campaign. In his first five games, he tallied six points (two goals and four assists). He looks as though the core injury never happened, and he is back to his old self. Even with as deep of a roster as Tampa has, Stamkos will always be the leader of the pack. As long as he is on the team and wears the 'C', it will always be his team. He has been with the club since being drafted first overall in the 2008 Draft; and oversaw the transition of eras from the days of Vincent Lecavalier and Martin St. Louis to the new era of Nikita Kucherov, Victor Hedman, and Brayden Point. Whether it is on or off the ice, the man they call "Stammer" always finds a way to rally the troops and make an impact for the club.
Ondrej Palat
Palat has had pretty good seasons for himself production-wise as a nice complementary piece on offense. He has not put up as many points these past few seasons as he did when he first broke into the NHL, but he is still a vital part of scoring for the Lightning. His entire regular-season starts prior to the 2020-21 season are below:
2012-13: two goals and two assists for four points in 14 games
2013-14: 23 goals and 36 assists for 59 points in 81 games
2014-15: 16 goals and 47 assists for 63 points in 75 games
2015-16: 16 goals and 24 assists for 40 points in 62 games
2016-17: 17 goals and 35 assists for 52 points in 75 games
2017-18: 11 goals and 24 assists for 35 points in 56 games
2018-19: eight goals and 26 assists for 34 points in 64 games
2019-20: 17 goals and 24 assists for 41 points in 69 games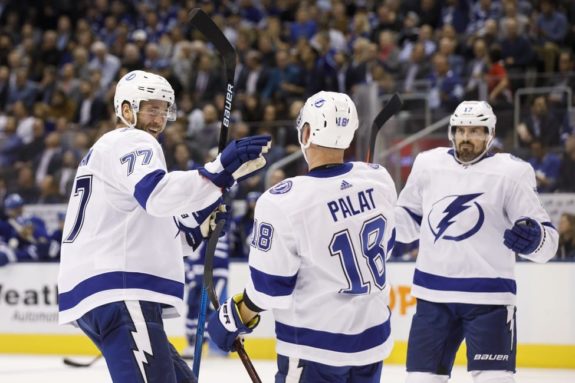 Overall, Palat notched 113 goals and 219 assists for 332 points in 501 games. He also has quite a few postseason games under his belt as well, being a part of the 2015 squad that made it to the Stanley Cup Final and fell short to the Chicago Blackhawks in addition to the 2020 Cup victory. Palat produced 32 goals and 28 assists for 60 points in 92 playoff matchups.
With Palat's teammate (and fellow member of the famous Triplets Line) Kucherov out for the whole regular season, many Lightning players will need to take some of the load he carried for the team. Palat has done that through the first five contests. He has three goals and one assist for four points in that span this year. If he is able to channel the Palat from the early parts of his career from 2013-14 and 2014-15, he will carry his share of the load offensively, making up for some of the production lost by the absence of Kucherov in the lineup. The Bolts are loaded as it is with players who find the back of the net, and Palat makes them that much more dangerous if he is on his game.
Ryan McDonagh
While McDonagh may not have as many points this season as the cornerstone face of the Tampa blue line in Hedman, his overall game as a defenseman has still stuck out through the first five contests. His role is not the same as it was when he was the top defenseman and captain of the New York Rangers a few seasons ago. It diminished a little bit with Hedman being the face on the backend.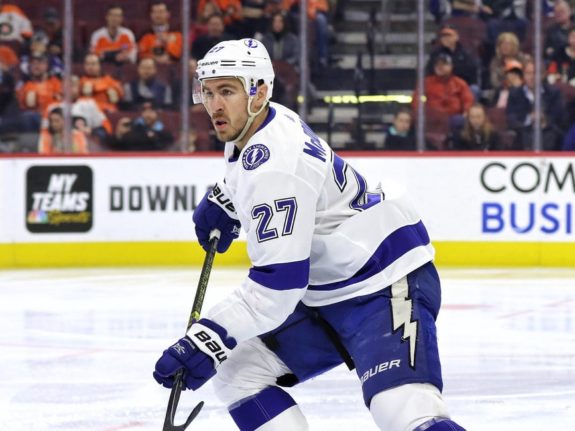 McDonagh's veteran leadership though has been so crucial for the locker room since he was traded to the Bolts back during the 2017-18 NHL season. Younger players like Erik Cernak (when he first came to the team) and Cal Foote have someone to turn to in order to learn how to properly prepare for playing in difficult games and situations. McDonagh brings more than 650 games of experience to the room for the team. He leads by example through practices and during games and is someone who should be well-respected around the team and league based on what he brings to the rink every time.
While McDonagh only has two assists in his first five games of the year, he has been solid at shutting things down defensively for opponents. Here is a breakdown of the contributions of the 31-year-old so far in the 2020-21 season:
Game 1: two blocked shots, one shot on goal, and 25:06 Time On Ice (TOI)
Game 2: a blocked shot and 20:26 TOI
Game 3: two blocked shots, one shot on goal, one hit, and 24:56 TOI
Game 4: six shots on goal, three hits, and 28:51 TOI
Game 5: four blocked shots, one shot on goal, one hit, and 25:03 TOI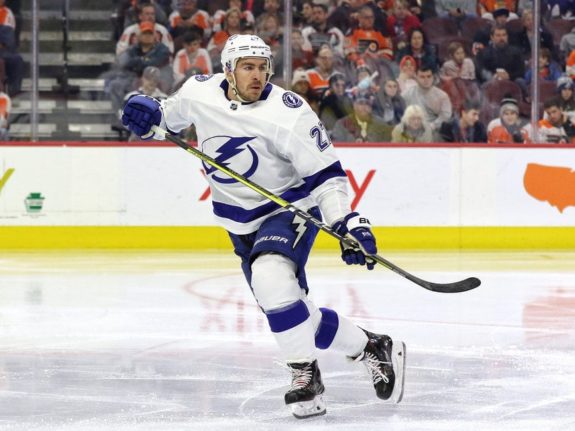 He and defenseman Cernak lead Lightning players in plus/minus through the first five contests with a plus-4 each. That sums up the game that McDonagh is known for: he shuts down the opponent's offense while joining the rush and finding ways to contribute for his team. He also can be relied on to play 20-30 minutes a night if needed. Hedman will always get the most attention based on his performance and skillset throughout the league, but McDonagh cannot be forgotten either as a two-way defenseman who both shuts it down as well as helps keep the offensive production rolling. He is super important for Tampa on the backend.
Andrei Vasilevskiy
Vasilevskiy has constantly been among the top goalies in the NHL since he took the starter role for the Lightning after goalie Ben Bishop was dealt by Tampa to the Los Angeles Kings during the 2016-17 NHL campaign. He has done it all at only the age of 26. He has his first Stanley Cup championship, a Vezina Trophy, and was selected to three All-Star Games (2018, 2019, 2020) so far. His overall record, as this article is being written, is 162-74-19 with a goals-against-average (GAA) of 2.54 and a save percentage (SV%) of .919.
With all that being said, Vasilevskiy continued his stellar goaltending through the first five games of the 2020-21 season. His record is 3-1-1 with a 1.98 GAA and a .932 SV%. He has gotten a lot of help with superb defending by teammates in Hedman, McDonagh, and Mikhail Sergachev among others; but when Vasilevskiy is needed, he can be a brick wall for Tampa.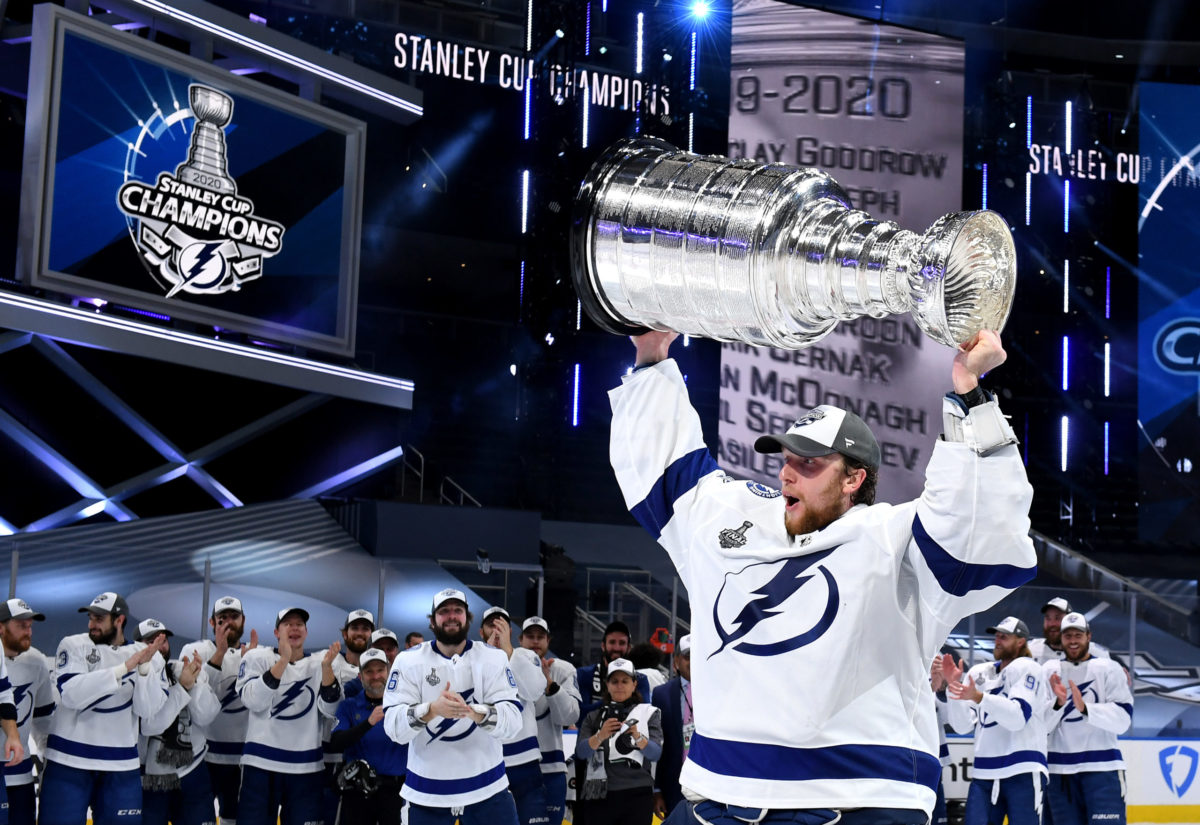 Here is a breakdown of his first five games between the pipes for the Lightning:
Game 1: Win, .957 Sv%, stopping 22 of 23 shots
Game 2: Win, .946%, stopping 35 of 37 shots
Game 3: Win, .920 Sv%, stopping 23 of 25 shots
Game 4: Loss, .852 Sv%, stopping 23 of 27 shots
Game 5: Overtime Loss, .971 Sv%, stopping 34 of 35 shots
Vasilevskiy always gives Tampa chances to win their games. He is a big factor in keeping games close. There will be a loss here and there, but that is not always on Vasilevskiy either. Take the last game of the five-contest stint, for example, against the Carolina Hurricanes. Vasilevskiy finished the match with a .971 Sv% and stopped 34 of 35 shots. Unfortunately, the Hurricanes were able to break the scoreless tie first in overtime thanks to their forward Martin Necas. Tampa had every opportunity to take a lead and not look back. If the Lightning had found a way to get that game-winning goal first, the Lightning would have been celebrating Vasilevskiy's first shutout of the season. He has been playing lights-out goaltending.
Overall, a lot of players have significantly contributed to the team's 3-1-1 record through the first five games of the 2020-21 season. They all deserve credit for the success this club has grasped since the puck dropped earlier in January. There is a long road ahead though, and the grind is only going to get tougher. The Lightning has to brace for more adversity as the season carries on, but they have the talent to take on all of the obstacles head-on. They are going to push everything to the limit to see if they can reclaim the Stanley Cup.
---
---