NHL teams expect a lot out of the player who dons their "C." Captains are not only expected to produce on the ice, but are also expected to help their teammates achieve their potential, make sure the team is tight-knit off the ice, mentor young players and teach them how to act professionally, be the face of the team and a good ambassador out in the community, among many other things. Simply put, a captain is a team's most important player.
The Winnipeg Jets' Blake Wheeler, who recently signed a five-year extension worth an average annual value (AAV) of $8.25 million, fulfills all the aforementioned roles with aplomb. He is undoubtedly the team's pilot.
#NHLJets announce the signing of captain Blake Wheeler to a five-year contract extension worth $41.25 million, with an average annual value of $8.25 million.

DETAILS ➡️ https://t.co/SSSrPHzKRP pic.twitter.com/OQrkM8ySj2

— Winnipeg Jets (@NHLJets) September 4, 2018
Last year, Wheeler posted a career-high 91 points, which included 23 goals and 68 assists, the latter mark which was tied for the most in the NHL. Whenever an elite, franchise player such as Wheeler inks a new deal, you can count on intense discussion — from hockey analysts, pundits, and fans on whether that player is worth the salary they've been given — to follow.
Blake Wheeler isn't just the #NHLJets leader on ice. He is team's backbone. You can debate length (5 yrs) and price tag ($8.25 AAV). But can't argue about message contract sends: This team is all in. Buckle up, sports fans.

— randy turner (@randyturner15) September 4, 2018
In the spirit of keeping that discussion going, let's take a look at the contracts and AAVs of Wheeler's six Central Division counterparts to see how the Minnesotan's new deal stacks up with those leading his team's most familiar and fiercest competitors.
Minnesota Wild — Mikko Koivu
Annual cap hit: $6 million in 2018-19, $5.5 million in the two years after that
Mikko Koivu, the Minnesota Wild's franchise leader in games played, signed a two-year contract extension last September that will kick in after the 2018-19 season.
The first-ever permanent Wild captain, the 2018-19 season will Koivu's 10th wearing the "C" and 14th season with the organization overall.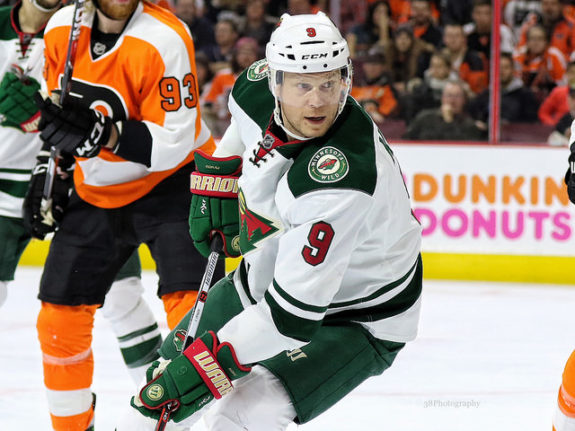 Koivu has spent his entire 925-game NHL career with the Wild, producing 193 goals and 466 assists in that time. While he doesn't put up as many points as Wheeler — his career high is 67 — there's no denying the Finn's been a great contributor to his team. At 35-years-old, his best days offensively may be behind him, but his intelligence, dedication, and instincts make him an ideal captain and well-worth his $5.5 million AAV.
He's just an extremely important player in all facets of the game for our team," Wild general manager Chuck Fletcher said after re-upping Koivu last year. "It's very difficult to find players like him. They're incredibly valuable.
Chicago Blackhawks — Jonathan Toews
Annual cap hit: $10.5 million
Winnipegger Jonathan Toews has spent his entire 11-year NHL career with the Chicago Blackhawks after being selected third overall in the 2006 NHL Entry Draft. He is the Central Division's longest-serving captain, having worn the "C" since 2008.
Toews was key to the Blackhawks' dynastic run of the first half of the decade, which saw them hoist three Stanley Cup in six seasons. Toews consistently posted 60-plus points per year in that stretch and excelled in the playoffs, especially during 2009-10, where he went better than a point per game.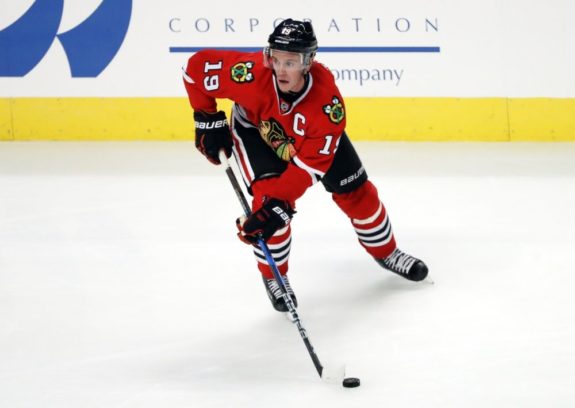 Toews cashed in big-time following the Blackhawks' 2013-14 season, inking an eye-popping eight-year deal worth 10.5 million annually that made him one of the NHL's highest-paid players.
However, the 30-year-old's play has regressed in several ways over the past few seasons. His 2017-18 point total of 52 was his lowest full-season mark ever. His drop in production has made his massive contract problematic — and when you look at the numbers of other players, such as Anze Kopitar and Jamie Benn (more on him later), making comparable money — it's clear why many consider him overpaid.
"You can talk about all-around play, and defense, and leadership, and intangibles, and anything else you want to throw in there about Toews' game… but for that much money there has to be an expectation for the player to carry the offense," Sporting News' Adam Gretz wrote in February. "Toews has not been that player, and even worse, he does not even seem to be quite the same when it comes to his all-around play."
While Toews isn't going anywhere, his best days may be in the past. Animosity is starting to build between him and the fan base, many of whom view the bucks he's commanding as the main reason for the Blackhawks' salary cap issues.
Colorado Avalanche — Gabriel Landeskog
Annual cap hit: $5.571 million
Skillful Swede Gabriel Landeskog didn't have to wait very long to be awarded the Colorado Avalanche's captaincy. After his 2011-12 rookie season, the darling of the organization was given the "C" before his 20th birthday, which made him, at the time, the youngest captain in NHL history.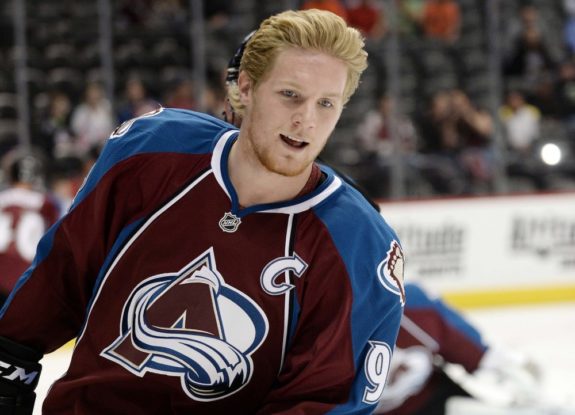 Landeskog, who's spent seven seasons in the Mile High City, is an intriguing player. He has plenty of size, a great shot, and good leadership skills, but as The Hockey News puts it, he "has a tendency to go into deep scoring slumps and needs to become a more consistent contributor."
While he lacks Wheeler's consistency and sometimes flips between spectacular and subpar, the Avalanche are getting a decent return for the $5.5 million they've been paying out annually since signing him to a seven-year contract in the immediate aftermath of the 2013-14 campaign. That year, the Avalanche shocked the league by increasing their win total from an abysmal 16 to a formidable 52. Landeskog was a big contributor to the turnaround, recording a career-high 65 points.
St. Louis Blues — Alex Pietrangelo
Annual cap hit: $6.5 million
Unlike Landeskog, Alex Pietrangelo logged a lot of games with his team before taking on the captain's role. The fourth overall pick of the 2008 NHL Entry Draft played six full seasons before donning the "C" for the St. Louis Blues.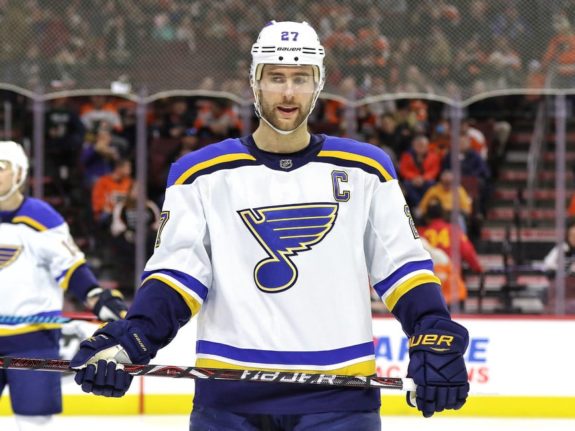 Pietrangelo, at age 28, is an elite bluliner in the prime of his career. A true two-way defender, he is offensively gifted, excels on the power play, blocks shots like a machine, and has great wheels for someone with a 6-foot-3, 210 pound frame. He's also been durable and has only missed 17 games over the past five seasons. Coming into the 2018-19 season, the Ontarian will be entering the second-last year of a seven year deal he signed back in 2013.
Pietrangelo is a Blues cornerstone and extremely important to their success. While it's tough to compare Wheeler's contract to that of a defenseman, when you compare Pietrangelo's AAV with other top-four defensemen drafted in 2008, such as Jake Gardiner ($4 million), Erik Karlsson ($6.5 million), and John Carlson ($8 million), it's clear the deal is fair for both him and the Blues.
Nashville Predators — Roman Josi
Annual cap hit: $4 million
Nashville Predators' captain Roman Josi, like Pietrangelo, is another impact d-man from the deep 2008 draft class. The Swiss-born Josi is the Central Division's newest captain, having worn the "C" for just one season.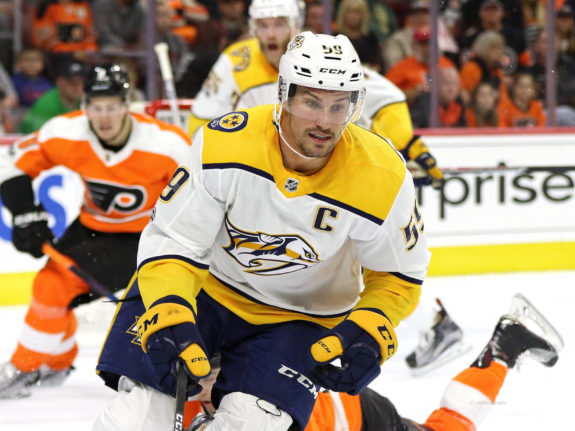 Entering 2018-19, Josi is on the second-last year of a seven-year deal worth $4 million annually he signed back in 2013. Unfortunately for him, it wasn't until after he signed that he really blossomed into a top-pairing, well-rounded defenseman, tallying 40, 55, and 61 points in the three seasons that followed while shouldering the responsibility of facing opponents' top players.
Josi is the Central Division's lowest-paid captain, and given all his assets — steady point production, the ability to log heavy minutes, and deft skating ability — the Predators are currently getting a tremendous bargain. It's hard to call anyone making millions underpaid, but his AAV truly doesn't reflect his contributions.
Josi won't be underpaid for much longer. If the Predators want to retain their captain's services for longer than the next two seasons, they will have to give him a big raise that puts his salary more in line with Pietrangelo and Karlsson. If they don't, he'll get it from someone else.
Dallas Stars — Jamie Benn
Annual cap hit: $9.5 million
As good as Wheeler's offensive output has been, Jamie Benn's — captain of the Dallas Stars since 2013 — has been even better. The steal of the 2007 NHL Entry Draft has put up a whopping 413 points in the past five seasons, more than any other current Central Division captain.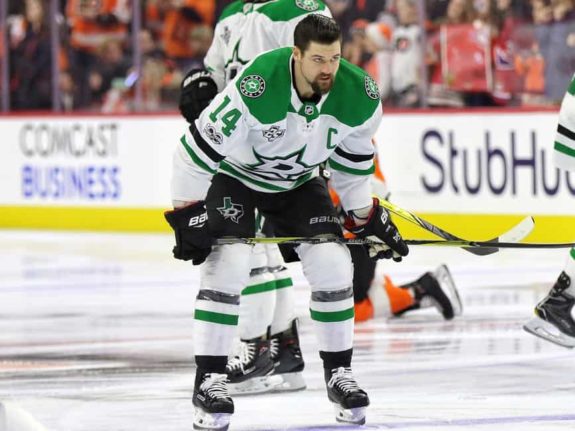 Averaging near or above a point per game, year in year out, is par for the course for Benn, who signed a lucrative eight-year contract extension in 2016 after posting a career-high 89 points in the 2015-16 regular season and 15 more in the playoffs.
Benn is the Stars' highest paid player by $2 million dollars and it's obvious why — the power forward has a great shot, plays a heavy game, and possesses a great work ethic and leadership skills.
He's one of the top players in the NHL, one of the top forwards," Stars GM Jim Nill said after locking up his captain long-term. "He's in the prime of his career, he's the leader of our team, and he's a great person on top of it, so we're very fortunate here in Dallas.
Wheeler is Well Worth It
Wheeler's AAV is right in line with the salaries of his Central Division counterparts. It may seem expensive compared to the ultra-team-friendly contracts of his teammates Mark Scheiefle and Nikolaj Ehlers, but given everything Wheeler brings to the Jets, it's still reasonable. Wheeler has averaged 0.77 points per game in his career, and when compared with Toews and Benn, who have slightly better marks in that regard but earn more, it's roughly equivalent.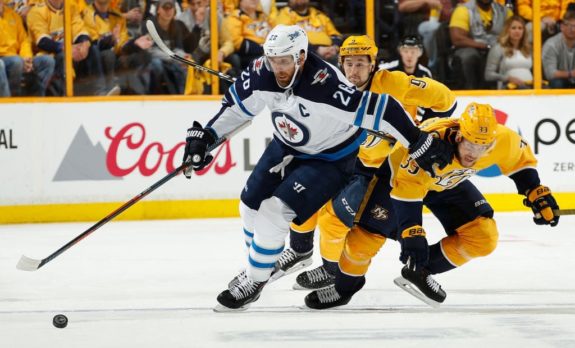 That doesn't mean the contract is without risk. Wheeler will be 38 when the deal ends, and fears about his skills regressing as he gets older are not unfounded. However, Wheeler is a classic late bloomer who keeps getting better with age, and there's no evidence to suggest his play will drop off within the next few seasons.
"Time will tell whether or not the Jets made the right call with term and money, or whether as some have suggested Wheeler is due for a regression. What is immediately clear is the mentality in the Jets head office this speaks to. The time to win is now," wrote The Hockey Writer's Rob Mahon.
The deal undoubtedly shows a commitment to a player who will be indispensable in leading the Jets' quest to bring a Stanley Cup north of the border for the first time since 1993. When compared to the contracts of the other captains leading the teams in the NHL's best division, it's clear Wheeler's is not outlandish at all.
It's clear his teammates and ownership feel he's worth it and that he fulfills all the roles an effective captain must.
"He's just one of those guys that you can't go out there and replace or find a player similar to what he can do," Bryan Little, Wheeler's teammate since 2011, said. "And what he can do for this team in the dressing room and off ice, you can't find anyone else like that."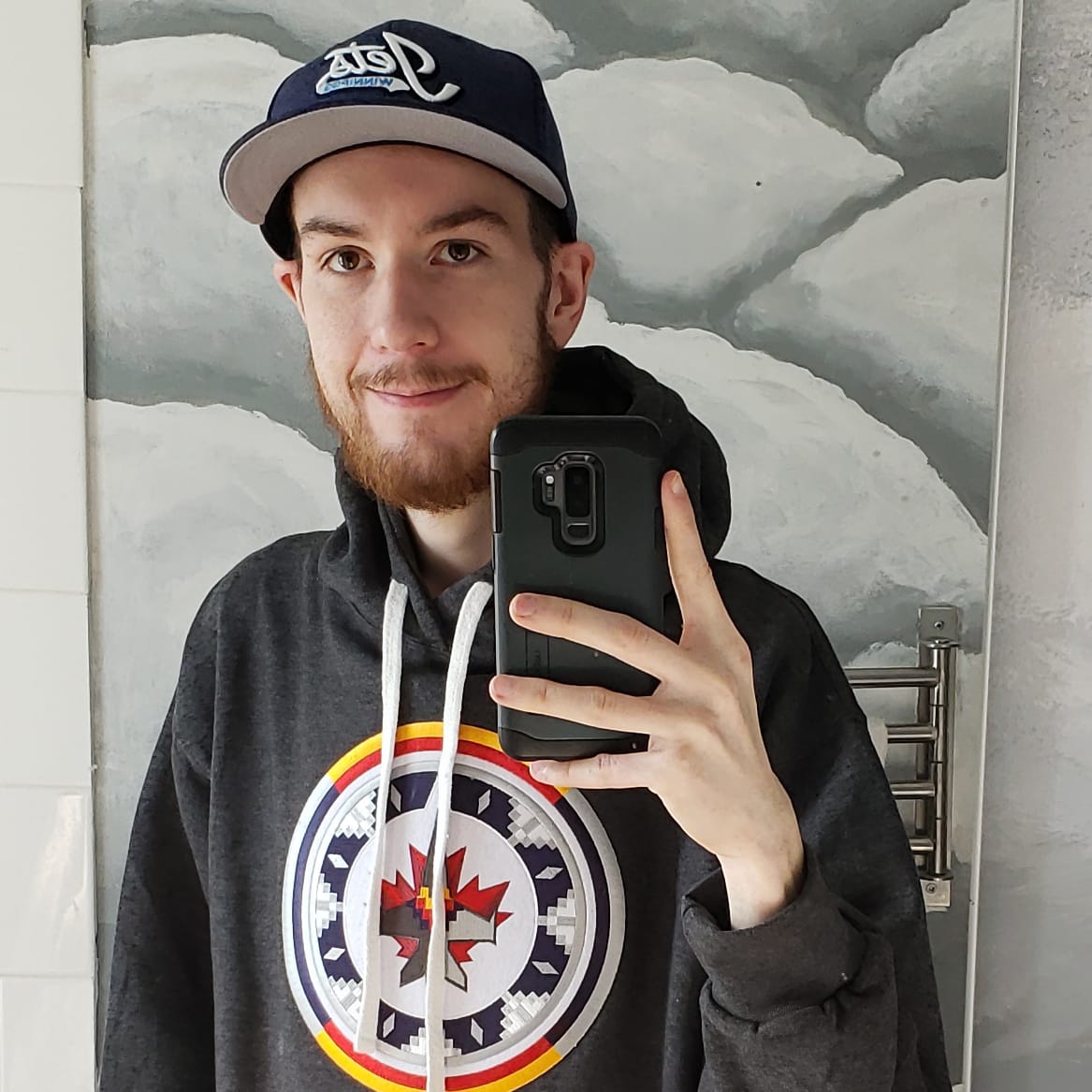 Declan Schroeder is a 27-year-old communications specialist and freelance journalist in Winnipeg, Manitoba. He holds a diploma in Creative Communications with a major in journalism from Red River College and a bachelors in Rhetoric and Communications from the University of Winnipeg.
Deeply rooted in the city's hockey culture, the original Jets skipped town when he was two and the 2.0 version came onto the scene when he was 17.