Blake Wheeler's recent extension with the Winnipeg Jets was not only a necessity for the coming season. It also sends a clear message to the hockey world. The tomorrow the Jets have been preaching and preparing for all these years has arrived.
In case it's slipped under your radar, the Jets re-signed the captain and current face of the franchise to an expensive but relatively short-term deal on Sept. 4. For the sum of $41.25 million, Blake Wheeler will be a Jet until he is 38.
This contract means several things, and it has been a lot for Jets fans to digest. For one thing, it means Wheeler likely retires as a Jet. On the other hand, it also means signing the Jets' multitude of future studs just got more complex.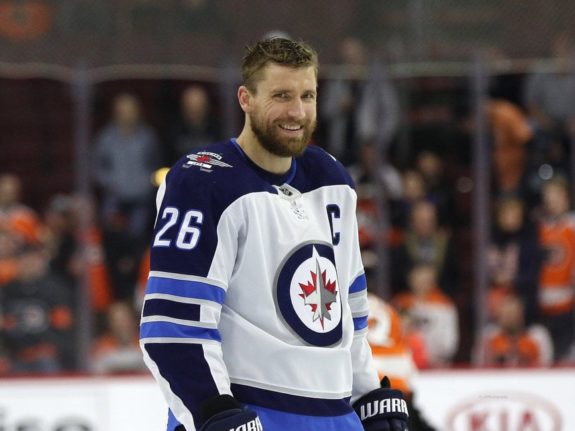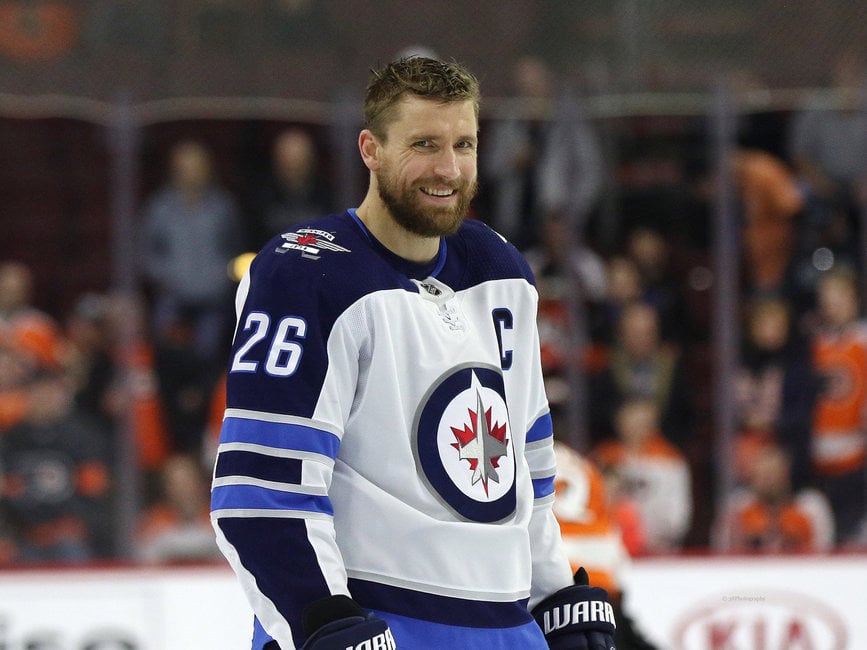 For some, this is considered a brilliant move by the Jets. The term was relatively short even for an older player, and the dollar figure is more than in line with what Wheeler would earn on the free market. For others, it's a head-scratcher for a 32-year-old.
Time will tell whether or not the Jets made the right call with term and money, or whether as some have suggested Wheeler is due for a regression. What is immediately clear is the mentality in the Jets head office this speaks to. The time to win is now.
Wheeler's Winning Window
The salary cap comes for all good young teams eventually. It's starting to catch up to Edmonton and Toronto as they build their star-studded forward corps. It was bound to catch up to Winnipeg at some point.
Look over at the team the Jets have so often claimed to model themselves after, the Blackhawks, and you'll see that the cap claims contenders at one time or another. The trick is to make your window of contention count.
Clearly, that was the aim for the Jets with Wheeler. By the time he's 38, Wheeler is unlikely to be the top-tier power winger he is now. But this past year, Wheeler was at times a Hart Trophy contender.
Blake Wheeler isn't just the #NHLJets leader on ice. He is team's backbone. You can debate length (5 yrs) and price tag ($8.25 AAV). But can't argue about message contract sends: This team is all in. Buckle up, sports fans.

— randy turner (@randyturner15) September 4, 2018
With Mark Scheifele on the shelf, Wheeler played 16 games at center last year without his running mate. He still managed a career-best 91 points. Even allowing for some regression, Wheeler will still be a tremendous part of the team next year.
And make no mistake. For both the Jets and Wheeler, this contract was built with next year in mind. The Jets players, management, and captain are all suddenly talking about the window to win. Right now, that window is open.
Teams don't win forever. Whether because of the salary cap, overconfidence or mismanagement, or the aging of core players, no dynasty is neverending. But the teams who make the most of their window go down in history.
For years since their return to Winnipeg, the Jets have talked about a future for the club, the long, slow, at times painful process of building a winner. That future, so long promised, isn't in the future anymore. Tomorrow has arrived for the Jets.
Some are concerned this deal will cost the Jets good young players down the line. It almost certainly will. Once Patrik Laine signs his mega-deal, cap space is going to be in short supply in Winnipeg. That's the price of winning.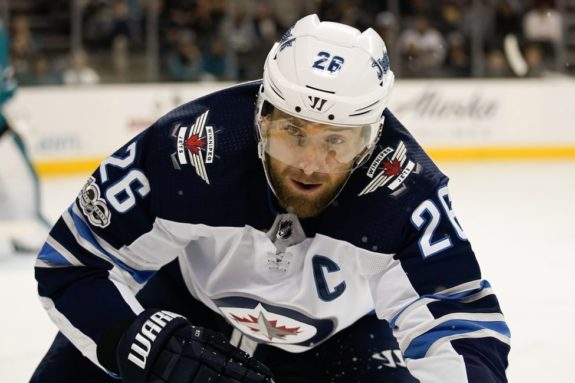 The thing about the Jets is, with the way they draft, they will always have good prospects and young players. With their nearly immaculate draft record, Winnipeg was always going to hit the point where they had more young players than cap space to keep them all.
At some point, the future needs to happen now for Winnipeg. At some point, all the stargazing and future watching need to translate into on-ice success and this year that finally started to happen. The Jets would be foolish to throw that away.
Wheeler Worth the Risk
If any player on the Winnipeg Jets was worth the potential risk it was Blake Wheeler. Sure, in five years he won't likely be the player he is now, but next year he's absolutely vital to the team's success and the run they seem determined to go on.
Wheeler is also something of a unique case. He's a rare player who's gotten better with age. Track his point and goal totals from the first year in Winnipeg and they've climbed fairly steadily until that career year last year. Not every player peaks at 25.
Well summarized, TSN – Blake Wheeler is a guy you bet on. That doesn't make the signing risk free or unequivocally great.

But Wheeler is an impact player whose peak performance implies a slower decline vs. other 30+ players (including other 30+ Jets.) https://t.co/hK8IWyb0Ly

— Murat Ates (@WPGMurat) September 4, 2018
Sure, some of Wheeler's success in recent years comes from the players he's been surrounded with. Playing largely with an emerging superstar in Mark Scheifele has helped. Playing with Laine has elevated Wheeler's power-play stats immensely.
Here's the thing though: neither of those things is going to change. Scheifele isn't going anywhere. Laine isn't going anywhere. The Jets fifth-ranked power play actually has room to improve. And even without Scheifele last year, Wheeler produced.
There's nothing wrong with having reservations about this deal. Jacob Trouba still needs a proper contract, as does Josh Morrissey. Laine and Kyle Connor are going to hit pay dirt next year Wheeler is going to be 38 when his deal ends. None of these are concerns you just shrug off.
If anyone is worth it, however, it's Wheeler. If there's a time for the Jets to gamble and go for it, it's now while the window is open. And the man to lead them there is the man who is going to retire a Jet and probably have his number retired when his career is over.
Wheeler deserves his chance to lead Winnipeg to the promised land. Winnipeg deserves a captain who can get them there. This is a risky deal that could just pay off.
A long time hockey fan and player from Winnipeg, Manitoba. Play-by-play man with the SJHL's Estevan Bruins. Graduate of Red River College's Creative Communications program with a major in journalism. Former PxP man for the University of Manitoba Bisons. Lover of all things Jets and Avs related and always looking for a good hockey debate.