The Columbus Blue Jackets have traded defenceman Ryan Murray to the New Jersey Devils for a fifth-round pick in 2021. This move followed the earlier buyout of 26-year-old forward Alexander Wennberg and the trade of defenceman Markus Nutivaara to the Florida Panthers. With those moves, they cleared a total of $11.1 million in cap space.
Murray has spent his entire career with the Blue Jackets after being selected second overall in the 2012 draft. In seven injury-riddled seasons, he posted 15 goals and 110 points in 347 games.
Murray has one year remaining on his contract, originally signed in 2019, that carries a $4.6 million cap hit. He now joins a Devils' team that is looking to bounce back from an abysmal season in 2019-20. As a left-defenceman, he could partner with PK Subban to form a very strong top-pairing. He will likely play on the power play as well, and be counted upon to eat up a lot of minutes on a blueline that looks to be rebuilding after essentially doing the same thing last offseason.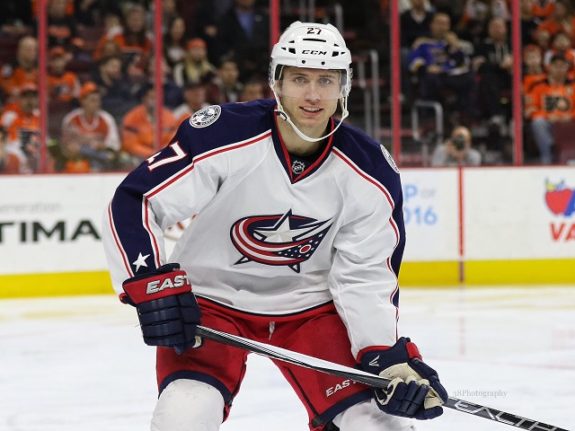 If Murray can stay healthy, which is a big ask since he's only played one full 82-game season in his NHL career, he will bring a top-four presence to a team that badly needs it. Once thought of as a blue-chip prospect, he hasn't hit his supposed potential yet, and probably never will. Nevertheless, he remains a very solid puck-moving defenceman with great hockey IQ. If all goes well, he could turn his career around in New Jersey.
Blue Jackets Clear Cap Space Ahead of Free Agency
The fifth-round pick in 2021 may seem like a low return for a player of Murray's caliber, but that is just the way the cookie crumbles in a salary cap world. The move was obviously done to clear space so that the Blue Jackets have wiggle room to re-sign restricted free agent Pierre-Luc Dubois and be major players in free agency.
Related: Blue Jackets Offseason Work Far From Over
With all the moves done by Jarmo Kekäläinen in the past 24 hours, he must have his sights on a few high-priced free agents that will hit the market on Friday. Taylor Hall has been rumored as a target to add some scoring and with the recent acquisition and signing of Max Domi, the Blue Jackets clearly are looking to add some offensive punch going into 2020-21. Now they have the cap space to add a former Hart Trophy winner to their lineup in a few hours' time.
---
---