The Columbus Blue Jackets have returned home from their western Canada road trip. After securing a pair of 2-1 victories in Vancouver and Calgary, the Blue Jackets finally get a taste of some extended home cooking. They start a five-game home stand Tuesday night against the New York Islanders.
In spite of the winning four of their last five games, the team still finds themselves in last place overall. It's for this reason that the Blue Jackets are a team to watch. Many expect the Blue Jackets to sell in the days and weeks leading up to the trade deadline. There's just three weeks to go until the deadline.
The question here isn't if they're going to make moves. The question is how many moves they'll make and to whom. Management is on record as saying that they will explore any move that makes them better. Of course every team is going to say that. The reason it's significant here is because there's no player that's excluded from being dealt. Remember when management wouldn't listen to offers for Ryan Johansen just two seasons ago? Now he's with Nashville. There is nobody safe, although some are much safer than others.
If there is a general rule of thumb in play here, it is this. The Columbus Blue Jackets want to get younger, while shedding salary. This team has both young players and aging veterans. For a variety of reasons, which include poor 5-on-5 play, poor defensive play, and taking too many penalties, the Blue Jackets haven't been able to get it together this season. As a result, change is necessary.
We will try to break it all down for you. We will look at every player on the current roster, and tell you what we think will happen. If there's anything you should take away from this, expect the unexpected. Players we think are safe are not. Those we think are gone, will stay. We will describe why we think a trade will make sense or not for every player.
Here's something else to keep in mind. The Blue Jackets have several restricted free agents to sign in the offseason. According to Cap Friendly, the Jackets have about $60.8 million in cap hit for next season accounted for. At the current cap level, that only leaves them about $10.5 million to sign players. With the uncertainty of the dollar in Canada, we are really not sure what next year's cap will look like. Given these circumstances, it's imperative that the team sheds as much salary as possible. That said, let's see what the Blue Jackets could do.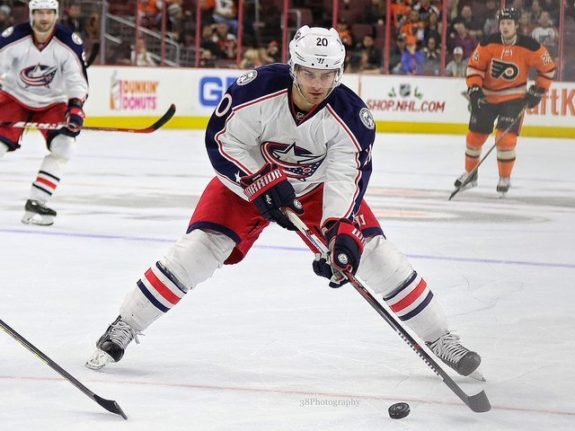 The Forwards
Brandon Saad: Age 23, Cap Hit $6 million/season until 2021.
Saad has been everything the Jackets have hoped for and then some. He is on pace for career highs in goals, assists, and points. At just 23, he's considered a big part of their future. We don't envision him going anywhere.
Brandon Dubinsky: Age 29, Cap Hit $5.85 million/season until 2021.
Dubinsky's offensive numbers are slightly down from earlier seasons, but the impact he has on this team is clearly visible. He takes faceoffs, plays both special teams units, and has great possession numbers. He is the current number one center on the Blue Jackets given the Johansen trade. Coaches and management love him. Given what all he brings to the table, we don't see him going anywhere.
Nick Foligno: Age 28, Cap Hit $5.5 million/season until 2021. 
In his first season as captain, Foligno hasn't had the season he'd hope for. We expected regression from his 73-point season last year. We didn't expect his shooting percentage to dip to 5.7% this season. As a result, he has just six goals and 26 points. He also missed time due to injury. When he's rolling, he can do many good things. We don't expect him to stay at 5% all the time as he is a career 11.7% shooter. Given his contract and no-move clause, we expect him to stay with the Blue Jackets.
David Clarkson: Age 31, Cap Hit $5.25 million/season until 2020.
Ouch. That's the one word to describe this situation. Ouch. Clarkson was traded to Columbus for Nathan Horton in the hopes to give the team something. Clarkson is on IR and there's no sign of his return. The lack of news is somewhat concerning. We really don't know how severe the injury is. His first stint on IR was for a back injury. Given how wacky his contract is, nobody's taking that contract on. In other words, Clarkson is here for the foreseeable. Is he a candidate for long-term IR? Does his contract cause the team to lose out on someone else they could have signed? Stay tuned.
Scott Hartnell: Age 33, Cap Hit $4.75 million/season until 2019. 
This is where things get interesting. Going back to the shed salary and get younger discussion, Hartnell fits the mold as a prime trade candidate. He's under contract for three more seasons after this one at a reasonable rate. He's producing at first-line levels. He has 18 goals and 36 points, including eight power-play goals. A top-line winger who can help a power play is VALUABLE for contenders looking to add. Couple that with the Blue Jackets youth movement, and you have the elements in place for trade. The question now becomes, where does he go?
Also keep in mind the team needs to have cap room to acquire him. A team to look out for is the Dallas Stars, who could use the offense and power play help. They also have the cap room. Interesting to note that the Blue Jackets were at Saturday's Blackhawks/Stars game. Is there a match here?
Just Columbus and Carolina, and Carolina (Joe Nieuwendyk) is a fixture here. https://t.co/GW0iKcmwbD

— Mike Heika (@MikeHeika) February 7, 2016
The Ducks I think would certainly have some interest. They did just acquire David Perron on the left side. A player like Hartnell can certainly help the Ducks get over the top.
The other team I'm keeping my eye on is the Florida Panthers. An added veteran presence to that team would do wonders. The Panthers also have the youth or draft picks they'd want. Certainly makes sense if this trade happens.
Keep in mind that Hartnell does have a no-move clause. He has the last say on if a trade gets done. I certainly expect the team to approach him about the possibility. We'll see where it all goes.
Cam Atkinson: Age 26, Cap Hit $3.5 million/season until 2018.
What a nice season Atkinson has put together for himself. He has 17 goals and 33 points. He's well on his way to his third straight 20-goal season. He's arguably one of the best contracts on the Blue Jackets. It's for this reason teams will ask about Atkinson. If I was the Blue Jackets, unless the offer is over the top, Atkinson should not get traded.
He is by far their best natural right-winger. The team needs help at right-wing. I'm just not sure what trading him accomplishes at this point. He's a legit top-six winger who can consistently give you 20 goals. The depth at right-wing in the organization isn't great either, outside of Oliver Bjorkstrand. He's still a little ways away from seeing the NHL.
Atkinson is listed here because teams will ask. There is a greater than zero chance of him being dealt. This depends on the offer and return. It better be good if it happens.
Rene Bourque: Age 34, Cap Hit $3.33 million/season until 2016.
Bourque came to Columbus as part of the deal that saw James Wisniewski go to Anaheim. Bourque has been in and out of the lineup in his time in Columbus. He is an unrestricted free agent after this season. If a team needs help on their bottom-six, Bourque certainly could offer that. If not dealt, don't expect the Blue Jackets to resign him after the season. His $3.33 million cap hit then comes off the books.
Matt Calvert: Age 26, Cap Hit $2.2 million/season until 2018.
Like Atkinson, I could see teams asking about Calvert. He's carved himself out a nice role as a bottom-six winger and penalty killer. He also has blazing speed. Contending teams certainly could use that boost. If the right deal shows up, this move could happen. But that's a huge hole to fill if they make that move. The Blue Jackets clearly missed his presence when he was out with injury. I wouldn't move Calvert, but there is a chance.
Jared Boll: Age 29, Cap Hit $1.7 million/season until 2017.
Boll has been in and out of the lineup due to both injury and healthy scratch. He hasn't been able to consistently stay in the lineup. The hope was that he could help the fourth line stabilize somewhat. That hasn't happened. He has one year left on his contract after this season. I'm just not sure who would try to trade for him now given his lack of playing time. If a team needs the bottom-six help, maybe a call happens. I just don't see it though.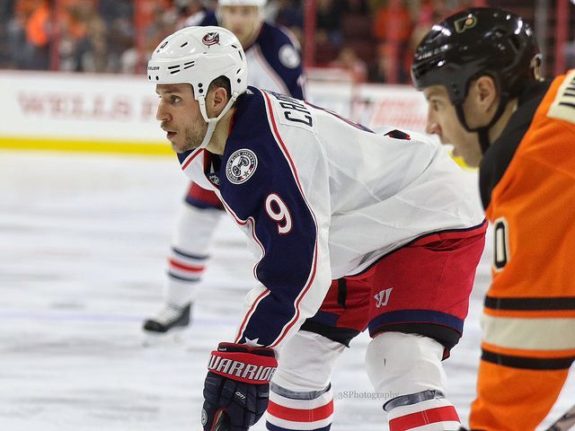 Gregory Campbell: Age 32, Cap Hit $1.5 million/season until 2017.
I can definitely see this move happening. The Blue Jackets brought the veteran Campbell in to help center their fourth line. He's had a couple of nice moments, but overall, his season has disappointed, as like the rest of the team. He can kill penalties and offer bottom-six depth. Wouldn't take much to acquire him either. I think the Blue Jackets want to get younger on the fourth line. Trading Campbell will do that.
Alexander Wennberg: Age 21, Cap Hit $925,000/season until 2017.
I wonder how much Wennberg's play influenced the decision to trade Johansen. When the opportunity presented itself, Wennberg stepped up. The question is, can he become a number one center in this league? He has the tools to do so. It's a matter of development and putting it all together. For the purposes of this discussion, he's not going anywhere. Next.
Kerby Rychel: Age 21, Cap Hit $863,333/season until 2018.
At the beginning of the season, I thought Rychel was gone. Reports came out saying he was unhappy and demanded a trade. Now, he's on the Blue Jackets and in the lineup every night. In a very limited sample size, Rychel has put up impressive numbers. As long as he is playing, he seems happy. I could see teams calling about him. I don't think the Blue Jackets are actively shopping him. If anything does happen, it's because Rychel wanted it to happen. I'm not hearing anything to suggest that is the case. Expect Rychel here for the foreseeable future.
William Karlsson: Age 23, Cap Hit $830,833/season until 2016. 
Karlsson was the other part of the Wisniewski deal. He has been a very pleasant surprise for the Blue Jackets this season. He has six goals, including both goals in their 2-1 win Friday night in Calgary. He's their current third-line center. Coach John Tortorella loves what he sees from Karlsson. He is a restricted free agent after this season. I don't expect that he gets traded. As an up and coming bottom-six center, I can see the Blue Jackets re-signing him to a reasonable contract.
Boone Jenner: Age 22, Cap Hit $767,500/season until 2016.
Jenner is a major part of the Blue Jackets future. Some consider him the future captain of the team. He's broken out this season by scoring 17 goals. As a restricted free agent after this season, the team will look to get a new contract after the season. Therefore, nothing to see here on deadline day.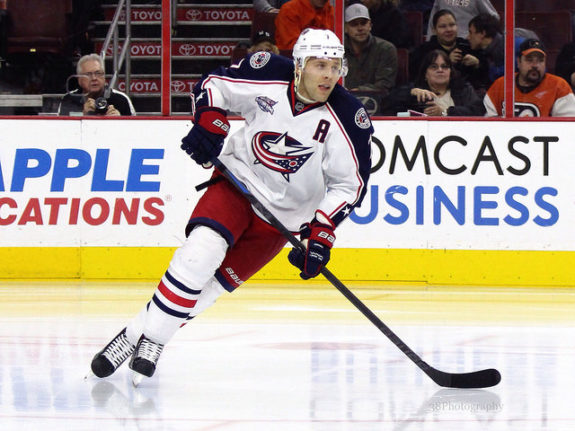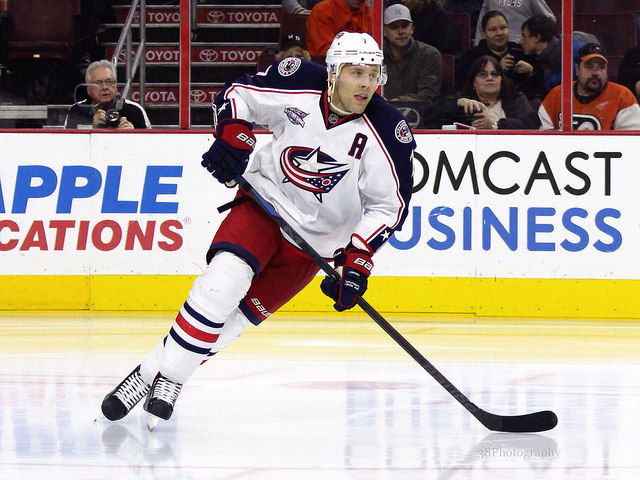 The Defense
Fedor Tyutin: Age 32, Cap Hit $4.5 million/season until 2018.
If the Blue Jackets can make this deal happen, they'll do it in a heartbeat. Tyutin is a veteran defenseman that many describe as steady. His production is down from earlier seasons, likely due to age. He was healthy scratched a few times this season by the Blue Jackets as a result. Tyutin is reportedly unhappy with the scratches. Given the future of the defense in Columbus, Tyutin is a prime deadline deal candidate. He can help someone's bottom pair. Again, the acquiring team needs cap space. In addition, Tyutin has a no-move clause. I expect the team to approach him about it. He'd love the chance to join a contender at this stage of his career. This is something to certainly watch for.
Jack Johnson: Age 29, Cap Hit $4.357 million/season until 2018.
This one is interesting as well. With the possible arrival of Zach Werenski next season, this could mean a chance to deal Johnson to a contender. He could help someone's top four. He plays top-end minutes. He can give you some offense and can play both special teams units. His advanced numbers aren't that particularly good. But a team looking to add a top four defenseman will certainly call about Johnson. He could bring a nice return of picks and prospects that the Blue Jackets are looking for. Keep your eye on this one.
David Savard: Age 25, Cap Hit $1.3 million this season, $4.25 million/season until 2021 after. 
This season hasn't been particularly great for Savard, but he did just sign a new five-year deal that kicks in next year. He's viewed as a top four defender of the future for Columbus. Nothing to see here for the deadline.
Dalton Prout: Age 25, Cap Hit $1.075 million/season until 2016.
Prout has had a disappointing season to this point. He's due to become a restricted free agent after this season. The question here is whether the Blue Jackets move on from him, or see him as a bottom pair defender. He's a big player with a right-handed shot. Players like him do carry value in this league. For this discussion, nothing to see here in terms of trade.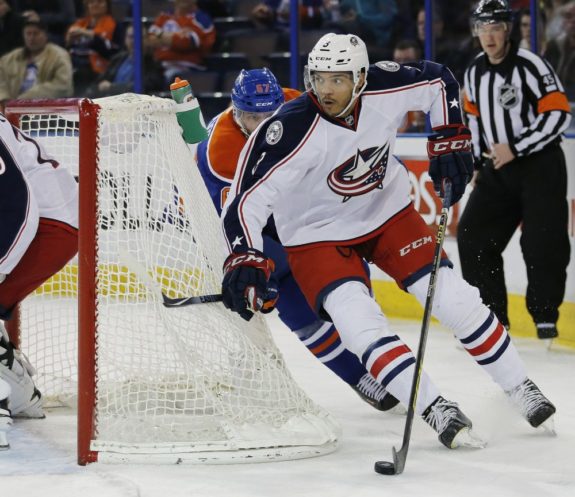 Seth Jones: Age 21, Cap Hit $925,000/season until 2016.
Next.
Ryan Murray: Age 22, Cap Hit $894,167/season until 2016.
Next.
Cody Goloubef: Age 26, Cap Hit $750,000/season until 2017.
I don't expect a Goloubef trade. He has one more year on his current deal. He's been in and out of the Blue Jackets lineup, as nobody has grabbed hold of the 5-6 defensemen spots full-time. He certainly can play on the right side behind Jones and Savard. I expect he gets the first shot. Curious to see how they handle Dalton Prout as a result. But, not expecting a trade here.
Justin Falk: Age 27, Cap Hit $600,000/season until 2016.
Another curious case for after the season, but not for the deadline. Defensemen in the minors are going to press for time in Columbus next season. Falk is unrestricted after the season. Will the team re-sign him? He playing a lot as of late, so maybe that tells us something. But nobody has run with it to this point. Falk is far from safe.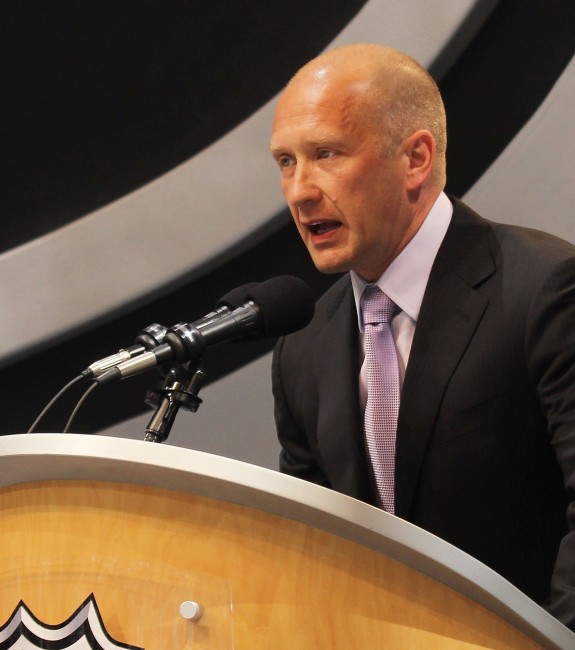 Could Anyone In The Minors Be Traded?
If a bigger trade is in the works, it's always possible. That appears as more of an offseason thing than a deadline thing to me. Teams would ask about Oliver Bjorkstrand, Sonny Milano, and others on the Lake Erie Monsters. Given the youth movement, these players seem like they are a part of the future, so I'm not expecting anything major to happen.
In all, the most interesting players to watch are Hartnell, Tyutin, and Johnson. Others could get traded, but only in the right siutation. The Blue Jackets want picks and prospects back in return. GM Jarmo Kekalainen loves using the draft to build his teams up. With just five picks now, expect that number to go up by the time the draft arrives.
How different will the Blue Jackets look come March 1st? We are all about to find out.