On the first day of the National Hockey League's expansion meetings in New York, the governors heard a full spectrum of presentations. Among the cities with whom the board was most impressed were Buffalo, San Francisco and Baltimore. There were also a few surprises.
Depending on who you were listening to, some applicants eliminated themselves and some solidified their positions. A couple of groups withdrew their applications and one favoured city didn't even make an appearance.
Knox Brothers Talk Up Buffalo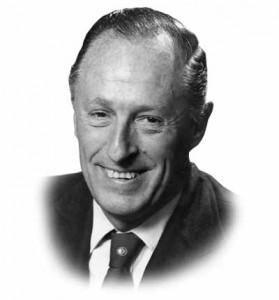 The Buffalo presentation was made by the Knox brothers, Seymour and Northrup, who front the Niagara Frontier Hockey Association. Their presentation stressed three F's – finances, fans and facilities.
Seymour expanded on that theme:
"No fans are more loyal or fervent than those in northern New York State. The City of Buffalo has given us a letter of intent to raise the roof of the present arena and increase the capacity to 16,000 from 9,800."
Knox explained that his family is well-heeled and money will be no issue for the group.
"Our grandfather was a cousin of F.W. Woolworth so we inherited substantial amounts through our father."
The NHL has set a financial requirement of $3.5 million. Two million dollars would go towards the expansion fee and the rest would be required operating capital. The Knox's are entirely capable of rounding up those funds.
Northrup Knox came to the meeting directly from a tennis match. He is the world court tennis champion and was defending his title in New York just prior to the meeting.
Another issue some feel might scuttle a Buffalo bid would be television rights. Seymour Knox says that won't be an issue:
"We've worked out a scheme where there would be no TV conflict with Toronto."
Smythe Concerned  about TV Rights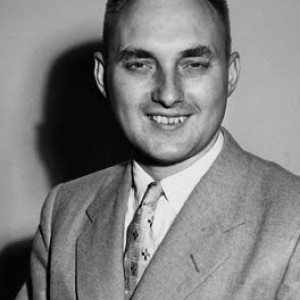 Toronto Maple Leafs president Stafford Smythe was impressed by the Buffalo presentation, calling it "the most qualified we have had."
Smythe echoed the worries that others had brought up – television rights:
The only trouble with Buffalo is that they intrude on our TV area. From a TV standpoint, we might as well have another NHL franchise in Toronto.
Smythe, however, was very impressed with the Knox brothers and suggested that if they were representing a city such as St. Louis (more on that city later), that they would be a shoo-in for a franchise.
Smythe Likes Shasta
Smythe also liked the group applying for the San Francisco franchise. The Shasta Corporation has considerable financial resources and a high-profile investor in entertainer Bing Crosby. Crosby was represented by Barry Van Gerbig of New York City. He was joined by George Fleherty of Shasta.
Smythe says that a problem with Shasta's bid is the territorial indemnification fee requested by the Western Hockey League. Shasta does not want to pay $150,000 a year for three years to the teams upon whose territory the NHL will intrude.
Baltimore Strong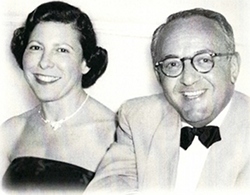 Smythe also was high on the Baltimore bid.
The Baltimore bid is from people we want in the NHL. They have proven to be successful in other big-league sports.
Baltimore mayor Ted McKeldin and former Baltimore Colts owner Zanvil Krieger represented the Baltimore bid. Krieger now is a majority owner of the Baltimore Orioles and also owns the American Hockey League Baltimore Clippers.
Krieger says that the city has assured him that the Baltimore Civic Centre will be upgraded to seat 12,500 for hockey if the bid is successful.
Minneapolis-St.Paul Groups to Merge?
The governors were supposed to hear from one of two groups seeking a team for Minneapolis-St. Paul. That group asked for a postponement of their presentation yesterday. It's thought that the two groups are working on an amalgamation, pooling their resources to make a stronger representation.
Two cities that were thought to be very interested dropped out of the picture yesterday. Cleveland, long thought of as a natural fit for the NHL, withdrew its application. Art Modell, owner of the Cleveland Browns of the National Football League informed the league he is no longer interested. And Louisville, Kentucky, a city who had previously indicated a strong interest to obtain an NHL team was unable to come up with an owner who could raise the required capital.
In a related development, NHL president Clarence Campbell said that, contrary to published reports, there is no deal, either signed or even being discussed, that would see NHL games televised nationally in the United States.
Owens' LA Bid Dubious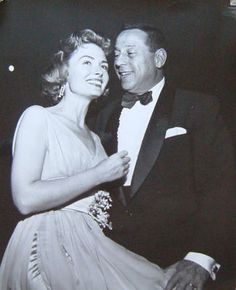 One group which didn't do well was a Los Angeles bid headed by film and television producer Tony Owen. Owen, who is married to television star Donna Reed and produces her weekly  TV show, has been involved in sports for many years. Yesterday, he appeared to be completely unprepared for his pitch. He chose a casual, 'Hi, neighbour' approach.
"Guess I spoke to the fathers of you guys the last time I was here. That was 19 years ago. They told me I'd be hearing from them. I haven't heard yet. Sure hope you guys don't take so long."
Owen was referring to an application he says he made to the NHL for a west coasts team in 1947. Owen says that Bill Tobin, then the owner of the Chicago Black Hawks, told him that the league was intent on expanding west. Owen wanted in on the ground floor and made a pitch. Owen explained his lack of preparation this time:
"That last time I spent two months preparing my brief. This time I told the owners I had brought nothing but myself, a piece of paper and my associate, Greg Bautzer."
Bautzer was realistic:
I don't think we exactly bowled them over with our presentation.
Word around the meetings is that Owen's casual approach all but ensured that Canadian expatriate Jack Kent Cooke will get the Los Angeles franchise.
Cooke will present tomorrow. He is brash, but enthusiastic and his enthusiasm is contagious. He also has the money. What the governors particularly like about Cooke's bid is that he plans to build his own arena to house his hockey and basketball teams.
Cooke is the owner of the Los Angeles Lakers of the National Basketball Association.
One other group heard from yesterday was from Pittsburgh. John S. Gleason, a Pittsburgh financier made the presentation. Tomorrow, a group headed by Pennsylvania Senator Jack McGregor will make its pitch.
St. Louis a No-Show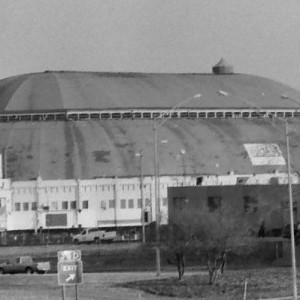 The big surprise so far is that St. Louis, one of four cities the NHL designated as a desirable location, has sent no one to the meeting. It seems that there is no group in that city willing to put up the cash required for a franchise.
The major stumbling block seems to be that the St. Louis Arena is owned by Chicago Black Hawks owners Jim Norris and Arthur Wirtz. They are refusing to lease the rink to any NHL owner. Instead they are insisting that any NHL team must purchase the rink from them.
Rumours around town yesterday suggested that there is a mystery group from St. Louis that will make a presentation some time today or tomorrow. Former St. Louis Cardinals baseball star Stan Musial is said to be involved in such a group, but he is not in New York at this time and has no plans to attend.
It will be quite an embarrassment for the NHL if no St. Louis group surfaces. This is a city the governors desperately want.
Mikita Likes the Helmet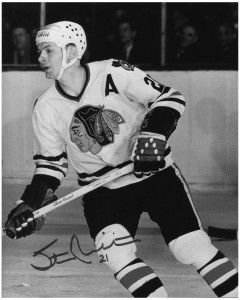 Stan Mikita, one of the meanest players in the National Hockey League, donned a helmet for the first time in a game this past weekend. Today, he is singing the praises of the headgear.
Mikita started wearing the helmet after being cut for 13 stitches by Toronto's Kent Douglas on Saturday night.  He described his first experience with the extra protection:
"It sure helps your confidence to know you can go in the corners and not get your head pushed through the glass. It's not heavy at all. I'm not sure yet, but I might continue to wear it after the cut heals.
"The only problem is that it's hot. Boy, did I sweat."
One Chicago player thinks that the man they call Stash won't keep the lid as a permanent fixture.
"It's a novelty now. He's unique, the only Hawk wearing one. That appeals to him. But after a while, he'll get tired of it. Common sense probably dictates that we all should be wearing them, but pride and the fact that they're so damn hot stops most guys."
Several players have worn helmets in recent times, most because of injuries. Ron Ellis of Toronto had one during his rookie season after suffering a concussion. He discarded it when he felt it didn't help his play.
Former Toronto player Billy Harris, wore one while with the Leafs. He stopped wearing it this season when he was traded to Detroit.
The only NHL player wearing the helmet full time is Leafs' Red Kelly.