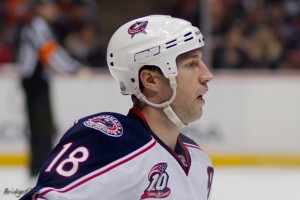 Tonight, the Columbus Blue Jackets visit the Dallas Stars for an 8pm matchup at the American Airlines Center near downtown, Dallas. In what has been a disappointing beginning to the 2011-12 season for the Blue Jackets, the team will look to once again re-group, with hopes of contributing to the win column for the first time in the regular season since March 29th, 2011 against the Florida Panthers.
Tonight's lineup will feature the addition of Alexandre Giroux. Giroux was summoned from the Springfield Falcons of the American Hockey League and will join RJ Umberger and Antoine Vermette on a line tonight.
"The area that we looked at with Alex is that he's a big body, veteran guy that knows how to play on the walls," Head Coach Scott Arniel said.
Giroux, a Quebec City native, has appeared in 39 regular season games with the likes of the New York Rangers, Washington Capitals and Edmonton Oilers, scoring five goals and adding six assists. At the AHL level, Giroux has totaled 340 goals and 310 helpers in 706 AHL contests. Giroux has mastered the AHL level and is looking for a chance to stick around with the big club in Columbus.
"I am very excited. Whatever I did in training camp they (Columbus) liked, so I am not going to try to do anything crazy, but just play my game," Giroux said after practice yesterday.
Aside from the addition of Alexandre Giroux, the Blue Jackets will need to focus heavily on scoring a power play goal (0-20).
"I don't think ours has been that bad. We've generated chances, but the puck won't go in. I am not saying it's great. We can do better. We just have to work maybe a little harder, maybe put more pucks on the net.," defensemen Fedor Tyutin said while addressing the media.
When the suspension of defensemen James Wisniewski expires in four games from now, he will be a much needed addition to the power play, until then other players will need to take their game to the next level and figure out a way to score with the extra man.
"It does get frustrating when you go out there time and time again, you're doing things right and it's not working," forward Jeff Carter said.
Speaking of Jeff Carter, the Blue Jackets welcomed the scoring center back to practice after a bout with the flu. He is expected to be in tonight's lineup.
Follow me on Twitter. @DarrenCoslov