The NHL season has been in full swing for a week and, as always, there is great demand for as much news and information as possible. Started in 2006 and now one of the most popular websites in the world with over 200 million users, Twitter has become a way for fans to quench their thirst for hockey knowledge. And it is not just news agencies either, they can now get updates straight from their favorite players.
There are over 140 players using the social media site and the number is growing weekly. So who exactly is the best player to follow? While topics range from game commentary to humorous musings, one of the important things to look at is who tweets the most. These are the players most likely to give you an update or make you chuckle; here are the top 10 NHL Tweeters, ranked by total number of tweets.
10. Matt Moulson (MMoulson) – 1,209 tweets
From dinner advise to updates on training, the two-time 30-goal scorer offers updates with a variety of posts. He also constantly jabs with other players, giving one a brief reminder of the locker room atmosphere that is such a big part of the sport. From Sept. 23: "@JVReemer21 hair lookin good in your interview but what's with the blazer over the workout tee haha" Speaking of the young power forward…
9. James van Riemsdyk (JVReemer21) – 1,283 tweets
Bringing a bit of the flash and dash from the ice to the web, van Riemsdyk has as much fun on Twitter as he does playing hockey. He constantly quips with other players and loves to post photos, including one from an upcoming Judd Apatow film. From Oct. 2: "@Max25Talbot just lit up the bongo drums on the jumbotron at the phils game, got some airtime with @mattcarle25 #supportingcast"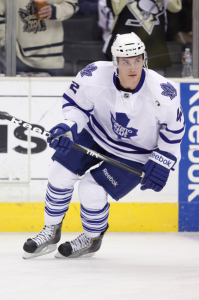 8. Tyler Bozak (Bozie42) – 1,336 tweets
The third-year center from Regina, Sask. loves to respond to fans and provided a good amount of his own sports commentary, especially on baseball. He also got highly involved in a Chuck Norris-style series of jokes focusing on teammate Mike Brown, writing his own and retweeting many more. From Oct. 7: "Its sad how everyone is chirping Ryan Howard. After what hes done for that organization #guysastud"
7. Colby Armstrong (armdog) – 1,341 tweets
It's not surprising to see another Leaf on this list; at nine, there are more NHLers on Twitter in Toronto than any other city. He is highly opinionated and is always keeping a conversation going. From Oct. 3: "Oh ya forgot to comment on Dexter. Great opener. Liked it a lot. 3 kills off the bat. Guys a beaut. #beastmode" and "I never spoiled a thing in Dexter. Said he killed people. Pretty standard people. #getwithit"
6. David Perron (DP_57) – 1,771 tweets
Perron is from Quebec and he constantly tweets in french, giving a more personal feel to his francophone followers. He is super fan-friendly and tweeted 40 times between Oct. 10-11 alone. He also gave out tickets during a short contest on Oct. 9. From Oct. 8: "Blown away by our fans tonight! You guys are the best, that ovation felt like to roof of scottrade center just exploded! Thank you so much!"
5. Logan Couture (Logancouture) – 1,747
Couture enjoys being on Twitter almost as much as being on the ice, he is another big sports fan, especially for the Buffalo Bills. From updates on moving to showing appreciation for Sharks fans, Couture is certainly one of the more exciting players to follow. From Oct. 14: "Watching Swamp People on the History Channel. Tight competition between these alligator hunters and us hockey players, who has more teeth?"
4. Bobby Ryan (b_ryan9) – 1,962
Ryan's tweeting is almost as consistent as his scoring. He loves to get into it with people, but the fact he is kidding is always apparent. He uses the site to his advantage, even gaining travel tips for an overseas charter and asking fans what he should be for Halloween. From Oct. 10: (while chirping back and forth with a fan) "you are. Cause that nose of yours is obnoxious. Hogging your entire picture. Tell it to simmer down."
3. Anthony Stewart (EhStew13) – 2,044
The older Stewart, Anthony is always tweeting about all aspects of the game. He's really good with providing information about the Hurricanes and his passion for the game is always evident. From Sept. 25: "#theawkwardmoment when you're on the team bus watching the #nhlnetwork and your tweets keep showing up @Brenter37"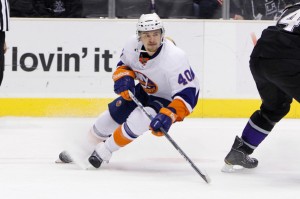 2. Michael Grabner (grabs40) – 2,475
It's no surprise Grabner has tweeted so many times when his subjects are, well everything. He usually has a comment after games and it's hardly ever the hockey cliches you hear every day. He loves talking pop culture and you get to see more of the person and less of the player. From Oct. 12: "Has anyone seen the show "extreme couponing"?..crazy show..u just hear your tv you think you are watching a football game or something #Wow"
1. Paul Bissonnette (BizNasty2point0) – 4,432
He has developed a cult following for his work on Twitter. He is one of only two players with 100,000+ followers (Alex Ovechkin is the other and Mike Cammalleri is third, 5,000 followers shy of the mark) for his constant, humorous updates and banter with other players, media and celebrities. He also posts tons of pictures, giving his followers a look at the glory that is being a role player in the NHL. From Sept. 25: "I would stay on #DryIsland until I score a goal but I'm Planning a vacation for the all-star break. #4thLineProblems"
A native of Monroe Township, NJ, Tim received his Bachelor's Degree in Contemporary Journalism from Endicott College in Beverly, MA. A Flyers fan growing up, he has gone to numerous events including each installment of the Winter Classic, the Stanley Cup final and the 2010 Olympics.
In addition to The Hockey Writers, Tim also writes for The Good Point and interned with The Hockey News from Jan. to May 2011, contributing to their book Hockey's Most Amazing Records. Outside of hockey, Tim enjoys reading and watching movies and extreme sports such as snowboarding and skydiving.