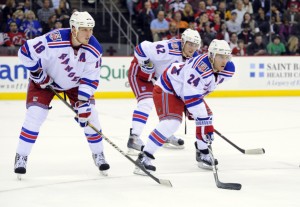 Now that the New York Rangers have had a week to digest a month's worth of Swedish meatballs, and the ringing of Sebastian Ingrosso has subsided from their ears, it's time for the Blueshirts to make their home opener. Well, their home-away-from-home opener, that is.
The Rangers (0-0-2) face their first competition on American soil, tonight, as they travel to the brand-new, state-of-the-art Nassau Coliseum, taking on the New York Islanders (2-1).
It's been quite some time since the Rangers have seen action in New York, or America for that matter, as they've been traveling Europe like a recent college graduate; playing their first two games in Stockholm, Sweden.
It's hard to be overly critical on how the Rangers have played in their first two games (Loss in OT to Los Angeles and a SO loss to Anaheim), as they've not only had the distraction of spending some time overseas, but have also been missing a few key components to their lineup.
Marc Staal, who has been suffering from post-concussion symptoms stemming from a hit by older brother, Eric, last February, still does not have a timetable for a return to action.

Staal, who is the Rangers' clear-cut No. 1 defenseman, is a significant loss to the Blueshirts' blue line.
Joining Staal on the sidelines for the Rangers, is second-year defenseman Michael Sauer.
Sauer, who emerged a solid defender last year for New York, has been suffering from a sprained shoulder, which he injured during the preseason. The 24-year-old defenseman was able to play in both games in Europe, but has not practiced since returning to the States.
Taking his spot, is newly acquired veteran, Jeff Woywitka.
Woywitka, who was claimed off waivers from the Montreal Canadiens after not cracking their roster during camp, will play his first game as a Ranger with partner Steve Eminger, leaving a very green tandem of rookie Tim Erixon and hit-or-miss Michael Del Zotto, to round out the defensive corps.
Also on the injury report for the Rangers is Wojtek Wolski, who was slated as the top-winger to skate aside Marian Gaborik and Brad Richards, coming into the season. With Wolski battling a lingering groin injury for the past few weeks, sophomore Derek Stepan will have an opportunity to get some top-line minutes.
Stepan, who normally plays center, had an impressive rookie campaign for the Rangers last season, compiling 21 goals and 24 assists, while playing all 82 games.
The Rangers had experimented with Brandon Dubinsky on the top-line with Gaborik and Richards for parts of the first two contests, but he was put back with his linemates for much of last season, Artem Anisimov and newly-appointed captain, Ryan Callahan.