The Flyers have had a lot of big games early on this season, and so far they have answered the call on almost all of them. Former Flyer star Mike Richards made his return to the Wells Fargo Center in Philadelphia tonight for the first time since being dealt during the summer to the Los Angeles Kings for forwards Brayden Schenn and Wayne Simmonds. And make no mistake about it, the game was going to be a dandy. Both teams are young and both teams are good. And we can now definitely say both teams have great goalies. In the end, it was the Kings picking up the 3-2 overtime victory on the power play. Mike Richards assisted on Justin Williams' game winner.
Both of these teams are very fun to watch and that was evident early. There's a lot of negative reports out there about the Flyers discipline tonight, but it probably wasn't as bad as it appeared. The officials made it clear early on that they were going to call anything and everything. And that's exactly what happened on both sides with 18 minor penalties called. It was a parade to the penalty box and you cannot control who the officials are, you have to adapt to their unique style.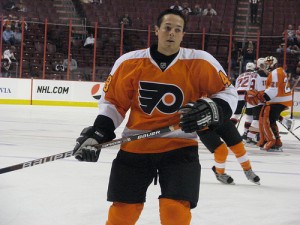 The Flyers are where they need to be or very close to it performance wise. They shot 67 times tonight, with 34 on goal compared to the Kings 23. The power play had a few instances of the rust Flyer fans are so tired of, but they showed some really positive flashes too. They moved the puck really well on a few of the power plays and Jaromir Jagr took a power play shift with Danny Briere and fed him a nice pass to Briere's favorite spot on the left side of the net for a slam dunk goal. The puck movement was impressive on that power play and Jagr showed why he is the guy everyone is looking to on the power play to make something happen. He has just so much valuable experience on the man advantage.
One guy who has caught a lot of flack from fans and media this season is Zac Rinaldo. Even though Rinaldo only had 1:51 of ice time tonight, it was very effective. In the past Rinaldo has gained the type of attention he doesn't want due to poor penalties in key situations and risky plays and overaggressive behavior.
Rinaldo put a hit on Kings defenseman Drew Doughty when he was skating into the Flyer zone with his head down tonight in the first period. This was a clean hit shoulder to upper chest and Doughty left the lineup and did not return. Instead of taking a poor penalty he energized his team with legal agitation and a huge hit on Doughty. Tonight, we saw a different side of Zac. One that coach Peter Laviolette likes a lot more. "I thought it was a good hit," Laviolette said of Rinaldo's hit on Doughty. "You know Zac didn't get to play much tonight, but it seemed like the minutes he was out there were eventful."
Rinaldo had the media chuckling with his description of the hit.
"From my vantage point? He came across the trolley tracks head down," Rinaldo said. "Clean hit. Shoulder to shoulder. That's about it."
Rinaldo added he didn't hear any complaining from the Kings coaches or bench. Here's the video of the hit, you be the judge:
Zac Rinaldo's Hit on Drew Doughty
Even though the Flyers lost this game in overtime tonight, only gaining 1 point, they played pretty well. There were some penalties toward the end of the game that could have been avoidable, especially James van Riemsdyk's right before overtime that ended up costing the Flyers the game. However, the Flyers dominated in the chance department and had to be happy with the overall effort. If they capitalize on more of their chances and improve the special teams by getting a little sharper on the power play and improve the struggling penalty kill, this team will be very difficult to beat. And they're 3-0-1 already.
Overall tonight was a good Flyers effort. The penalties on both sides could not be controlled. Build off of the good things, and tonight there was a lot of good, and a lot of excitement. Zac Rinaldo showed a much smarter, more effective version of himself which is what Peter Laviolette has been looking for.
The Flyers will get a chance to build off of these things in Ottawa on Tuesday. There's a chance Sergei Bobrovsky may get his first start of the season on Tuesday. Look for Laviolette to reveal this over the next couple of days.
Other Flyers Notes/Tidbits:
• The Flyers had 67 total shots at the net tonight – 34 on net, 22 that were blocked and 11 that missed. Carle led the way with a total of eight – six on net and two that were blocked. (Courtesy: Flyers PR)
• The Flyers were 2-for-7 on the power play tonight, with Danny Briere and Matt Carle scoring the two power play goals.
For Flyers and Hockey News/Discussion, Feel Free to Interact With and Follow me on Twitter: http://twitter.com/JustinTHW
Justin Johnson is a Senior Correspondent and has been covering the Philadelphia Flyers for The Hockey Writers since the 2008-09 season. Justin has covered all levels of hockey across the United States and Canada. Justin is a graduate of Rider University in Lawrenceville, NJ and currently resides in Southern New Jersey.