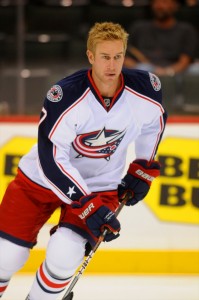 Tonight the Columbus Blue Jackets defeated the Minnesota Wild at the Nationwide Arena by a final score of 3-1. In what has been a difficult stretch of games as of late, the Blue Jackets were looking to build off a single victory against the Anaheim Ducks back on February 3 which was their lone victory dating back to January 17. After Head Coach Todd Richards preached for the players to leave everything on the ice, tonight they did just that, grabbing two points from the eight place Wild.
First period action saw Blue Jackets rookie defensemen David Savard light the lamp for his first career goal.  The opening tally came at 8:59 into action. Forward Vinny Prospal and defensemen Grant Clitsome picked up the helpers in what will certainly be a memorable moment for the St. Hyacinthe, Quebec native.
"First one is done, so hopefully many more to come," Savard said afterwards. "It was a good night and we got the win too, so it was an awesome feeling to be out there and come back at home after a long stretch on the road.  It's always nice to get a big win against a good team like Minnesota."
Minnesota eventually tied the game late in the first period off a shot from defensemen Nate Prosser, who also happened to score his first career NHL goal. An exciting period for both clubs set the tone for the final 40 minutes.
Columbus would regain the lead in the second period and never look back as forward Antoine Vermette notched his seventh goal of the season from captain Rick Nash and defensemen Fedor Tyutin. The lone goal of the second period was the eventual game winner.
Center Jeff Carter scored his 12th goal of the season in the final frame as the Columbus Blue Jackets made somewhat of a statement tonight defeating the Minnesota Wild.
"We wanted to come out with our best effort and get a big win," Carter said following the game.
Goaltender Curtis Sanford stopped 28 shots to grab his 10th victory of the season, improving his overall record to 10-12-4.
In what certainly was an exciting night of rookies collecting pucks on their first NHL goals, Blue Jackets Head Coach Todd Richards had something to prove going into tonight's action, facing his former team who fired him last April.
Coach Richards spoke with the media after tonight's game about the importance of the win and the special feeling that goes with it.
"My message to them after the game was I will sleep pretty good tonight and enjoy this one," Richards said. "I am really happy with the way we finished the game. They had a couple opportunities. Sanford stood strong and we were rewarded with a goal and carried it home the rest of the way."
Next up for the Blue Jackets is the Dallas Stars on Thursday night at the Nationwide Arena at 7:00pm.
Follow me on Twitter @ DarrenCoslov