There were multiple reasons that St. Louis Blues management decided to let Barret Jackman walk this summer.
At the time, the 34-year-old defenseman was St. Louis' longest-tenured athlete, playing in the city for 13 years. He had been through the best of times (winning a Calder Trophy in 2003) and the worst of times (a six-season long franchise rebuild). Depending on the day, Jackman was beloved by the Blues' fan base or scorned by social media-ites and the message board troves.
Nonetheless, he was a staple in the Blues' lineup season after season. In an organization that never minded dealing players at deadlines to reacquire them the following summer (see Keith Tkachuk and Doug Weight), Jackman never wandered away from the blue and yellow. He was a member of the Bluenote through and through, despite what the critics said or wanted.
That time has come to an end, and it almost has nothing to do with Jackman.
Enter Petteri Lindbohm
St. Louis' sixth-round pick, 176th overall, in the 2012 NHL Entry Draft, Lindbohm stepped into Blues' training camp last year after receiving an invite from general manager Doug Armstrong. As a relatively unknown prospect, Lindbohm showed grit, determination and strength on the puck. He quickly moved his way up the Blues' defensive depth chart, earning a spot with the AHL's Chicago Wolves to open the season.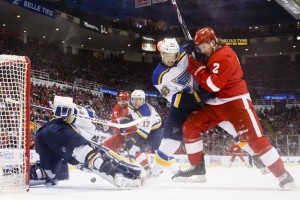 The then-21-year old was called up relatively quickly and appeared in his first NHL contest on Oct. 19 on the road against the Anaheim Ducks. Skating alongside Jackman, the Finnish defender appeared in 14 minutes and registered four shots. Unfortunately for him, the Blues were on the second night of a back-to-back and were visibly tired in a 3-0 loss.
Lindbohm returned to the Wolves the following day, but his coming out party did not go on deaf ears. He returned to the NHL lineup in December, appearing in eight games during the month, seeing sparing time on the penalty kill and in late-game situations. After another stint in Chicago, the 6-foot-3, 198-pound Lindbohm returned to the Blues to close out the season.
After all was said and done, Lindbohm appeared in 23 games with the Blues, amassing two goals, three points and 26 penalty minutes, while accruing a minus-1 rating.
Lindbohm instantly garnered respect among teammates and fans alike due to his willingness to get nasty with opposing players after the whistle and eagerness to defend teammates in any situation.
It was this tenacity, accompanied with his ocular progression at the NHL level, that gave general manager Doug Armstrong the aptitude to allow Jackman, the resident tough-guy defenseman, to seek other employment in July.
Newcomers on the Scene
Just spoke w/ Army…final roster decisions will take until Tuesday. He envisions 2 of 3 young Dmen (Lindbohm, Parayko, Edmundson) making it

— Jeremy Rutherford (@jprutherford) October 4, 2015
One of the storylines that was ever-developing heading into the 2015-16 training camp was the play of defensive prospect Colton Parayko. The third-round pick, 86th overall, in 2012, Parayko became a standout at the University of Alaska and continued his progression through to the 2015 Traverse City tournament, where he posted two goals and four points in four games played.
The 6-foot-5, 214-pound St. Albert, Alberta native was watched closely during the preseason. He did nothing but impress, playing in five of the six games and contributing six assists, which ranked fourth among all NHL players. His plus-5 rating also tied for 12th in the entire league.
Taking all of this into account, it seemed that Parayko was destined for his NHL debut – and more – this season.
Parayko wasn't the only one garnering attention at Blues camp. Joel Edmundson, the Blues' second-round pick, 46th overall, in 2011, has been a mainstay on the Wolves' blue line for the past two seasons. The 6-foot-4, 207-pound defenseman possesses a booming shot from the point along with in-zone defensive awareness that goes nearly unmatched among his Wolves teammates.
Hockey's Future laid it out nicely for Edmundson last December:
Edumundson was assigned to St. Louis AHL affiliate Chicago at the start of the 2014-15 season but as of the start of December had yet to appear in a game due to a back injury. With a strong physical component to his game any injury of this type could cast shadows over his long-term future. Projection-wise, assuming he is able to make a full recovery Edmundson could grow into a potential top-four defenseman at the NHL level but he will have to fight for a spot with the AHL club upon his return.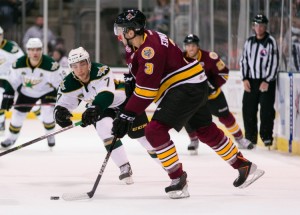 Now, the towering defenseman finds himself on the opening night roster.
In what some perceived as a surprise move, the Blues sent Lindbohm to the AHL, opting to keep Parayko and Edmundson with the main club. Edmundson, who posted three points and a plus-3 in five preseason games, has proven his worth after improving play in the AHL for the past two years, culminating and bubbling over to an outstanding camp and preseason. Although his progression seems much quicker, Parayko has impressed the Blues brass as prospect pundits have predicted he would since he entered the college scene.
The Parayko and Edmundson additions are a far cry from the summer's projected sixth and seventh defensemen, Lindbohm and veteran Chris Butler.
If last season was any indication, as well as Armstrong's comments this week, Lindbohm will be back on the Blues' roster sometime this season as the team's first option for an injury call-up.
With three linchpin defensemen set to become unrestricted free agents within the next two offseasons (Carl Gunnarsson, Robert Bortuzzo and Kevin Shattenkirk), Lindbohm, Parayko and Edmundson will have every opportunity to earn full-time spots. For the organization, it would be ideal to not only see its draftees succeed, but to find viable replacements that will likely be cheaper alternatives to trade-deadline acquisitions or free-agent additions.
If these three prospects-turned-NHLers have anything to say about it, the Blues will be allowing more defensemen to journey to other NHL cities in the not-too-distant future.