Barely removed from a Stanley Cup Finals run that ended with a game-six loss to the Chicago Blackhawks, the Lightning are once again gearing up for a shot at hockey's ultimate prize. Training camp has concluded, exhibition games are over and all that's left is lineup finalization and the Philadelphia Flyers coming to town on October 8th.
However, there's a dark cloud following Tampa around. A cloud of uncertainty about where this team is headed after the 2015-16 season. A cloud of uncertainty that will continue following this team until Steve Yzerman begins his plans to combat the unavoidable salary cap crunch the Lightning will face.
Like most professional sports teams, no matter the sport they partake in, success is normally accompanied by necessary raises and a roster refresh in order to stay under the cap ceiling. We've witnessed the same story with the Chicago Blackhawks, L.A. Kings and Boston Bruins over the past few years. Simply put, Tampa Bay needs to capitalize on this roster, which will likely be their best shot at a cup for the foreseeable future.
Challenges and Tough Decisions on the Horizon
Obviously, the biggest distraction is and will remain the saga following Steven Stamkos and his impending free agency. Recently, Stamkos has been a bit more outspoken about where contract talks stand and it sounds like very little progress has been made. Both parties know that with Tampa's cap situation, this is going to be a process. Stamkos, his agent and the Lightning maintain that there's no hurry in getting a deal done but all involved parties understand that this conversation isn't going away until a contract is in place.
So far, the backup goaltender job has been a revolving door. Ben Bishop will hold things down and as long as last season's groin injury doesn't hamper him, Tampa has little to worry about in that regard. But, what happens when Andrei Vasilevskiy returns? A goaltending controversy could be in the cards.
Bishop should be a name the Lightning are willing to move before this season's trade deadline. Once Vasilevskiy returns, shedding Bishop's salary would help tremendously in remedying their cap woes. Both goaltenders are signed for one more year and Vasilevskiy only counts for $1.475 million against the cap. His price tag combined with the fact that he's fully capable of starting in this league means the writing is on the wall for Bishop. Teams know that they'll be desperate and similar to Chicago this past summer, they may have to make a deal that they aren't necessarily excited about. Unfortunately, it's part of the business.
Can the Lightning Overcome History?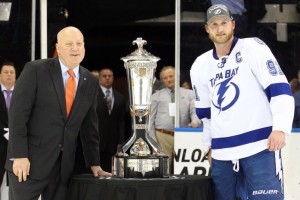 Unfortunately for the Lightning, history isn't on their side and it's all but impossible to appear in back-to-back Stanley Cup Finals in today's NHL. Can they mimic what the Pittsburgh Penguins did in 2008 and 2009? They're a very similar team, so at least that bodes well for them.
Tampa is returning with essentially the same group but more experienced. They now know what it takes to fight and claw their way to the Cup finals. They know that it means their youth will have to be relied on heavily down the stretch and that nothing can be taken for granted. They know that when it comes down to it, they have to be just a tad bit better.
This is a special team. They're a team that will do everything in their power to avoid the distractions surrounding them. They're a team that can score in bundles while still shutting down opponents' top scorers thanks to guys like Victor Hedman. They players like Anton Stralman that battled their way from a PTO at one point in their career to alternating on the top power play of a Stanley Cup contender. Maybe they're a team that's destined to win?
Whether or not destiny has anything to do with it. The Tampa Bay Lightning need to strike and they need to do it now. This team will likely look much different next season and growing pains will occur.