Though the St. Louis Blues still sit in 2nd in their division and 3rd in the West, area fans are in an uproar (no bacon) about the team's recent slump. It's not so much the losses, but the way the games were lost that have Note faithfuls worried about things to come. Here we'll look at what the real problems are, and what fans can shrug off as the season rolls on.
State of the (Blues) Union
Yes the Note have seen better days, however they've also seen much, much worse as well. The overall state of the Blues right now is a team struggling to find its identity due to too many extraneous factors coinciding at once. The amount of injuries to key players has really caused the team to try and find an interim identity while their coach tries to find answers. On top of that players who aren't used to playing nightly are shuffled in and out and can't find true rhythm, and regular roster players are trying to find cohesiveness in a line shuffling system that seems a little excessive even for a Ken Hitchcock team.
The biggest issues currently facing the team are slow developing plays/games, too many turnovers, and a lack of heart (which comes from coaching and leadership). The slowly developing plays/games have been an ongoing problem this season, but just recently started putting the team on the wrong end of the scoreboard. So what can be done to improve team chemistry and overall cohesiveness on the ice?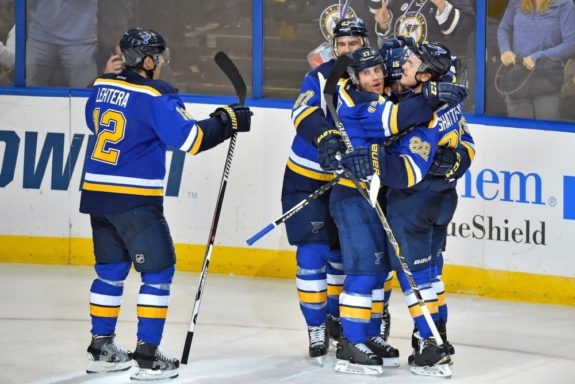 The Real Problems
First off, the turnovers are getting out of hand. The Note are a minus-17 in turnover differential (Jay Bouwmeester is -11 himself) and only have a handful of players who don't seem to consistently lose the biscuit (Steen is a plus-7, Fabbri/Jaskin are plus-4, Tarasenko is plus-1). Plays through the middle and over-skating the puck are leading to way too many chances against, and the impressive tandem of Elliott and Allen can only do so much on their own. These problems usually come from gripping the stick too tight (holding on to stress during play too often, or overthinking plays), a sign of a team that's searching for answers through frustration.
The Blues need to relax their minds while on the ice and remember that they can make the right play as it arises, but must also remember not to force anything that isn't there. When this happens there will be more puck support, which means more play-making options. That should open up the middle of the ice in the offensive zone so the team can generate more true offense against their opponents. This should lead to quicker developing plays/games as the team finds rhythm and gains confidence.
A team usually has slowly developing plays/games when they can't find a way to get pumped up about, or focused on, the game beforehand. This can stem from a multitude of issues such as coaching, leadership, drive, conditioning, and a plethora of other on and off ice issues. In the Blues' current situation the answers are most likely found in coaching and leadership. The team needs a leader who is consistently focused and driven regardless of his surroundings. David Backes has always been a great captain, but can't consistently play like he used to (in terms of focus) and is beginning to take too many poor penalties against.
Coaching needs to be adjusted to win the hearts of the players back, and to give them confidence in the end goal (of the team, a Stanley Cup). You can't expect any team to find cohesiveness and consistency when they're constantly wondering what their coach is going to do or say, or where their future lies with the organization. Yes, they are professionals and should be able to perform under any circumstances, but they are also human and uncertainty breeds worry which leads to decreased focus. In a strict system such as Hitchcock's that could just be the kiss of death (and could lead to increased turnovers).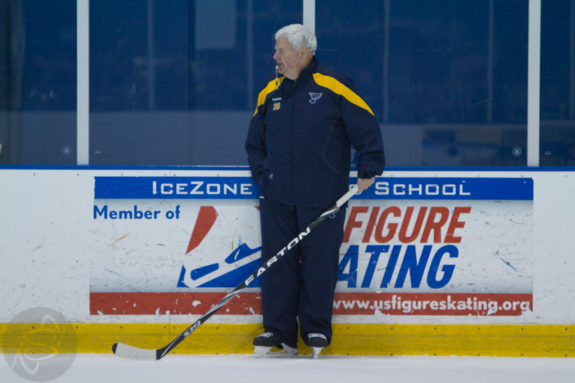 The Solutions
The good news is the group can easily slide back into a rhythm, especially if they can get healthy again. That will give players a better idea of what to expect and how to maintain their bodies off the ice, and will lead to overall cohesiveness as players know more about who's going to be around them each game. In addition to good health, Hitchcock needs to keep his promise to the team (and city) from the preseason, where he said he would ease up on the reins a little to allow more fluid play and creativity. If he's able to relinquish some control to the players he will see (in the long run) that the team will figure out how to play their style without being lax defensively.
A Note to Remember
The Blues are currently t-6th in man games lost overall (88) to injury but lead the league by a wide margin in quality of man games lost (meaning they have had more key players hurt than any other team this season, at 318.98 IIT-CFrel). This means that they are finding ways to win despite missing some of the biggest pieces to their success for most of the season thus far. For a team that finds themselves in the playoff mix with these types of set backs is cause for celebration in itself. Fans need to remember this as they play arm chair GM because with this type of revolving door in the line-up, mixed with Hitchcock's crazy line-juggling in general, it's hard to find that aforementioned rhythm to make high quality plays against teams who have been a single unit for the first 3rd of the season.
The team has short term issues they can improve upon, but overall they are still in great shape for the year. They have proven that despite their lineup they can compete, which should give them a true edge if/when everyone gets healthy, and certainly into the playoffs. If Hitch can loosen the reins some, and the team can get reengaged and refocused, they will see this slump from the rear view and should continue to stay in playoff contention throughout the year.
Like what you've just read? Follow me on Twitter: @pep30