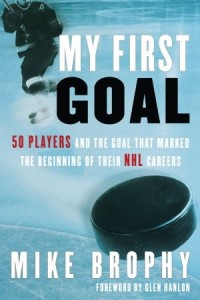 My First Goal: 50 Players and the Goal that Marked the Beginning of Their NHL Careers

  By Mike Brophy.  (2011, Toronto: McClelland & Stewart, Ltd. Softcover. Pp. 254. CAN $19.99 / US $17.95. ISBN 978-0-7710-1682-0.)
"I remember my first (fill in the blank)."  It is the same for everyone, you always remember the first time you did something memorable and meaningful.  Sure, most of us do not exactly remember our first steps, but remember that first kiss, that first hit on the little league field, or even that first jump out of an airplane (well, maybe that's just me).  It would figure that, as professional hockey players, many of the game's well-known stars would be able to vividly recall that moment when they finally "arrived" in the NHL – that first goal.
Mike Brophy took on the task of interviewing and recounting these very special memories in his book, My First Goal.  However, the topic alone could make for either an interesting look into some of our favorite players' favorite memories, or could simply be the same story over and over, like a hockey Groundhog Day.  Fortunately for readers, Brophy's storytelling and organizational skills made for compelling reading.
My first indication that this was not going to be simply a grinding out of hockey tales was the Table of Contents.  Not everyone is a TOC reader, but being a historian and a recently graduated student, it is something I tend to look at in every book I read.  Instead of an alphabetical listing of players and their stories, Brophy structured the book into seven sections:  The Best of the Best; Firsts; O Captain! My Captain!; Standout Stars; Keeping it in the Family; Memorable Moments and Winning Stories; and, finally, Hall of Famers.  Looking at it here, it seems rather straightforward, but contextualizing these stories puts them into a frame of reference that gently guides the reader through the book.  Still, though, for those simply wanting to look up their favorite player's story, each player in each section is listed with page numbers.
The Best of the Best was rather predictable:  Bobby Orr, Wayne Gretzky, Sidney Crosby, and Phil Esposito.  Personally, I probably would not have included Crosby in this group just yet.  I would also have left Teemu Selanne out of the Hall of Famers section. Luckily he was listed as the first in the Firsts, but if Willie O'Ree had not been included in the book, I would have felt that was a major omission.  The Standout Stars included the likes of Jarome Iginla, Mark Messier, Steve Yzerman, Jean Beliveau, and Brendan Shanahan, among others.*
One of my favorite sections was Keeping it in the Family.  It was an interesting take on the fathers and sons, brothers, and other family members who have played in the NHL.  Who else would you start this chapter with besides the Howes?  The Prongers, the Mahovlichs, and the Wilsons made an appearance as well.
Many things stand out in these stories:  from Bobby Orr's resonating opinion on the atmosphere of today's youth hockey, "Unfortunately, I think we suck the love and passion out of our kids by humiliating them for foolishness." (7) to the story of how the Canadiens finally acquired Jean Beliveau, "Unsubstantiated legend has it that the Canadiens purchased the entire Quebec Senior Hockey League and turned it into a professional circuit, forcing the big guy to join the Habs." (112)  The book brought to life how players still recollect and cherish that memory of their first goal, and many still have the puck.  Unless, of course, you are Doug Brown and you have to make sure the kids are not playing street hockey with it in the driveway. (230)
There is little to dislike about My First Goal.  It is one of those books that will cause friendly debate over who else should have been included.  The Crosby and Selanne issues were the only problems that really stuck out.  The book is easy to read for all ages of readers.
Rebecca Dobrinski
* Most likely, when all is said and done, Sidney Crosby will eventually deserve to be listed among the "best of the best."  However, I would rather wait until his career has played out before labeling him as such.  There is also no doubt in my mind that Teemu Selanne will be inducted in the Hockey Hall of Fame.  Just do not call him a Hall of Famer until he actually is one.
Our Amazon Affiliate Link – thanks for helping out..
My First Goal: 50 Players and the Goal that Marked the Beginning of Their NHL Careers