The backup goaltending position was god-awful in the first half for the Boston Bruins. It didn't matter who they put in the crease on Tuukka Rask's night off. As a matter of fact, since the start of the season til Feb. 4, Anton Khudobin, Zane McIntyre, and Malcolm Subban combined for a record of 1-10-2. Even if the team in front of the backup netminder didn't show up, that's still just plain unacceptable.
Luckily for Boston, Khudobin steadied the ship after his demotion to the Providence Bruins. Khudobin came up huge in games down the stretch on the road against the New York Islanders and Chicago Blackhawks. Khudobin stole the show from Feb. 10 all the way to the end of the regular season recording a record of 6-1-0 and a .922 save percentage.
If it wasn't for Khudobin's emergence at the end of the season, the Bruins probably miss the playoffs in 2016-17. I honestly believe heads would've rolled if the team missed the playoffs for a third consecutive year.
So what does Bruins general manager Don Sweeney think of all of this? "It's a position we've sort of been chasing our tail for a couple of years now," Sweeney told the media at the year-end press conference, as quoted by the Boston Globe's Kevin Paul Dupont. "I am very aware of it, do not run from it, and I would like it to be resolved."
Well, that doesn't sound like a man that's confident in any one of his goaltenders to back up Rask. If Sweeney is true to his word that he wants to improve at the position, then he's going to have to add a goaltender that's more capable of a workload than Anton Khudobin is. The Bruins have always wanted to give Rask more time off during the regular season, but that was nearly impossible in the first half of the season due to the lack of consistency from Khudobin, McIntyre and Subban. So if he doesn't have faith in any one of those goaltenders, he'll have to sign one from free agency. Here are the five free agent goalies the Bruins should at least consider:
Jonathan Bernier
I don't think this one has any shot of happening. Bernier proved in the absence of starter John Gibson that he's more than capable of not just being a backup, but a potential starter on an NHL team. The Laval, Quebec native had an outstanding campaign in 2016-17 finishing 21-7-4 with a 2.50 GAA and a save percentage of .915. In the playoffs, Gibson again suffered another injury and Bernier once again had to steal the show in Anaheim. He faltered against Nashville in the Western Conference Final in Game 6 where he gave up four goals on 16 shots.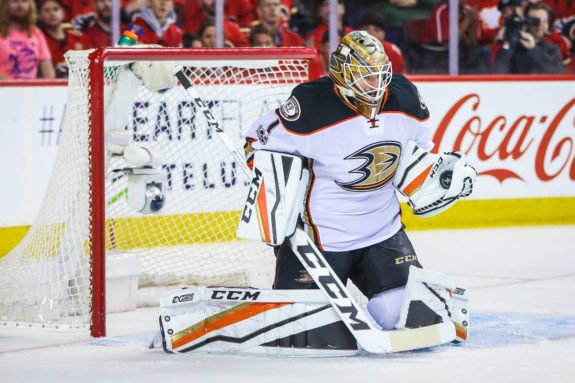 Bernier went through a bit of a roller coaster with the Ducks. But all in all, it was a pretty successful season for Bernier as he'll be looking to become a starter somewhere in the NHL. I'll be shocked if Bernier takes a deal for small money to become a backup again. He's certainly the best option out there in free agency next to Ryan Miller. If Sweeney see's Bernier is not drawing interest as a starter in the NHL then maybe he can scoop him up for cheap, but I don't forsee that happening.
Peter Budaj
Peter Budaj went under the radar as the third string goaltender for the Los Angeles Kings entering 2016-17. An injury occurred the opening night of the regular season where Jonathan Quick aggravated an injury. Unfortunately for Quick, the Kings had to sideline their stud goaltender for nearly five months.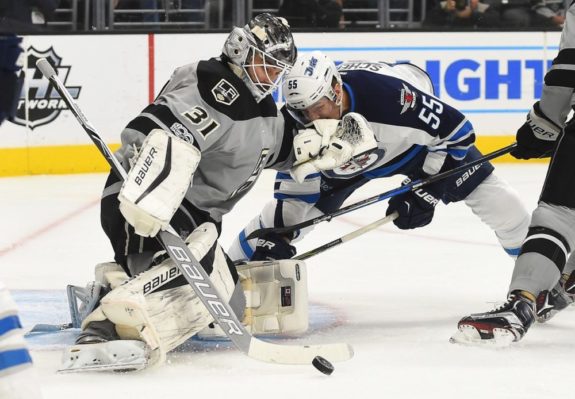 In that time, Budaj shot all the way up to the Kings starter role and did a terrific job for the Kings. He was one of the single reasons why the Kings were still in the playoff race.
At the trade deadline, he got traded to the Tampa Bay Lightning where he didn't put up as solid numbers as he did with the Kings. Budaj ended the year with a 30-21-3 record, a GAA of 2.18 and a save percentage of .915 between Los Angeles and Tampa Bay.
Budaj also kind of fits into that same group as Bernier. The season that he put together just very well may find him a starting job somewhere in the NHL. However, Budaj is going to be 35 years old next year, and it's going to be awfully tough to replicate the year he had at the top level. It's also possible that Budaj may not even make the market and re-sign with the Lightning. It would make sense if Tampa brought him back to help assist Andrei Vasilevskiy. But if he decides to test the market, the money is right, and the contract is not out of control, I could see the Bruins try to sign Budaj. But I would look elsewhere if I were Sweeney.
Mike Condon
The Holliston, Massachusetts, native was acquired by the Senators for a fifth-round pick and boy what an acquisition he was. Condon was a cult hero in Ottawa in the middle of the season stepping into the starting role for the absent Craig Anderson. He played exactly a half a season worth of games while also compiling a 19-14-6 record with a 2.48 GAA and a save percentage of .914. Without the rock solid play of Condon, Ottawa could've also been on the outside looking in at the playoffs come April.
This one makes a little more sense for the B's. Condon is still young goaltender at the age of 27, and he's more than capable of taking the pipes against any team on any given night. It's uncertain whether or not he'll be an NHL starter one day, but he has proved on more than one occasion that he can thrive in a backup role. Let's not forget he's a local kid, and the Bruins do have a thing for adding players from New England (i.e., Jimmy Hayes, Tim Schaller and Frank Vatrano, to name a few).
Chad Johnson
Johnson put together an exceptional season for the Calgary Flames in 2016-17. He mostly split time in the crease with Brian Elliott. In 36 games played, Johnson posted a record of 18-15-1 with a GAA of 2.59, and a save percentage of .910. We have to remember Calgary isn't a stingy team to play against defensively but both of their goaltenders were wildly inconsistent.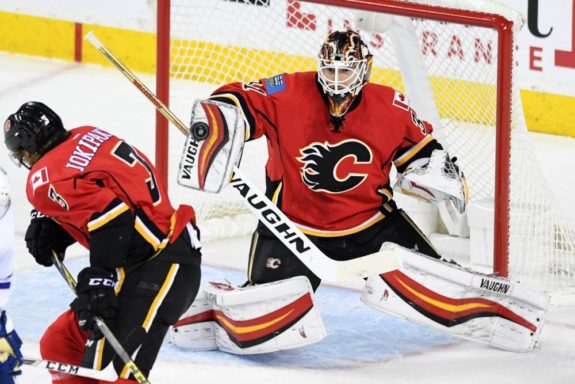 Bruins fans remember Johnson back in 2013-14 where he put together his best season by far. The Saskatoon Saskatchewan native finished that year 17-4-3 with a GAA of 2.10, and a save percentage of .925. Doesn't it just feel like if the Bruins do decide to go out of their way to get a backup goaltender, it'll be for Johnson?
He would make the top of my list because the Bruins know what they're getting out of him and he wouldn't cost a ton of money. And for what it's worth the man is almost unbeatable on TD Garden ice, with a record of 11-1-0. Cam Neely talked about being a better at home, and Sweeney talked about having better backup goaltending. I sense a match.
Keith Kinkaid
I know what you're thinking, why Kinkaid? Let's put his 8-13-1 record aside for a minute and let's dip into his primary stats. He ended his season in 2016-17 with a GAA of 2.64 and a save percentage is .917. Those are certainly respectable numbers for an atrocious Devils team.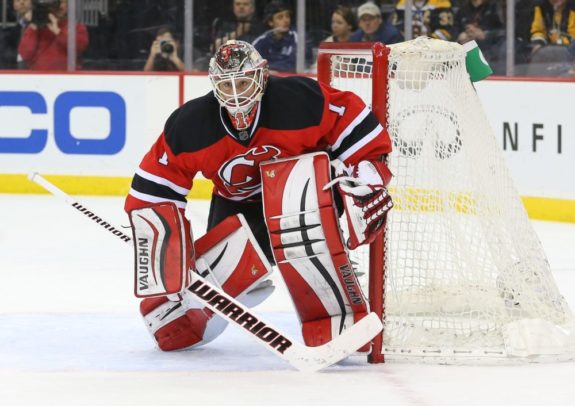 The 27-year-old showed promise this year, and he's improved year by year for the past three seasons. There are times where he makes an incredible save, but then there's time's where he gets caught napping and out of position.
Kinkaid will probably be one of the Bruins cheapest backup goalie option if the Devils don't re-sign him to a contract extension. Kinkaid may just need a change of scenery. Maybe working under the Bruins system, he'll finally get over that hump of being just another "journeyman goaltender." However, there certainly is a lot of question marks with the Farmingville, New York native.
It sure will be interesting to see if Sweeney goes through with possibly adding another goaltender to add more competition in camp. In my opinion, Khudobin deserves that job, especially with the way he played down the stretch for Boston.
McIntyre also made strides in Providence by leading his club to the  Eastern Conference Final only to fall short in five games to the Syracuse Crunch. Did McIntyre's play with the P-Bruins change the Bruins General Managers mind? You have to wonder what will be going through Sweeney's mind come July 1.