It's Mailbag time!
The Boston Bruins are dealing with significant injuries to their lineup once again this season but are maintaining their spot near the top of the NHL standings. The team is earning points despite the absence of some of their best players but it's still created concern among fans of the team who are looking for more. Naturally, it's led to some questions.
Related: BSC's Bruins Mailbag: Backes, Forsbacka Karlsson, Bjork & More
With that said, let's get this mailbag underway:
"With the play of the defense despite the injuries, does that mean someone back there can be moved for scoring?" (CourtLalonde via Twitter)
If the Bruins are going to make a trade this season, it seems likely that they'll pick from one of their many young wingers/prospects or their loaded blue line to get some help. While the depth may not always be obvious in Boston, it's on full display right now with all the injuries that have occurred for the second consecutive season.
The Bruins' bottom-six does not look good on paper and is barely passable on the ice. This is largely due to the fact that the Bruins have a major injury in their top-six to Patrice Bergeron while also entering the season with a hole on the wing on their second line. Because of this, the team has had to use players in a fill-in role in the top-six which has inherently weakened the bottom-six as a result.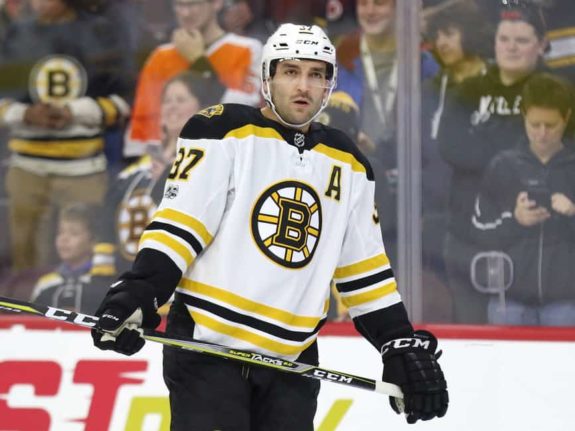 When fully healthy, the Bruins have the players to compete with the best on a nightly basis. Whether or not the lines have made sense is another thing altogether but head coach Bruce Cassidy has proven that he deserves the benefit of the doubt with his personnel decisions for the time being. The Bruins have been nothing short of excellent since he's taken over the reins and until they fall off considerably, his decisions have to be trusted.
Still, if the Bruins want to be better in the short-term as they look to compete with the Tampa Bay Lightning and the Toronto Maple Leafs (and apparently the Buffalo Sabres who are the NHL's hottest team right now), they'll have to make a move to acquire scoring. While that will likely come at the cost of a top forward prospect and more, the potential to move on from a defender is always there for Boston.
Who's Available and Who's Untouchable?
Immediately, the names Zdeno Chara and Charlie McAvoy should be seen as untouchable. It's also fair to assume that John Moore isn't going anywhere either given the fact that he just signed a five-year deal with the team in the offseason.
Related: 7 Cool Things About Zdeno Chara
Realistically, the players on the roster with the most value for the Bruins on defense would be Torey Krug, Brandon Carlo and Matt Grzelcyk. Kevan Miller is a very valuable player for the team but his value isn't enough to garner a top scorer in return.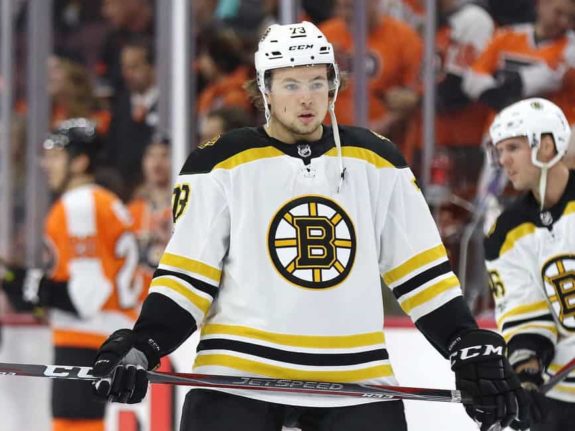 Ideally, the Bruins refrain from moving Carlo or Grzelcyk given their age and production. Both have taken a huge step forward this season and are looking like legitimate top-four players. Whether or not that lasts is yet to be seen but as far as Carlo is concerned, his value has to be at its highest. Still, Carlo is a right-shot defender who can play big minutes in the top-four. That type of production doesn't grow on trees.
Krug Holds the Most Value
That would leave Krug as the obvious trade candidate in this scenario. The Bruins are deep at left-shot defenders with Chara, Krug, Grzelcyk, Moore, Urho Vaakanainen, Jeremy Lauzon and Jakub Zboril. None of those players possesses the same type of offensive instincts that Krug brings to the table but it's impossible to ignore the 5-foot-9 defender's deficiencies in his own zone. For that reason, he's more expendable than many would like to believe.
This doesn't necessarily mean that the Bruins should trade him as he's a defender capable of scoring goals and producing upwards of 50 points per season. Still, it's the Bruins' depth on defense and Krug's value that makes him the logical player to be moved in a deal for a scoring forward.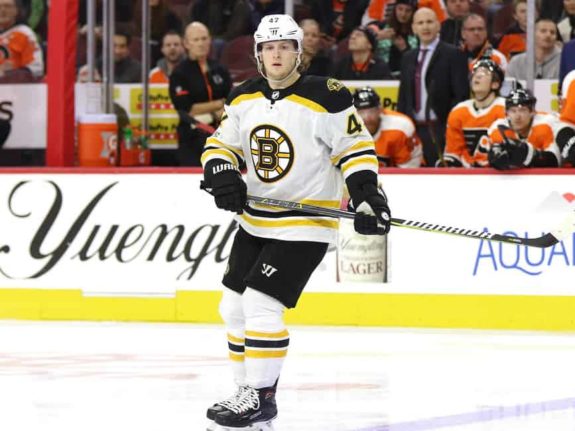 Unfortunately, this move would also be counterproductive given the fact that the Bruins would be trading away their best offensive defender (by a significant margin) to try and fix their lack of offense. You see the issue.
If a team has interest in Zboril or Lauzon and the Bruins could make a big package surrounding them, there's always the possibility they pull the trigger. Still, teams will undoubtedly have their eyes on Krug.
"What do you think needs to happen to help Bjork get going" (Bpsmith9191 via Twitter)
At this point, Anders Bjork clearly isn't producing to the point where fans and media alike are calling for him to be sent to Providence for seasoning. While I think he would excel with Bergeron and Brad Marchand, that isn't a possibility with Bergeron on the shelf for the foreseeable future.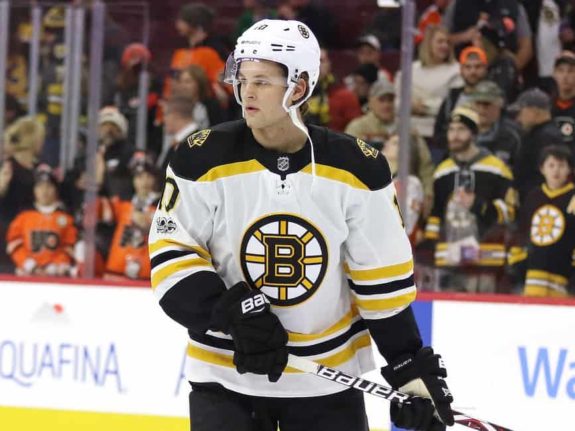 It would be nice to see Bjork playing up in the top six for the time being but there's clearly something about his game that isn't clicking for Cassidy. If the options are third line in the NHL alongside players like David Backes, Noel Acciari and Joakim Nordstrom, the press box or the AHL, then the latter probably makes the most sense.
If he can impress in Providence in the meantime and the Bruins still struggle to find production from wingers until Bergeron is back, the potential to bring him back in that role is still an option. For now, it isn't happening though and it's hurting him more than helping him.
In short, playing him in the top-six, something we haven't gotten a fair look at this season, would help him get going. If that isn't an option, though, then Providence is the best bet.
"Thoughts on the additions form Providence? Any one player who you see may stay with the team when [the Bruins] are healthy again? (Andrea_Wilson19 via Twitter)
Of all the players that the Bruins have called up as a result of these injuries who stands out the most, Colby Cave stands out.
Arguably the best player in Providence this season, Cave has scored six goals and 18 points in 15 AHL games this season. While it's easy to overlook Cave after three relatively decent seasons in the AHL, it's important to remember that he's still only 23 years old and has room to grow as a player.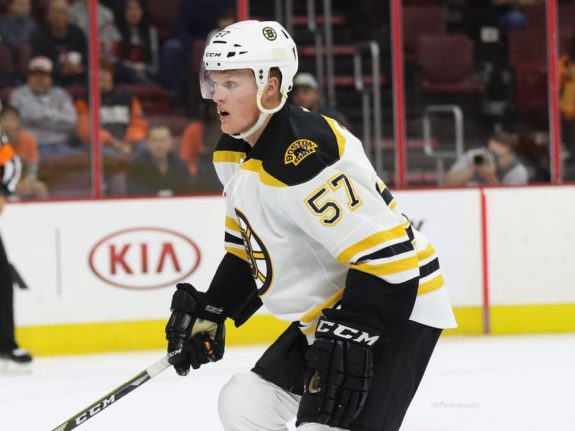 In three games in the NHL last season, Cave did little to stand out. He went pointless and took two shots on goal on four attempts while averaging 11:27 of ice time. He also made two hits, blocked two shots, had one takeaway with no giveaways and won only 41.7% of his faceoffs.
This season in the NHL, Cave has looked much better through three games. He's still been held without a point but he has attempted nine shots with four of them hitting the next. He's also seen an uptick in ice time, averaging 13:35, over two minutes more than he was seeing last season, and he's laid out four hits with two takeaways and one giveaway.
A major improvement in his game thus far this season has been his faceoff ability as he's won a very impressive 57.1% of his draws through three games winning 20 of 35 faceoffs.
Cave has chemistry with Jake DeBrusk as the two have played on a line together at the WHL, AHL and NHL levels (though the latter was very brief). That relationship has to be helpful for Cave as he gets used to the big leagues.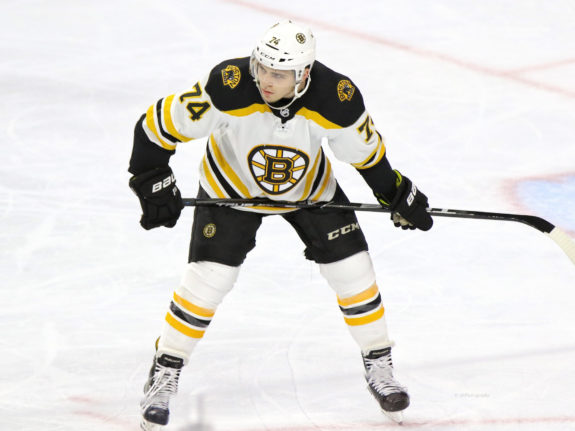 With the Bruins looking for a third-line center and Cave standing out above the pack, there's no reason to believe he can't keep a spot on the team even when everybody is fully healthy. Positionally, the fit makes sense. Even if it didn't, Cave is proving he deserves to be in the NHL right now.
Clifton Making an Impact
I know the question specified which "one player" I could see remaining with the team, and though Connor Clifton doesn't fit that answer, he's still deserving of a quick shout-out nonetheless.
A relative-unknown coming out of Quinnipiac University as an undrafted free agent, Clifton joined the Providence Bruins with a promise of physicality and solid play from the right side of the blue-line. With the Bruins using both McAvoy and Carlo as regulars in their top-four so quickly after being drafted, it was clear that the Bruins would need to replenish their depth at the position.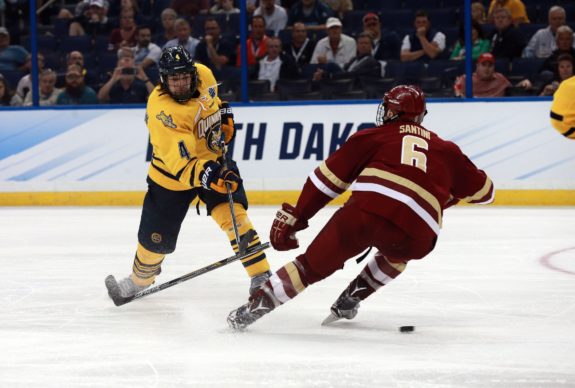 While many expected the team to do so through the draft, something they addressed when they drafted Axel Andersson in the second round in 2018, nobody could have predicted that Clifton would so quickly make the jump and look the part. The circumstances may be less than ideal with McAvoy, Carlo, Zdeno Chara, Urho Vaakanainen, and previously Kevan Miller and John Moore absent from the lineup due to injury.
Still, Clifton stepped in admirably and the Bruins have to know that they can rely upon him in the future if necessary.
"The Bruins are playing well and winning games. But if you had control of the team, what is one trade you'd look to make sometime during the season, subject obviously to NMCs and cap restrictions?" (BeerLeagueESQ via Twitter)
This question can have two possible answers. The first would be a deal adding a player to the Bruins roster to help fill in for injuries, provide scoring outside of the top line and potentially push them over the top for contention this season. The other answer, one that I'd be more inclined to work on, would be a trade sending David Backes out of Boston to help with salary cap restrictions.
It's entirely possible that the Bruins work on doing both such deals, but if we're strictly talking additions here, a trade for an elite winger or a good center who could fill out the third line (and even replace Bergeron or Krejci in case of an injury) make the most sense.
The obvious name here is Artemi Panarin.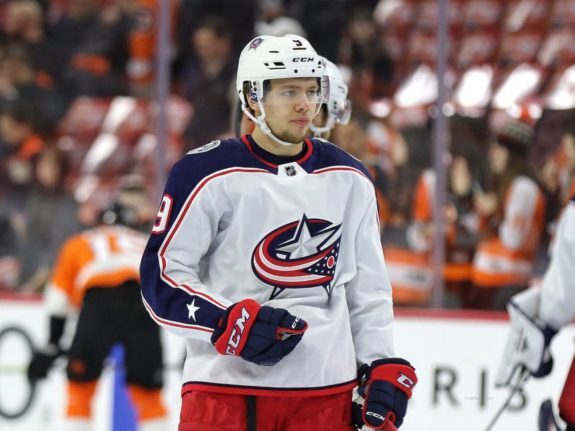 Few teams in the NHL rival the Bruins top-six if they had a winger group consisting of Brad Marchand, David Pastrnak, Jake DeBrusk and Panarin. All four of those players have 30-goal potential and three of them have already reached that mark in their careers. The obvious concerns for Panarin are the cost of acquiring him from an asset standpoint, the cost from a contract standpoint or even the risk of losing him altogether in free agency.
Related: Bruins Round Table: A Potential Panarin Trade
If the Bruins could work out a deal for Panarin that keeps the entirety of the team's top-six intact and keeps Charlie McAvoy on the Bruins while guaranteeing that Panarin could sign an extension in Boston, it would be hard to pass up on that type of talent.
In a perfect world, this happens. In reality, it seems too good to be possible without sending an elite talent the other way.
Rapid Fire Questions
"I'm curious as to what happened with Lee Stempniak" (ChrisY0023 via Twitter)
I assume this is referring to the fact that Lee Stempniak was practicing with the Bruins and the team kept him around to start the season but never ended up signing him to a deal despite injuries and poor depth scoring.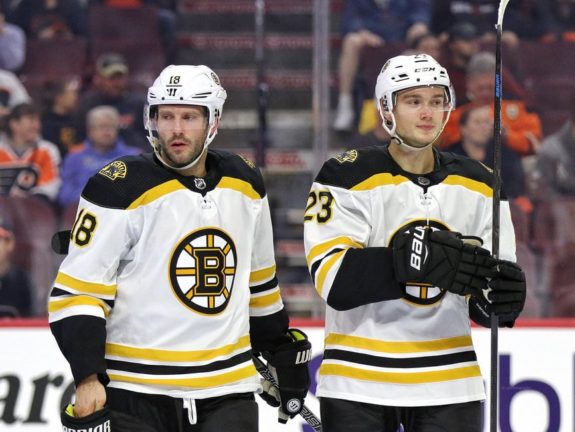 The last we heard of Stempniak was that the Bruins would not be signing him to a deal despite the fact that he was still practicing with the team, even filling in for Pastrnak when he had a maintenance day earlier in November.
While Stempniak would add depth scoring and provide veteran leadership to the Bruins on the ice, the simple fact of the matter is that he isn't an upgrade over the players the Bruins currently have. When it comes down to it, Stempniak would be filling in a bottom-six role leaning more towards the fourth line than the third line.
He impressed in the preseason but at 35 years old and coming off of a three-goal, nine-point season in 37 games with Carolina in 2017-18, the Bruins clearly feel like Stempniak didn't do enough to garner a roster spot. If they did, he'd undoubtedly be signed given the extent of these injuries.
"Hey BSC, is Sweeney still the GM of the Bruins? Does he go to work? Bruins have more injuries and issue than any team in the NHL and at risk of missing playoffs and yet crickets. Other GMs like CHI, ARI etc. improving their teams all the time. What gives?" (ihockeyNHL via Twitter)
Since taking over as the Bruins' general manager in 2015, Sweeney has had a hand in drafting the vast majority of the prospect pool in Boston. We've already seen that drafting pay dividends too as this season along, Vaakanainen (2017 NHL Entry Draft), McAvoy (2016 NHL Entry Draft) and Zboril, Jake DeBrusk, Carlo, Jakob Forsbacka Karlsson, Lauzon and Daniel Vladar have dressed for NHL games, though the latter didn't start.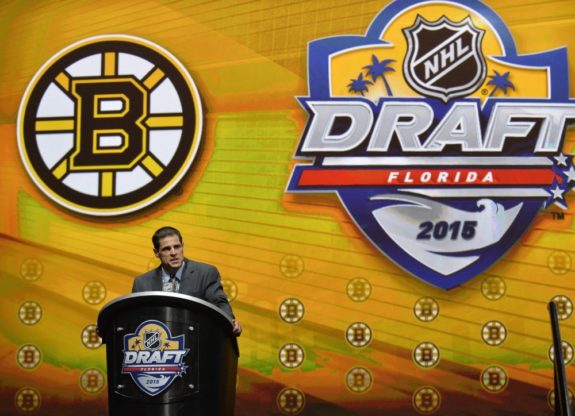 Outside of just the drafting that Sweeney has done, he also kept Colby Cave on the roster by extending him to a two-year deal this offseason while also adding Connor Clifton to the mix as well. Both have played NHL games this season.
It's easy to look at the Bruins injuries and shortcomings this season and be worried about their immediate future. Still, it would be silly to think the Bruins are currently at risk of missing the playoffs and that Sweeney isn't doing anything to help this team. We aren't privy to the discussions that he's had behind closed doors – it's great to make a trade like the Blackhawks and Coyotes made involving Brendan Perlini and Dylan Strome for Nick Schmaltz, but it's also shuffling pieces just to create a change. It's a move but it isn't necessarily the right (or wrong) move for either side.
Related: Schmaltz Traded for Strome & Perlini
Prior to the Bruins 4-2 loss to the Maple Leafs (that saw the Bruins outperform the Maple Leafs for much of the game and keep the game within one goal prior to the final empty-net goal), the Bruins had earned at least one point in five consecutive games, good for eight of a possible 10 points. The team is also tied for sixth place in the entire NHL in points. The team is slowly going to get healthier and Sweeney will make a trade that makes sense for the team if one presents itself.
"Pastrnak or Nylander. Honest reason for your choice." (Tkdmaxbjj via Twitter)
David Pastrnak.
The Bruins haven't seen a shooter quite like Pastrnak in years. It's hard to even think of the last player in Boston who has had such a strong, consistent shot but Pastrnak brings that and much more to the table.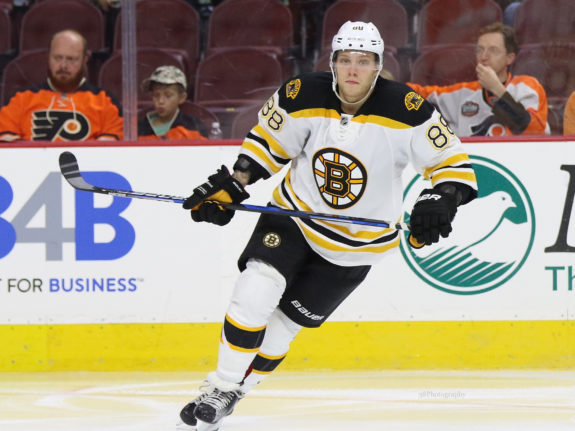 Pastrnak hs scored 113 goals and 231 points in 278 games. He has scored 38 goals and 70 points and 35 goals and 80 points in the last two seasons respectively. That puts him in the upper echelon of players in the league by itself. The fact that he's only 22 years old, brings so much to the table in terms of dynamic play offensively and isn't a slouch defensively really points to him being an elite superstar in the NHL already.
This season, Pastrnak has already scored 19 goals and 28 points in 24 games, putting him on pace for roughly 65 goals and 95 points. If he can even score 40 goals and 80 points this season, he'd still be the clear winner for me over William Nylander.
Nylander has scored over 20 or more goals and identical 61-point campaigns in each of the last two seasons. At 22 years old, he's proven to be a very good winger who could also play center if the Maple Leafs absolutely needed him to do so. With that said, his ceiling doesn't seem to be quite the same as Pastrnak's.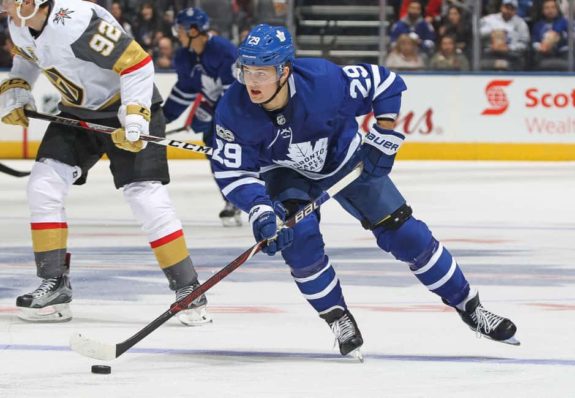 With everything we've seen from the two of them, Pastrnak simply looks like the more complete player with the higher offensive ceiling. I'll take him all the way to the bank. That isn't to say that Nylander isn't a very good winger with an elite ceiling, however.
He should be paid a very handsome amount of money and anybody expecting him to take less is being unreasonable. What more does he have to do to prove his worth?
Brandon Share-Cohen has covered the NHL and various professional sports for seven years. Working with The Hockey Writers, Brandon works extensively on covering the Boston Bruins in addition to his role as the News Team Lead.