The Boston Bruins have had a very eventful offseason that all started with an awful last minute of play in the Stanley Cup Finals. Now, that long offseason to stew and think about that infamous Game 6 is almost over.
I could just break down all the moves the Bruins made in the offseason, but why do that when I can do it through music?
Stanley Cup Game 6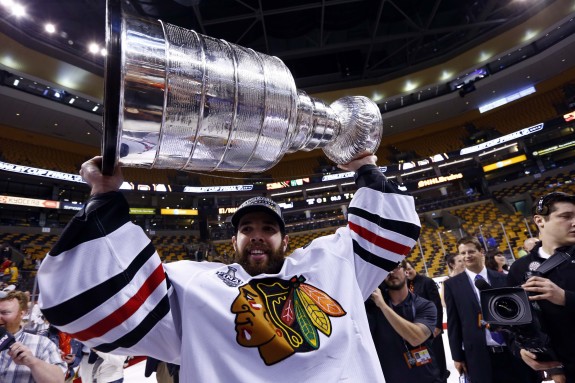 Like I mentioned earlier, the Bruins season ended when the team squandered one goal lead late and gave up TWO goals in the 1:30 in play. The Bruins were oh so close to forcing a Game 7 and maybe actually winning the Stanley Cup.
However, we'll never know and Bruins fans across the nation are stuck with the sourest taste of defeat in their mouths. On Earth 2, the Boston bruins are hoisting the Stanley Cup.
…or if you don't like the Bruins.
Nathan Horton Leaves for the Blue Jackets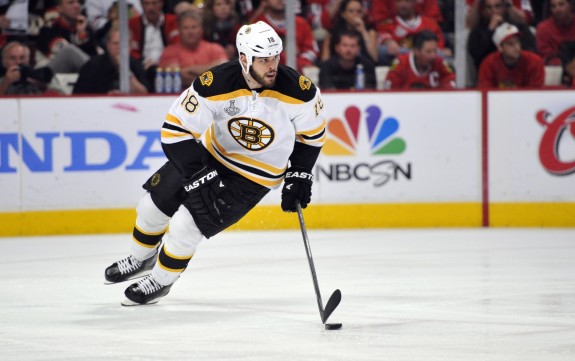 Nathan Horton meant a lot to the Boston Bruins. He was such an integral part of the 2011 Stanley Cup championship squad and was as clutch as it gets in Boston. You could argue the fact that Nathan Horton could have been the Conn Smythe winner in 2011 for his heroics against the Canadiens and Lightning.
A couple of concussions later, Horton wasn't really the same player and it's unfortunate. Horton opted against re-signing with the Bruins and head for a much improved Columbus Blue Jackets squad.
Thanks for the memories, Nathan! Bruins fans will never forget you.
Bruins Part with Andrew Ference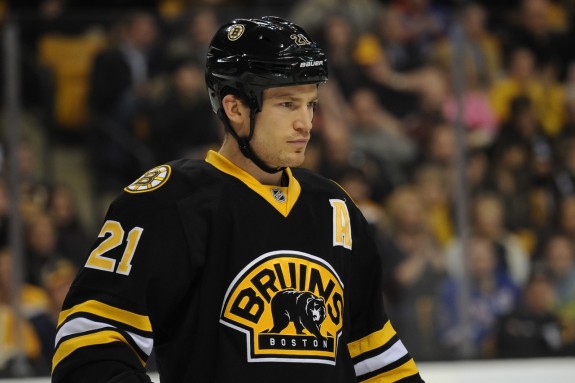 The Boston Bruins made a surprising move during the offseason and decided not to bring back fan favorite and team leader Andrew Ference. Ference was a very solid defenseman for the Bruins, but brought a lot of leadership into the Bruins locker room.
As an alternate captain for the Bruins, Ference was able to keep the team loose all the while performing as a pro once the puck dropped. The Edmonton Oiler swooped in an signed the native Edmontonian to a deal and it's a great move for the Oilers. Ference will be a great leader to the young Oilers team and will work well with Justin Schultz.
The Boston Bruins will absolutely miss his presence on and off the ice.
Jarome Iginla Leaves Pittsburgh, Signs with Boston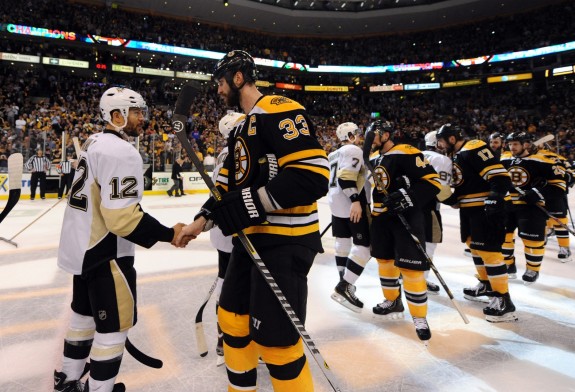 If you can't beat them, join them. That's what Jarome Iginla's line of thinking was when he decided to bolt the Pittsburgh Penguins for the Boston Bruins.
Iginla had spurned the Bruins earlier in the season after the Flames and Boston had agreed to a deal. However, Iginla had the final say and he felt that the Penguins had the better chance at getting the elusive Cup. It was a deflating moment for Peter Chiarelli and the Bruins, but they persevered and trudged along.
The Penguins and the Bruins met int he Eastern Conference Finals and it was all Boston in a four game sweep. There would be no Cup for Iginla this season.
So, Iginla decided this time to sign with the reigning Prince of Wales trophy winners. Of course, fans had to sleep on it to see if it was real. Indeed it was.
Patrice Bergeron and Tuukka Rask Sign Monster Deals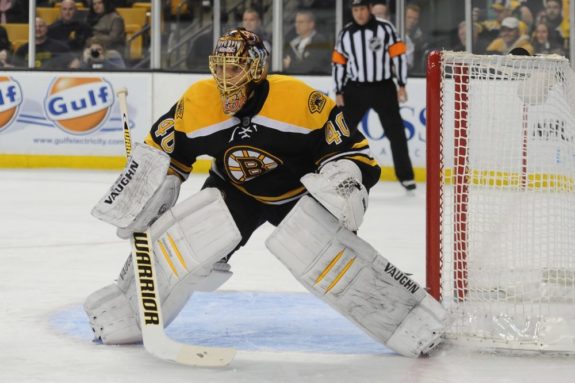 Peter Chiarelli and the Bruins had a couple of goals in this offseason an done of them was to lock their stars into long term deals. Chiarelli succeeded in that by signing Patrice Bergeron and Tuukka Rask to eight year deals.
The Bruins have invested a lot of money into Bergeron and Rask, but it is needed in order for the Bruins to have a successful future.
As for Bergeron and Rask, they are handsomely rewarded for their stellar play and are now reaping the benefits.
Tyler Seguin Shipped Off to Dallas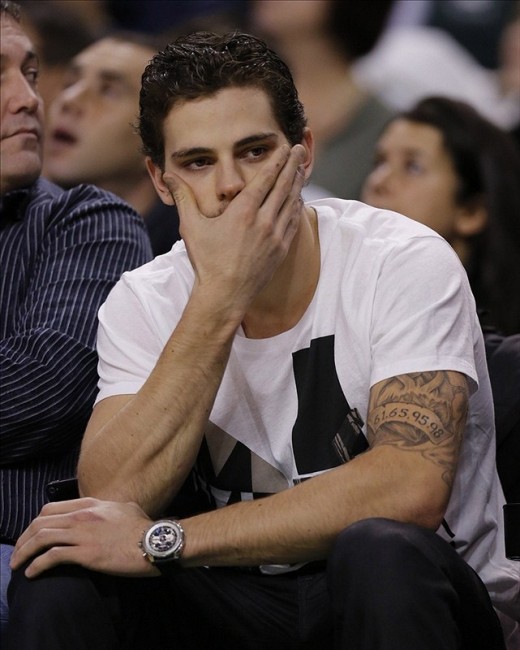 For the casual hockey fan it might seem like a surprise that the Bruins traded Tyler Seguin so early into his career, but it was a necessary deal for both sides. Seguin was an immature player and was a party boy during his time in Boston. Patrice Bergeron chided Seguin for his off ice antics and said he needed to be more of a professional.
Seguin's time in Boston was numbered, but Chiarelli was able to get a lot back for the former number two overall pick. The Bruins were able to get a few players back, most notably Loui Eriksson. Eriksson will be a great fit in Boston and this just might be the thing that turns Seguin into a humble individual.
Sometimes change can be a good thing for everybody.
Peter Chiarelli Signs Extension
After doing some wheeling and dealing, Peter Chiarelli himself was rewarded for his actions. The Bruins inked Chiarelli to a four year contract extension and it was very well deserved.
During his time in Boston, the Bruins have only failed to make the playoffs once, won three Northeast Divisions, two Eastern Conferences championship, and a Stanley Cup title in 2011. Simply put, Chiarelli has done quite well for himself and, most importantly, the Boston Bruins.
Peter Chiarelli has certainly brought the Bruins into it's modern day "Glory Days".
Hopefully at the end of next season, the Bruins can celebrate another Stanley Cup title and maybe, just maybe, I can use this song.
Well, maybe.