The Winnipeg Jets finished four points back of eighth place in the Eastern Conference last season, barely missing out on the playoffs. Now in the Western Conference, they have just 13 teams to compete against for eight playoff spots. However, the Central Division boasts a number of tough opponents, including the defending Stanley Cup champion Chicago Blackhawks.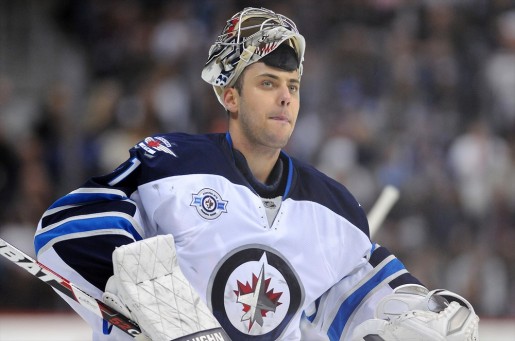 The Jets could find themselves outside of the top three in their division and fighting for one of two wild card spots in the West.
With that in mind, there are a few players who will need to raise their level of play this season, in order for the Jets to make a playoff push.
Olli Jokinen
Jokinen is a skilled offensive player who notched 89 points in 2006 with the Florida Panthers and followed that up with 91 in 2007. And, just two years ago in Calgary he recorded 23 goals and 38 assists for 61 points in 82 games.
At 34 years old, Jokinen can't be expected to produce at the same rate he did in his prime. However, he will need to contribute more than he did in 2013, when he finished with 14 points in 45 games.
Jokinen failed to live up to expectations and at minus 19 he finished with the worst plus/minus rating on the team by a long shot.
Given it was his first season in Winnipeg and there was a lockout, perhaps Jokinen deserves a break. But, with a cap hit of $4.5 million, it's easy to understand why the Winnipeg faithful aren't happy.
Jokinen could find himself centering an improved second line this season, which should help him to bounce back. Evander Kane, Devin Setoguchi or even Mark Scheifele (if one of them moves to wing) could end up playing alongside the Finnish forward.
Zach Bogosian
A third overall pick of the Atlanta Thrashers in 2008, Bogosian is just 23 years old. However, the pressure on him to perform will be at an all-time high in 2013-14. Bogosian signed a seven-year, $36 million contract in the offseason, which carries a cap hit of just over $5.1 million.
Many fans may criticize general manager Kevin Cheveldayoff for inking such a deal, but it's important to remember Bogosian's yet to reach his full potential.
At 6'3", 215 pounds, Bogosian has a good mix of size and skill for a defenseman. He's an agile skater who can move the puck up ice with ease. He has good vision, a strong shot and has no problem playing the body.
He notched 14 points in 33 games last season and came on strong down the stretch, tallying seven points over his final four games. The only question mark surrounding the blueliner is his health. Wrist surgery and an upper body injury limited his appearances last season and likely affected his play to some extent.
However, he's proven that when he's healthy he can perform at a very high-level. Watch for Bogosian to challenge Dustin Byfuglien and Tobias Enstrom for the scoring lead among Winnipeg defensemen, while also shutting down many of the opposition's top lines.
Ondrej Pavelec
Like Bogosian, Ondrej Pavelec has size on his side. The 6'3", 220-pound goaltender uses his large frame and good positioning to cover his angles well. He continues to improve on his lateral movement and rebound control.
With that said, this may be Pavelec's year to stake claim to the title of franchise goaltender.
Statistically he has been average during his time in Winnipeg, but the players in front of him have also average, at best. He went 21-20-3 last season with a .905 save percentage and 2.80 goals-against average. With more experience under his belt and a stronger team in front of him, Pavelec could help push the Jets over the top next season.
The addition of Michael Frolik in particular could be a difference maker. Frolik is a remarkable penalty killer who helped the Blackhawks secure their second Stanley Cup in four years. He also happens to be a childhood friend of Pavelec.
Pavelec may not be one of the world's top netminders, but he doesn't have to be, yet. If he can consistently give Winnipeg a chance to win against tough conference opponents, he may find himself starting in a playoff game.
The NHL regular season schedule was released on Friday. Check out our partners at TiqIQ for the best deals on Winnipeg Jets tickets for all 2013-14 games.
Eric is a postgraduate public relations student at Humber College. Prior to that he obtained a bachelor's degree in communication studies from the University of Windsor. He covers the Winnipeg Jets for The Hockey Writers and is a featured columnist for Bleacher Report.