Brian Gionta faced a crowd of reporters and television cameras to announce his retirement Monday at KeyBank Center much the same way he faced them during his storied 1,026-game career. He was genuine, sincere and completely humble. He was almost embarrassed to have a room full of media members, players, staff and family surrounding him. He didn't think his career was all that special.
That's the thing about Gionta — he was never one to bask in the limelight, congratulate himself or take things for granted. Instead, he was quick to congratulate his teammates, bestow success upon them and speak from the heart. He only knew how to play the game one way and that meant giving it all — every practice, every shift, every game.
Gionta's Next Team: His Family
Always a family man, Gionta's next focus is to play an even bigger role as a father. "One of my main focuses is being around for my family, being able to go to their events and their sports and be a part of their lives," said the native of Greece, N.Y. "I'm fortunate that I'm walking away from the game into something even better, and that's being part of my kids growing up, and coaching them, and being there for them. I'm really looking forward to that next stage in my life."
Gionta won't completely leave the game he still loves. He'll continue to work with the Sabres in a developmental role. "I still wanted to be a part of the game and wanted to be part of the organization. [This role] is at a level that is great for my family and also where I can still think like I'm helping out a little bit."
Gionta Hockey Future
This past July, Gionta was a guest instructor at the Sabres' development camp. He also spent much of last season working out and practicing with the Rochester Americans in preparation for his run with Team USA at the Olympic Games in PyeongChang. "It was weird, definitely, being out there with a lot of young guys," said Gionta. "But I had a great taste last year being able to skate in Rochester with those guys, being around those guys. I had a lot of fun."
Helping develop young players is almost second nature for Gionta. Teammates lauded his pre-game rituals, work ethic and professionalism. His dedication and commitment to the game enabled him to stay in the game well into his thirties.
"He had that confidence to say what needed to be said," said Kyle Okposo. "The way he carried himself because of his routine, because of his work, the way he prepared. It was pretty infectious and pretty powerful."
Gionta's Incredible Career
Gionta played hockey for Boston College. He helped the Eagles advance to the national championship game in three of his four years, winning it all his senior year.
Despite his success in college, Gionta, standing only 5-foot-7, was labeled too small and had to overcome concerns about his ability to succeed at the professional level. He not only played, he became a fearless leader. Gionta played for four NHL teams in his storied 16-season career: the New Jersey Devils, Montreal Canadiens, Buffalo Sabres and Boston Bruins. He finished with 291 goals and 595 points. He topped 20 goals seven times, including a career-best 48 with New Jersey in 2005-06. He also scored 32 goals in 113 playoff games.
Gionta's Time with the New Jersey Devils
Gionta was selected by former Devils general manager Lou Lamoriello and the Devils in the third round (82nd overall) of the 1998 NHL Entry Draft. He broke into the NHL during the 2001-02 season, three years after finishing his collegiate career at Boston College. There, in an era where size and strength were often sought after more than speed and skill, he played his first seven seasons with the Devils, winning a Stanley Cup championship in 2003.
Congrats to 2003 #NJDevils Stanley Cup Champion @Giostyle21 on your retirement and an amazing career! pic.twitter.com/oz7ficP3E6

— New Jersey Devils (@NJDevils) September 24, 2018
Gionta's Time with the Montreal Canadiens
Gionta signed a five-year contract with the Canadiens as a free agent in July 2009. There, he reunited himself with former Devils teammate Scott Gomez. In 2010 he was named captain, becoming only the second American to hold that distinction for the Habs (the other was Chris Chelios).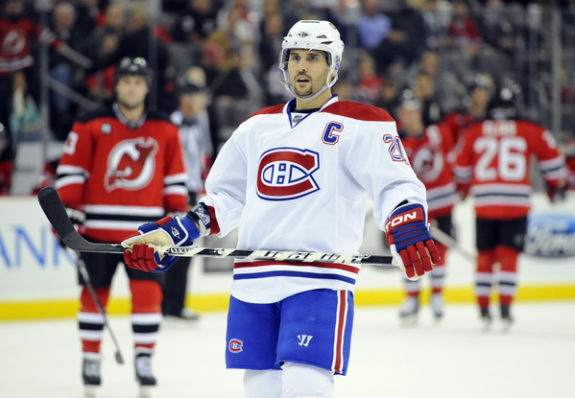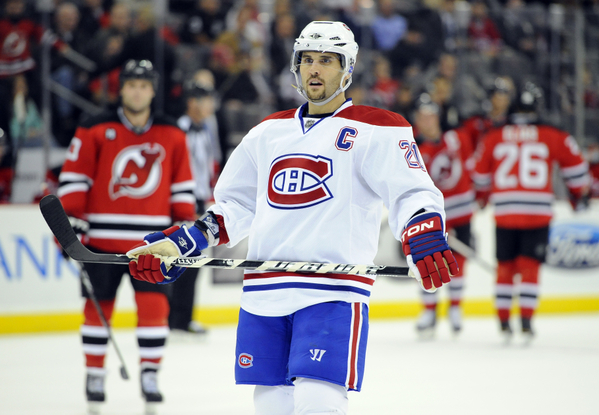 "Sometimes the best things come when they're not planned and going to Montreal was one of the biggest blessings for myself and my family to be out of your comfort zone, go into a French-speaking area where your kids are going to a different school, and then to have them have the confidence in me that I was an English-speaking guy and I could be the captain of that team was pretty special they would have the confidence in me," said Gionta. "I loved my time there. It was some of the best years of your career because the fans are so passionate and it's such a hockey market." (from 'Yerdon: Brian Gionta ends his NHL career with the same humility he showed during it', The AthleticNHL – 9/25/17)
Gionta's Time with the Buffalo Sabres
In the summer of 2014, Gionta signed with the Sabres. He spent three seasons as captain and cherished the time he spent playing for the team he grew up cheering for. "To cap it off and come back to Western New York, my home area, and be able to play for your childhood team in the Sabres was also a highlight of my career," he said.
Gionta's time with the Sabres was a rough one for the franchise. It included few wins, as well as the team's infamous 2014-15 tank campaign.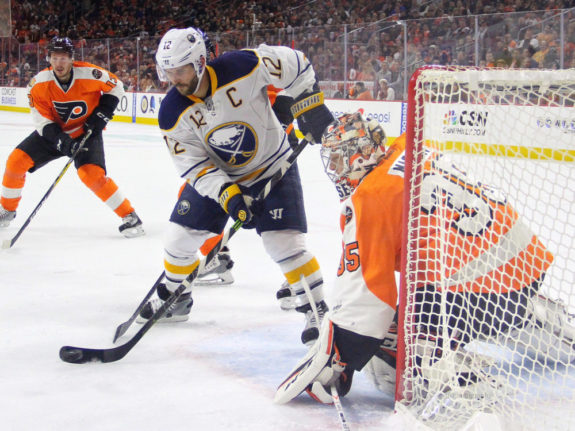 His former Sabres teammates had nothing but great things to say about Gionta. "He's somebody I grew up watching and all of a sudden I'm sitting a few stalls away from him my first years in the NHL," said Jack Eichel. "I've never heard anybody say anything bad about him. It speaks to his character as a player, a person, a husband, a father."
Sabres general manager Jason Botterill noted that Gionta came into the league when small players were few and far between. He acknowledged Gio's tenacity and commitment to overcome the odds.
Gionta's Time with the Boston Bruins
Gionta played for Team USA at the 2018 Pyeongchang Games in South Korea, his second stint as an Olympian for his country. He followed that up by signing a one-year deal with the Bruins, to help with their playoff push and played 20 games.
"I was excited about the Olympics, I was excited about the prospect of signing on with a team after, but you got into that daily routine of being around the kids a little more and maybe looking forward to that next stage of your life," Gionta said. "And so after Boston, we knew that was the decision. It will be hard at times because that's what you're used to, but that's the right decision."
Always Humble
Gionta didn't think his career warranted a formal announcement. It's another example of his humility that still continues even after 16 seasons in the NHL. He treasured his time playing in the league, taking every game as a gift and an opportunity to prove himself. "For me, I just went into it hoping I would play one NHL game," he said. "From there, it was to play as long as you could and as long as you had fun enjoying the game and your body would hold up."
Now, he's ready to move on to the next chapter of his life.
Jeff has been covering the NHL for over a decade for various sites. He's been with The Hockey Writers as a lead Sabres writer three years, while also writing a satire column called "Off the Crossbar."