Brodeur. The name stirs images of mind-boggling, "how did he do that?" saves. I've only been a hockey fan for about 20 years, but during that time there were two names that intoned the standard for goaltending excellence in the NHL: Martin Brodeur and Patrick Roy.
What elevates a player to the consideration that he might be the "greatest" to have ever played his position in a sport? More specifically, what factors weigh into this discussion regarding NHL goalies? Here are a few that come to mind:
Goalie skills.
Team success
Awards
Results outside the NHL
Impact on the game of hockey
Even with these considerations examined, the answer as to who is the "greatest" NHL goalie of all-time is not easily determined. I will lay out some comparisons between Martin Brodeur and Patrick Roy, and let you come to your own conclusions.
There may be other names on the list that you feel worthy of inclusion in the comparison. For me, Brodeur and Roy are the cream that has risen to the top of goalie excellence. This article is about them.
Joseph Kuchie from Bleacher Report did an excellent job comparing the two giants of goalie excellence in an article published on August 1, 2012. My goal here is not to try to "one-up" Kuchie, as his work on the topic was very well done. I would like to add my thoughts on what I and others consider to be two of the best to have ever laced up the skates and settled in between the pipes.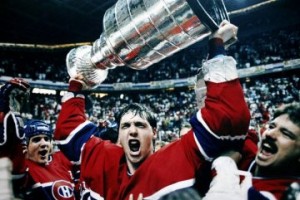 Do stats matter?
Of course they matter, and many before me have taken a look at the numbers that Martin Brodeur and Patrick Roy put up over their respective seasons. Even though others have recounted them, they are so glaringly strong, that they are always welcome to be reviewed in any conversation that involves the comparison of these two giants.
Patrick Roy made his presence known early in his storied career. How many rookie goaltenders have won a Stanley Cup? There have only been four of which I am aware, and listed at InGoal Magazine. They are the great Ken Dryden with the Montreal Canadiens, Cam Ward with the Carolina Hurricanes, Anti Niemi with the Chicago Blackhawks, and Patrick Roy with the Canadiens. That is quite an elite group. Martin Brodeur's name is not in that group, but it does not diminish his greatness.
Let's delve into their illustrious careers a bit further. While there are far too many achievements to list in the space of this article, the most significant awards deserve mention. Martin Brodeur won the Calder Trophy as the NHL Rookie of the Year in 1994.
As mentioned, Patrick Roy won a Stanley Cup in his rookie season. Both won the Vezina Trophy multiple times, awarded as recognition for being the best goalkeeper in the NHL. Roy won three, and Brodeur won four. They both have their share of Stanley Cup victories, three for Brodeur, and four for Roy.
Brodeur and Roy on the world stage
In the Olympics, Patrick Roy did not win a gold medal. Martin Brodeur has won two Olympic Gold Medals, one in 2002, and one in 2010. According to the www.martinbrodeur30.com/awards website, he won the gold in the 2004 World Cup. Brodeur was definitely more successful playing on the world stage. He also brought home a silver medal in the 1996 World Cup, and in the 1995 and 2006 World Hockey Championships.
Both stalwarts of the net were named to numerous NHL All-Star teams, Brodeur to ten and Roy to eleven.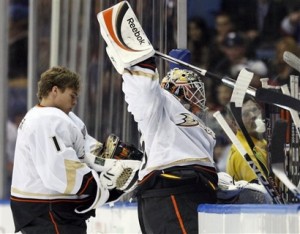 The most glaring difference in the awards that both have earned is the Conn Smythe Trophy. Roy has three Conn Smythe's, awarded to the most valuable player for his team in the playoffs. Brodeur was never awarded the Conn Smythe, even though he has three Stanley Cup wins to his credit.
It is often put forth that Martin was snubbed after the 2003 Stanley Cup Playoffs, when Jean-Sebastien Giguere was awarded the Conn Smythe, even though he was a member of the losing team – the Mighty Ducks of Anaheim. Rob Vollman with Bleacher Report ranked the "Biggest Snubs in Conn Smythe history back in 2014. Giguere's receiving the award over Brodeur was certainly near the top of the list. Vollman noted,
"The strongest case can be built for Brodeur in 2003, when he recorded seven shutouts while posting a goals against average of 1.65 and a save percentage of .934. None of the team's four opponents averaged two goals a game or more."
That sounds like an award-winning playoff performance to me. But, Giguere had a good run, also. Vollman further recalls,
"Even though New Jersey scored 19 goals in the Stanley Cup finals, Giguere still led all goalies with a .945 save percentage and a 1.62 goals against average."
Since the "Brodeur snub" no player from a losing team has been awarded the Conn Smythe.
"Winning is the only thing"
Martin Brodeur has 691 career wins. That is incredible. Patrick Roy finished his career with 551 career wins.
[tweetthis]If winning is where it counts in the grand scheme of things, then Brodeur has closed down the argument hands down[/tweetthis]
The plethora of other records that are on the Brodeur side of the ledger is gaudy. Most wins by a goaltender in a season – 48; Most shutouts, including playoffs career – 149; Most shutouts, one playoff season – 7; Most games appeared in by a goaltender career, including playoffs – 1,470; most consecutive 30-or-more win seasons by a goaltender – 12; Most 40-or-more win seasons by a goaltender – 8; and on and on. (I've gathered these figures from various sources, including that bastion of flawless data, Wikipedia. The NHL and HockeyReference.com are also excellent data sources for incredible numbers that both Brodeur and Roy put up throughout their careers.)
Mike McKenna, a goalie in the Arizona Coyotes organization, paid tribute to his records and his legacy:
.@MartinBrodeur's legacy goes way beyond the records. Influenced multiple generations of young goalies, myself included. Congrats, #MB30!

— Mike McKenna (@MikeMcKenna56) January 28, 2015
All over the map
Just as is the case with any comparison of great athletes, opinions are all over the map. Is there really any way to place the label, "greatest" on any singular player? In the NBA, Michael Jordan has earned and kept this label, and it is well-deserved. What yardstick besides gaudy statistics can one use to bolster their opinion of who is better, Brodeur or Roy? Oh wait, I forgot to mention Dominik Hasek.
https://twitter.com/DaveLozo/status/560460763929014272
I'm leaving Hasek out of this conversation, although I recognize his greatness. Winning six Vezinas – five of which were in six seasons is worthy of the utmost respect. You can read Dave Lozo's post at Bleacher Report which includes Hasek here.
Impact
Another significant observation on Martin Brodeur and Patrick Roy comes down to what kind of impact they each made on the game. They both have enough trophies and awards to fill several cases. They were earned through consistent excellent play at a level that few, if any, have attained. Can we determine, "How did they leave the game" when they were done? I think we can.
Patrick Roy did not invent the "butterfly' style of goaltending, but it can be strongly argued that he refined and perfected it like no other goalie. In an article written for ESPN years ago, Darren Pang makes the case convincingly:
"Glenn Hall first did the butterfly style, then Tony Esposito. But it really became Patrick Roy…I think that's why other goaltenders wanted to be like Patrick Roy, knowing it was a successful style."
Pang, a former goalie himself with the Blackhawks, went on to say,
"Like all great athletes who think the game, Roy was an innovator."
I wonder sometimes where today's greats like Jonathan Quick would be if not for the innovative style of playing the game that Patrick Roy left behind. In a sidebar to Pang's article, Barry Melrose said of Patrick Roy,
"I always said if I had to play one game and I had the choice of anyone in NHL history to play goal for me, I'd pick Patrick Roy, because whenever the stakes were biggest is when he played his best. That's a tribute to a great athlete. He totally changed the game; all the great ones do — Gretzky did, Orr did and Patrick did."
Gretzky, Orr, and Roy all in the same breath. That's pretty elite company. Of course that article and those comments were made in 2003, shortly around the time Roy retired. Has anything happened since?
What about Marty
Did Martin Brodeur impact the game in the same way as did Patrick Roy? Yes, he did, in fact so much so that the NHL had to change their rules because of him. On February 3rd, Russ Rankin of Communities Digital News wrote this of the Brodeur legacy:
"The trapezoid, and the no-play zones on either side of it behind every NHL net, is there because of Martin Brodeur. He was so deft with the puck that he often acted as a third defenseman, especially on the power play, where he could collect the puck in his crease and then fire it up to the opposing blue line."
Wow, one player affects the game so much that the NHL powers that be decide that they have to change the rules of the game. That's amazing!
One player, Patrick Roy, changed the way goalies fundamentally play the game, and another, Martin Brodeur, changed the rules. I'd say that they both were absolutely at the pinnacle of greatness as NHL goalies. Wouldn't you agree?
Coin toss?
Steve Politi of the Newark Star-Ledger talked with Bill Littlefield for WBUR in Boston's "Only a Game." He asserts that Martin Brodeur is the best goalie of all time due to a combination of all the wins and awards, and the impact he had on the game.
It's hard to argue with that reasoning.
However, back in 2012, Adrian Dater wrote in The Denver Post that there is no question that Patrick Roy is the bests goalie of all time. He opines,
"The actual, head-to-head matchup between Roy and Brodeur in a Stanley Cup Finals will always remain: Roy 1, Brodeur 0."
And
"Roy remains the only player in NHL history to win Conn Smythe Trophies in three different decades: 1986 and '93 with Montreal, and 2001 with the Avs. Brodeur has never won a Conn Smythe."
It's hard to argue with that reasoning, too.
So how do we settle the question of who is the greatest when comparing Martin Brodeur and Patrick Roy? Do we toss a coin?
Maybe it comes down to this, one of the best fights ever, featuring none other than Patrick Roy coming out of the goal and mixing it up.
Of course, one good on-ice brawl does not the "best-ever" make. How about scoring a playoff goal? Martin Brodeur did it on April 17, 1997, becoming at that time only the second goalie ever to do so. (Ron Hextall did it first).
Brodeur is credited with having scored the most goals as a goalie with three. Does that trump Roy's brawling?
I will conclude that both of these goalies are without close peer. Their haul of awards and Stanley Cup wins is beyond impressive. If I had to make a selection I would say that Pat, err Mart, err. It's not easy, is it?
I was going to say Patrick Roy is the greatest when I sat down to write this article, as I've always been a huge fan of his. Watching him in my early exposure to hockey helped generate and sustain my interest in the game. But now I'm just not sure you can gloss either of them as greater than the other. They both were absolutely incredible.
You can help. Comment below and tell me who you feel is the greatest NHL goalie of all time. You can even throw Hasek in if you want.
Mark Shiver is a staff writer for The Hockey Writers  credentialed with the Carolina Hurricanes. You can follow him on Twitter @markshiver